7 ways to include WhatsApp in Your Marketing Mix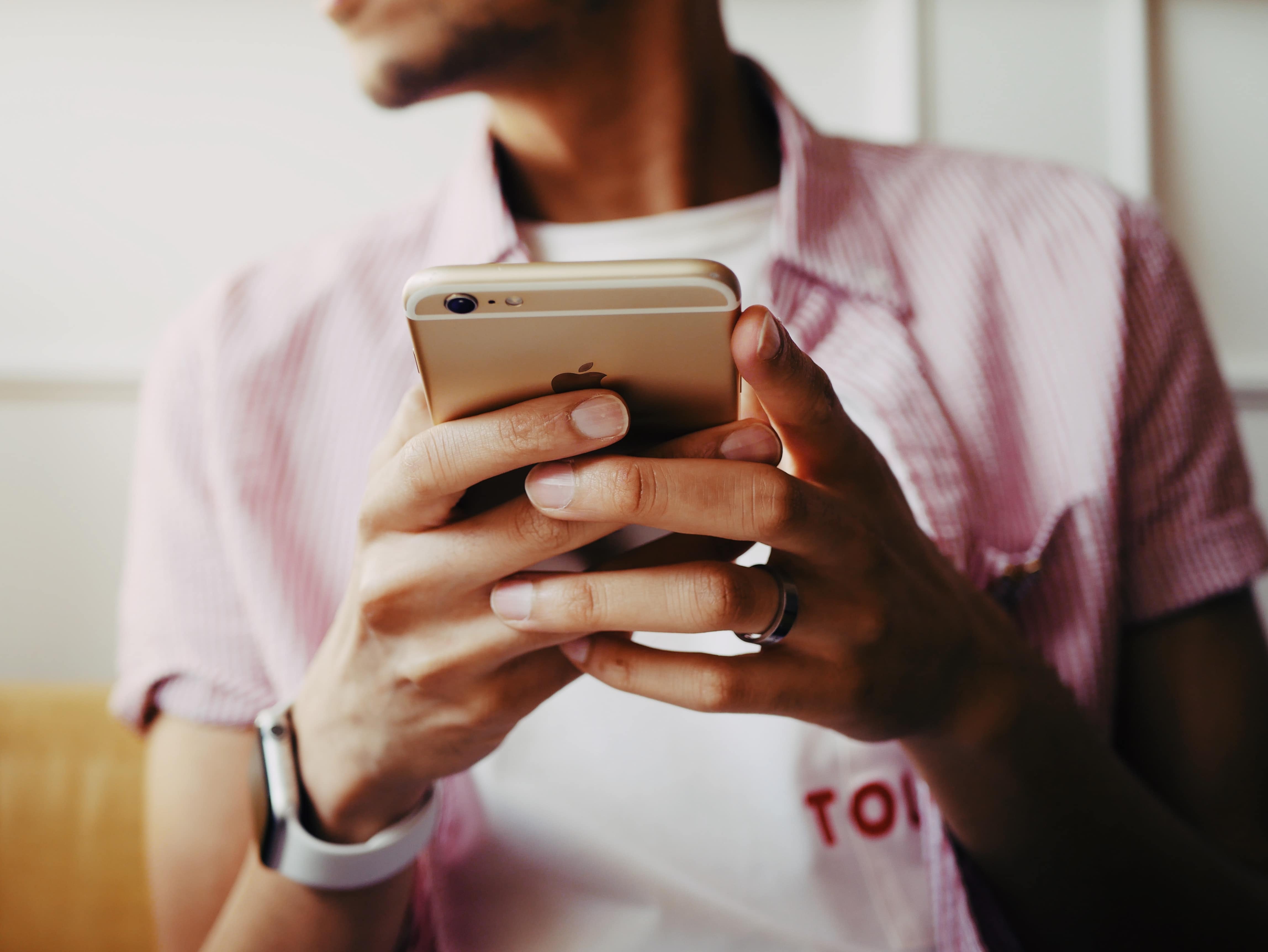 Marketing for WhatsApp Users
Over the last few years the popularity of WhatsApp has really just grown exponentially with users worldwide using it to connect with friends and family and consume content in a more intimate space. DigitalMarketing reports that an average WhatsApp user opens the app 23-25 times every day, spending 28 minutes daily with it.
And while WhatsApp has primarily been so far a space to connect with friends, its popularity with businesses is rapidly increasing over the last few years, especially in places like India, Latin America and the Middle East. WhatsApp is investing heavily in its business proposition with Mobilesquared reporting that it is the most on demand messaging channel amongst brands and businesses looking to communicate with their customers. In fact, they estimate that WhatsApp Business will experience unprecedented growth of more than 5,400% among medium and large businesses looking to use its API.
Why? The answer is obvious. With 71% of consumers expecting to communicate with businesses in real-time, WhatsApp provides a personal and natural channel to interact with users, reducing barriers and friction, while increasing conversion. We see whatsApp as a great way to acquire and convert new customers as well as reactivate them.
With that in mind, we've compiled the top 7 ways to use whatsApp to grow your business.
1. Answer product queries and reserve
By offering a whatsApp number on your website you provide customers with a quick way to answer any questions that they might have, increasing your opportunity to convert that customer. Just like you would in a physical store. Your offline stock can also be surfaced on a microsite that customers can navigate through WhatsApp and reserve items. When they visit the store, they can show their reservation or QR code and store staff can find the reservation details allowing customers to quickly collect reserved items.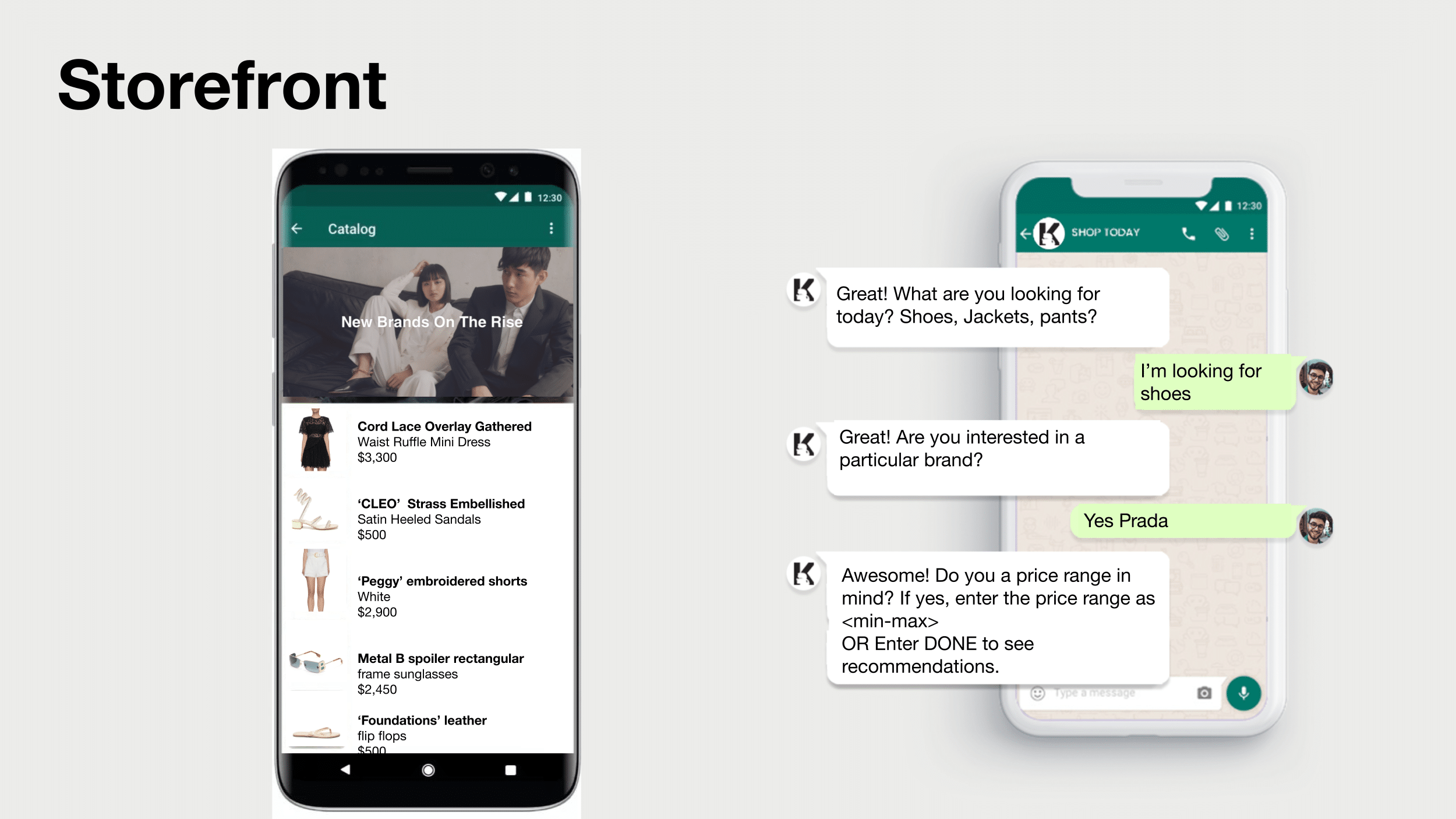 2. Offer an appointment reservation system
With COVID it is a requirement now in many countries that customers visit the store only after an appointment has been made. You can use AI to offer an automated appointment system through whatsApp.
3. Offer personalised recommendations to customers
Often customers have queries such as "what's the right dress to buy for my bodytype", "what colours will enhance my natural complexion", "I'm going on a date tonight, what should I wear"? You can offer your customers an AI stylist that asks them the same questions that a human stylist would and offers them real time advice. The AI can choose the most suitable product for the customer's needs or even suggest an entire outfit for them. Customers can reserve or buy the item directly from whatsApp. What's more, customers can upload an image of a look that they would like to replicate and the AI will find the right clothes from your stock.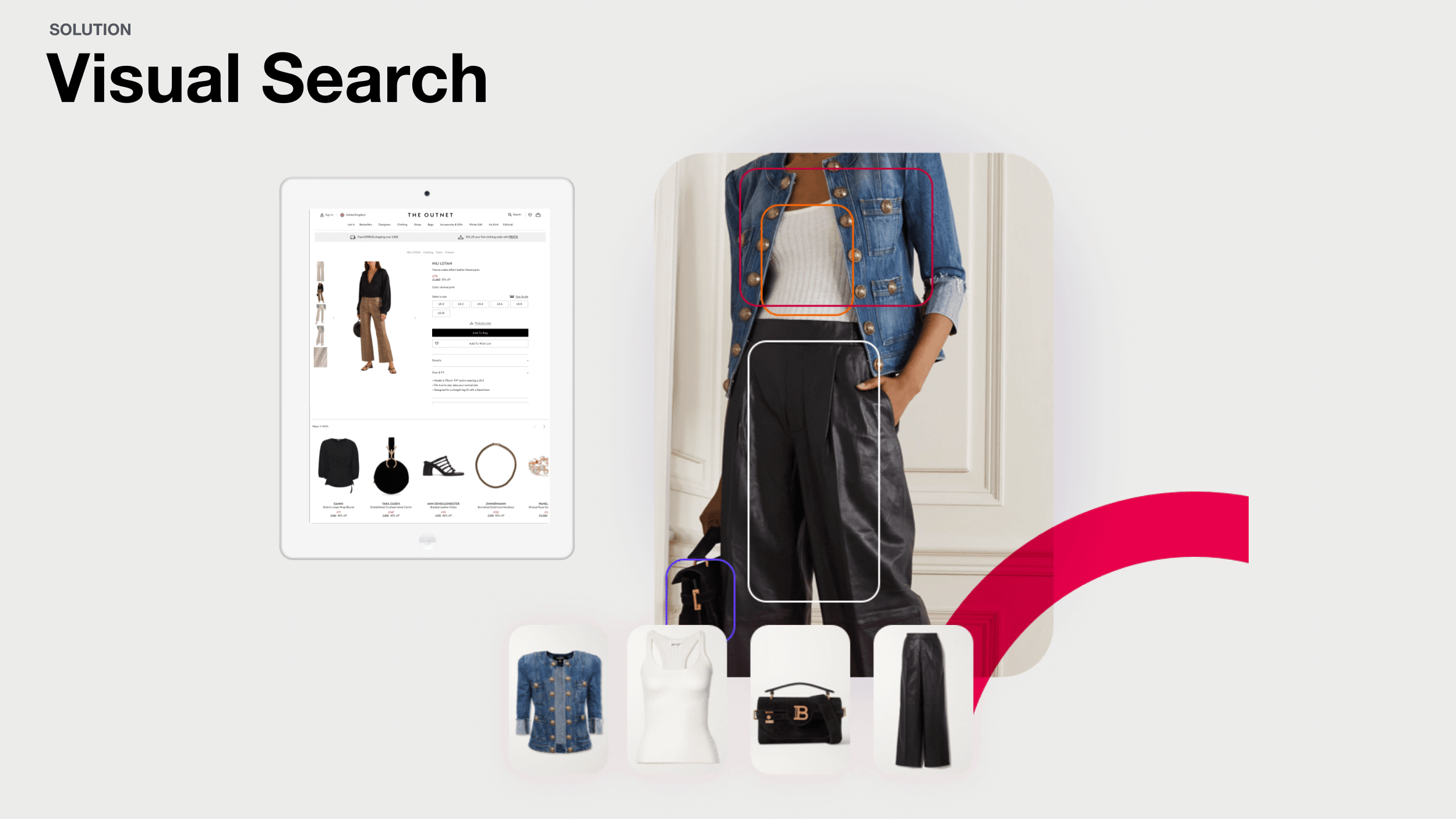 4. Reduce cart abandonment with whatsApp notifications and discounts

With average cart abandonment currently hovering at 70%, this is one of the biggest problems in eCommerce currently. It is a real lost revenue opportunity for businesses because those customers already have purchase intent. When you detect that your customers are about to leave the page, you can offer them to contact you via whatsApp for a special discount for items that they have in their cart. That's where the AI takes over. Our AI negotiator will offer that customer the right discount to convert based on their past behaviour, as well as your minimum and maximum settings while making sure that the customer is offered the lowest minimum discount needed to convert.
5. Back in stock campaigns

Stock outs are another key issue in physical and eCommerce. Not only do they result in sales loss but they also hurt customer loyalty, with competitors being only a click away online. Reassure customers that they will be the first to know when an item comes back in stock by sending them a notification via WhatsApp. Not only is it a personal way to get back in touch with a customer, but customers can buy and pay directly from the message, with a frictionless user journey.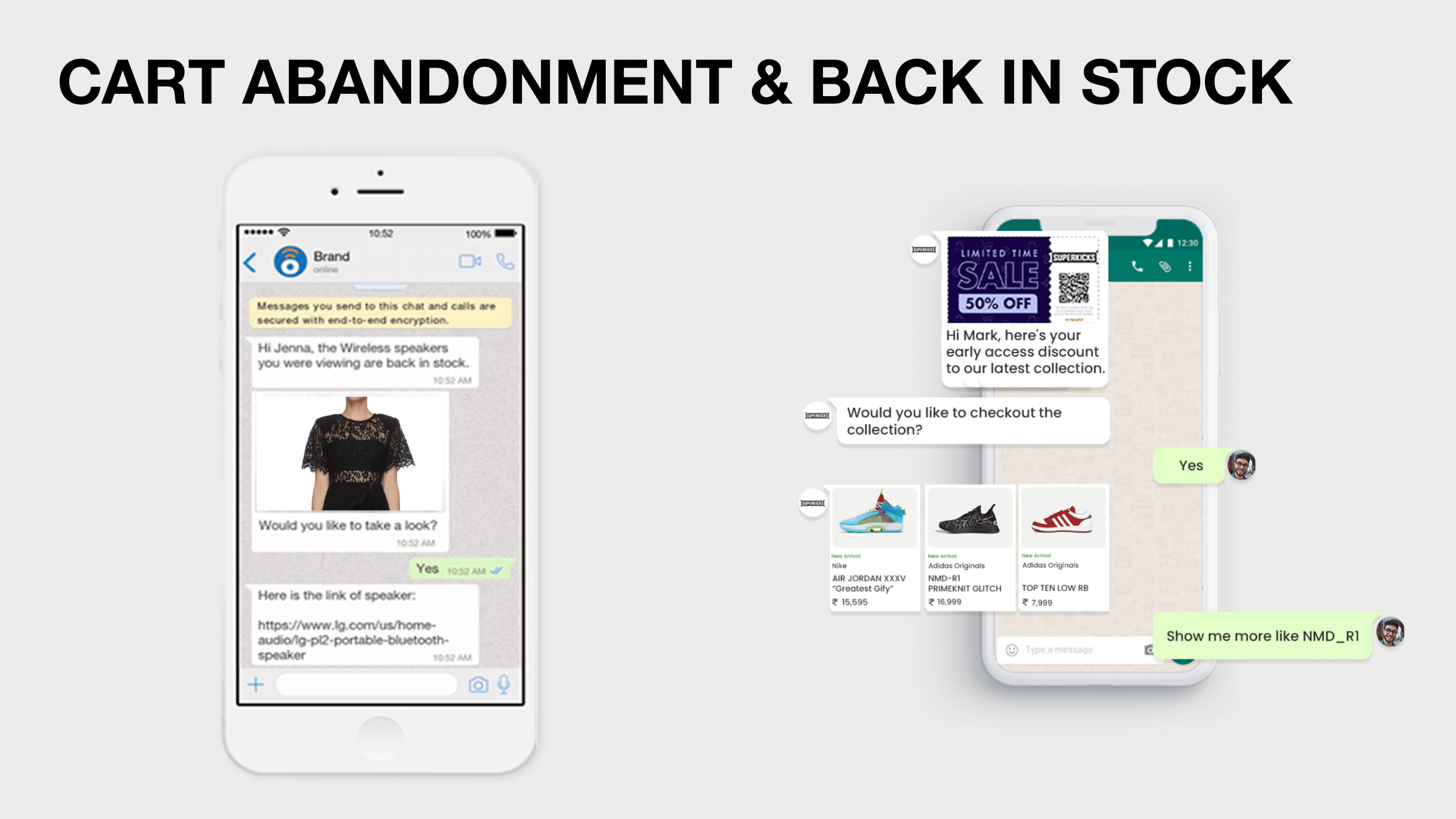 6. Loyalty campaigns for new collections

Research shows that acquiring a new customer can cost five times more than retaining an existing one. Engaging with existing customers through whatsApp is a perfect opportunity to reach a customer that you already know has a high potential to convert. Show customers that you really know them with a personalised campaign. For example, MaxMara sends customers a personal lookbook for any item they just bought in the store. That allows customers to get more value from their recent purchase, while giving them the opportunity to explore more items from the store's collection. By knowing what customers previously purchased, you can offer them items from your new collection that match their style or even items that complement their past purchases. AI is used to effectively predict the items they are most like to purchase by analysing the attributes of their past purchases.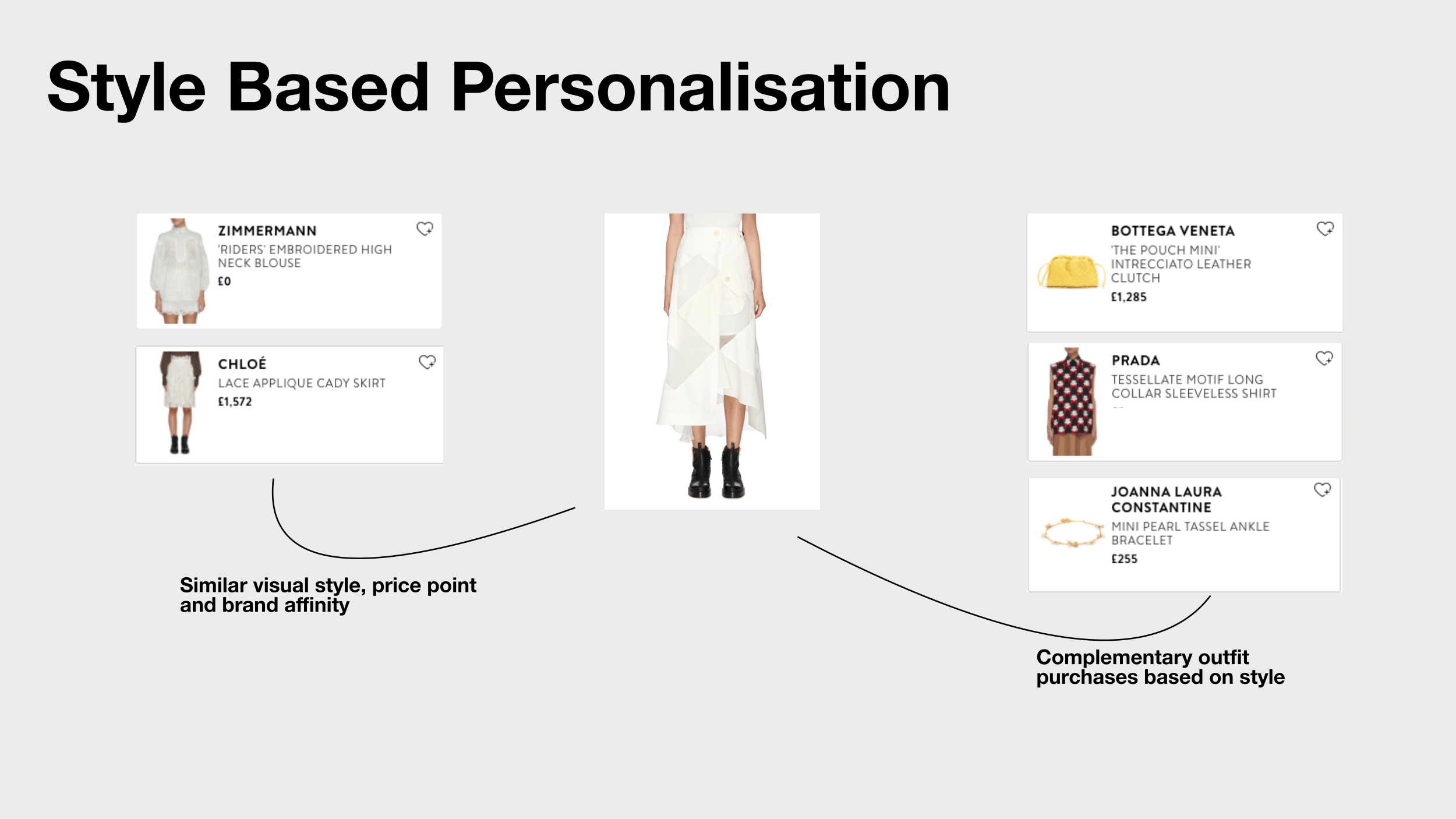 7. Effective Customer support

The importance of customer support these days cannot be overstated. Not only does it increase brand loyalty, but it can be a major source of new customer acquisition. 77% of happy customers are likely to share a positive brand experience. WhatsApp can play a key role in keeping customers up to date with the status of their order as well as helping them deal with problems and returns in a timely and easy to access manner. Images and rich media can be shared to identify and address issues as well as collect customer feedback, all in a channel that is more secure than email.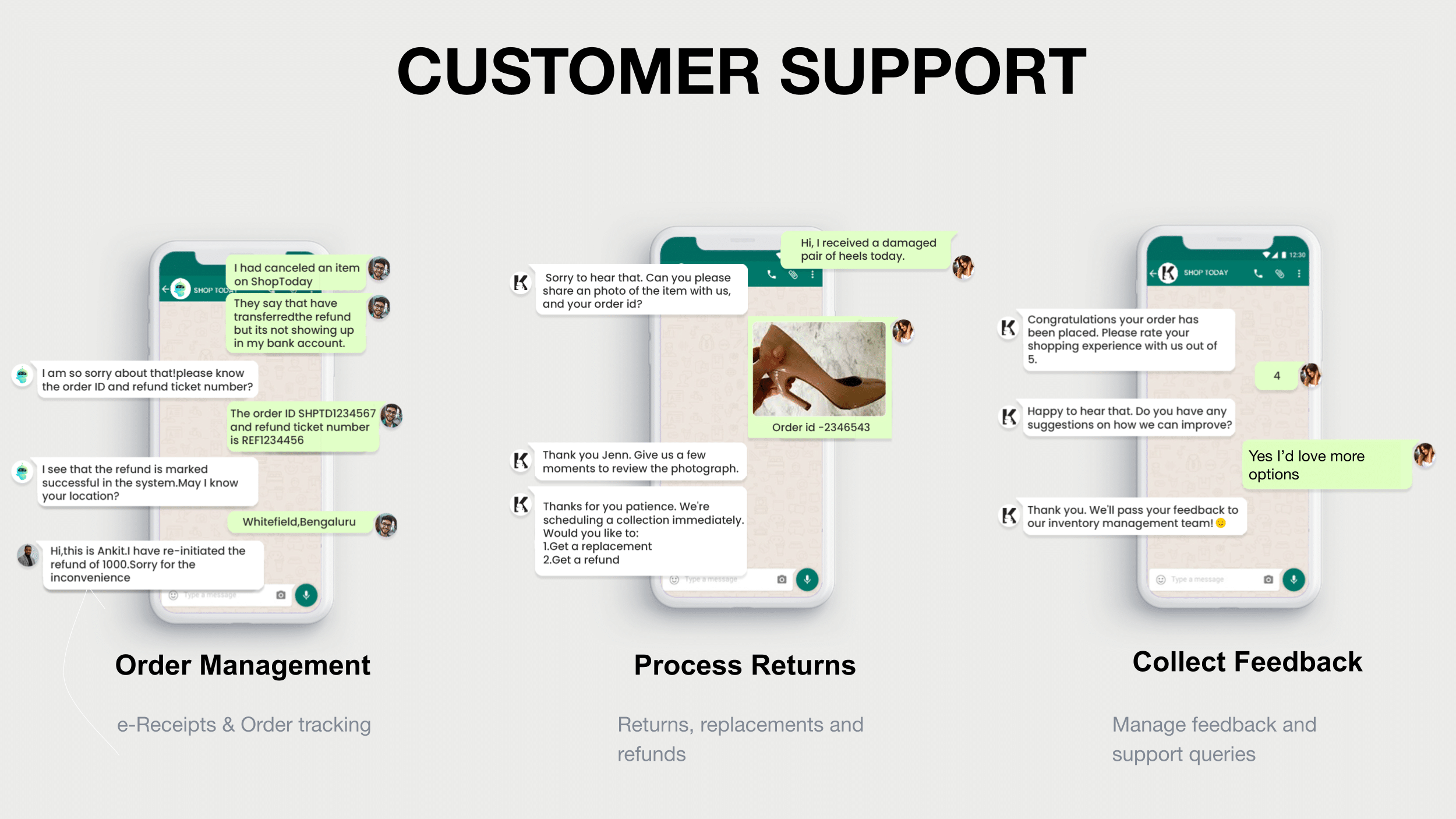 Intelistyle's extensive whatsApp suite of services, coupled with its fashion AI platform have created the ultimate experience for fashion retailers on whatApp. We've already seen huge demand for the solution with a number of retailers moving fast to capitalise on the growth of whatsApp business as a customer engagement channel. Customers, such as MaxMara, Tory Burch, Swarovski and Fossi, that were diligent enough to move fast and launch a WhatsApp solution for their business already enjoy 15% revenue uplift. 
If you'd like to find out more, get in touch for a free consultation to create a solution tailored to your needs.