Complete The Look Recommendations: Best Examples on How To Maximize Conversion
In a highly competitive ecommerce market "complete the look recommendations" feature can make fashion e-shops stand out. According to a recent study by Statista, worldwide retail ecommerce sales will reach a new high by the end of 2021 and will account for 17.5% of the total global retail sales.
This means that all ecommerce businesses will have to find new, innovative ways to establish their brand name and continue selling, cross selling and upselling their products.
For fashion ecommerce websites, "complete the look" or "shop the look" recommendations are proving to be the ultimate tool to increase revenue and improve customer experience.
What are "complete the look" recommendations?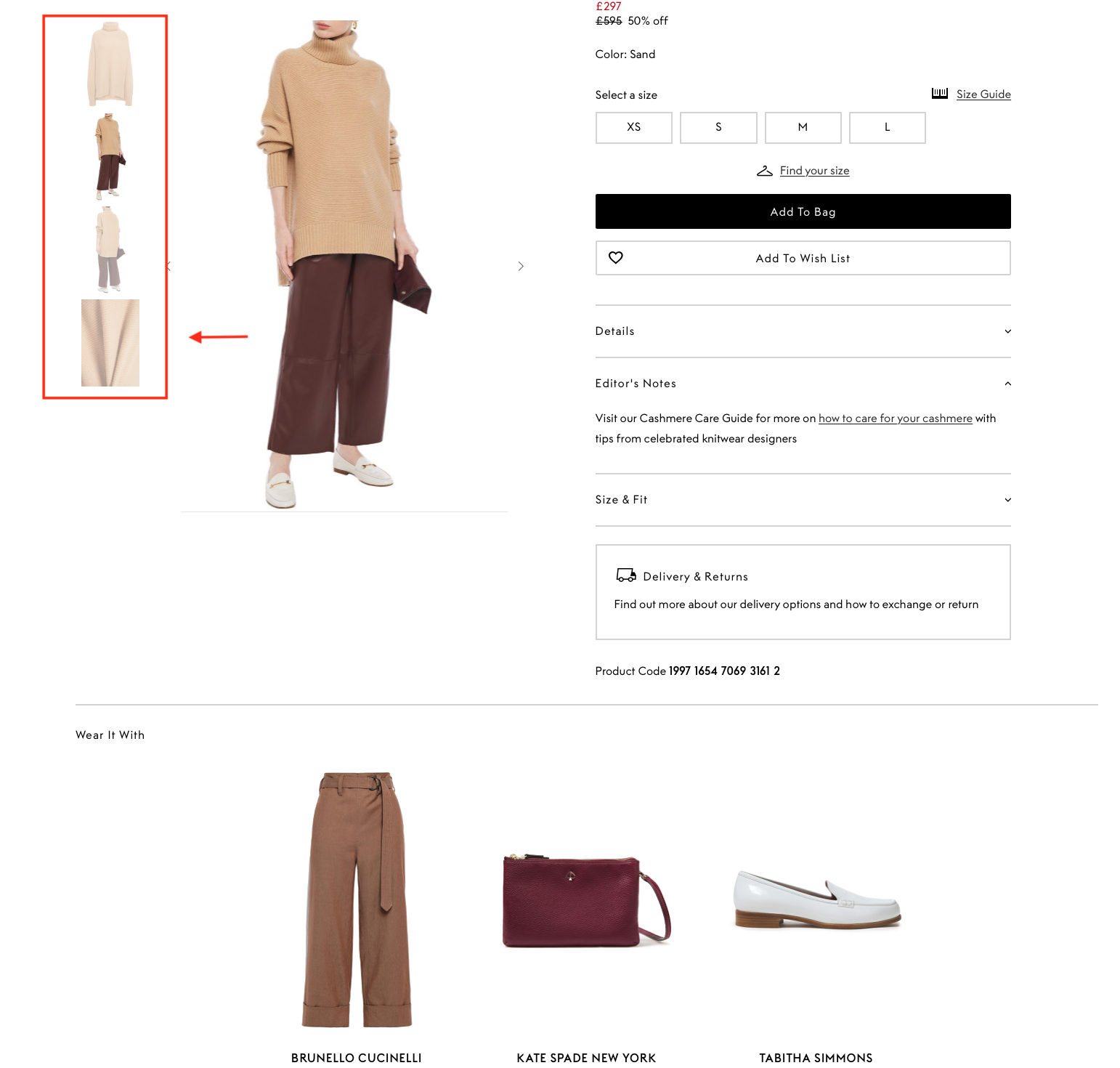 Let's take this turtleneck jumper for example. On this particular product page there is a photo gallery showing this sweater. The item is worn by a model and styled with other garments as well.  
The "complete the look recommendations" are displayed further down on this product page, (titled here "Wear It With" by the retailer) where potential customers can find the complementary clothes and accessories one needs to style the sweater. 
The retailer here prefers to recreate the outfit in the picture. Some others might opt in for different styling ideas that have nothing to do with the one pictured on the product page. 
Why use complete the look recommendations
Content is King, therefore the more relevant content you provide to your customers, the better their shopping experience is becoming. "Complete the look recommendations" though is more than that. 
Giving this kind of styling advice will help your customers understand that you are a true expert seller. Not only are you giving them the products they are asking for, but you are also proving that you know about fashion and style and therefore you are worthy of their trust. Trust is the key to build a strong relationship with your customers that will make them keep coming back. 
Creates a better shopping experience
"Complete the look recommendations" resembles an experienced and well-trained seller in a high-end physical boutique, who would recommend additional garments to style each purchase. 
Helps in visualizing the garment and highlighting its versatility
"Complete the look recommendations" helps customers visualize how they can combine each item with additional purchases, or even with their own wardrobe selection. 
Giving your customers additional ideas on how they could possibly style a garment, will probably make them consider buying more. A study found that related product recommendations accounted for up to 31% of ecommerce revenues. 
Why does it work?
When someone visits a product page we know that they are already interested in the item, so it is a good opportunity to suggest related garments. Displaying products that are complementary to the original product will give your customers the chance to buy more. By doing this customers are:
More likely to buy this particular product because it is easier for them to visualize how they can wear/use it. 

More likely to make additional purchases in order to create the look you are suggesting, increasing average basket size. 

Discovering products easier, since you give them recommendations with clickable product titles, leading them to equally attractive product pages/categories.
How should you use the "complete the look recommendations" on your ecommerce business?
Once you have decided to use "complete the look recommendations" you next have to decide how to bring this cross-selling process to life. 
Set customer experience on top of your list
Keep it simple and make sure that you are only suggesting relevant products. Try not to frustrate or confuse customers by suggesting a lot of choices and stick to those that are really related and complementary to the product they are aiming to purchase. 
Always consider what would add value and suggest options that will make people realize that they are shopping for something that is completely worth their money and time. 
Showcase your most popular products
Products that are already popular will probably increase customers' basket value. Using them in "complete the look recommendations" is a great way to cross-sell. A high quality white T-shirt, a high-end classic handbag, a pair of aviator sunglasses could be this kind of product, just to name a few. 
Forbes finds that 65% of people are visual learners, therefore providing more pictures will make your "complete the look recommendations" more effective. Using links to related products is not enough, so make sure that you have enough space to show a high quality image for each of the complementary garments. 
The best way to suggest related clothing and accessories is not only to use pictures, but to also create visually attractive outfits. Offering something unique, like a stylish and updated outfit, is a way to stand out from the crowd.
Although classics are always a good idea, in order to earn users' trust, you have to show them that you are aware of the trends. Suggest fashionable outfits based on popular trends and demands. This is a great way to prove that you are an expert and that you always update what you are offering, according to what is more relevant and in fashion. 
Personalized product recommendations can skyrocket average order value. "Complete the look recommendations" can be a personalized feature for your loyal customers that keep on coming back to your website. After a few purchases, you are able to create a profile for them and therefore suggest products that they are likely to love and buy in order to style their purchase. 
Best practice examples for "complete the look recommendations" feature
1. TheOutnet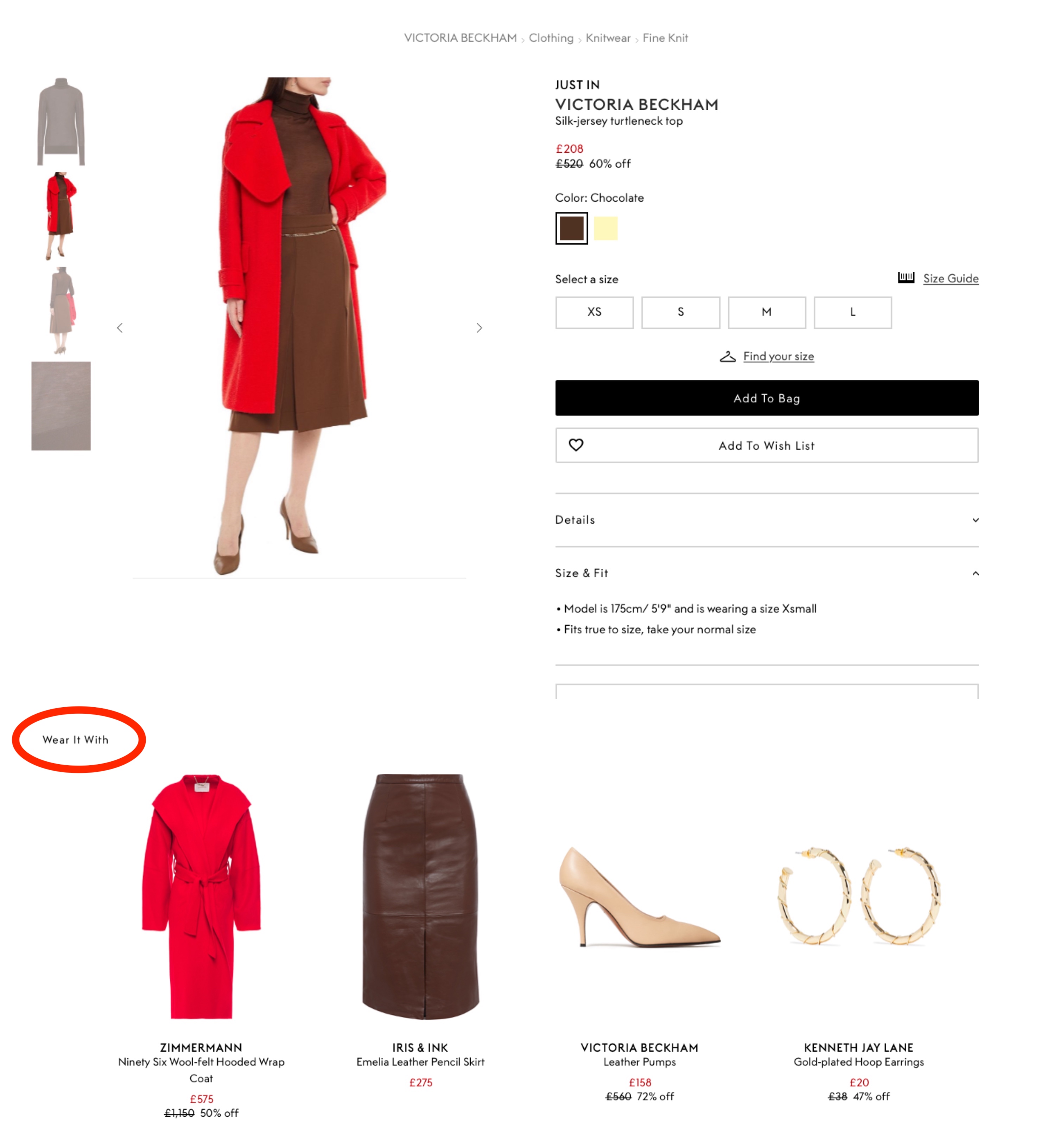 TheOutnet is using the "Wear it With" feature to help customers find similar products to the ones pictured with the turtleneck top. Their goal is to give people the chance to recreate the whole outfit as pictured in their editorial photography. 
These suggestions are ideal in this case because they are at about the same cost and even include a garment by the same designer. This means that they are absolutely consistent to the pictured outfit and therefore more likely to increase the customer's basket size. 
2. Lane Crawford
Lane Crawford opts for a different way of adding complementary garments on their product pages. The "How to style it" section includes a completely different styling idea with items that don't necessarily have to do with the ones pictured above. 
Additionally the "How to style it" box, next to the outfit, is clickable and leads to the lower part of the page, ensuring that  the full styling suggestion won't be missed by customers.  
Moreover Lane Crawford is using the "Like" and "Dislike" button for every suggested outfit. They are collecting feedback from their customers in order to improve their suggestions and offer even more attractive and useful ideas. 
Last but not least, displaying visually similar products further enhances the customer's discovery journey and increases the likelyhood to convert. 
3. Farfetch
Farfetch shows the item in two different ways in their product page, where everyone can find the most important information. They are also using the "Complete the look" feature but they take it one step further by showcasing again the query garment, right next to the suggestions. 
This is a great example of a good user experience. Customers won't have to scroll through the page to see again this trench, in order to make sure that they like the suggestions, since it's always in front of them, as a reminder. 
4. Luisaviaroma
Luisaviaroma is using the "Complete the look recommendations" by suggesting similar items to those in their editorial photography. In addition to that though they are adding an extra accessory, the sequined bag, which is not included in the original outfit enabling a potentially more expensive purchase. 
5. Thread
Thread is an example of how personalized "complete the look recommendations" work. The platform asks users to create their personal profile, by giving information such as body type, style preferences, budget and more. 
After having created a complete profile they are able to give personalized outfit suggestions. They are offering a wide range of brands and styles, in order to meet everyone's needs and preferences. Each outfit suggestion is accompanied with a small styling tip. 
6. Tommy Hilfiger
Tommy Hilfiger takes complete the look recommendations one step further by using occasion styling. There is a drop down menu where customers can choose between different occasions in order to get the occasion-appropriate outfit recommendation. 
So at first glance customers see the default style, which is the one with the most popular garments.
There's a different suggestion for those who want to style it as a street style look:
There is even an outfit created for glam occasions:
This is a very clever way of showing customers different uses of each product and of course suggesting many more products than you would, if you only had one look to showcase. 
7. Nordstrom
Nordstrom is using occasion styling as well, but in a different way. They are suggesting different outfits, using different accessories and clothing but they also do one more thing.

Apart from the main suggestion, they always create more outfits, which include different versions of the query garment, or even similar styles. As you can see here, they are offering alternatives for this red coat, but they are also showing a blue, a pink and a houndstooth one, in order to meet each client's needs or even sell more. 
Common mistakes to avoid when using "complete the look recommendations"
Don't show out of stock products – use Visual AI or automated complete the look to replace them
Always keep in mind that some of the products you are suggesting may go out of stock. Watch closely your recommendations and make sure that you are replacing any sold out garments with new ones, in order to create the best possible experience for your customers.
Try to suggest products that are not too expensive (or even too cheap) compared to the main garment. Customers are more likely to be interested in similar priced items. 
Don't mix formal and informal garments in order to create your suggested outfits. If you are selling a pair of distressed denim shorts for instance, don't suggest a silk, floor length cape to complete the look. Opt for a denim jacket or an oversized hoodie instead. 
Avoid using the same garments
Although a white T-shirt is very easy to style, using it all the time in your suggested outfits is not the best practice. Show customers that you care about their needs and that you have put the effort to give them the best option.
How A.I. can help you create highly converting complete the look recommendations
After having decided that you want to add "complete the look recommendations" on your ecommerce website, the next most important thing is to create a strategy. Automating this process will increase your operational efficiency by 30% and will ensure your catalogue coverage is always above 90%. 
Intelistyle's A.I. and Visual Search technology allows you to either generate completely new styling recommendations or recreate automatically all editorial photography as complete the look outfit recommendations on every product page. 
Apart from getting more ROI automating this process will also: 
Improve product discovery

Enable horizontal customer journeys

Increase post-purchase satisfaction and NPS

Reduce out-of-stocks

Make ecommerce merchandise as good as physical
Final thoughts
Top online retailers are adopting new techniques and ways to increase their revenue. Among them there is a competitive advantage gained from "complete the look recommendations", because it is much more than a marketing strategy to simply make customers add extra items in their cart. 
"Complete the look recommendations" is a highly effective way to improve the overall customer experience and personalization. When you offer relevant products, shoppers are more likely to purchase something and of course, come back again. 
Automated solutions can take the quality of your recommendations to the next level and increase revenue significantly.
Get in touch today to find out how we can help you create highly converting complete the look recommendations.