Fashion Chatbots. Do They Really Work?
Shopping for new clothes is an exhilarating and memorable experience, especially in the higher-end retail stores where your entire visit is treated as an event with attendants catering to your whims and pulling suitable items off the rack for you to try. However, as shopping continues to migrate away from brick-and-mortar stores to online ecommerce sites, the personal touch has been lost. Until recently, that is.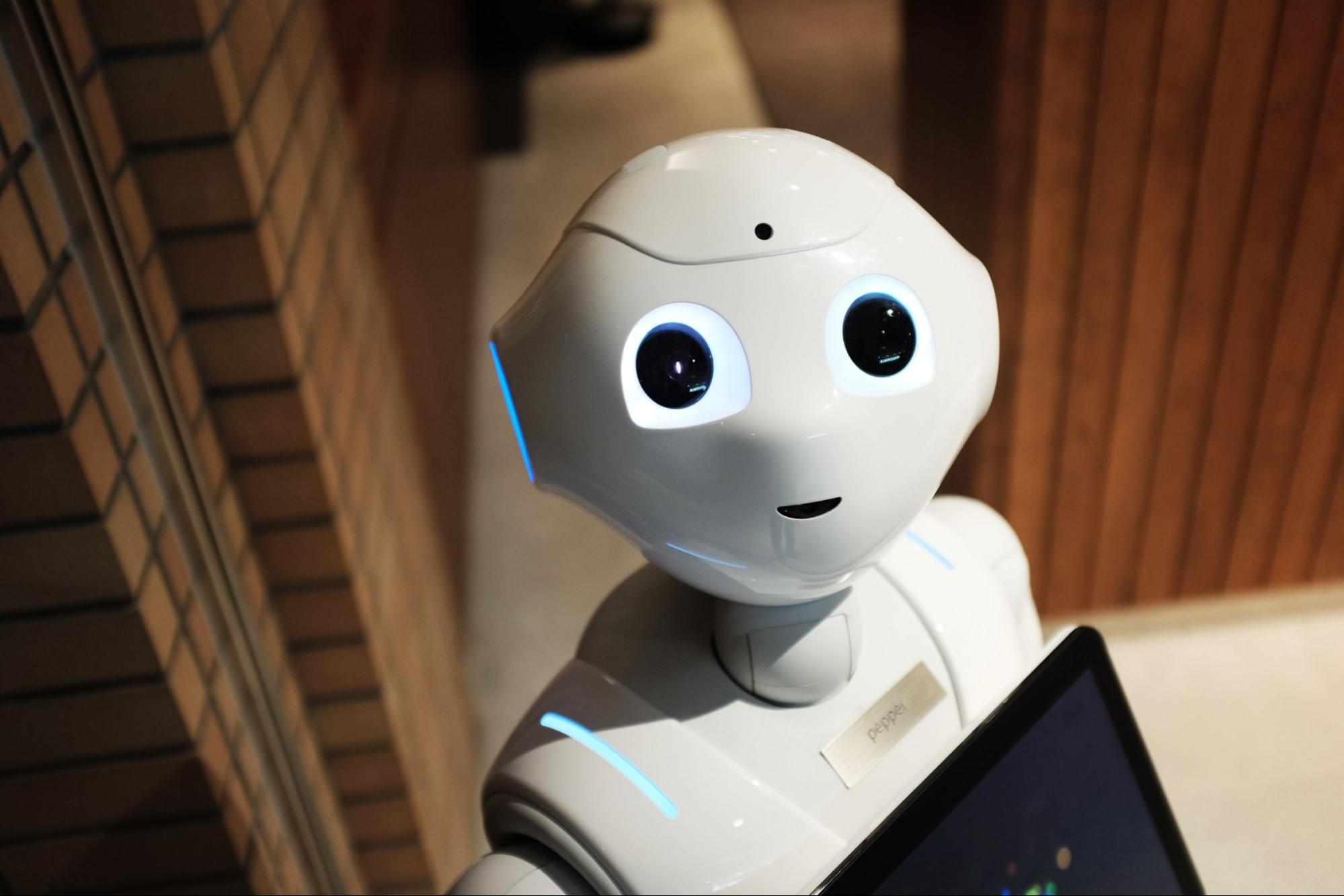 The fashion industry has been pioneers in adopting artificial intelligence (AI) technology in its ecommerce store. The top ten apparel companies globally have all been innovators in AI shopping, using algorithms to support their recognition engines, design, marketing and customer care. The fashion industry recognised early on that AI, and machine learning has provided them with an opportunity to create an engaging, personalised experience at an affordable cost. AI-powered fashion chatbots are the nearest thing to human help or opinion. Chatbots appear on a website and can offer customers friendly support and assistance faster and with greater detail and accuracy than their human counterparts ever could. 
What Are Fashion Chatbots?
Fashion chatbots are also called intelligent assistants or AI stylists. They are computer programs that conduct and manage a dialogue through the exchange of text or even audio messages. Through machine learning, these conversations can be seamless and natural enough that if the chatbot didn't identify itself as a bot, you might never be the wiser.
There are many different types of chatbots, but we can generally distinguish bots as intelligent or task-specific with limited capabilities. Most of us have encountered task-specific bots before, usually when you select the chatbot option when you contact a helpdesk. 
These bots are programmed according to a set of rules. They will guide a conversation along a predetermined path, e.g., answering simple queries about password resets and order tracking or sharing an article from an internal knowledge base in response to a standard question. If the client requires anything more complex, they'll transfer the chat to a human agent. 
Intelligent bots, as you may have guessed, are a lot smarter! They use a combination of visual AI and machine learning to develop their insights and capabilities over time. The bot can instigate a conversation, ask for user preferences, and present the shopper with a scrollable gallery of fashion options. The customer can indicate which items they like. The bot can instantly select and display similar items carefully chosen from a catalogue of thousands or even millions of products through the power of fashion tagging. The underlying technology fuels powerful recommended engines that pick up on buying behaviour in real-time and then make highly-accurate suggestions to increase basket size. 
How Can Chatbots Help Your eCommerce Fashion Store? 
Like The Body Shop, several retailers have shown that chatbots boost their omnichannel sales and enhance their customer's experience. The Body Shop launched a personalised skincare recommendation tool on their website where a bot asked customers relevant beauty regime questions. 
The Body Shop chatbot then recommends suitable skin products, which doubled the average basket size. The AI tool was so successful with online shopping that 149 physical Body Shop stores globally were supplied with in-store tablets to achieve similar results. 
If you are in the fashion business and active in the digital space, chatbots have these benefits:
Exceed Customer Expectations With Instant Gratification 
Customers want to find what they want with minimal friction when shopping online. Chatbots can instantaneously provide information, recommendations, and assistance, shifting through databases of thousands of clothing items in seconds.
Simplified And Friendly Assistance
Unlike human beings, chatbots are always available. Their moods don't change, and they don't take rejection personally. They will tirelessly answer questions, provide the most accurate suggestion based on a vast database of rich attributes and pick the best items. Whereas the best and most well-staffed contact centres would struggle to cope with high-sales days like Black Friday, chatbots can speak to thousands of customers simultaneously — and the quality of the interaction will never deviate.
Powerful Differentiator
Chatbots can help you attract customers to your store out of sheer curiosity. While few of us could afford a personal shopper in real life, a chatbot can fulfil the role of a personal stylist and curator seamlessly and at no cost to the customer. The more you interact with the bot, the more it learns about you. The result is a powerful, personalised shopping experience, which sets the ecommerce store apart from the competition.
Examples Of Fashion Chatbots At Work
These leading retailers have introduced chatbots to their online stores and applications.
Turkish retailer Fashfed uses Intelistyle's chatbot to engage with their client base. The bot provides one-on-one styling advice, the same way a stylist would. During the interaction, the bot asks questions about the type of fashion for the occasion, body types and skin tones to provide personalised suggestions for outfits from the Fashfed catalogue. The chatbot has been tailored according to the brand's tonality and guidelines. Customers can also upload images of clothes from their wardrobe or social media to get recommendations on what to wear or to find visually similar products.
Victoria's Secret
Famous lingerie brand Victoria's Secret helps customers shop for underware by offering suggestions and tips. The chat opens with a proposal to view the latest designs available in the store. You can browse immediately, with the chatbot guiding you through the various options. The bot will also prompt you to sign up for the newsletter or peruse the frequently asked questions (FAQ) section. It can be a great help for shoppers that aren't sure how to navigate the site.
Louis Vuitton
Louis Vuitton has leveraged their 23 million-strong Facebook page by integrating a chatbot with their Facebook page. The chatbot can answer questions, suggest an ideal item from the catalogue, provide information about Louis Vuitton and allow customers to share products with Facebook friends to get a second opinion.
Tommy Hilfiger
Tommy Hilfiger was ahead of the pack when they started using chatbots in 2016. The company used them to launch the new TommyXGigi line at the New York Fashion Week. The bot called TMY.GRL was integrated with Facebook Messenger and provided a concierge experience for customers. The bot suggested pieces from the collection, asked questions about customers' preferences and then made suggestions about each look.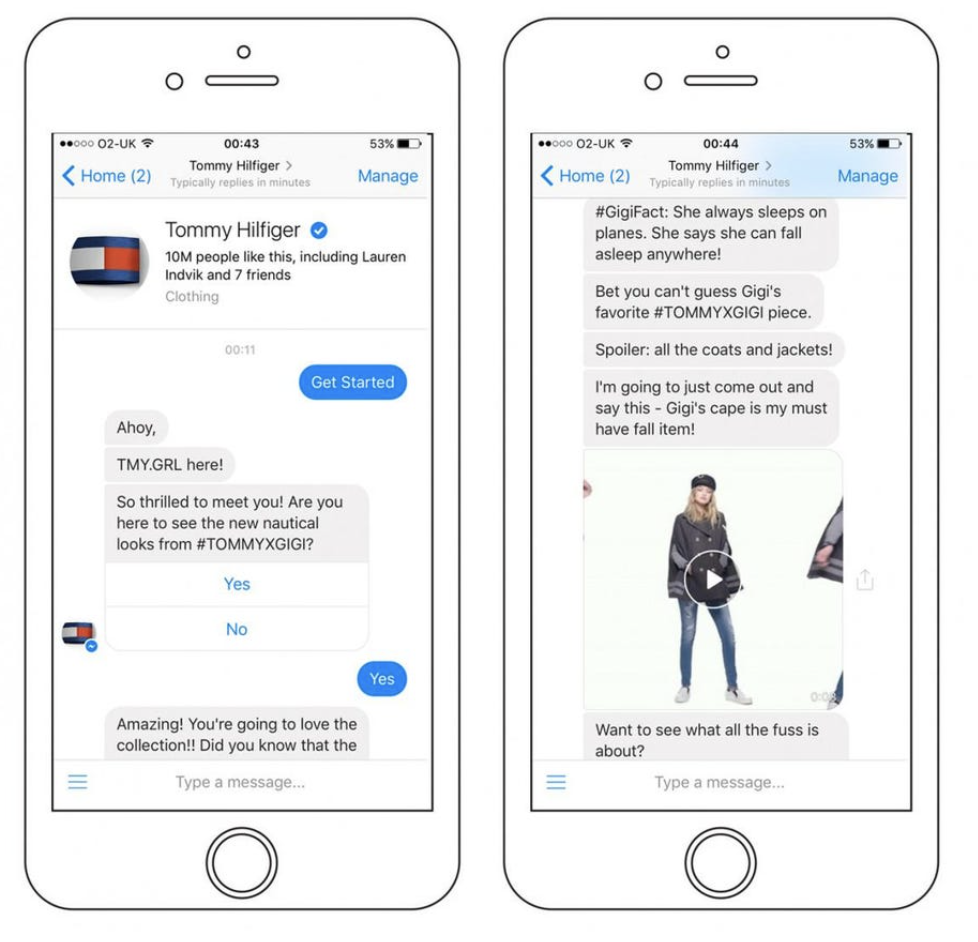 Since then, chatbots have become more sophisticated and engaging. You can browse Tommy Hilfiger collections or ask the chatbot to assist you in selecting a new outfit. The bot will ask a few personal questions and preferences (e.g. whether or not you like bold or natural colours, casual clothing, or something more formal) and then make suggestions. The bot acts as a stylist, assembling entire outfits that include accessories and shoes. If you like the ensemble, the bot will quickly establish your sizing and the country to ship to before redirecting you to the website, where your items are waiting, ready for checkout. 
The bot will continually offer new options, including prompting you to try different styles or watch videos of the collection. All of these tools keep you engaged and increase the likelihood of a sale. 
Burberry
Burberry has always been a luxurious and innovative brand. Their chatbot introduces customers to beautiful lookbooks and backstage videos of models wearing Burberry outfits at fashion shows. The bot will suggest matching items and accessories for things you've shown interest in, with prices and links to the Burberry website. The chatbot will also ask you for your location, provide directions to the nearest store or fashion show and even help you book an Uber to get there.
In Closing
Chatbots may be the one thing that brings the magic of shopping to the digital space. When you want to know more about creating an intelligent fashion bot of your own, book a demo with Intelistyle.