How a Shop the Look Widget Can Increase Basket Size By 40%
Imagine this all too common nightmare scenario: Joanna, a potential customer, is scrolling through your e-commerce store when she comes across a t-shirt she likes. She clicks on it and is redirected to a product description page that features an editorial image of a model wearing that particular t-shirt with other items — jeans, shoes, and accessories —  from your store. 
Joanna likes the model's outfit. In fact, she likes it so much that she decides to buy all the products from the image to replicate it exactly in real-life.
But there's a problem: the items from the editorial image are scattered throughout your store. Consequently, Joanna has to scroll through each product category (jeans, shoes, and accessories) within your store to find the exact products from the image. Unfortunately, some products are out of stock, whereas others are not available in her size. 
Halfway through trying to find the items she wants, Joanna grows tired, gives up, and leaves without buying a single thing — not even the t-shirt she was interested in initially. 
Ultimately, Joanna ends up having a bad customer experience, and the store misses out both on a sale and her repeat business. Surely there's a solution to this problem? Yes: it's called shop the look widgets, and it can increase your basket size by up to 40%. 
Shop the Look Widget: What Is It?
A shop the look widget is a widget that gives customers outfit recommendations for a particular product. 
If a customer is unsure how to style a specific item, then a shop the look widget can provide them with inspiration. For example, if a brand uses editorial photographs, a shop the look widget makes it easy for them to replicate the outfits featured in these images. 
Here's how Farfetch does it: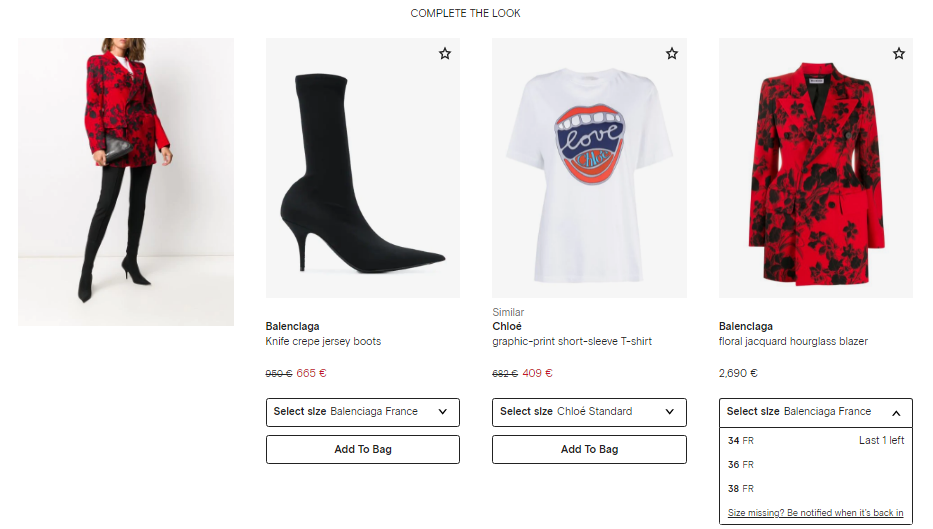 What's notable here is how easy it is for Farfetch customers to add an item that is part of an outfit to their basket. Browsers are able to not only check size availability right from the widget but also immediately add the product to their bag by clicking the "Add To Bag" button. 
The best shop the look widgets can transition to complete the look experiences when specific items go out of stock. Otherwise, outfit recommendations can end up being incomplete. 
Here's how The Outnet does it:
Notice how the recommended top in the "wear it with" section is not an exact match for the top in the editorial image. In all likelihood, the top worn by the model is out of stock, hence why it was replaced by a similar option. 
When almost all of the items worn by a model on a specific product page go out of stock, a brand may recommend a completely different look. Here's how Lane Crawford does it: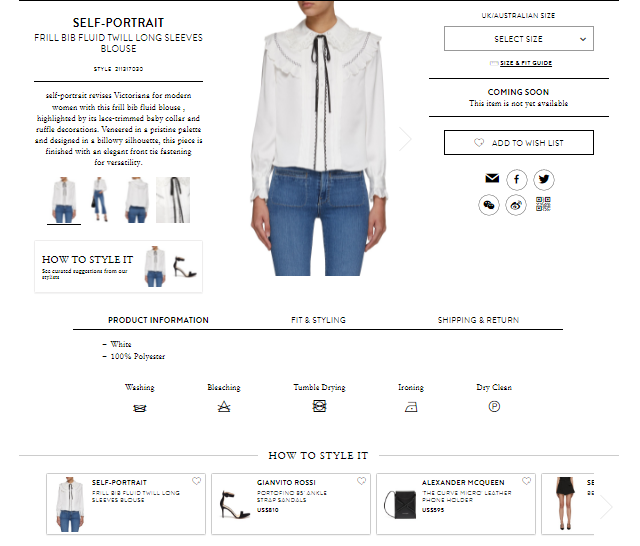 Except for the shoes, the items suggested in the "how to style it" section (i.e., complete the look) do not correspond to the items in the image with the model. However, the recommended products nevertheless complement the blouse. 
A complete the look widget can also give customers more ideas on how to style a specific garment. In the Lane Crawford example, a customer that views the blouse's product page knows that they can style it with simple blue jeans and black high heels. However, as made clear by the "how to style it" widget, the blouse would also look great with those same black heels, a mini black skirt, and a black leather phone holder. 
Nordstrom goes a step further by featuring several "complete the look" widgets for each product (in this case, a silver sequin side slit skirt):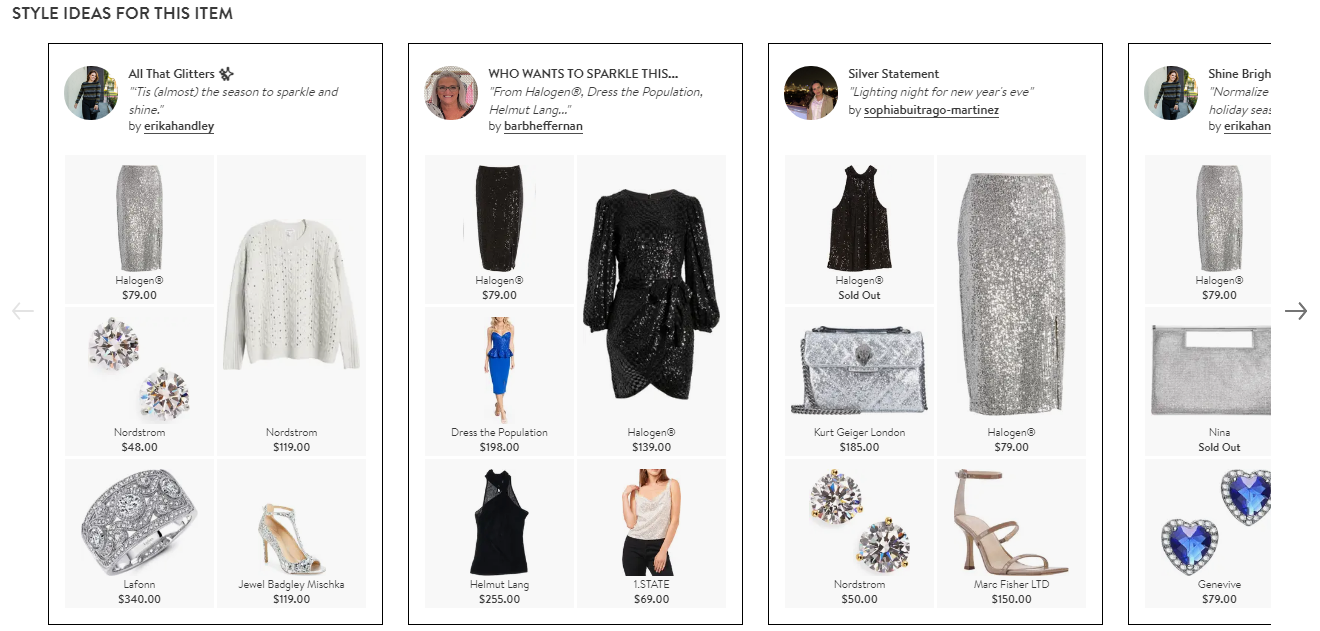 Shop the look and complete the look widgets are not exclusive to product pages. Retailers can also add them to email marketing campaigns or even social media.
Why Your Store Need a Shop the Look Widget
There are numerous reasons why your e-commerce store needs a shop the look widget. Below are just some of them. 
1. It's a way to educate and inspire your customers
The number one mistake most fashion brands make is that they sell to their customers rather than styling them. 
The truth is, many people shop for entire outfits rather than individual pieces. Instead of showing a customer a product — say, a dress — brands should therefore demonstrate how they could wear it. 
Contrary to popular belief, editorial-style images of models wearing entire outfits are less important than shop the look widgets. 
Take a look at this product page: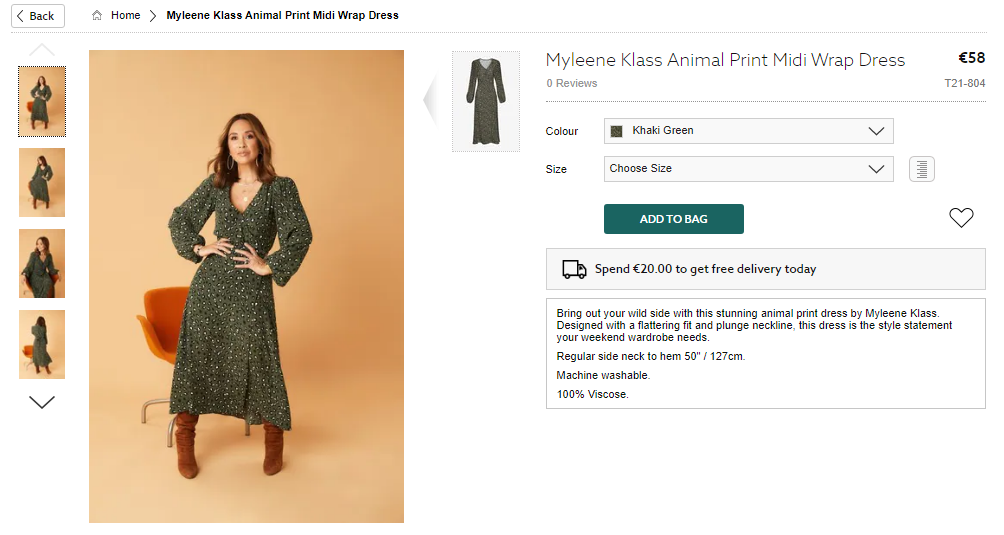 It shows a model in a maxi dress with what seems like knee-length brown suede boots. If you zoom in, you can also see that the model is wearing quite a few accessories, including large hoop earrings, several necklaces, a watch, and a few rings.
It's a cool look, and there is undoubtedly someone out there who would like to copy it exactly. Unfortunately, because this particular shop doesn't have a shop the look widget, they can't — or at least not easily. 
As mentioned earlier, to recreate an outfit featured on a store that doesn't use shop the look widgets, a customer would need to look for the suede shoes in the "shoes" section of the shop and accessories in the "accessories" section. 
In this particular shop, there are close to 10,000 shoes for sale. And even narrowing the selection down to "brown boots" still gives the customer just over 100 shoes to go through. The same can be said for accessories. 
On the other hand, the store below does not use editorial images for all its products. As a result, customers can't necessarily see how a particular item would look on a model as part of a complete outfit. However, because the product page features a shop the look widget, customers can nonetheless visualise the product — and how they could wear it.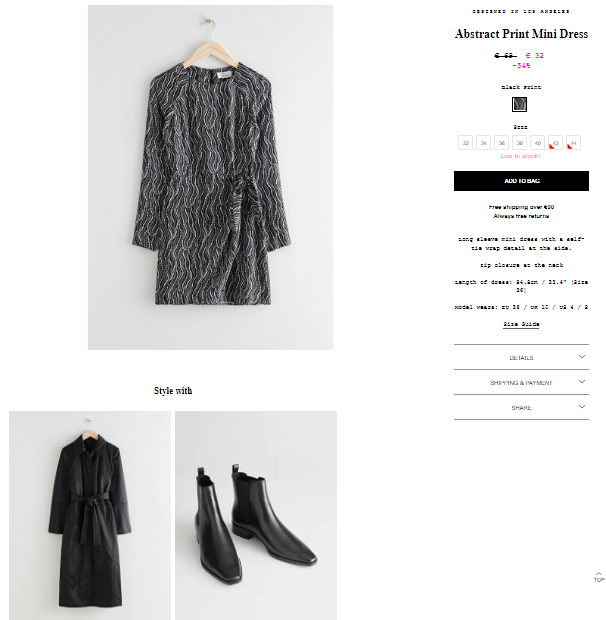 By offering customers styling advice through shop the look widgets, brands can position themselves as an expert on fashion, especially if their suggested outfits are fashionable and "on-trend."
Even if customers don't buy the complementary pieces from you but are instead inspired to utilise items from their own wardrobes, with time, they will come to value your advice and will turn to you above your competitors in moments when they need a totally new outfit.
2. It can improve the shopping experience
For customers, one of the best things about shop the look and complete the look widgets is that they eliminate the tedious practice of having to scroll through a store's entire catalogue to buy items that make up an outfit on a specific product page. 
This vastly improves their overall experience — and time on site.
3. It allows you to create a VIP experience
Brands don't have to show every customer the same product recommendations within a complete the look widget.
Instead, for repeat customers, retailers can personalise the widget based on their location, browsing history, and purchasing behaviour. 
In this way, a complete the look widget resembles a personal stylist at a physical high-end boutique who would give a customer personalised advice on what to wear certain pieces with. 
4. It helps you foster customer loyalty
Getting new customers can cost brands up to five times more than retaining existing ones. It is therefore vital that fashion companies work on building and maintaining customer loyalty. 
Here, again, complete the look widgets can help. After all, customers are more likely to return to stores that inspire them, offer a seamless customer experience, and treat them like VIPs. 
5. It increases revenue
Consider this: the likelihood of selling to an existing customer is somewhere between 60% and 70%. In contrast, the probability of making a sale to a new customer is only around 5% and 20%. 
These statistics make it painfully obvious how important it is for retailers to engage in up-selling and cross-selling practices.
By showing customers how they could style a particular product, you are essentially engaging in up-selling cross-selling, a practice that allows you to sell more to existing customers.
If a customer likes the products recommended underneath an item that originally caught their eye, they will likely click on them and make additional purchases to recreate the suggested outfit. 
For brands, this means increased average basket size and order value. One study found that the average basket size grows by up to 40% for users that are shown personalised recommendations. 
Even if a customer doesn't buy the suggested products, they are still more likely to buy the item they were initially interested in after seeing how they could wear it. 
How to Automate Shop the Look Widget
While it's possible to create shop the look and complete the look widgets manually, doing so doesn't really make any sense. 
To start with, generating product recommendations manually is time-intensive — just think of all the other things your staff could be doing with their time instead. 
Moreover, with manual product recommendations, it's almost impossible to cover all of the items in your inventory. As clothes and accessories go out of stock, keeping product recommendations relevant would also necessitate you or your staff to replace products that are no longer available with ones that are. 
Importantly, creating product recommendations manually does not allow for personalisation — something that customers have come to expect of retailers. 
The obvious solution is to automate shop the look widgets on your online store. With Intelistyle's AI and Visual Search technology, brands can automatically replicate editorial photography in the form of shop the look widgets or create completely new styling recommendations.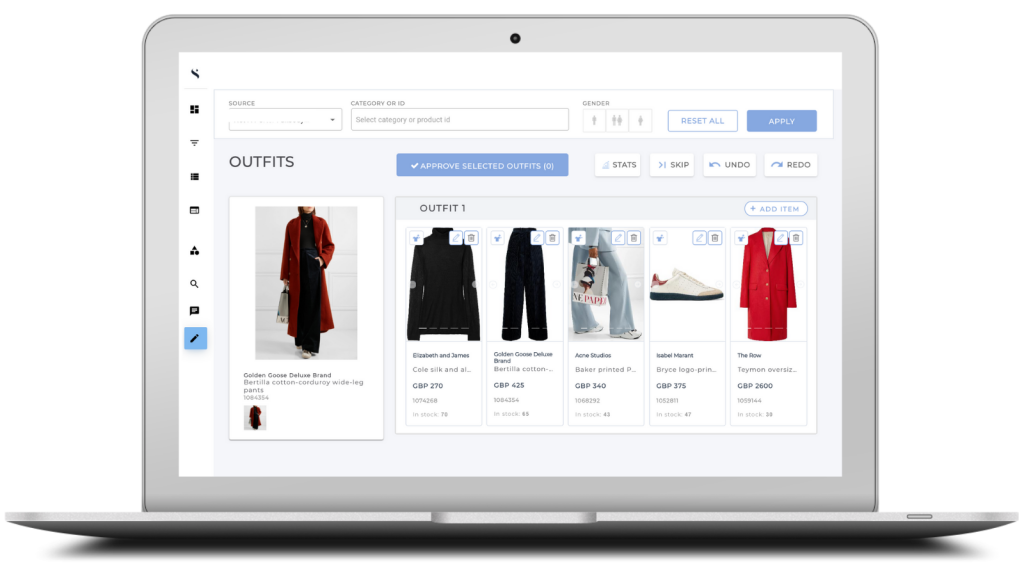 In the latter scenario, retailers can create thousands of different looks from their inventory based on things like trending items, products that are in stock, and seasonal looks. 
Automating product recommendations has been proven to increase operational efficiency by 30%. Furthermore, with AI, catalogue coverage is guaranteed to be above 90% for product recommendations. 
Ready to start using shop the look widgets? Contact the expert team at Intelistyle today.