How a Visual Search Engine Can Help Your Store
We are visual creatures. We scroll through hundreds of photos a day, bombarded with trends, friends, and perfect holidays. And so, we know what we want, but do we? Well, we know what it looks like, at least. 
As a shopper, we tend to look at popular social platforms like Instagram and Pinterest to inform our shopping habits. We search for what is hot on the streets or just arrived from the runway, but depending on where you live or your income bracket, these items are only a dream as we can never find them at a reasonable price online – for now.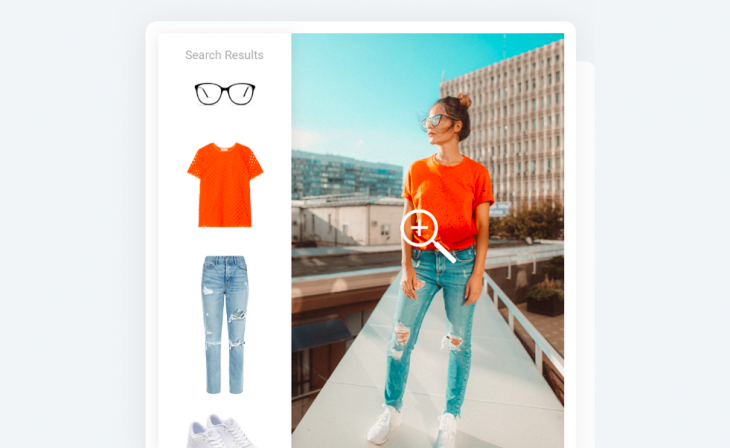 Looking at the statistics, 90% of Pinterest scrollers use the platform to inform their purchases. Why? It's visual – we can see the fit and style of the garment, and it gives us the capability to imagine ourselves in the item — a significant factor in the online shopping experience. 
Many eCommerce platforms have brought visual thinking onboard, and it was to be expected. As humans, we retain almost 65% of the content that we see over three days, and 5000 of these pictures per day are ads. And therefore, visual searches are a necessity for your online business. 
Let's get into how a visual search engine can help your store.
A Visual Search Engine Explained
We are accustomed to search engines like Google and Yahoo, and a visual search engine works similar to this, but instead of putting in text or keywords to gain the information you need – you look for information with an image. This means you can look for a product with an image typically via Google Lens and Pinterest Lens.
Visual Search Engine and eCommerce Meets
Many online businesses struggle to optimise their sites to convert their leads into long-term customers. Many of the identified pain points are within the user experience, and if there is one thing that we have come to realise when an online user is not satisfied, they will leave. 
So, how do successful eCommerce stores do it?
Your target market and their habits will be a starting point. As online businesses, we forget about the shopping experience as a whole. Just think about how you will look for a new outfit in a physical store? It is a tactile experience where you can compare the picture you had in your mind with what you see right there in front of you. But the world has shifted, and as an eCommerce site, we need to consider these human truths. 
Therefore, optimising your online site to facilitate the best user experience and transforming how your customers shop, a visual search engine will have the most recognised impact.
The Benefits of a Visual Search Engine
According to Gartner, the business research group, early adopters of visual search will see a 30% revenue increase. But it won't stop there – eCommerce that adopt innovative visual models into their strategies will see an increase in revenue, conversion rates, and customer satisfaction —all with one common goal: making the sale. 
1) Give a customer what they want quickly. Make a sale from inspiration to product discovery in a few simple steps. 
We move in a fast-paced time, so if a customer decides to take a quick look at a potential garment between emails, you want to rank right at the top. Ultimately, you want to decrease the steps between what you are looking for and actually finding the product. 
Text-based searches take twice as much time as visual searches. And we all know, time equals money.
2) Speed up your conversions.
When it comes to optimising your site – a visual search engine should be at the top of your list. Keyword filters are effective, but in this day and age – a tad old school. There is nothing worse than a consumer getting frustrated searching and searching for something and eventually dismissing the process altogether as a waste of time. 
Making sure that your customers find what they want by simply uploading a visual example is the quickest way to the checkout page.
3) Be visible from more than one angle and digital platform. 
Everything is connected, and as an eCommerce store, you need to use this to your advantage. With visual search AI, you can link influencers and various contact points in the media right back to your online offering. Whether you place posts online or gain followers through third-party searches – incorporating a visual search engine will help you gain visibility and drive traffic.
4) Gain sales from social media. 
Our shopping habits have changed, so has the way we discover products. These days, 60% of shoppers discover products on social media and want them immediately. So when they pop the product in their favourite online site or store, they want to find it quickly. A visual search engine in your eCommerce site will do just this.
5) Build lasting relationships with your clients.
One of the major misses in the eCommerce space is business owners forgetting what it takes to maintain client relationships or how to. The online world differs, and there are various other techniques on how to understand your target market, their behaviour, and upkeep a profitable relationship. 
With a visual search engine, you will gain views into their tastes, purchase drivers, and motivation. You will also be able to identify the exact products that they want. It is a whole level up from what we traditionally understand with market research and very applicable to eCommerce.
How to Implement A Visual Search Engine
Stepping your eCommerce business up by implementing a visual search engine requires you to make sure you follow a few easy steps. It is one of the most excellent tools for a results-driven eCommerce shop, but you can complicate your user's experience if you do not correctly prepare the technology or images. 
Here's a manageable
list
of how to get your online store ready for a visual search engine: 
Use high-quality images that are the correct size. 

Make sure to name your images describing what the garment looks like in short. 

To increase SEO and make your photos more accessible on your site, use descriptive alt text on your images. 

Add your images to your sitemap to ensure search engine crawlers can easily find your pictures.
Add Attribute Tagging to Your Images
Visual searching is the newest, best way to help your customers find what they want within a few steps – a perfect way to keep them satisfied with the user experience and the marketing funnel. With Intelistyle, you can take it a step further. Our styling AI allows you to tag your garments according to their attributes. A feature that automates product tagging to enable customers to shop via filters.
Occasion

Body Type

Fabric

Pattern 

Desired Feature
All of the above serve as metadata alongside your visual searches, making your customers' product search more comprehensive than your competitors.
Kick-start Your Business with the Visual Trend
In the ever-evolving business of eCommerce, each business owner is responsible for keeping up with the latest marketing trends. Although relatively new in the market, visual searches are gaining popularity, and soon most stores will have incorporated this feature. And as the data shows, it will favour the early adopters.
Make visual thinking and AI styling a part of your sales strategy, and you will see the conversion difference sooner than you think. 
Demo our Intelistyle product and see how you will fall in love with the look and feel. Just like your customers will.