Automated Product Tagging: Reform Your Fashion Business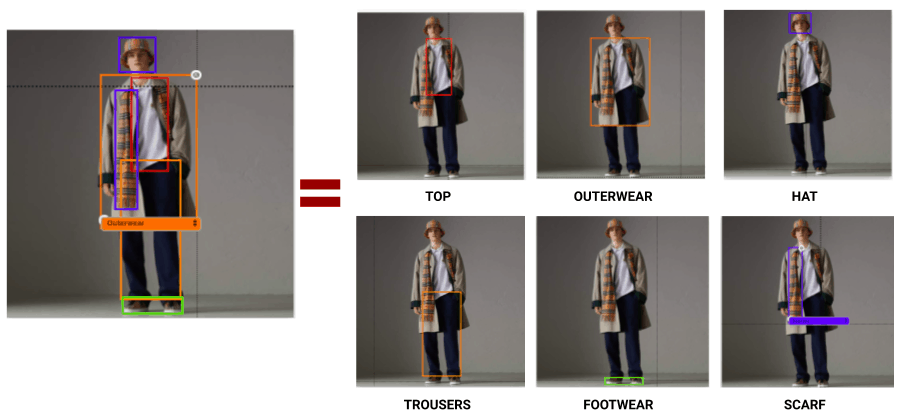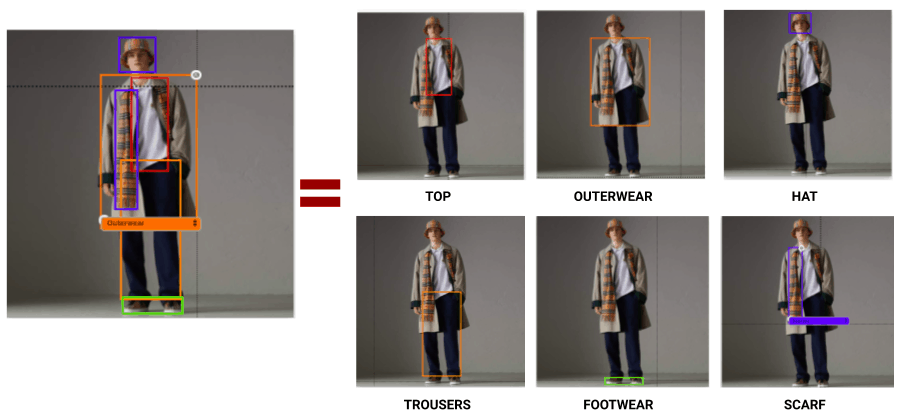 Automated product tagging can drastically reform your fashion business and in this post, we are going to explore how.
On-demand fashion has irrevocably changed the retail landscape. The backstage operations at design, buying-merchandising, production and all touchpoints in the customer journey. Retailers have more variety on their product catalogue to meet rapidly changing customer demand. And customers love variety, don't they? Yes and no.
Yes, having abundant choices allows each shopper to find exactly what they are looking for. This can be a winning strategy, but how you process and present your catalogue makes or breaks the customer experience. Imagine you are searching for a pair of tapered dark wash jeans. By page five, you have seen tapered jeans and you have seen dark wash jeans. Yet, no sign of what you are actually looking for. At this point, you are likely to give up and look elsewhere. In other words, the retailer's horror story: Site abandonment.
This is where you want to turn to automated product tagging.
What Are Product Tags?
Product tags are a set of additional attributes, known as attribute metadata. They add detailed definition and information to enrich your base-level data. In this case, your product title and description would be base-level data, such as "Floral-Print Crepe Midi Dress".
By adding attribute metadata to your products, you improve search functionality, product ranking and product recommendations for the customer. On the business side, you streamline your inventory management process. This can be done in one easy step through automated image tagging.
Attribute metadata is:
| | | | |
| --- | --- | --- | --- |
| Faster | Non-biased | Searchable | Retrievable |
| Scalable | Standardised | Sortable | Layer Multiple Values |
For multi-brand retailers, automated product tagging standardises different tags and product information coming from each brand's garment taxonomy. This way, your entire catalogue is collected under one consistent roof that reflects your brand definition.
How Does Product Tagging Work?
Retailers have traditionally labelled their catalogue with tags that facilitate sorting and searching through inventory. Manually. Manual tagging requires excessive labour, takes time and lacks depth. Additionally, it is subject to human bias. This is where AI and technology enter the scene to change the product tagging game.
Using AI image tagging, each product on your catalogue is automatically tagged with multiple attribute labels.
We use several neural networks, trained on continuously updated proprietary datasets, in order to accomplish this. We use category prediction and subcategory prediction networks. These compute a single high-level category, e.g. Tops, Shoes, Outerwear and a single more detailed category, respectively, for each garment given the available raw image and text metadata. A separate neural network locates the relevant item in the image.
Furthermore, this allows us to deal with images that may contain more than one possible item. A final neural network predicts which attributes apply to the particular item. This attribute model may predict as many or as few attributes from our taxonomy as it deems relevant.
How Can We Measure Product Tags Quality?
For attribute prediction, we can judge the quality by two metrics: precision and recall. If the model has high precision then all attributes predicted by the model will likely be correct, but it may not predict all possible attributes. In this case for a blue, crew-neck, long sleeved top, "blue" and "long sleeved" may be predicted while "crew-neck" is not.
On the other hand, if the model has high recall then all relevant attributes will likely be predicted by the model. It may however also predict some irrelevant attributes. For the previous example, this would mean that the model may predict "blue", "long sleeved", "crew-neck" and "satin", while the top is not satin. When working with real-world data where perfect predictions are impossible (for humans and AI alike) there is a trade-off between these two metrics. Our models can be optimised for maximum precision, maximum recall or anywhere in between to suit requirements.
Attribute labels add improved, in-depth and fashion-specific product information not covered by generic tags.
Automated image tagging is completed at a fraction of the time and labour cost of manual tagging. In other words, you will increase operational efficiency and your catalogue processing time by up to 90%. Additionally, you will improve the quality and coverage of your product tags. This way, your merchandising teams have more time to focus on the areas of your business where their expertise and human touch make a real difference.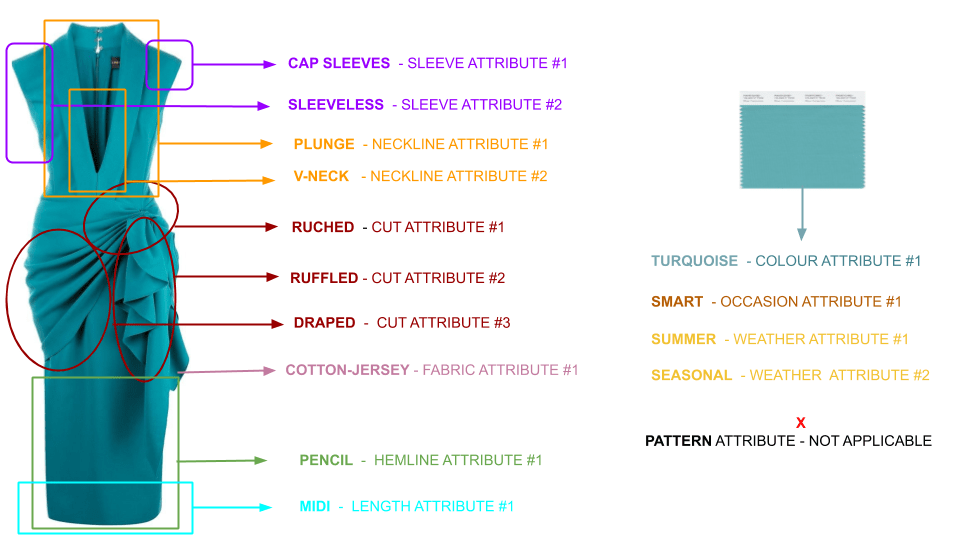 Use Cases and Measurable Benefits of Fashion Tags
1- Online Storefront
Improve product discoverability and increase search engine click-through rate by offering immediate, accurate search results. Online customers can browse your entire catalogue faster and without friction to find product recommendations targeted to their needs. By layering multiple tags per product, you enable colloquial categorisation of your entire inventory that reflects a customer's real-life description.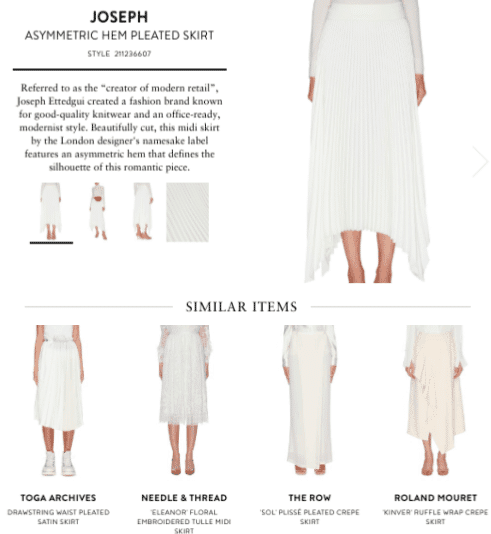 2- The Shop Floor
In-store sales and styling teams can use product tags to search through the in-stock inventory with speed and accuracy.
This way, your teams spend less time trying to find the right products and more time servicing and delighting the customer. These memorable, personalised experiences drive footfall to your physical store.

3- Inventory Management
Group and manage your entire inventory for different customer segments, customer tiers and geographical locations by using regional and segment-specific product tags. These tags are flexible, adaptable and responsive to real-time changes in your customer base.
Use micro and macro trend attributes to sort your catalogue. Always stay relevant by addressing the seasonal shifts that affect your customer's top search words.
4- Personalisation
Use your product tags to identify and understand each customer's individual taste and style. Then personalise search results, product pages and similarity recommendations through their favourite attributes.
Easily create and layer attribute 'filters' with your product tags. Use unique 'filters' to give personalised 'Complete The Look' outfit recommendations for every product on your catalogue at a quality that can outperform your top human stylists.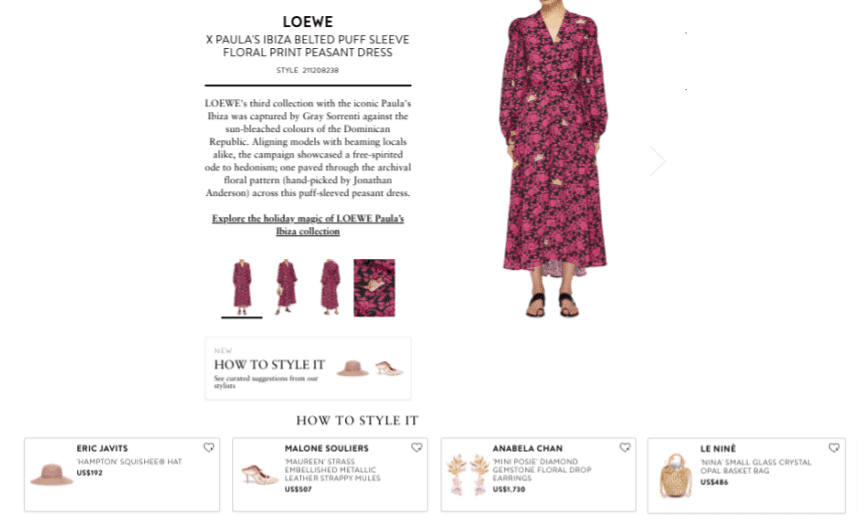 Personalisation can be integrated into multiple customer touchpoints:
Online recommendations to increase AOV (Average Order Value) and customer engagement.

In-store clienteling solutions to supercharge your store teams. With the right tools, they can make personalised styling recommendations and up-sell while delivering value to your customers.

Re-targeting and promotional campaigns that only show personalised, relevant content. Addressing each customer's unique preferences will increase the ROI and efficiency of your campaigns.

5- Predictive Analytics: Inform Future Business Decisions
Utilise the power of machine learning to identify and understand past performance per product and per attribute.
Understand customer behaviour, style and preferences at individual, customer-segment and regional/geographical layers. Capture and analyse top trends and shifting trends at micro and macro levels.
By spotting all these real-time patterns in your data, you can inform future business decisions at design, buying-merchandising and pricing levels with a lowered risk of bias.
This means you will significantly lower price deductions, overproduction and product waste. Eventually, this will benefit your company financially and help you create a more sustainable business strategy.
What To Look For When Integrating Automated Product Tags To Your Business
Multi-Tiered Product Tagging Structure:
Tagging each product through a hierarchical image tagging system enriches your data with hundreds of available tags at each tier. Using higher-level categories, subcategories and multiple attributes allow better control of your entire stock.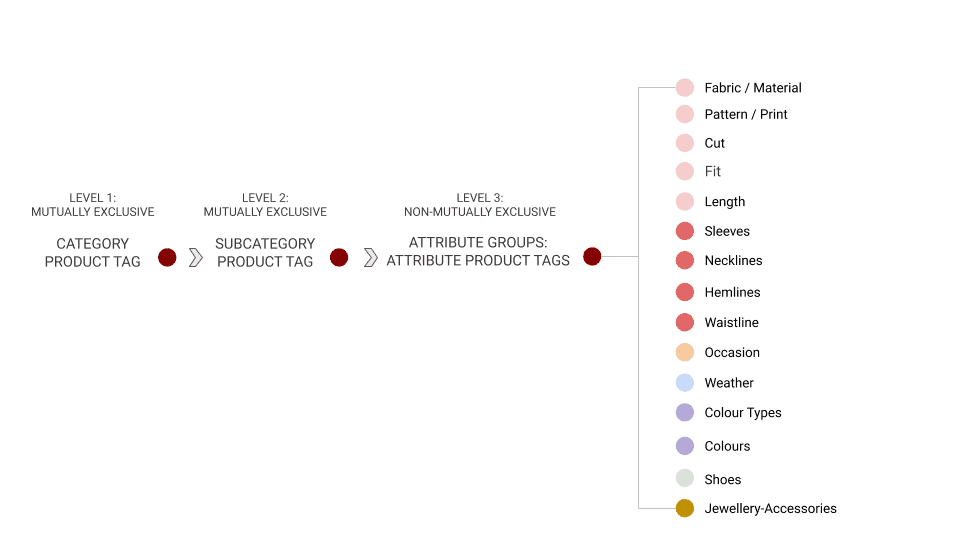 Mutually Exclusive and Non-Mutually Exclusive Product Fashion Tags:
Mutually Exclusive product fashion tags are single tags that highlight the exclusive attribute of a product. This makes it easier to divide your catalogue into higher-level categories for speed search and sorting. For instance, a product can only have one category tag e.g. Dress and one subcategory tag e.g. Wrap Dress.
Non-Mutually Exclusive product tags are multiple tags that can be layered for each product on your catalogue. They will enrich your product data and add information that is not included in your product description. The same Wrap Dress can have multiple attribute tags e.g. Midi Dress, Puff Sleeve, Short Sleeve, Cotton-Poplin Fabric, Asymmetric Hemline, Plunge Neckline, Ruffled, Checked Pattern, Purple, White, Slim Fit, Smart-Casual Occasion.
Visual Search and Multi-Product Detection:
Detect and separately tag all products on your editorial or user-generated full-body photography using visual search.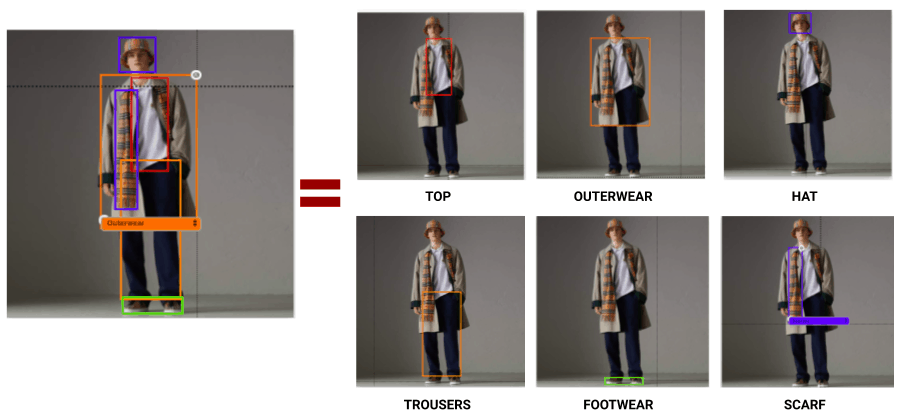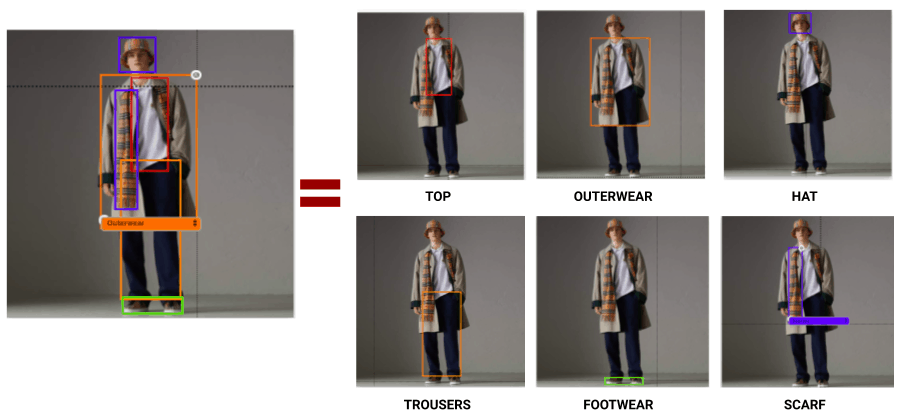 Fashion-specific Data Set:
Use a fashion-specific data set that is trained to address your individual business as a high-street or luxury retailer. This approach ensures each product on your catalogue is enriched with the most relevant data to your inventory and your business model. However, using a generic list of attributes will not give you this level of precise detail.
If you want to have further control over your product tags, look for a product tagging tool. Speed editing enables your merchandising team to approve/edit automated product tags at a fraction of the time, effort and cost of manual product tagging. Cut down your operational costs while still overseeing the final level of approval.
Work with attribute groups created for tagging fashion products across different segments such as womenswear, menswear, footwear, accessories, jewellery. Attribute groups break down your tags for each product segment in a categorical way. Fabric attributes, pattern attributes, hemline attributes, neckline attributes are just a few examples. This approach makes sure each product is tagged with optimum coverage.
Automating your product tagging process can reform your operational efficiency from the supply chain to value chain and improve your customer journey to deliver an exceptional shopping experience online and in-store.