How to Select the Right Product Discovery Platform
Discovering and buying products has never been easier. Whereas purchasing something once meant having to leave your home and visit a physical store — or, in all likelihood, multiple stores — today, shoppers can browse hundreds of shops and buy whatever it is they want without so much as getting off their couch. Isn't that amazing? In theory: yes. In practice: not so much. 
As Harvard Business Review wrote all the way back in 2006, "more isn't always better." When customers have too many options, they don't feel lucky to be able to choose. Instead, they feel overwhelmed and stressed. Case in point: more than half of consumers admit to having abandoned purchasing something from a brand because they couldn't choose between all the options available to them. 
For online retailers looking to overcome this paradox, having the right product discovery platform in place is a must. 
What Is Product Discovery?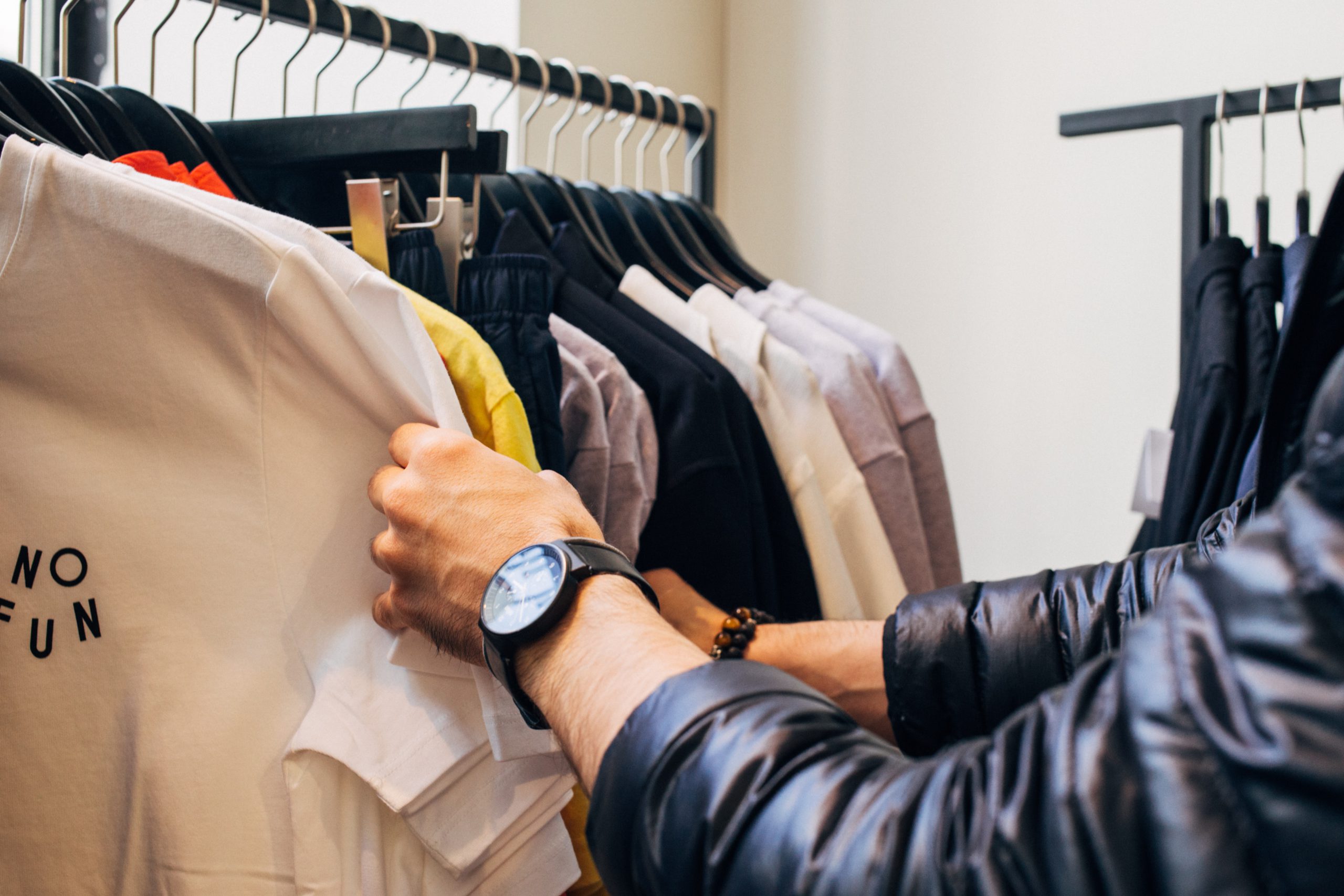 Product discovery is exactly what it sounds like: the process of shoppers discovering products. Although the process will vary from customer to customer based on their needs at that moment, it generally falls within one of the following categories: 
Casual browsing, where a customer is not looking for anything specific but rather that "aha" moment for purchase inspiration. 
Searching, where a customer has a fairly good idea of what they want to buy. For example, they may know that they want to purchase a pair of mom jeans. However, they may not necessarily have a specific product, like "Levi's high loose taper fit women's jeans," in mind and may need some help narrowing down their options. 


In either scenario, the key to ensuring that customers find — and buy — something from you is to show them the right products at the right time. 
How you do this (through merchandising, reliable search functionality, or recommendation engines, for instance) will depend entirely on your strategy, objectives, and tools at hand. Nevertheless, every successful product discovery experience should include at least some level of personalisation. In today's competitive e-commerce world, retailers need to cater to every customer specifically. 
It's also crucial to note that product discovery is not limited to a customer's first search, either. The average consumer has about three touchpoints with a brand before they make a purchase, so retailers should optimise the entirety of a customer's journey for better discovery. From personalised recommendations on a product page to highly customised and relevant retargeting emails, the product discovery experience should not end when a customer types in their search query into an online store's search function and is brought to a results page. 
What Is a Product Discovery Platform?
A product discovery platform is a platform that makes the process of product discovery quicker and easier for customers. The reason for that is that by using a product discovery platform, online retailers can expose customers to the products that they will actually like and want to purchase. 
3 Things Every Effective Product Discovery Platform Needs to Have
Not every product discovery platform is created equal. Here are three things that retailers should make sure the product discovery platform they're looking to invest in provides: 
1. Advanced search features
For customers that come to your online store to find something specific, the importance of having great on-site search functionality cannot be understated. 
Research shows that as many as one-third of all online shoppers ignore the navigation menu and instead focus on a site's search functionality. Notably, between 30% and 60% of site transactions result from sessions within the search function.
Unfortunately, despite advances in technology, many online stores continue to provide a poor site search experience. According to a 2018 Marketing Charts study, customers' three biggest frustrations with retail site search include:
Irrelevant product results (28%)

Inability to find the item they're searching for (24%)

The search function doesn't recognise the words used (18%).

The good news is that all of the above can be solved with a product discovery platform that comes with advanced search features. 
Take product tags, or product attributes, as an example. Product attributes, the unique features that make items stand out (like their fabric or cut), are an essential part of e-commerce because they allow customers to filter their search using specific characteristics (i.e., "denim dress" instead of just "dress.") Yet too many retailers still tag their products manually. Not only is this time-consuming, but it can also lead to costly mistakes where products are tagged inappropriately, and customers never see the items they're searching for. An easy fix is to automate product tagging, increasing the accuracy of customer search results while also improving your bottom line.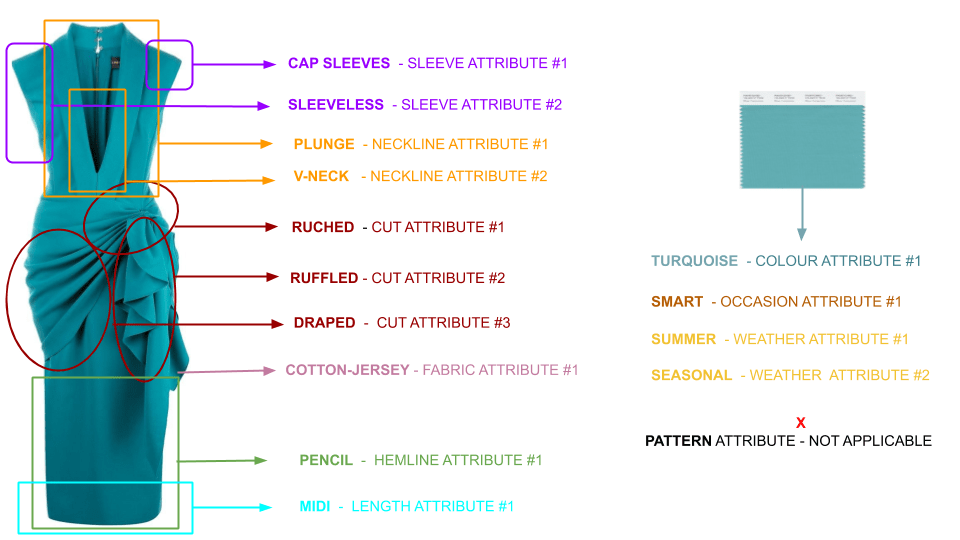 However, using AI to automate your product tags doesn't necessarily mean that your customers will find everything they search for. The fact is that 61% of e-commerce sites won't return results unless the user types in the exact same product type jargon used by the site, and 27% won't show results if a user misspells just one character. To make sure that prospective buyers don't encounter the same problems on your site, you need to optimise your on-site search relevance with a natural language search. Doing so will allow shoppers to carry out their searches using their everyday vocabulary. 
Finally, not every customer will be able to (or want to) put their search queries into words. Visual search, a feature that surfaces similar products to the ones that appear in images uploaded by customers, is already a growing trend, and it's only going to become more critical in the future. Already, 36% of consumers have used visual search when shopping online, with surveys showing that this feature is most commonly used when shopping for clothes.
2. Personalised recommendations 
With a monthly traffic average of 3.68 billion users, Amazon was the most visited online retail website worldwide in 2020.  To put that into perspective, eBay came in second, but its traffic was "just" one billion, and Rakuten, a Japanese electronic company, was third with less than 800,000 monthly visitors. 
So what makes Amazon stand out? Why do most shoppers turn to Amazon when they need to buy something? While competitive pricing, fast shipping, and excellent customer service certainly have something to do with it, at least part of the company's success can be attributed to its personalisation efforts. More than 1 in 2 internet users recently ranked Amazon as the platform with the best personalised experience. Significantly, almost the same number of marketers said that customers spend more money with a brand that uses personalisation. That makes sense. When customers are shown products that are relevant to them, they are more likely to buy them and return to the store that "understood them" later down the line. 
Personalising the product discovery experience is, therefore, essential. Luckily, there are many ways you can do so, and the best product discovery platform will provide multiple customisation options, including: 
Personalised product ranking.

The order in which you rank your products doesn't have to, and shouldn't be, random. Instead, you should use AI to display items from your inventory that the customer is most likely to be interested in and buy. 

Visual similarity recommendations.

When a customer clicks on a product page, that doesn't mean that they've come to the end of their product discovery journey. They may like the product but want something slightly different, or their size may be out of stock. By showing shoppers multiple products that are visually similar to the item they're viewing but for some reason can't or don't want to buy, retailers can reduce lost sales and prompt customers to continue exploring their product catalogue. For example, while the "Denny Vegan Leather Blazer" by ALICE + OLIVIA is not yet available on Lane Crawford, users can see items that are very similar right underneath it.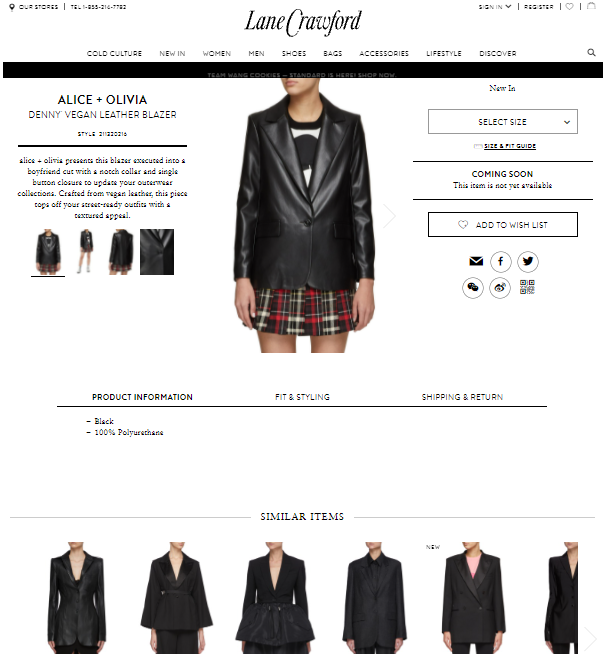 Complete the look recommendation.

By offering complete outfit recommendations under their products, retailers can encourage customers to buy items that they may otherwise find difficult to style at the same time increasing their basket size.

AI styling advice.

Make your online customers feel special by providing

a VIP service

that uses AI to hyper-personalise recommendations for each individual.
Fashion chatbot. Available 24/7, a fashion chatbot can make product recommendations and offer styling advice before, during, and after a sale both on your e-commerce site and social media.
3. Mobile and email retargeting campaigns 
Online retailers can't rely on customers coming to them during their product discovery experience, especially once they've moved beyond on-site search. Rather, they have to meet customers where they are, regardless of whether that's social media or their email inbox. 
An effective product discovery platform will allow retailers to do just that. For example, with Intelistyle, e-commerce brands can run successful email and WhatsApp campaigns that:
Offer customers personalised recommendations or even personal lookbooks that match their style and past purchases rather than promoting more of the same product they have already bought.
Give them discounts on items they have in their cart based on their previous behaviour.

Let them know when an item they had been eyeing comes back in stock.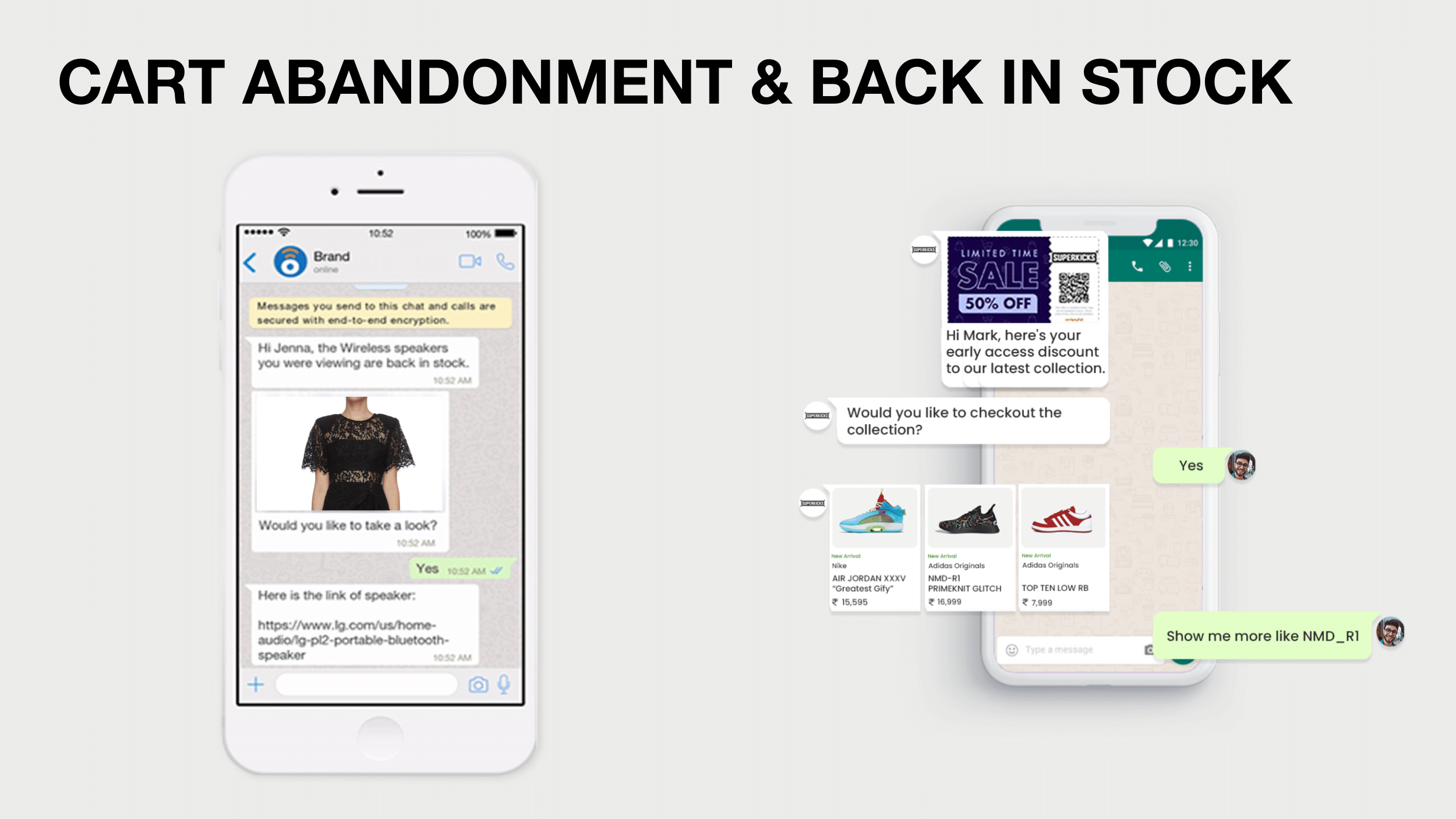 Intelistyle: The Only Product Discovery Platform You Need
It is estimated that there are up to 24 million e-commerce sites online, with most online stores boasting hundreds, if not thousands, of items. It's no wonder then that customers often feel swamped with options to the point where they have to take week-long breaks or "search gaps" to recuperate before making a purchase. 
To cut this information overload and stop shoppers from leaving their store empty-handed, smart online retailers need to refine their customers' product discovery experience. Doing so isn't hard, nor is it time-consuming — that is, as long as you are working with the right partner. 
In this blog, we outlined three things every effective product discovery platform should have. Intelistyle has all of the features we talked about, plus much more. Ready to improve your product discovery? Talk to us today.