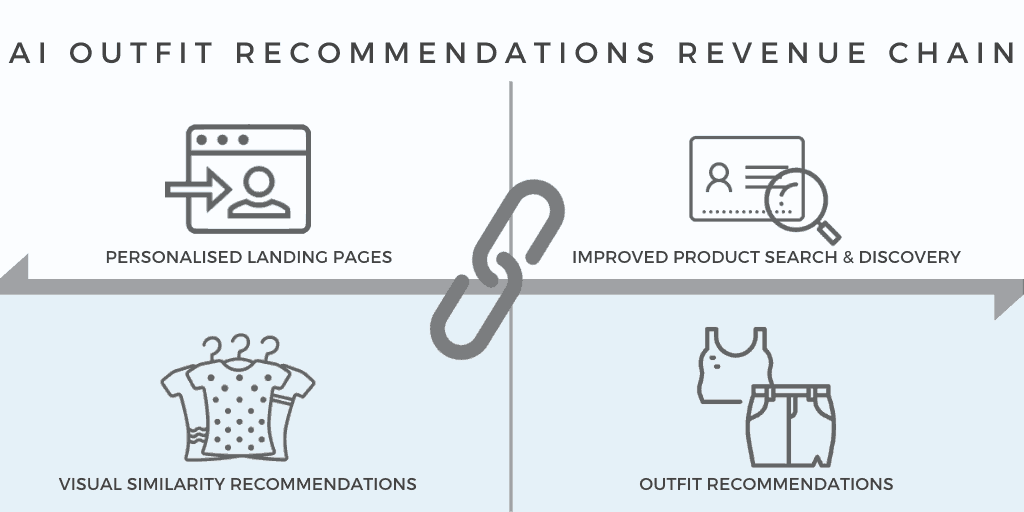 Incorporating a 'Complete the Look' AI Outfit Recommendations System into their shopping experience is increasing revenue for top fashion retailers around the globe. Find out how you can easily apply it to your online store step-by-step and start reaping the revenue-driving benefits. 
Going into the new decade of fashion retail, one thing is already clearly established: Consumers have never been as overwhelmed by choice or overstimulated by brands competing for their attention as they are in 2020.
In a market where product, price, and availability are 100% transparent, consumers are bouncing between retailers with similar product offerings and differentiation is becoming increasingly more challenging. This growing competition is eating sizable chunks into the revenues of retailers who fail to stand out.
New Age of Retail: Experience As A Product
Product-driven retail is fast approaching an end as 80% of customers say the experience a retailer provides is at least as important as their products.
The future of fashion retail is Experience as a Product. Case in point, experiential e-commerce has been named one of the top four retail growth trends of the new decade.
For retailers who play their cards right, this promises a great opportunity to turn the online experience into a clear customer value proposition and gain solid competitive advantage to stand out from a myriad of competitors.
When it comes to creating an exceptional online experience, the way forward is taking a step backward and revisiting the basics of traditional retail: the brick and mortar stores where the concept of 'shopping as an experience' originates from.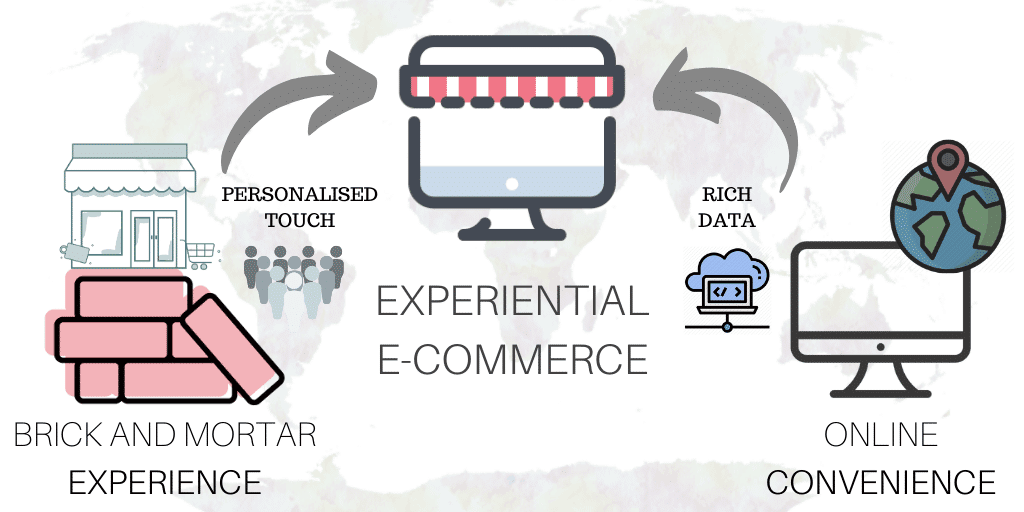 Back To Basics: Learning From The Brick and Mortar Experience
Customers were firmly loyal to a brand, moreover to a certain branch of that brand, because they could always count on walking in and being greeted by someone who personally knows them and their taste.
Someone who can get them the products that match their need and style without the hassle of looking through racks of clothing.
Someone who shows them how to style these products to compliment their unique features.
Fast forward to 2020, the clothing racks have turned into product pages and the demand for expert styling advice stands as strong as ever.
When cleverly presented, styling advice can increase spending per transaction by up to 7 times. The Business of Fashion confirms that personal shopping assistance makes people spend significantly more with a brand. Why not take this proven recipe for higher sales numbers and apply it to your online store?
The store assistant who knows your customers on a personal basis can be an AI Stylist built into an outfit recommendations system that accompanies the customer throughout their online shopping journey.
Building The Future: AI Outfit Recommendations Strategy
The most common reason consumers point out for not shopping online is craving the positive aspects of the in-store experience rather than perceiving online shopping as a negative one.
Fashion retailers who recreate this offline narrative, preserving the traditional value points of brick and mortar, with the added convenience of online shopping will build brand loyalty and future-proof their business. Instead of digitising processes or isolated features, top industry players of the future will be the retailers who digitise the shopping experience as a whole to reinforce their value proposition.
Building an AI outfit recommendations strategy and executing it intelligently will increase your revenue from day one by cutting down the manual operational cost of personalised recommendations while delivering all the benefits that increase overall sales.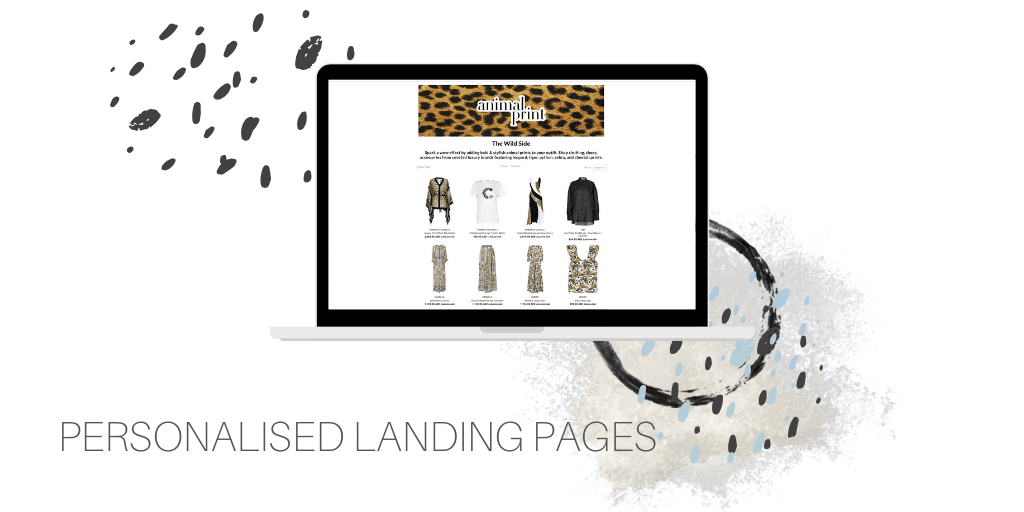 STEP 1: Welcome With A Personal Greeting – Personalised Landing Pages
Welcome Your Returning Customers
Customers do more window shopping online than they do offline! Convert digital window shoppers into paying customers by displaying targeted content and a personalised product curation based on their individual style, past purchases, and browsing behaviour.
This will be the warm greeting your returning customers are accustomed to receiving when they shop at their 'home' branch of a favourite retailer. A personalised welcome into the online store at the first touchpoint instantly increases engagement by promoting click through to product pages and results in a conversion uplift.
Welcome Your First-Time Visitors
For first-time visitors, landing pages can be curated to display a regional product selection based on the location of a visitor. This is a powerful way of connecting with consumers as trends, styles and hero products can significantly differ across geographical locations. Deloitte's study on digital transformation backs this strategy by reporting that geographical location is still the cornerstone for capturing retail demand.
Alternatively, landing pages targeted at first-time visitors can be designed as 'trend rooms' to showcase a dynamic product selection that reflects rising micro and macro trends of the season in real-time. 


The customer has walked into your online store, now it's time to help them find what they are looking for.
STEP 2: Find The Right Product – Improved Product Search and Discovery
In a traditional shopping narrative, the customer would easily describe or simply show the store assistant what they are looking for. Customers agree they often feel overwhelmed by the variety of options when shopping online. This is known as "choice fatigue" where the abundance of choice leads to negative feelings that mimic anxiety and tiredness, resulting in site abandonment.
Make sure you don't lose potential customers at this early stage before you have the chance to show them your personalised product offering. This first crack in the online shopping experience where a sales opportunity falls through can be easily avoided by making product discovery just as convenient and relevant as the in-person help from a store assistant.
A positive experience at this stage increases engagement and sets the tone for the rest of the customer journey. Think of product discovery as your trailer to capture and hook the customer to stay for the complete shopping experience.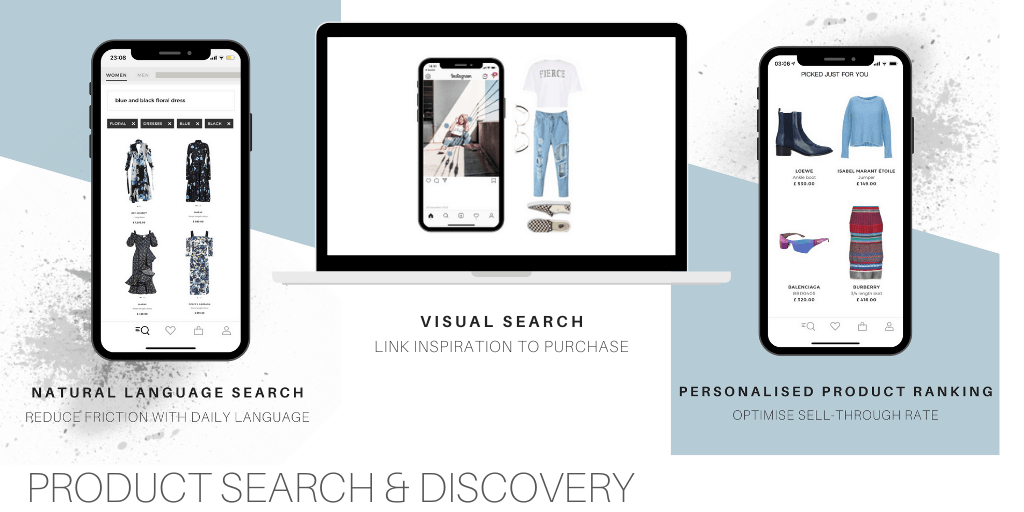 Natural Language Search
Natural language search allows the customer to search for products using language and descriptions they would normally use in their daily life. Returning accurate and relevant results for text search minimises friction and gets the customer closer to finding the right products that result in a purchase.
Through automated product tags, customers can narrow their search results further at this stage by detailed attributes such as cut, fabric, pattern as well as occasions and trends.
However, sometimes it is just easier to show what you are looking for…
Visual Search
Fashion is visual by nature and images can speak louder than words. Millennial and Gen-Z consumers, in particular, are gravitating towards image for self-expression.
Visual search fills the gaps where words fail to describe what the customer is trying to find or when they have a very clear idea of the complete look they want to imitate. The customer can 'show' you what they are looking for by uploading the image of a product or a full outfit. AI extracts detailed attributes from the image and shows the most similar-looking options available on a retailer's website, linking inspiration directly to product.
Personalised Product Ranking
Retailers who want to make the most of product discovery and translate inspiration into a purchase must consider how search results are presented.
According to the Infosys consumer study on the future of omnichannel retail, presentation will be key in obtaining a watertight fit between the product and the customer.
This final stage of discovery, where the customer meets your offering for their search, is crucial in inducing them to click through to the product page. By returning search results in a prioritised order of products a customer is most likely to buy, you ensure the product that will seal the sale never gets lost in a crowded page.
Scrolling through pages of irrelevant products is the second crack in the online shopping experience that is a surefire recipe for site abandonment. Instead, show your customers exactly what they want on the first page they see. Matching the right product to the right customer with minimum additional steps on the customer's part optimises sell-through rate.


The simple touch of making product search and discovery effortless will be a significant performance differentiator that sets your experience apart and gives you a competitive edge.
Now that the customer has found what they are looking for, they click on the product to make a purchase, high on the excitement of this new addition to their wardrobe.
But the product is out of stock, not available in their size or the colour they like. What now?
This is the third crack where retailers lose the highest number of sales opportunities to frustration. If the disappointment and the unexpected comedown from a shopping high are not replaced with a positive experience immediately, the customer is very likely to leave your online store with a negative association instead of a delivery confirmation.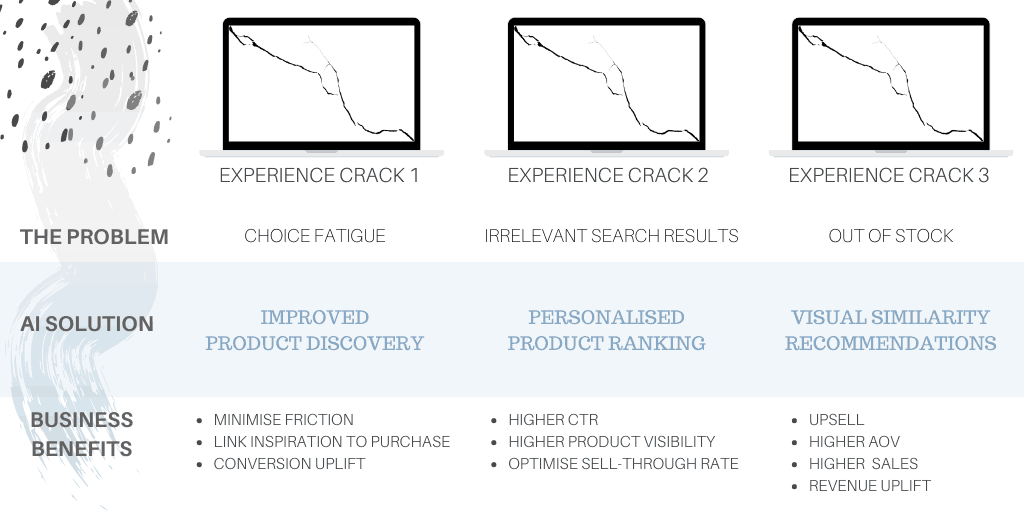 Also, this happens to be the point where a good store assistant would show the customer alternative products that are similar to the one that is not available. Offering a solution to a negative situation re-engages the customer and turns the experience around. So why don't you?
STEP 3: Show the Best Alternatives – Visual Similarity Recommendations
Behavioural recommendations – showing 'related products' based on what other customers looking for the same product went on to purchase – dominated the online recommendation landscape in the last decade. Or as you may know them: "Customers who bought this item also bought". This approach may work for some industries where purchase has no emotional attachments to product.
However, in fashion where every purchase is incredibly personal, the assumption that customers who liked one product in common will have identical taste and needs is unrealistic at best.
Don't play a game of chance with your sales numbers when there is a far more effective option of addressing product alternatives: Visual Similarity Recommendations.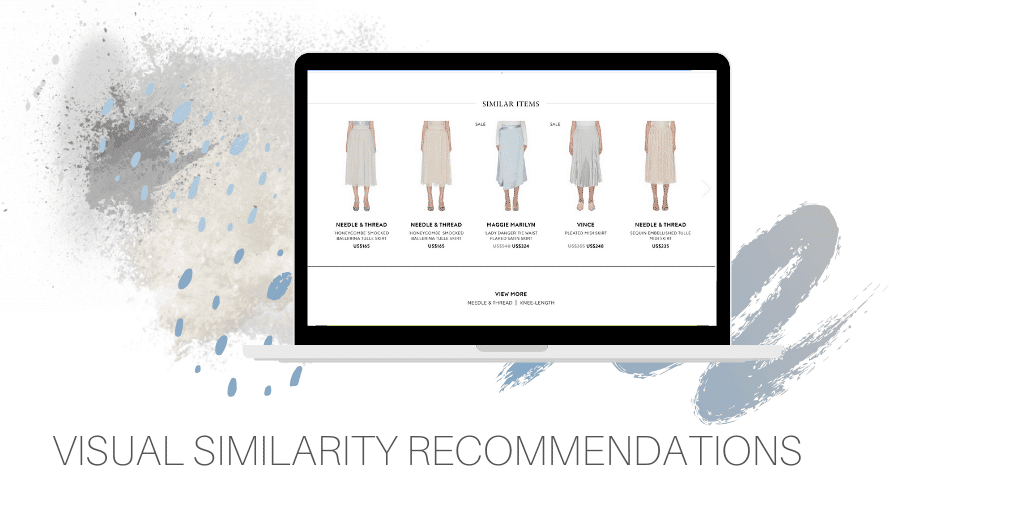 To Stop Missed Sales Opportunities
By suggesting visually similar alternatives to out of stock products, you can redirect the customer to multiple relevant product pages on your online store. This means that you never miss out on a sales opportunity and keep traffic moving around your website instead of away from it to competitors.
Visual similarity recommendations can be personalised to each customer based on their individual style and the attributes they favour. For instance, let's say a floral print t-shirt is out of stock. By knowing that your customer likes puff sleeves, you can show them different styles of puff sleeve tops in floral print as well as the closest alternatives for a simple floral t-shirt.
Customers at this stage are more likely to click on products with their preferred attributes that also match an attribute from their original search.
To Extend Product Discovery
Remember that some visitors on a product page will not be convinced to make a purchase decision yet. While they are still in search mode, take this opportunity to keep them engaged and inspired by promoting a selection of similar products that match their original search with a variety of additional attributes you know they like.
Customers typically struggle to form a precise description of what they are looking for at the search stage. Often, this is because they need some visual inspiration to solidify their want. Placing a selection of tailored alternatives in front of them visually, you increase the chance of them discovering a product that does just that. The additional attribute on one of the visually similar products might be what achieves the perfect match for their demand that they go on to purchase.
To Upsell
Visual similarity recommendations promote upselling and increase Average Order Value (AOV) by inspiring customers with more than just one product per page. Every single page on your online store is transformed into a hub of capsule product discovery that does not entail the friction associated with restarting a search. Customers who have already added the main product to their basket are prompted to increase their basket size.
Having multiple relevant products on every page starts a click-through chain that increases the visibility of your inventory. A visual similarity chain buys you extra time with the customer to keep showing them more products for upselling.
Visual similarity recommendations convert a missed sales opportunity into a purchase by creating transferable new demand that is met on the spot. Simultaneously, they boost upselling through fresh inspiration tailored to the customer's style and taste.

Now that multiple products are safely in the basket, it's time for the customer to checkout. Right? Not if you want to carry on upselling!
In a brick and mortar setting, this is where the store assistant would offer styling advice and recommend other clothes that would complement what the customer is buying. The highest upselling rates are hit with outfit recommendations that increase the basket from just one product to a complete look. Keep inspiring the customer and increasing basket size by showing them how they can style every product on your online store.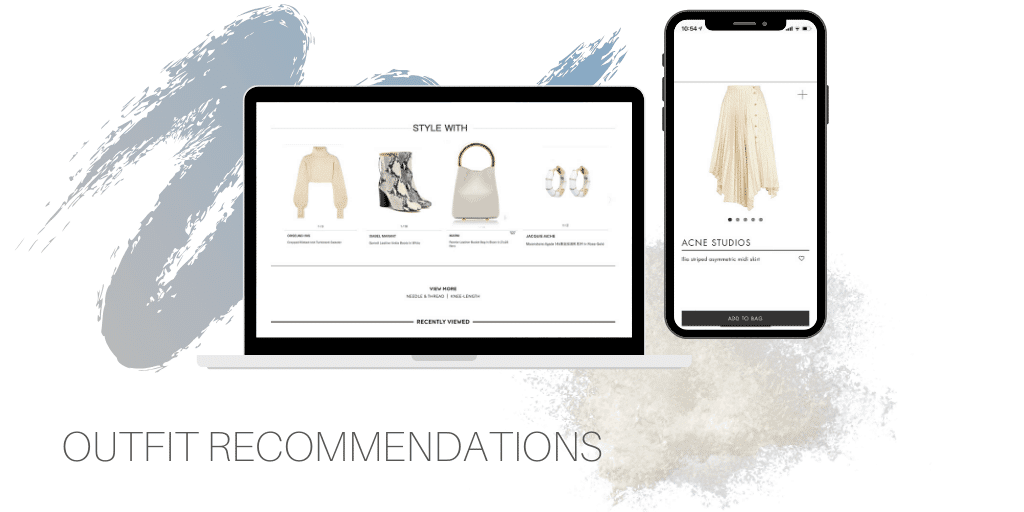 STEP 4: Delight with Expert Styling – Complete The Look Recommendations
'Complete The Look' or Outfit Recommendations use the latest trends and top styling principles to suggest a full outfit for every product on your online store.
The AI recommendation engine gives expert styling advice and creates editorial-grade complete outfits that outperform human stylists in resonating with the customer.
This is due to multiple layers of superimposed rich data insight the human mind does not have access to or the capacity for that come together in creating AI outfit recommendations.
Layer 1: Core Principles of Fashion Styling
When it comes to fashion, every expert stylist knows that there are a number of objective do's and don'ts that make a good outfit regardless of how one interprets contemporary trends. AI 'knows' these core and globally-accepted standards of the fashion industry from processing a vast amount of data on detailed styling elements.
Layer 2: The Latest Trends in Real-Time
AI crawls the web and fashion-specific sources of inspiration to spot the latest trends and keeps up-to-date with ascending/descending trends that dominate customer preferences in real-time. Machine learning allows AI to additionally foresee upcoming trends and adjust outfit recommendations to always meet emerging customer demand. A retailer's ability to anticipate customer expectation is a major point of differentiation that directly increases market share. 
Layer 3: Your Brand Identity
Every brand has a unique fingerprint that defines them against other industry players. Keeping all customer interactions 'on-brand' and unified with your authentic brand identity enhances brand loyalty in the long run. Genuine brand loyalty is the easiest and most cost-effective way of customer retention.
The AI stylist can be calibrated to embody your brand's styling guidelines, meaning the outfit recommendations follow visual aesthetics that match your brand identity.
For example, if you don't use more than one statement garment in your editorial styling or never style red and black together, the AI stylist applies these rules to outfit recommendations. On the other hand, if you have seasonal style favourites that you would like to push, such as mixing prints, the AI will favour those attributes when creating outfit recommendations.
Layer 4: Your Unique Customer 
With the ability to automatically learn, adapt and improve from customer interaction, AI genuinely gets to know your individual customers and decodes their taste, action triggers, decision drivers, likes, dislikes. This is not limited to past purchase history or the personal data they provide.
An AI outfit recommendation system builds a unique and detailed profile of every customer through analysing a complex combination of valuable data that goes unnoticed or unused. Unlocking this information is the key to understanding who your customer is now and likely to become in the near future.
Outfit recommendations are created and updated based on this unique profile to push the products that have the highest probability of being added to the basket at a particular point in their journey.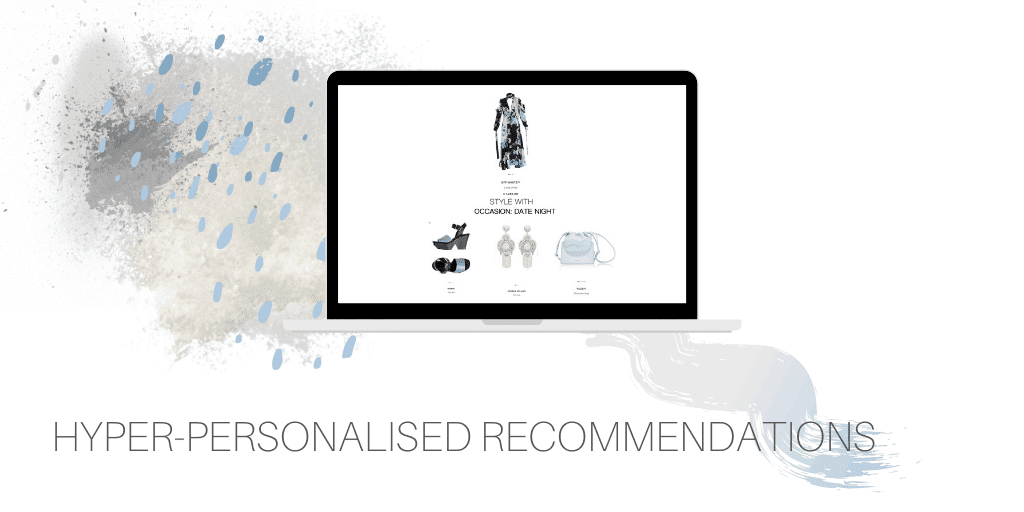 Layer 5: Your Stock and Margins
AI takes into account inventory management metrics that are directly linked to your revenue including depth of stock, margins and individual product performance, to put together outfit recommendations that increase your sell-through rate while minimising price reductions.
Let's assume a neon fishnet top is not performing well and remains higher in stock than anticipated. AI combines this data with the insight that neon tops will be ascending in popularity soon and pushes this product more often in outfit recommendations to the right customers.
Layer 6: Hyper Personalisation
Retailers who want to create a true personal styling experience that has traditionally been reserved for top-tier VIP customers and scale this to all customer tiers can incorporate hyper-personalisation into their outfit recommendations.
A personalised shopping experience has been proven to increase spending and give you a revenue uplift.
Outfit recommendations can be tailored for every customer based on: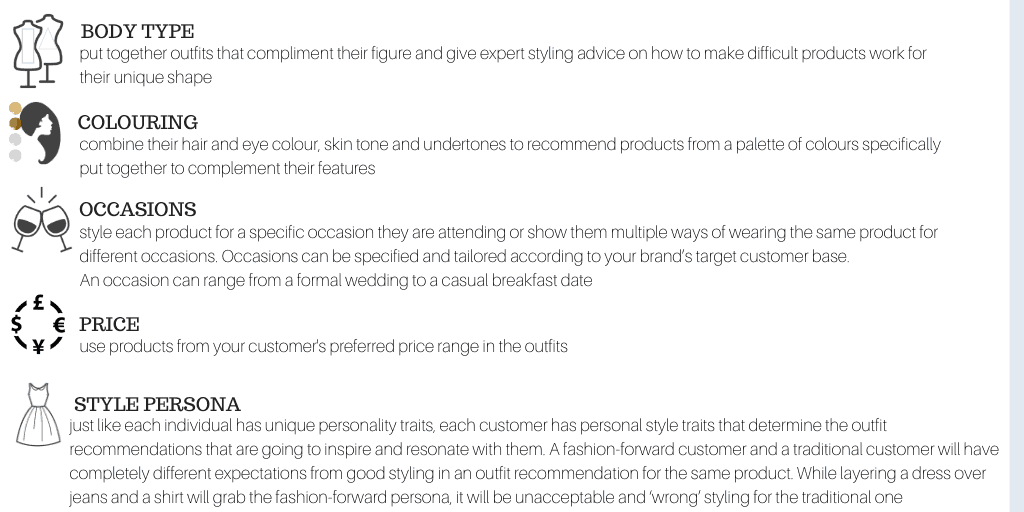 Complete the Look recommendations placed on the product page deliver the same ROI to your business as the top-performing team of in-store assistants do to a brick and mortar retailer: Upselling and cross-selling to increase AOV for you while providing tangible value to your customers.
Unless you add and keep reinforcing a unique value proposition to the customer journey, your customer retention will suffer for it. Retailers who count on customer acquisition alone for their sales numbers only enjoy short term profits that never translate into sustainable long term revenue.
An outfit recommendations system creates real value for your customers at multiple touchpoints and delivers measurable benefits to your business.


By 2028, more than half of retail sales will take place online. With so much potential waiting to be realised, be an early adaptor in the experiential e-commerce landscape, position your business as one of the top players and start increasing your revenue today.


To find out more about how global retailers are utilising their AI Outfit Recommendations Strategy, you can download our case studies here.