Intelistyle voted judges' top pick among leading retail startups
Intelistyle has been named among the top 40 retail tech start-ups operating globally in Retail Week World Retail Congress' (RWRC) second annual Discovery report, published today.
Most retailers know they need to work with tech start-ups to give them a competitive edge – it is understanding which firms are going to truly add value that is the challenge. Judged by an a panel of retail and start-up experts*, the Discovery report tells retailers all they need to know.
Virtual try-on assistants, vertical farming, 'save now, buy later' payments, in-store marketing robots and bookable shop space are just a handful of fresh-thinking players featured.
And it is this fresh thinking that is required if retailers and brands are to remain competitive and balance bottom lines with customer expectations as disruption from the pandemic persists.
Drawing on case studies from Discovery, the ROI from retailer-start-up partnerships is clear:
M&S has trialled a partnership with instant virtual try-on start-up Texel to drive purchasing intent; customers that use the tool are five times more likely to purchase and 30% less likely to return items

ASDA has partnered with

Intelistyle to style customers in physical stores, allowing them to receive automated outfit recommendations for their body type, skin and hair tone.

Carrefour UAE is using Simbe Robotics' inventory robots Tally to monitor all-important inventory availability and has now expanded this to 12 of its stores

Lidl has used ParcelLab's automated personalised shipping message service to engage 85% of customers receiving shopping emails to return to its website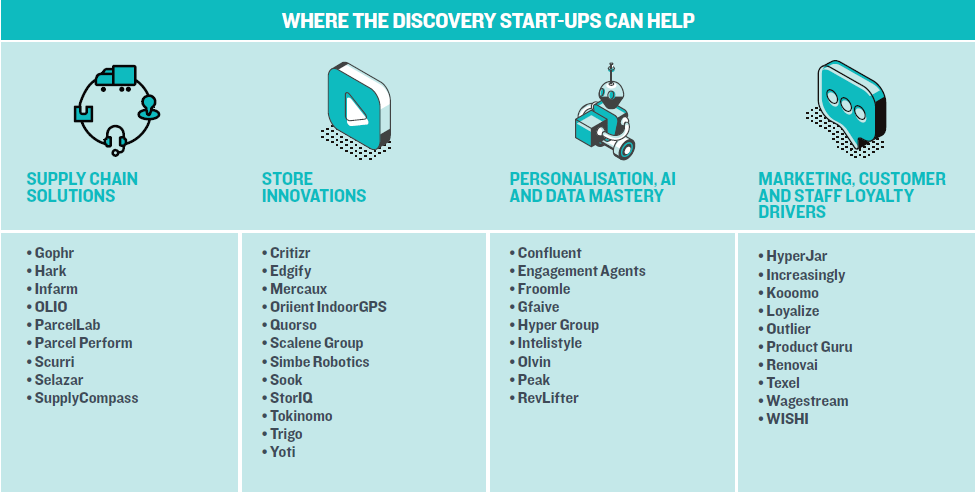 Featuring solutions from supply chain and store innovations to personalisation, AI, data and marketing, the report looks at how retailers have benefited from adapting their businesses – and their thinking – to lean into a whole new set of disruptions, trends and challenges.
The start-ups operate across all parts of the world, from Europe and the US to Singapore and Israel, and have worked with more than 30 retailers and brands including Tesco, ASDA, M&S, Nespresso, Asos, Carrefour, Samsung, Depop, AO.com and John Lewis Partners.
Ian Shepherd has been one of the Discovery judges for the past two years. Shepherd is non-executive director at Bensons for Beds, former CEO at retailer Game, author of The Average is Always Wrong and runs the consultancy Moving Tribes where he advises retailers, digital start-ups and consumer businesses.
Shepherd commented: "This year's Discovery cohort – just like last year's – are going to be critical to the future of our sector. A different retail sector is possible, a million miles from the old world of 'how many stores are you going to open?' and 'what was your like-for-like last quarter?' – a retail sector that marries the instinctive customer understanding any good retailer has with the innovation and laser-like focus that new technology allows."
Download the FREE report!