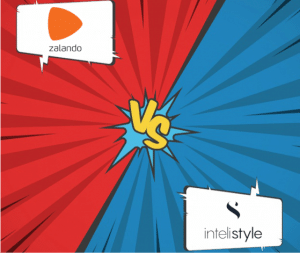 One afternoon at the height of Covid-19 Lockdown, the Intelistyle team decided to create a fun fashion game that benchmarks our AI outfit recommendations against that of an E-Commerce giant: Zalando.
What started off as an internal game returned such impressive results that we thought our team must be subliminally biased somehow – as it is a blind test where the players don't know which outfits were created by which company. So, we decided to take the ultimate challenge and open up this blind fashion game to the wider industry. And asked fashion industry professionals to choose the outfits they preferred for styling the exact same products.
The Participants
The participants consisted of Influencers, Buyers, Stylists and Senior Executives of global fashion retailers. 
How The Game Works
The game was simple: On a dashboard of products from Zalando's own stock, select any product you want styling advice for and choose your favourite one from the two anonymous outfit options.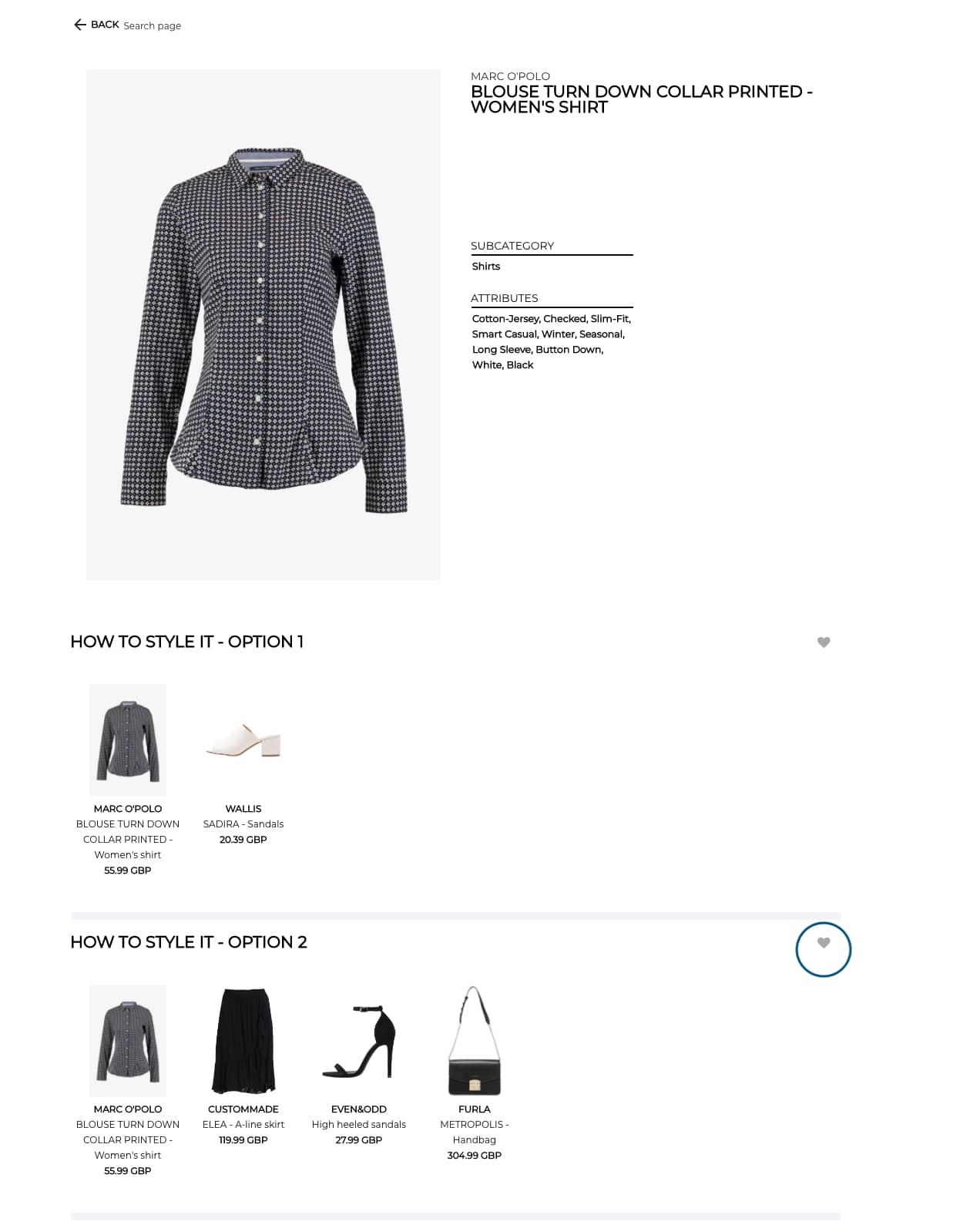 The Results
A total of 181 outfits were liked by participants: 131 likes went to outfits generated by Intelistyle's AI and 49 likes went to those generated by Zalando's AI.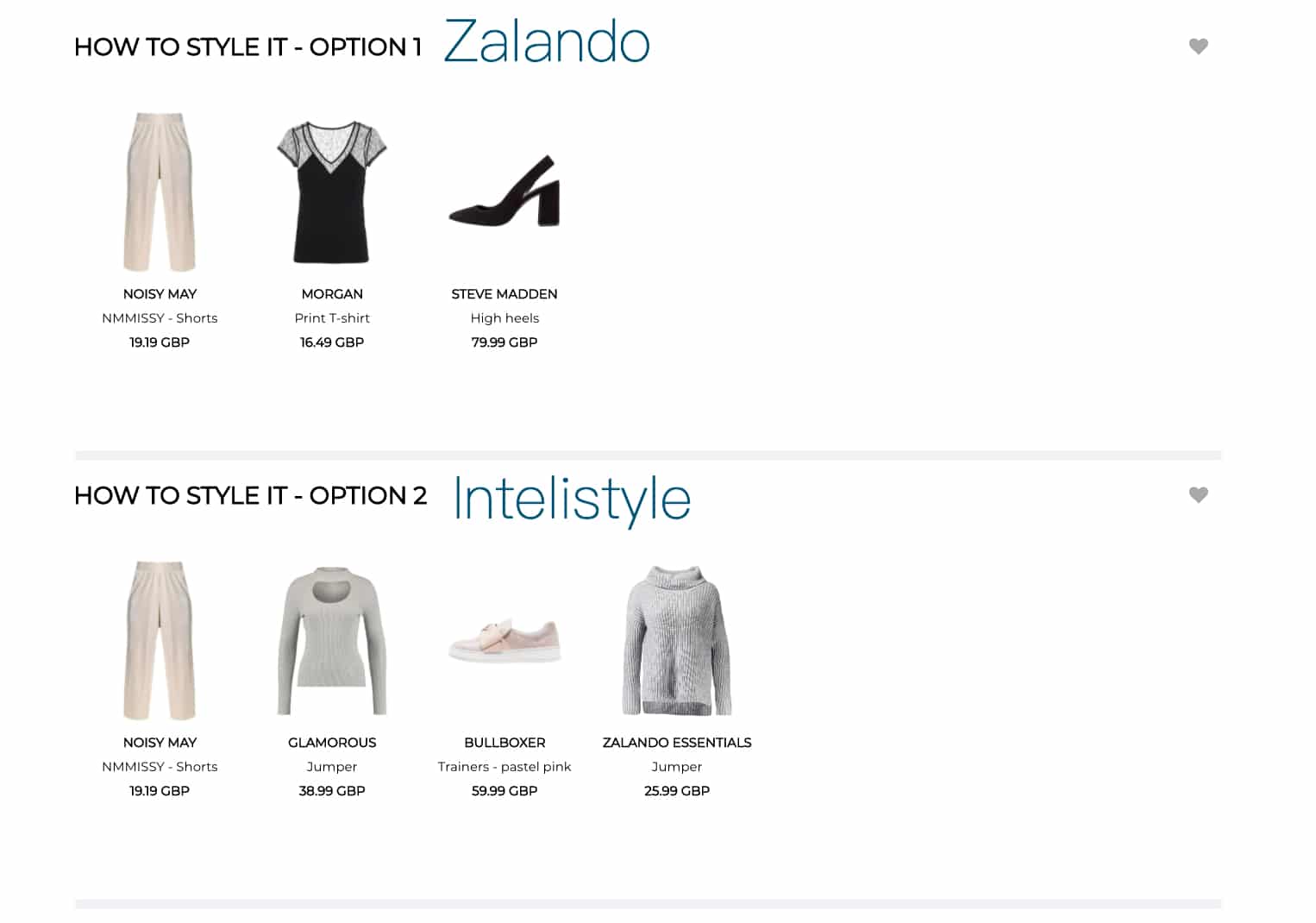 This translates into the end result of the game as:
73% of participants preferred outfits styled by Intelistyle's AI.
Of course, we didn't stop there and call it a win. Our team was curious to dig deeper into the results to analyse performance by detailed metrics including styles, trends and a rich number of fashion attributes.
Outfit Richness
First, we wanted to compare the richness of outfit recommendations. Intelistyle outfits had 4 products on average, while the Zalando average was 3 products.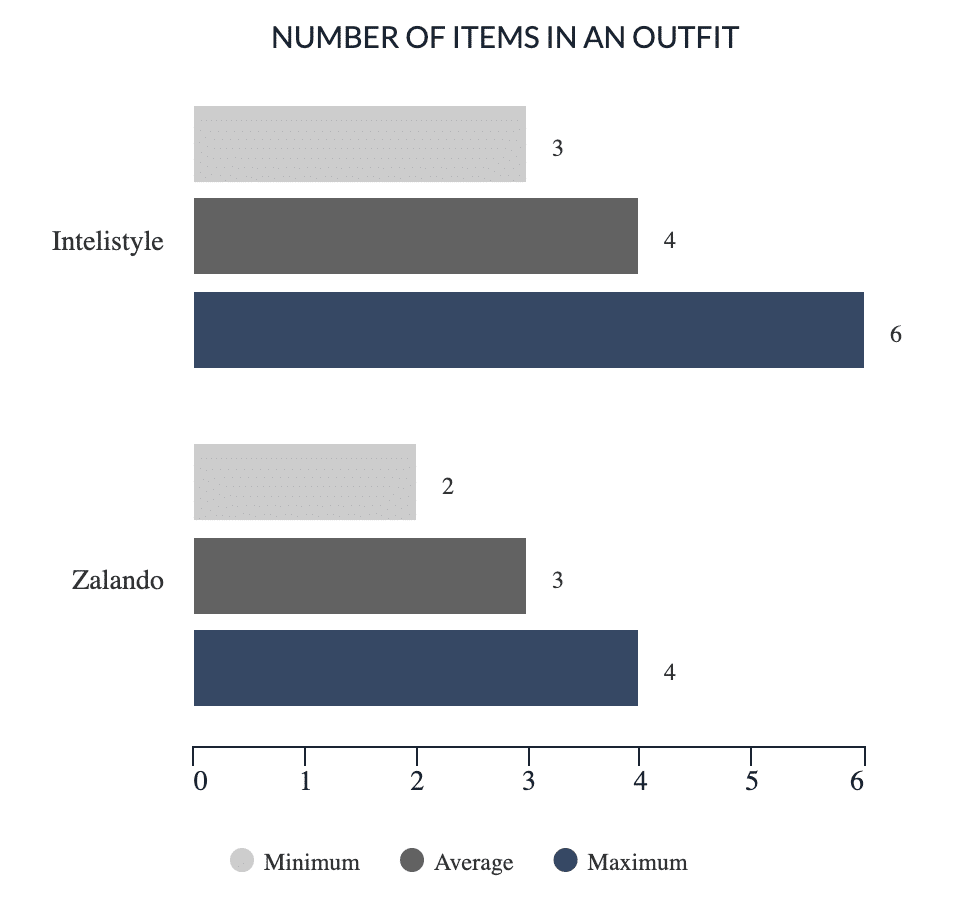 Intelistyle was able to use jewellery and accessory categories like hats, glasses and belts successfully in recommendations to style as many as 6 products in one outfit.This is likely due to the fact that the dataset out model was trained on contains very rich outfits, and that we explicitly encourage our model to generate rich outfits. Zalando's richest outfits consisted of 4 products and overall didn't enrich styling with complementary fashion categories.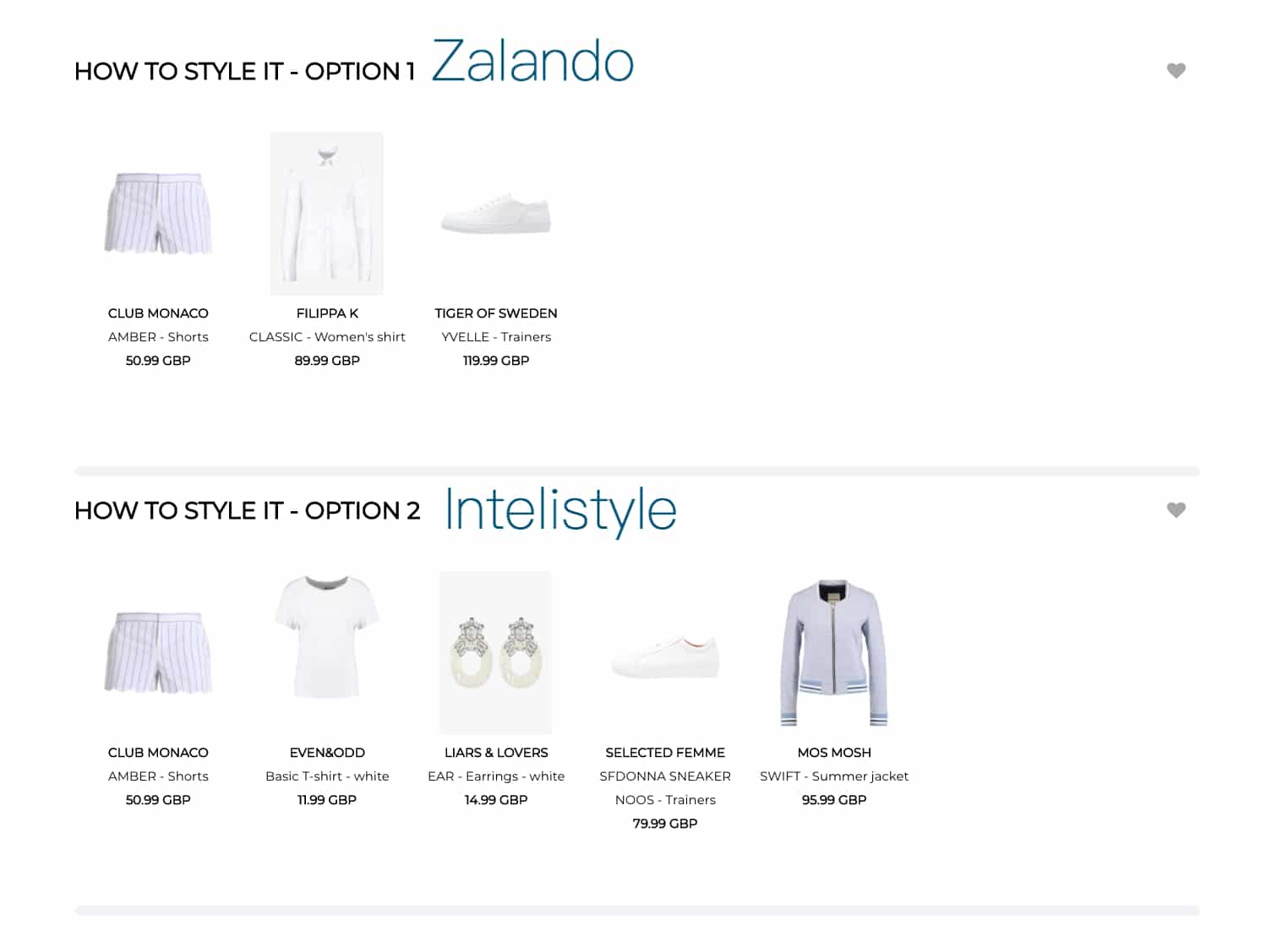 Another interesting finding was related to the definition of an "outfit'". All outfits generated by Intelistyle's AI were complete – meaning a customer can wear the recommended look and be ready to step out the door. Whereas Zalando's recommendations had many incomplete looks that consisted of just 2 products, which wouldn't be classified as a finished outfit. 98.8% of the time, Intelistyle recommended richer outfits with more products compared to Zalando.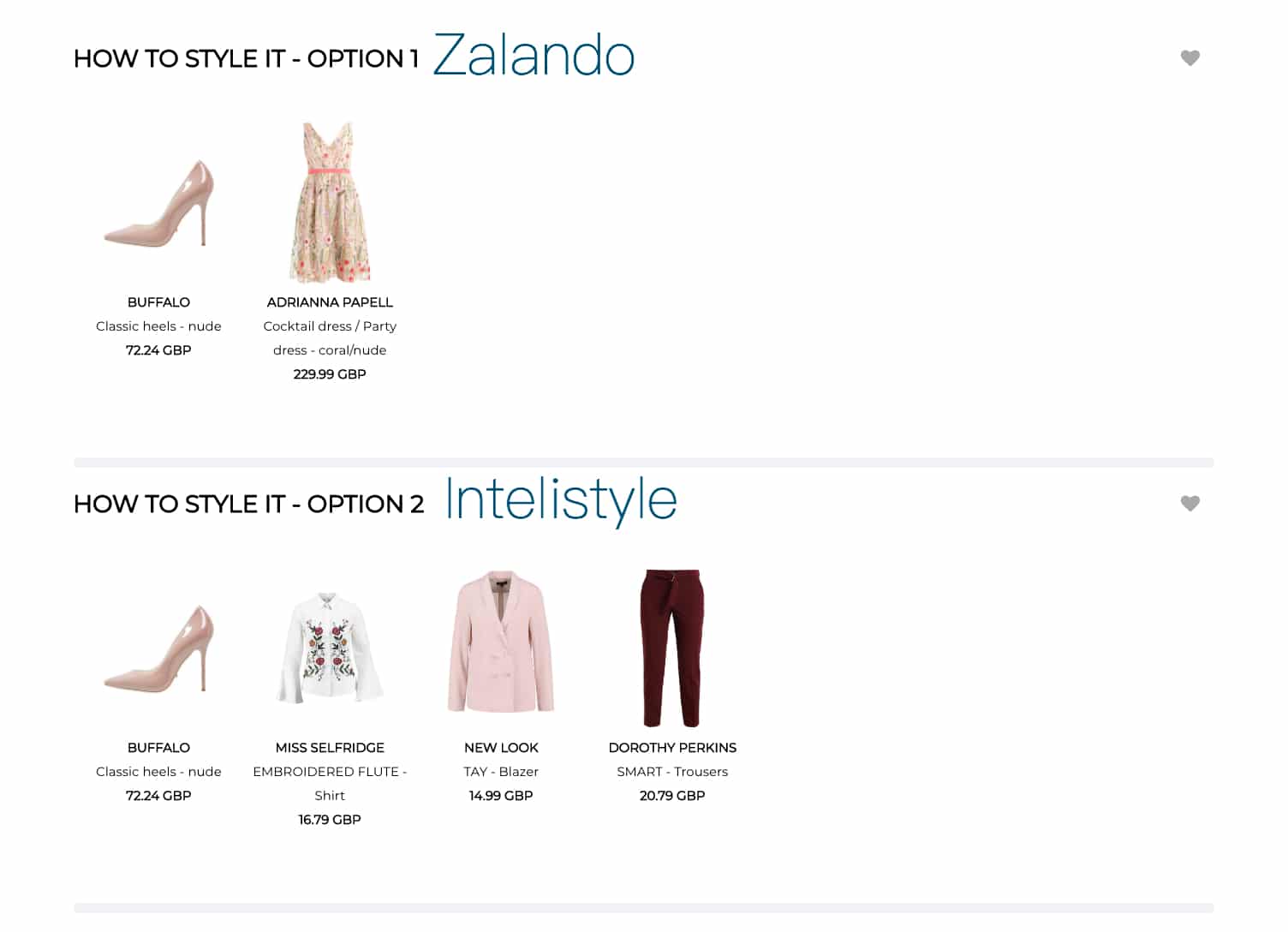 Yet, Zalando's AI had its strengths as well.
Styling Approach
When analysing performance by product categories and subcategories, we found out that Zalando's AI was better at styling more conservative and traditional outfits, thriving at product categories such as office shirts, polo shirts and oxford shoes.
Intelistyle's AI on the other hand, performed significantly better in fashion-forward styling – due to our continuously updated outfit dataset which always contains outfits following the latest trends, as well as our focus on using a large range of garment features which allow our model to more accurately understand those trends. In best-selling product categories that are currently on trend such as exaggerated sleeves, ruffled tops, slip dresses and mules, Intelistyle scored higher.

Global Prints
Looking at macro and micro print trends, the results revealed that Intelistyle outfits were preferred by 78% both when mixing prints and styling a single print. However, Zalando outperformed Intelistyle when styling animal prints.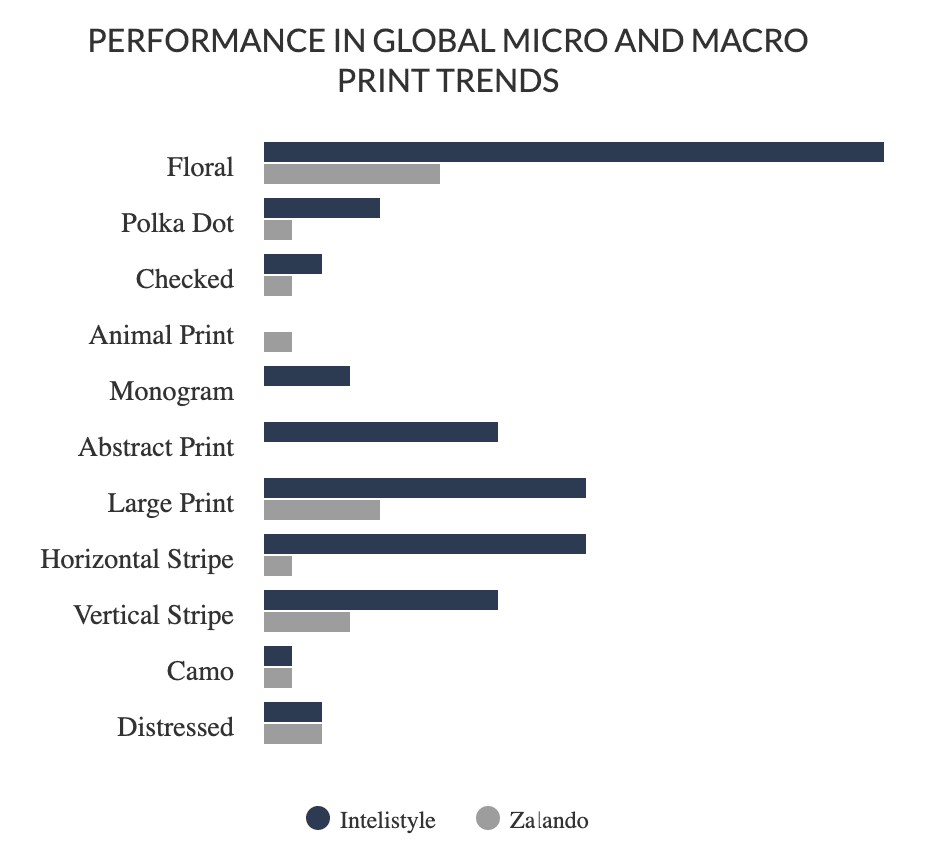 Sportswear and Athleisure
For sportswear and athleisure categories, 100% of liked outfits were generated by Intelistyle's AI.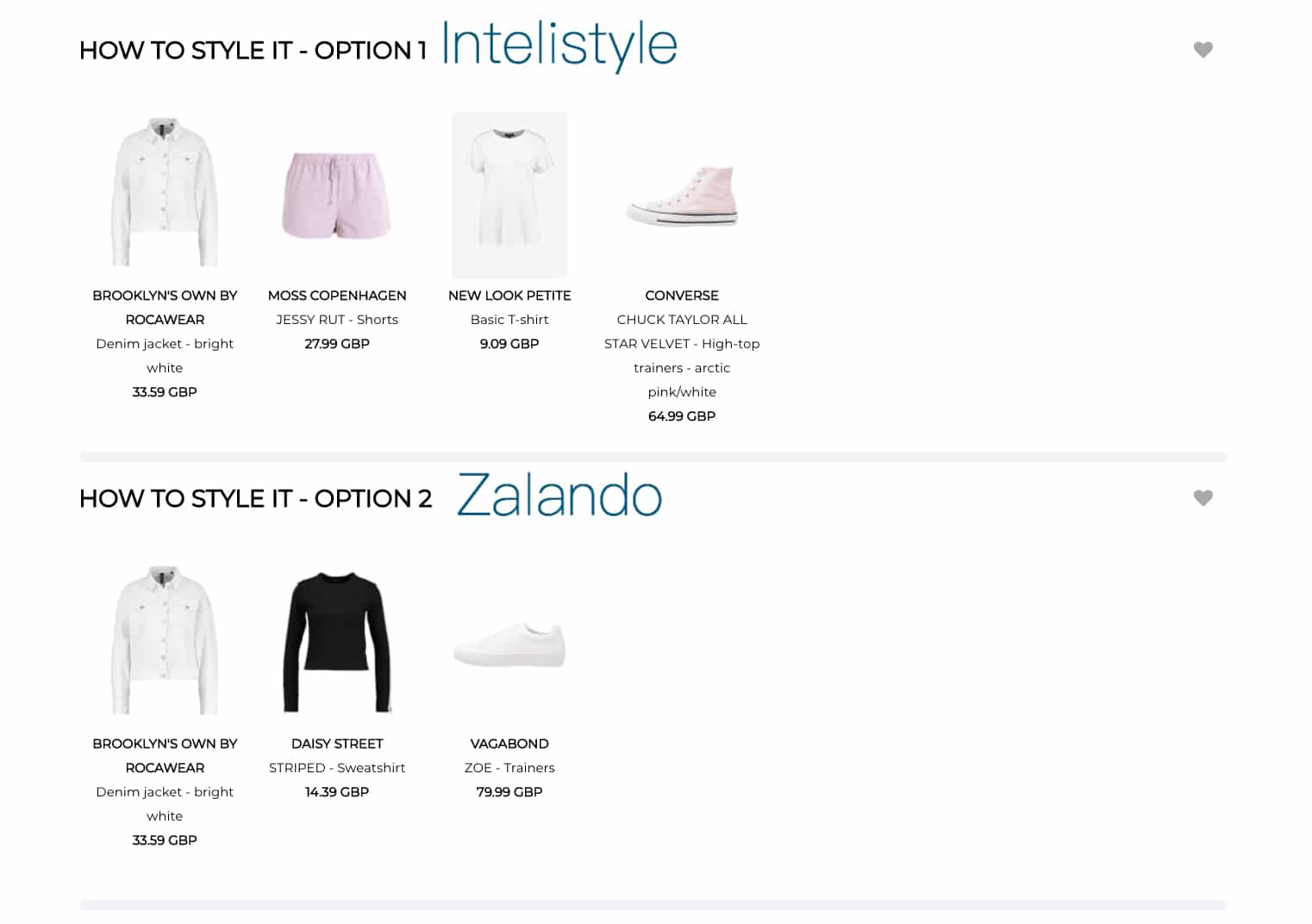 Another global trend, chunky trainers, were styled up and down for both casual and smart looks by Intelistyle, while Zalando supported a more classic styling approach. 95% of participants preferred Intelistyle's fashion-forward approach.
Denim and Jeans
In denim and jeans, Intelistyle outfits collected 76% of all likes and Zalando outfits reached 24%. When styling flared jeans and tapered jeans the two AIs were at a tie.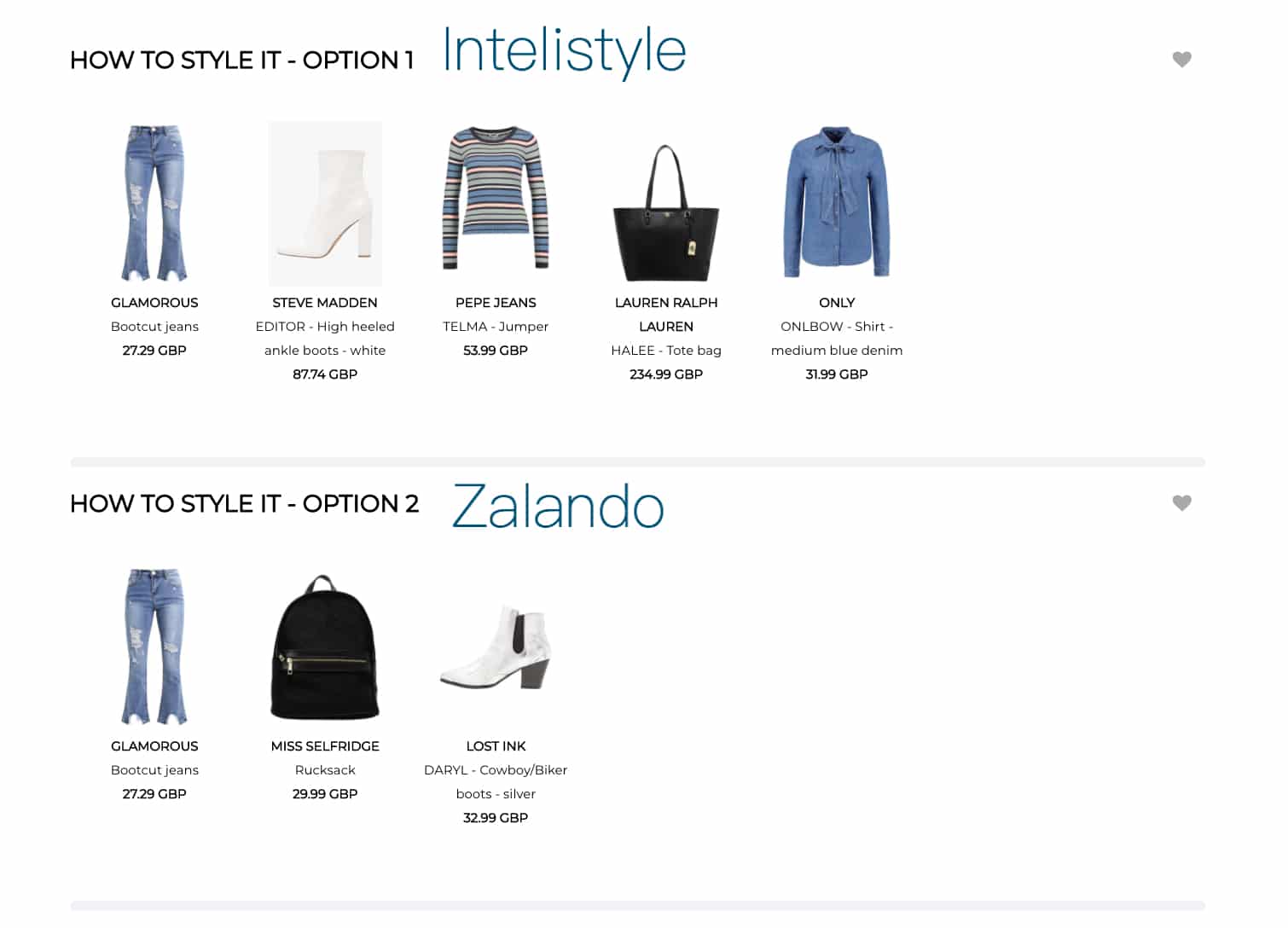 Colour Trends
Finally, in global colour trends, both Zalando and Intelistyle performed best at styling monochromes and worst at styling neons. In metallics, 75% of participants chose Intelistyle's styling to 25% that preferred Zalando. In pastels, the divide grew slightly where 79% of liked outfits were by Intelistyle to 21% by Zalando. When styling colour-blocks, Intelistyle's AI outperformed Zalando's AI by 89%.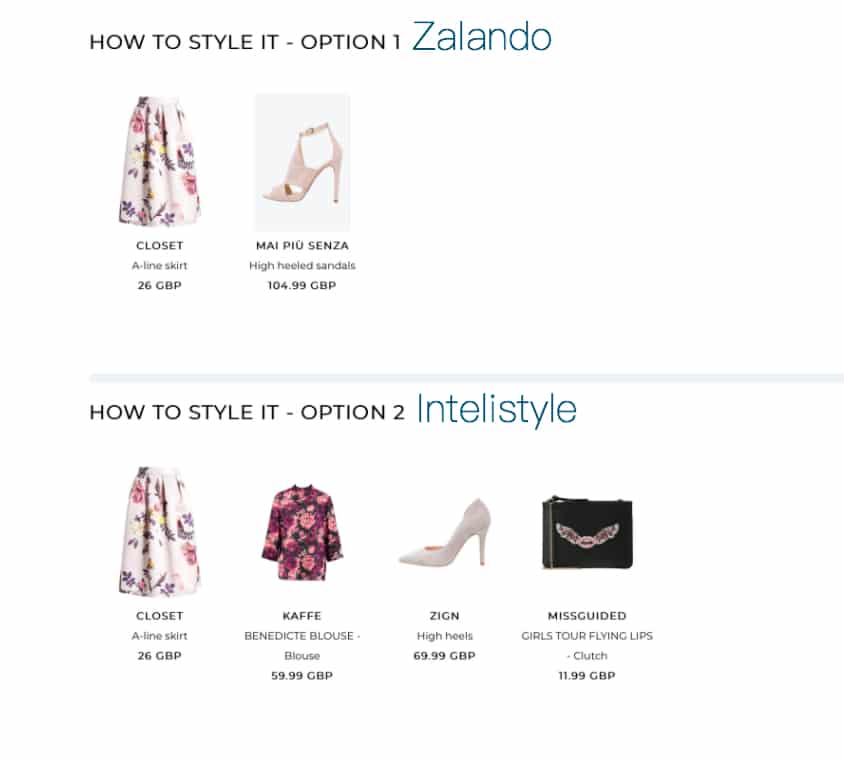 How our A.I. Styling Works 
Our model works by first extracting a high-dimensional numerical representation which contains information about that garment's categories and attributes (including fabric/material, pattern, cut, fit, occasion, weather, neckline, colour type and colour as well as others). This is done using several neural networks which can process image as well as text metadata for each garment. 
Another neural network then takes these individual garment representations and computes inter-garment compatibility scores such that we are able to choose which garments might work best when added to a given incomplete outfit. These neural networks are trained on proprietary datasets which are regularly updated, meaning that we can both continually improve overall quality and stay on top of current styling trends. 
With the ability to understand garments given raw data, and compute the compatibility between them, we have the foundations for a system which can build high quality outfits. However we would also like to directly include domain knowledge from our stylists on things such as the category composition of outfits and the number of items they contain in total. Therefore we have implemented several methods through which the outfit generation process, driven by the neural networks, can be guided by rules specified by our stylists. This allows us to ensure that outfits are "complete" with a rich composition. It also means that, at varying scales, our stylists can control
If you are one of the participants, we would love to hear your feedback.
If you haven't played the game yet and want to see the experience for yourself, the game is still available – please get in touch!