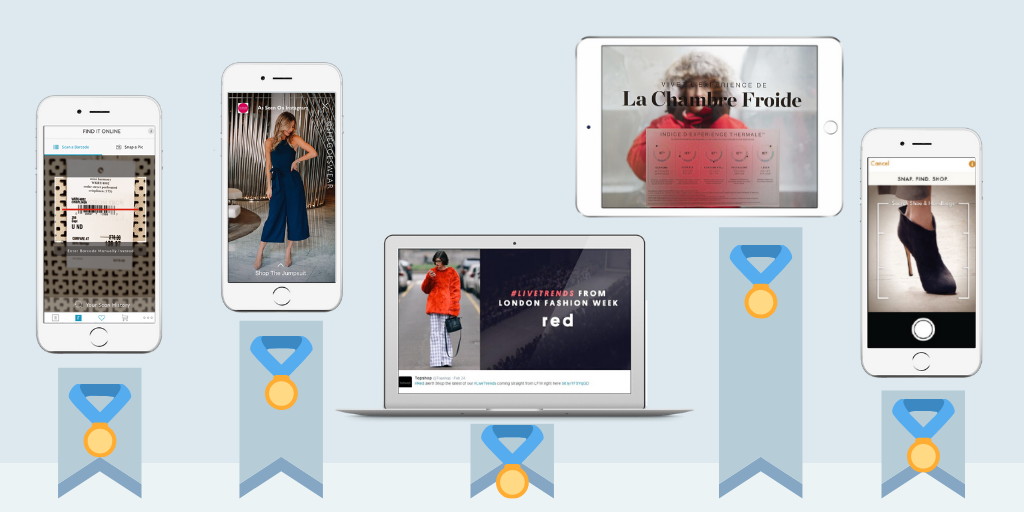 See 5 best in class examples of fashion retailers executing winning omnichannel retail strategies in real life
Even if you haven't noticed consciously, chances are you have been successfully exposed to an omnichannel retail strategy. As the path to purchase involves increasingly more channels and more devices, some retailers are getting very creative to target their audience and keep them constantly engaged.
An omnichannel retail strategy seamlessly integrates different sales and communication channels that the customer uses to combine the strengths of each channel and deliver a customer experience that is convenient, consistent, cohesive and holistic.

For fashion brands with a strong omnichannel presence, their efforts are really paying off! Retailers with a strong omnichannel strategy enjoy an average retention rate of 89% compared to 33% for those with a weak strategy.
To better understand what omnichannel success looks like in real life, we examine the five best omnichannel retail examples the fashion industry has seen by 2020.

Omnichannel Retail Examples #1: Topshop
The LFW Billboards
Topshop is a UK-based high street retailer that offers both women and men on-trend product mixes, with a core target audience of young women between 16-30. Topshop is the only high street brand to ever appear in London Fashion Week.
As part of their LFW campaign, they launched 'Digital Billboards' that were displayed around the UK throughout fashion week.
The billboards were connected to the company's Twitter account, so when followers tweeted an emerging trend with the hashtag #LFW, the billboards displayed the tweet accompanied by a relevant 'outfit look' from their catalogue.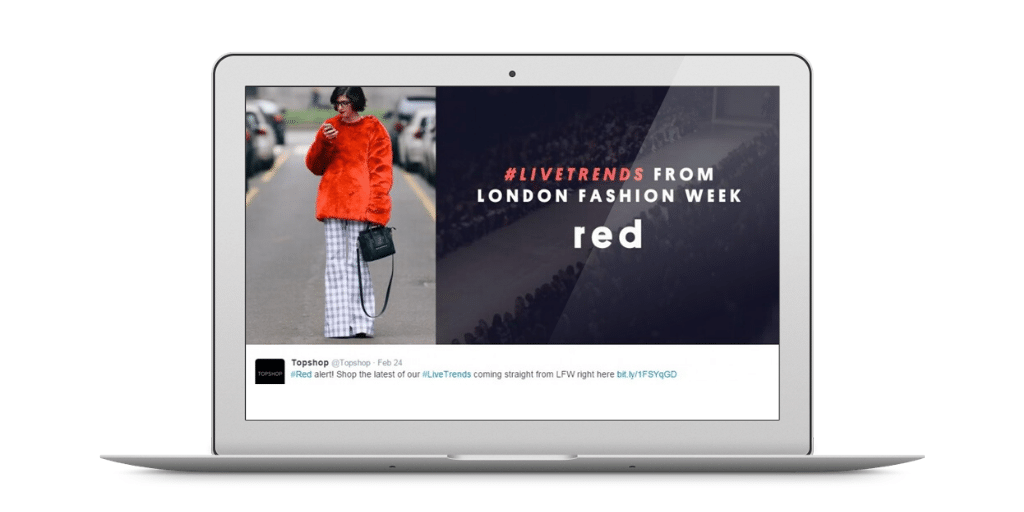 Billboard to In-Store in 10 Minutes
Each billboard was located within a 10-minute walk to a physical Topshop store, so viewers could easily go in-store to check out the products displayed on the billboards.
This meant that their core audience of fashion-conscious young women would immediately know what and where to shop for the season's latest trends.
The company reported a 25% increase in their sales across all categories featured on the billboards, with a 75% boost on items related to their 'modernism' hashtag.

Omnichannel Retail Examples #2:
Neiman Marcus
Snap. Find. Shop.
U.S. multi-brand luxury retail chain Neiman Marcus was awarded the 2017 IRT Retailer Innovation Award in Customer Engagement and with good reason! Jeff Rosenfeld, the company's VP for Customer Insight and Analytics says that at the heart of their strategy is a strong belief in the tangible benefits of personalisation.
Their core focus is to remove the barriers between how their customers interact with the brand on different channels by using technology that gets 'a bit smarter' every time the customer interacts with it.
Know Your Customer – And Remember
For example, if a customer always searches for size XS in tops, 6.5 in shoes and size 6-8 in dresses, the company will remember that. When the customer visits their online store next time, the site will show results that are available in those sizes. They won't stop there and also show the customers the nearest brick-and-mortar store that has the items in their size.
Using geolocation, they include information on relevant local events or new drops for their brands the customer has expressed interest in. All of these are incorporated into their retargeting emails and printed direct mail campaigns.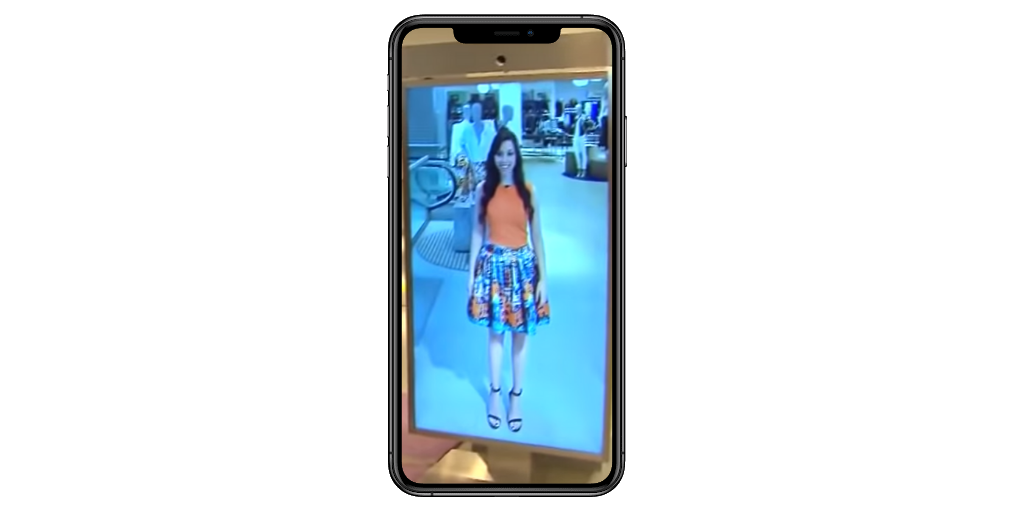 Memory Mirrors
Neiman Marcus is also one of the best examples of innovative in-store experiences with tools like their "Memory Mirror." The smart mirror allows users to record 360-degree videos of themselves trying on clothing, which they can then save in the brand's mobile app and take a look later when they're ready to buy online or in-store. They compare still images and videos of different outfits they try, side by side on the mirror or text those images and videos to a friend to get a second opinion.

Shop Inspiration
Their "Snap. Find. Shop." app allows customers to upload a photo of any product they like, and use smart recognition to show them a similar product from the Neiman Marcus catalogue. They can buy it on the spot or reserve it to try in-store.

Omnichannel Retail Examples #3:
Oasis Fashion
360° Integration
Oasis is a well-known fashion retailer based in the UK, operating online and from 80 brick-and-mortar stores in the UK, along with 96 other retail locations around the globe.
Their different touchpoints aren't just stand-alone sales channels. Every touchpoint is integrated with the others in real-time to create a truly holistic experience.
In-Store Trends to Online Store
Their online store has a carousel on product pages that shows the hottest items being purchased in-store at the physical store that is nearest to their customer.
Right under that, they have an 'inspiration gallery' of user-generated looks shared with the company's Instagram account @OasisFashion.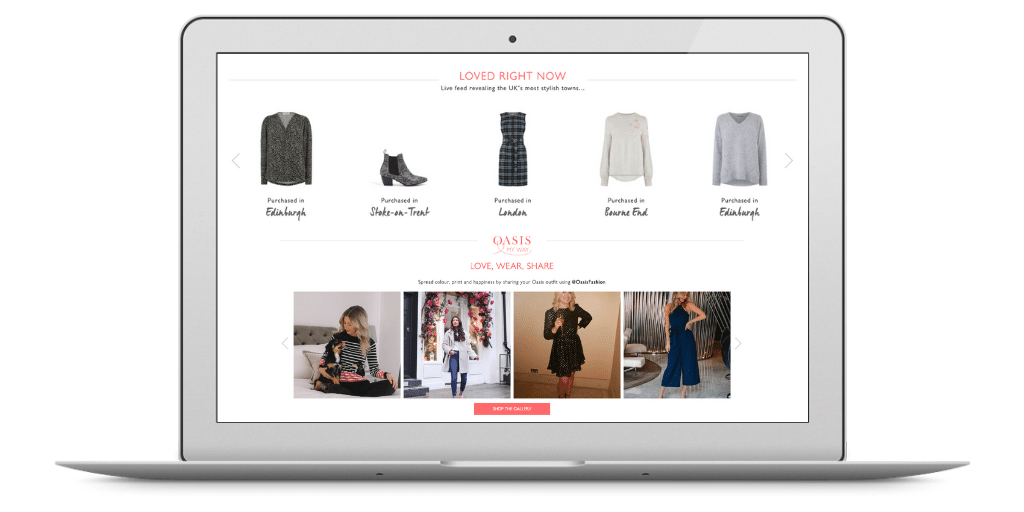 Social Commerce At Its Best
And the company Instagram account is a lesson on social commerce in itself:
Their profile is directly linked to their mobile-optimised InstaStore. The entire feed on their account is also shoppable looks and they have dedicated stories to different trends and collections that plug into their mobile app.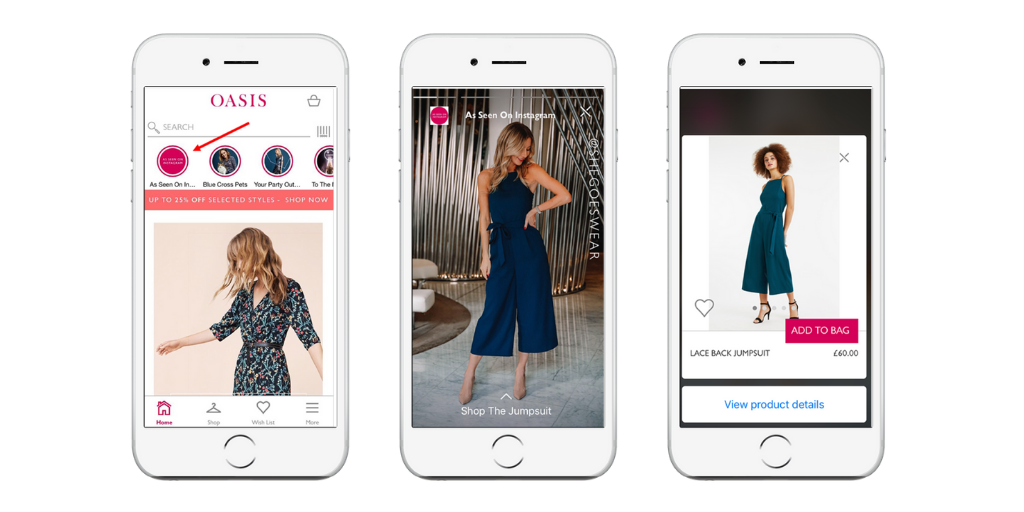 The best part is, it's connected the other way around as well. So app users can explore stories and get outfit inspirations just like on Instagram. But on the app, in addition to buying it on the spot, they can add it to their shopping bag to purchase later online or in-store. The 'Find in Store' feature lets the customer locate the nearest store they can find the item in their size.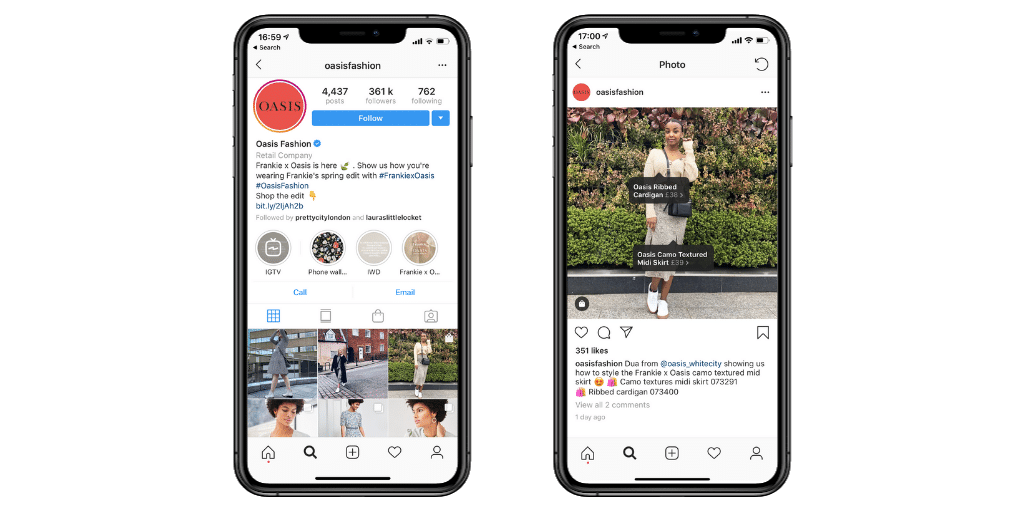 Clienteling Empowers In-Store Teams
Now, when you walk into a physical Oasis store, a store assistant empowered by an iPad gives the customer on the spot styling advice and product information – in consideration of their online activity, past preferences and saved items. If the store assistant recommends something that is not available in-store, they can order it for the customer on their iPad and have it delivered to their home the next day.
If the item isn't what the customer thought, they can return it to any store, a collection point or arrange a free home collection.
This integrated strategy resulted in a 48% profit increase in the same year.

Omnichannel Retail Examples #4:
Nordstrom
Convenience Is Key
Nordstrom is a U.S. luxury fashion retailer who recognises that the foundation of an omnichannel strategy is customer convenience – and they know how to make a convenient experience.
This is why they launched their 'Neighbourhood Stores' initiative to strategically place local stores in the neighbourhoods where they have a strong customer base. These stores are experience hubs and showrooms where the customer can touch and feel the products they browse online. They can also make returns in-store or collect orders on the same day.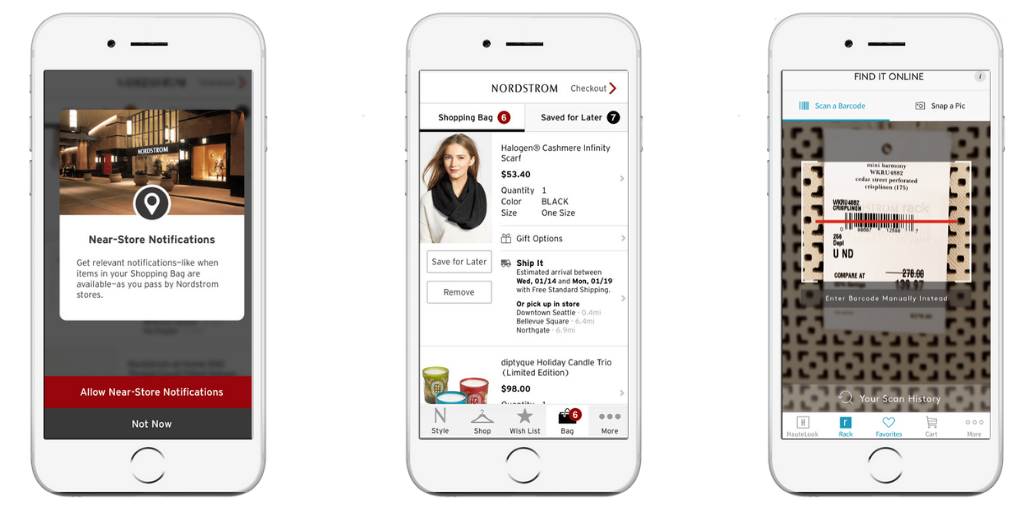 In-Store to App, Social Media to Online Store
Their New York store has an integrated app where customers can check stock availability before they go in, check product information while they are shopping or book one-to-one complimentary styling sessions.
Their Instagram and Pinterest accounts allow users to click on a posted photo and take them straight to the Nordstrom online shop where they can order online or reserve the item in-store.
Whether the customer shops online, in-store or through a third-party outlet, they have access to personalised loyalty rewards and services.

Omnichannel Retail Examples #5:
Canada Goose
Experiential Is Redefined
Canada Goose – a Canadian luxury outerwear brand – literally redefined 'experiential retail' when they opened their Toronto flagship store as a brand experience hub.
A Store With No Stock
Before we start, you should know that the store has a lot of coats – but they hold no inventory for the shoppers to buy and take home. Sounds a bit counter-intuitive? Not really, because that doesn't mean you can't make a purchase.
The brand wants to take the shoppers on a multisensory experience they call "The Journey" to feel why their outerwear is worth the hefty price tags upwards of £1,000.
The store is made up of multiple 'Cold Rooms', each one made to "re-interpret" adverse weather conditions from a seed vault in Norway to a room replicating Arctic conditions where it snows.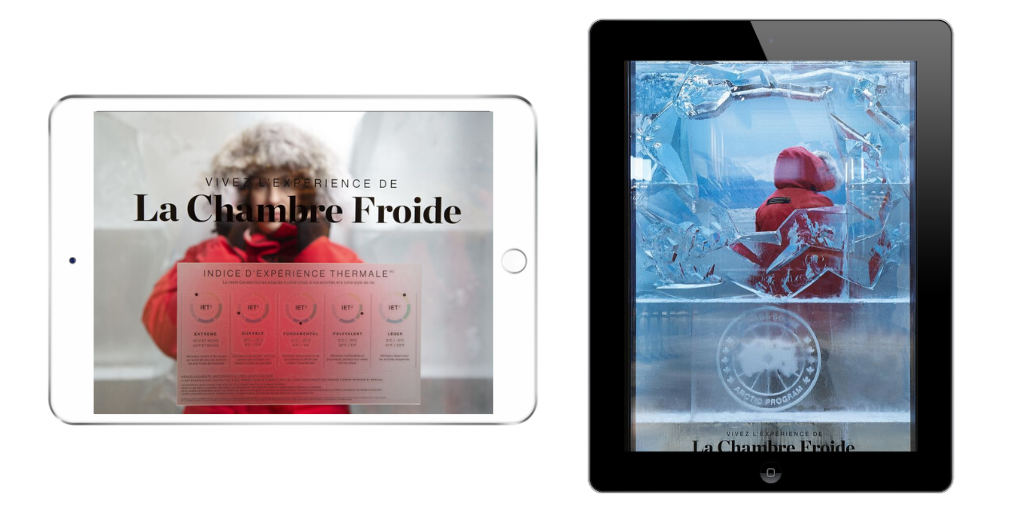 There's a "Thermal Experience Index," which is rating the outerwear based on the temperature range for which it's best suited – and consequently the experience room it should be taken to.
Try In-Store, Order In-Store, Collect At Your Doorstep
After the customer leaves the cold rooms, they are directed to the retail area, where brand ambassadors are waiting to answer questions and help them make a purchase on the kiosks connected to the Canada Goose online store. The customers get their coats delivered on the same day or the next day if it's after 2 pm.
What To Takeaway From These Examples For Your Brand
There is no one-size-fits-all omnichannel strategy that can be copy and pasted to every brand. A successful omnichannel experience will look different for every retailer.
These omnichannel retail examples are here to give you the inspiration to identify what your unique customer base needs in order to make their experience with your brand more rewarding.
And the secret is in taking multiple baby steps, instead of one giant leap: Try out small, additional features on different channels that you already have or if your channels are not integrated, start by connecting two of your touchpoints.
But perhaps, the most important ingredient of a successful omnichannel strategy is to really know who your customer is, listening to what your customers are saying and tailor each step to place them at the core of your strategy.
Of course, there will be challenges down the road but how you approach and tackle these challenges will differentiate your omnichannel experience.
Here, we break down the top 3 challenges retailers face when implementing their omnichannel strategy and the simple solutions to overcome them.