There's a reason why Net-A-Porter is recognised as 'the' company that revolutionised luxury fashion. Behind the success of luxury's first online multi-brand store, despite all odds being stacked against it at the time, was one genius detail: The company transferred founder Natalie Massenet's flair for editorial shop the look inspiration to their e-commerce store that is more akin to a fashion magazine than a digital product catalogue.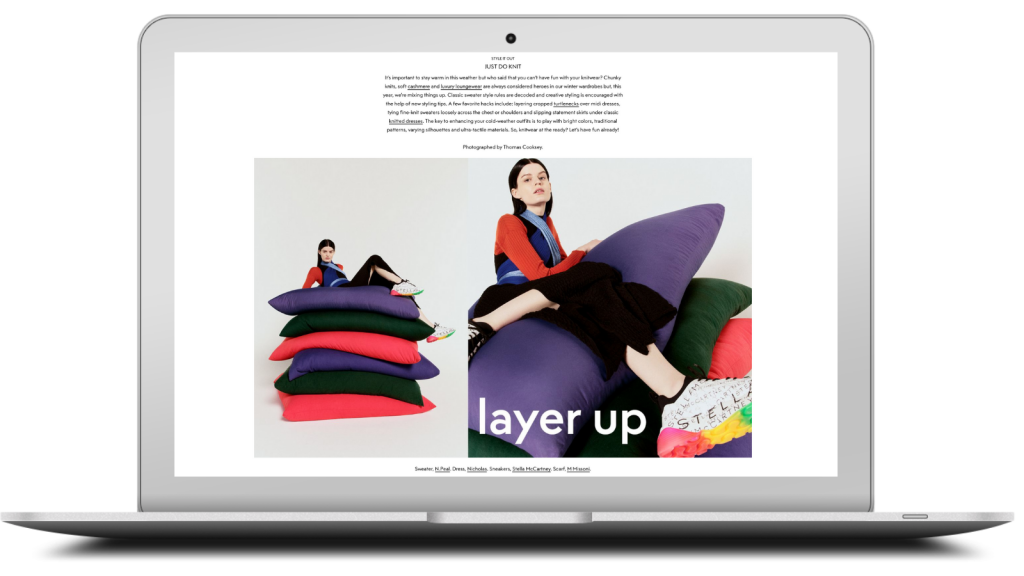 Just look at how fast the market filled up with other luxury multi-brand players such as Farfetch, Matches Fashion and MyTheresa. All ensuing retailers rested and grew on the same business model of complete the look upselling, which is proof that inspiration sells. And that it sells big!
KPMG finds that the absence of inspirational luxury experiences is the third biggest barrier to online sales for all consumer segments. Even in a world where the Covid-19 Pandemic never happened, online selling is what fashion and luxury retailers want to master right now as e-commerce would already have accounted for over 30% of the market by 2025 according to Bain & Company.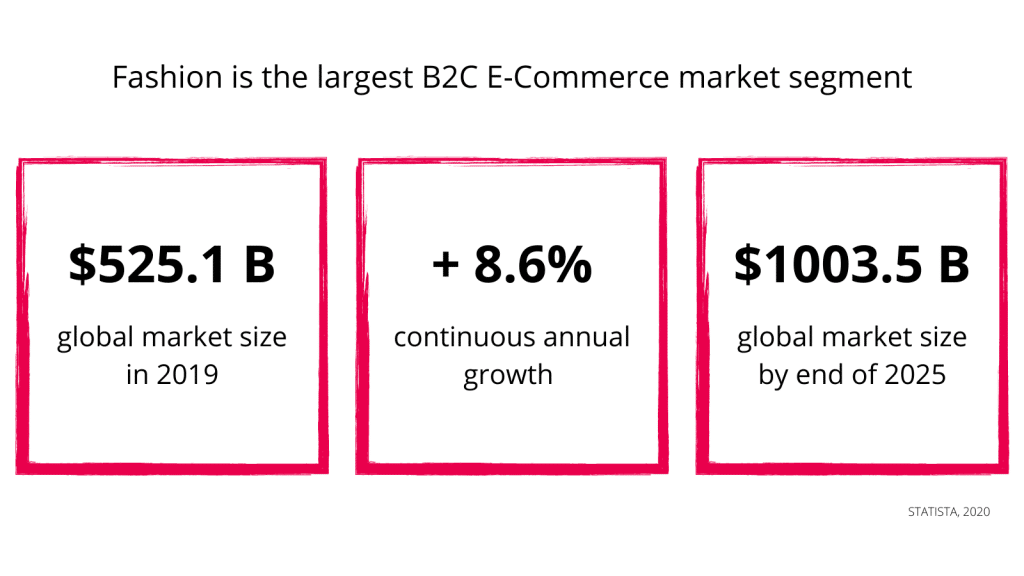 The pandemic has only escalated the window of opportunity and market share in fashion e-commerce waiting to be grabbed by the retailers who execute groundbreaking technology in impeccable taste.
Including a complete the look recommendation alone is not enough anymore – it also needs to be on brand and editorial quality to really push sales.
Younger generations are looking for inspiration
Unlike their parents, exclusivity, quality and craftsmanship are not enough to convert the new generation of fashion and luxury consumers.
Millennials and Gen Z drew 85% of luxury expansion year-on-year since 2017. Together, they are expected to account for 50% of all luxury fashion spending by 2025. That ratio is expected to further increase as they are reaching their peak spending age with growing spending power.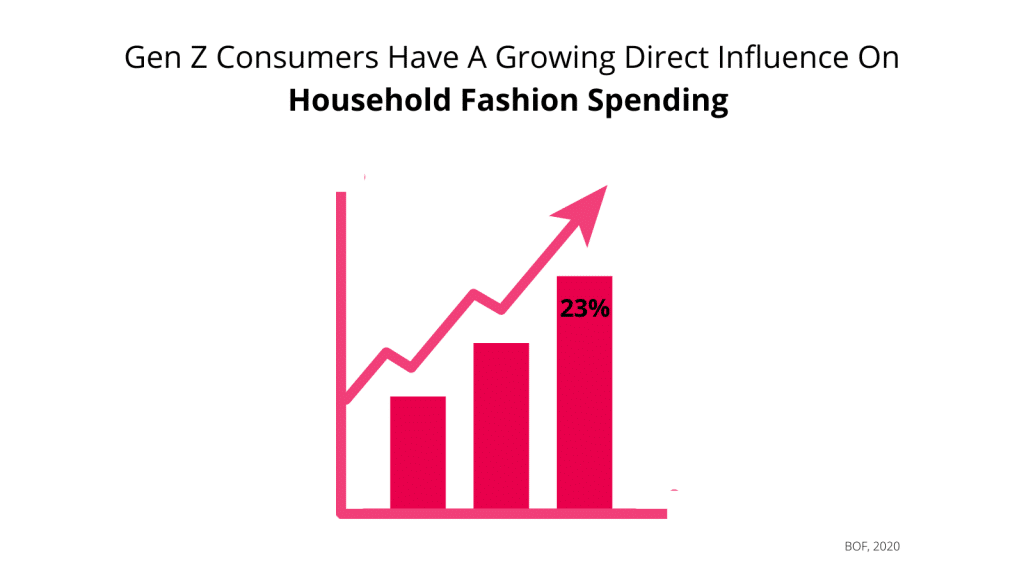 "An inspiring narrative" is what frequent online Millennial shoppers expect if a brand wants their business. Gen Z consumers in particular devote 50% of time spent making a purchase seeking inspiration. Moreover, Forbes discovered they strongly influence the purchase decision of their Boomer and Gen X parents, making inspiration the master key to unlocking the spending power of their entire household.
A recent ADWeek research reveals that the majority of fashion and luxury retailers are bypassing an enormous opportunity right now. Resonating with these two powerful generations that are still buying upscale goods despite being hit by the pandemic is the fastest road to recovery.
Retailers adapting their e-commerce proposition to these new consumers who are actively dictating the new era of fashion consumption will consolidate their revenue growth. At the expense of those who fail to act fast.
Why Invest In Inspiration?
Simple. If consumers are spending more time in the inspiration phase of the buying journey, that's where brands also need to be. However, Social Media outfit inspiration is fickle and not as clearly connected to purchase as an e-commerce shop the look recommendation.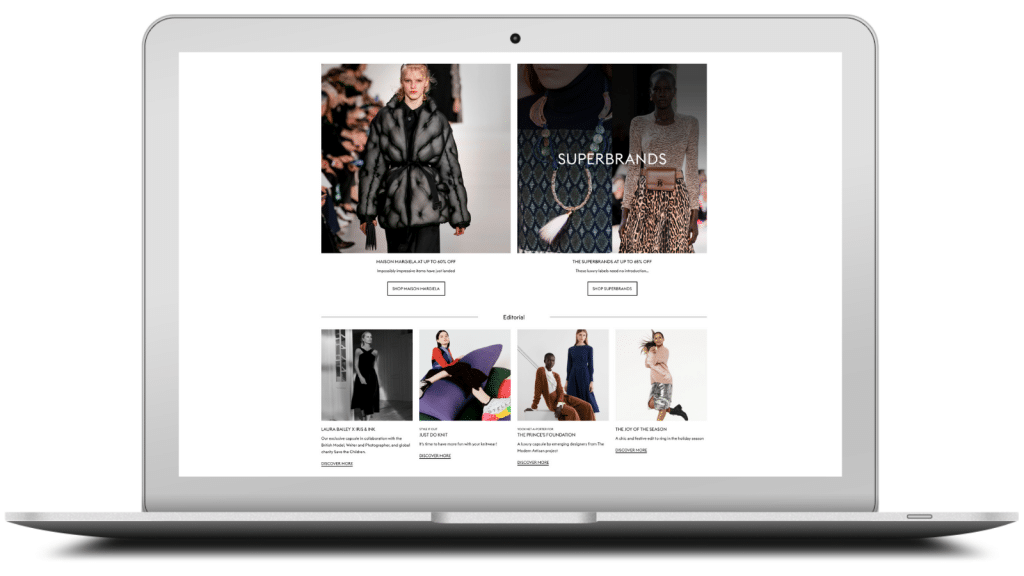 Turning inspiration directly into a sale is only possible, trackable and measurable by bringing shop the look inspiration to the online store where your products live.
This insight led Net-A-Porter to ramp up its shoppable editorial content. The company reported that consumers who engaged with the editorial style content had a 26% higher Average Order Value than those that didn't.
Editorial is The New 'E' in E-Commerce
2019 was the year of Editorial Commerce ventures: Traditional media houses including Vogue (of Conde Nast) and Marie Claire (of TI Media) launched their own e-commerce platforms that are concealed as editorial content hubs. These editorial shop the look pages received such positive consumer interest that many leading retailers jumped on the train despite losing a generous commission from their sales to the media companies.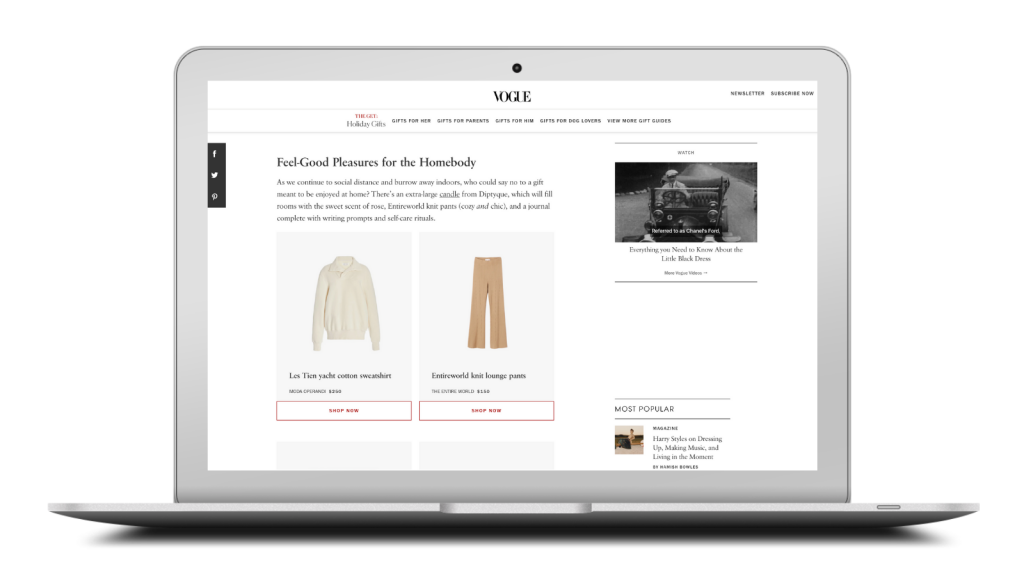 By creating your own-channel editorial shop the look experience, you will enjoy the same sales uplift and keep 100% of your profit.
Shop The Look: 6 Reasons To Automate Inspiration
Some great examples on how you can use editorial photography to create shoppable complete the look photography can be seen both on the Net-a-porter website and The Outnet. 
Intelistyle's new Visual Search solution used by the top luxury brands in the industry, allows editorial model photography to reach its full untapped potential for growing online Sales and Average Order Value.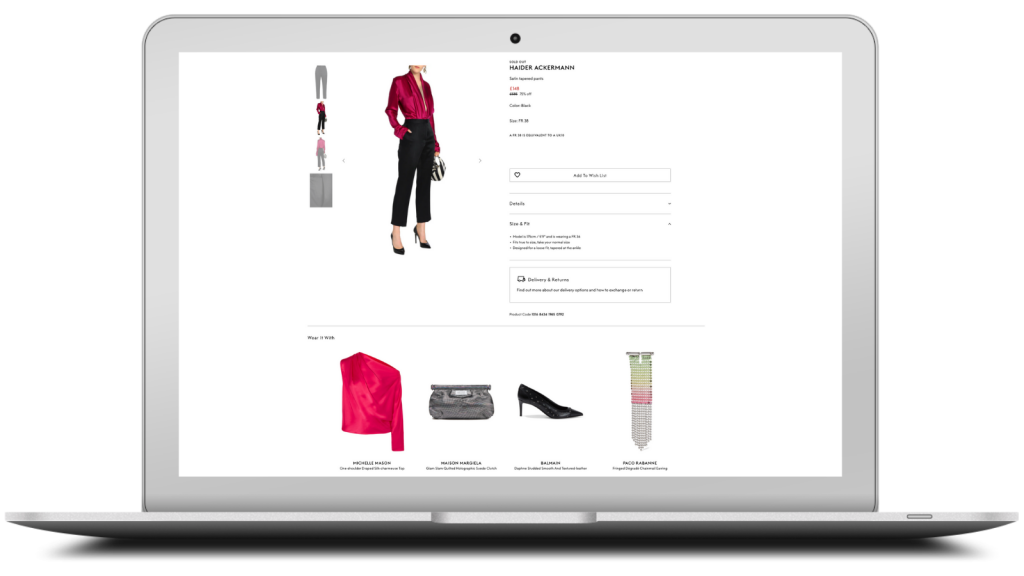 Here are 6 reasons why you should transform your e-commerce store into a shoppable magazine:
1. Get More ROI For Your Editorial Efforts with Automated vs Manual Shop the Look
Retailers already invest massive time, money and creative resources on editorial model photoshoots for their catalogue to inspire shoppers.
However, unless all products that make up a complete the look as worn by the model are shoppable on the same page, that inspiration falls flat. Visitors will not spend the extra time to manually search for each product, meaning your business is actively missing potential sales at every view.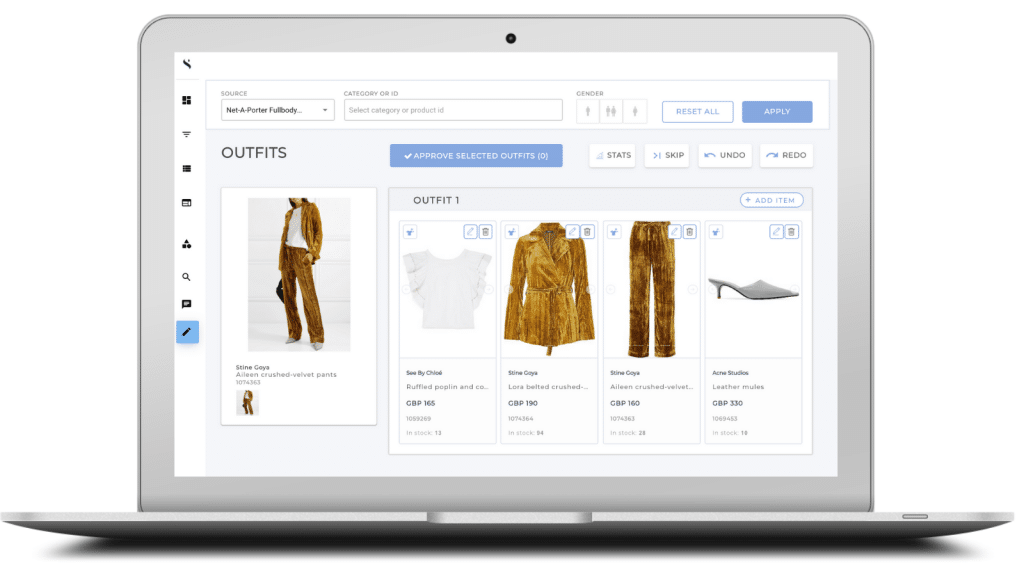 Linking editorial photography to product is no new strategy. In fact, many retailers have tried to turn their editorials into shop the look recommendations through the manual effort of their merchandising team.
However, linking on average 3-4 products to a single model photography for your entire catalogue is time and resource consuming. Not only that but addressing this process manually translates into low recommendation coverage and missed sales when a product goes out of stock. Automating this process increases your operational efficiency by 30% and ensures your catalogue coverage is always above 90%.
Intelistyle's A.I. and Visual Search technology allows you to automatically recreate all your editorial photography as shop the look outfit recommendations on every product page.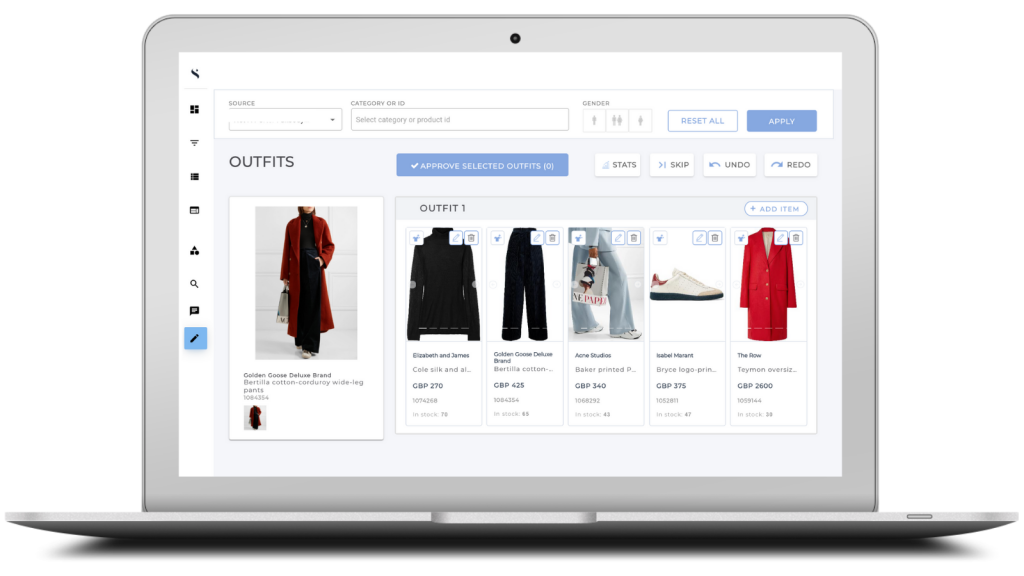 2. Improve Product Discovery
Editorial shop the look recommendations facilitate product discovery and turn all your product pages into a mini shop within the shop.
Product discovery time is the make or break differentiator that determines whether a visitor converts or abandons your store. Modern consumers have a dangerously low level of patience. Moreover, they have even lower loyalty to a single retailer. If they don't find what they want fast and easy, they will just bounce off to a competitor's online store.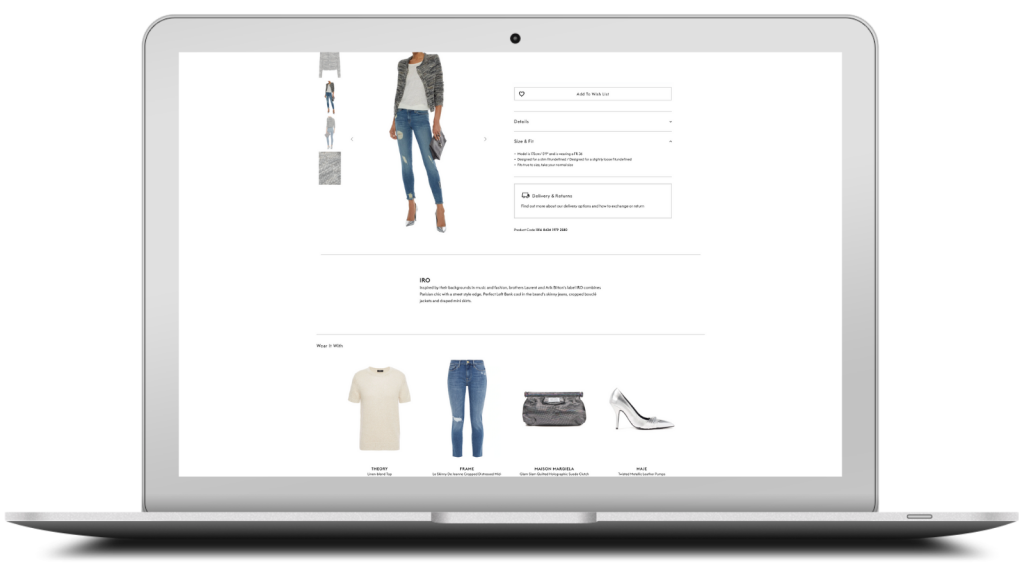 Curated product discovery means your visitors discover a wider range of products from your catalogue with every click. The discovery phase becomes a valuable customer experience similar to browsing a fashion magazine.
3. Enable Horizontal Customer Journeys
While retailers are traditionally accustomed to thinking – and therefore operating – in verticals, creating an outstanding customer experience is only possible when you think horizontal.
A smooth customer journey is like a bridge that takes the shopper directly from Awareness to Purchase via Inspiration and Discovery in one horizontal line.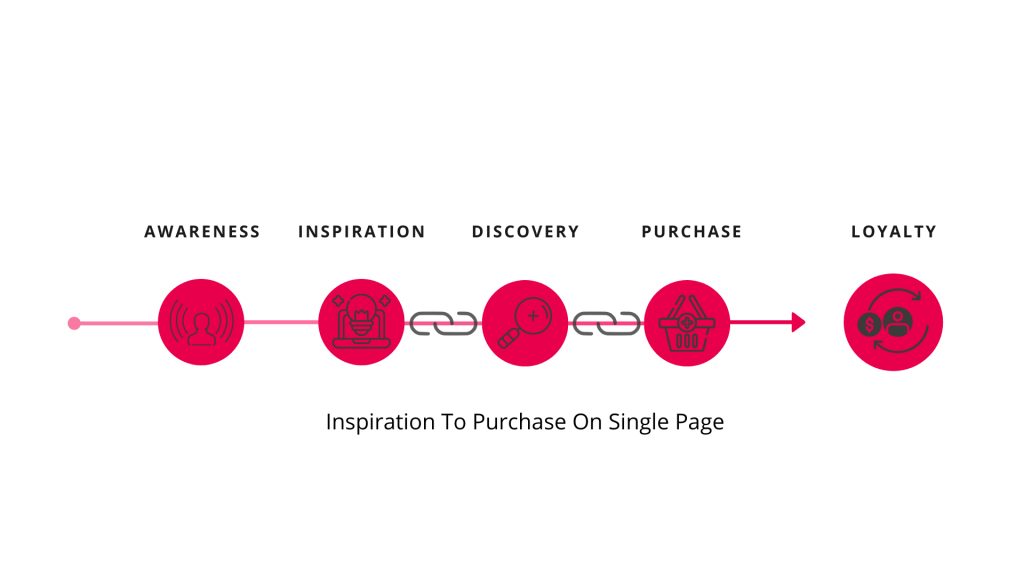 Intelistyle's shop the look recommendations automate this horizontal customer journey at every turn.
When given the option to buy at the moment of inspiration, consumers spend significantly less time making a purchase decision. Unlike an impulse buy, an inspiration buy leads to long term loyalty and increased Customer Lifetime Value.
4. Increase Post-Purchase Satisfaction and NPS
Having an editorial shop the look spread on each product page means that your customers will come back regularly to your shop and check how to style the outfits they've already bought. They will also revisit to see how they can style different complete looks with the products they own – like a post-purchase lookbook.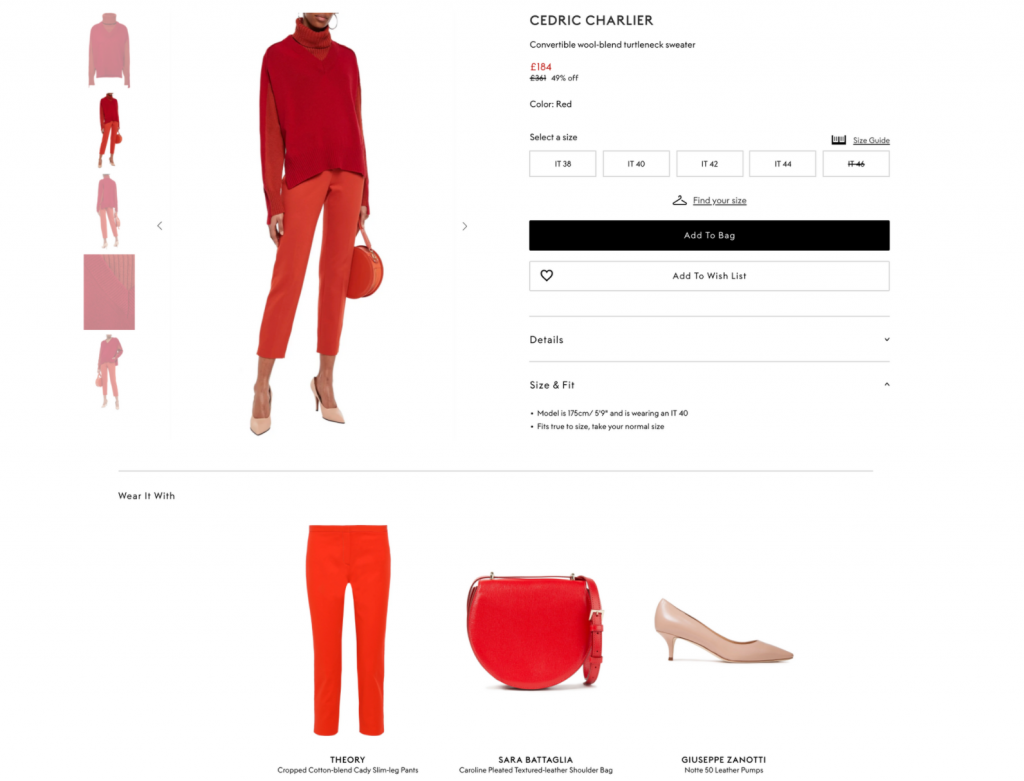 This feature will not only increase your post-purchase customer satisfaction but also create a permanent backlink to your online store at zero cost of retention.
5. Reduce Out-of-stocks
Owing to the advanced technology used for Intelistyle's A.I. Visual Search, all products worn on full-body model photography are matched to the actual product from a retailer's feed by detailed attributes.
When products in a shop the look recommendation go out of stock, Intelistyle's A.I. will automatically replace them with the closest visually similar item from in-stock inventory that shares those attribute values.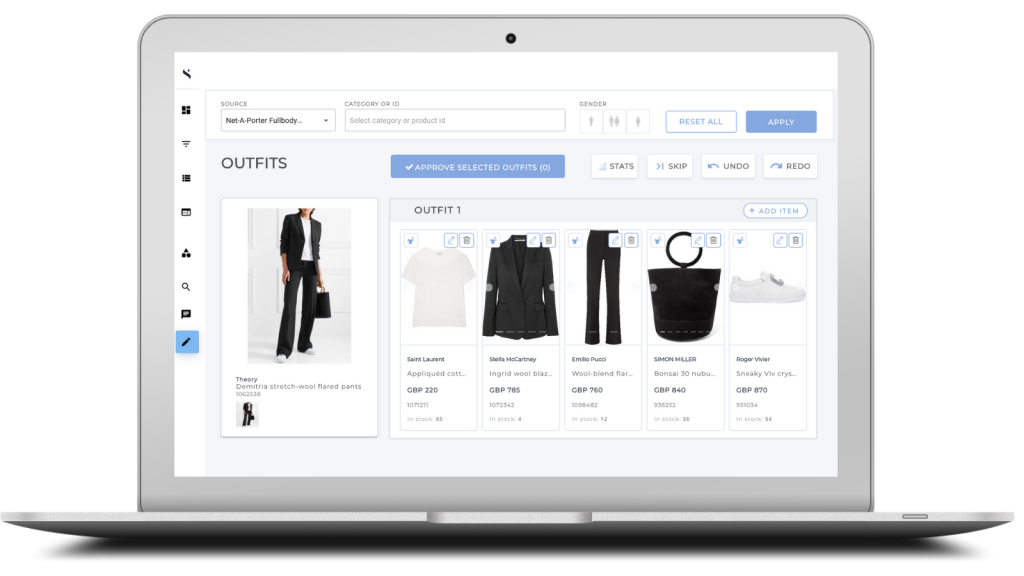 This extends the lifetime and value of your seasonal model photography and further enhances targeted product discovery.
6. eCommerce Merchandising Should Be As Good As Physical
Intelistyle's A.I. works in tandem with a flexible Merchandising Platform where A.I. generated complete the outfit recommendations can be easily edited. This can be done by own-brand merchandising teams or your Intelistyle Brand Stylist dedicated to your stock.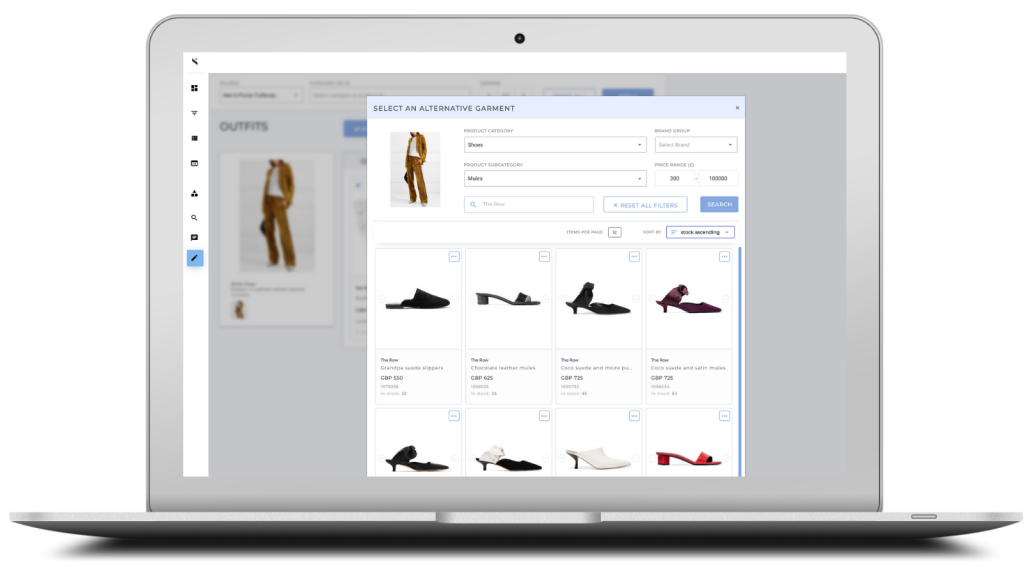 The merchandising platform has key sales metrics like real-time stock and price information. These functions allow styling decisions that support your sales strategy, such as pushing products to clear old stock or prioritising the latest drops.
Join The Next Generation of Commerce
Click here to find out more about how Intelistyle's A.I. and Visual Search technology can transform your e-commerce store and increase your Average Order Value from Day 1.
Join the world's leading fashion and luxury retailers who have increased their revenue using bespoke Intelistyle Solutions.
Also, don't forget to check back shortly to download the full Case Study of our Shop the Look Solution with one of the biggest luxury retailers worldwide.