What Is a Virtual Try-On App, and How Can It Improve Product Discovery?
During the pandemic, brands struggled to keep sales afloat and contact to a minimum. This accelerated the already growing need for virtual try-on, where fashion and beauty brands were able to demo their products remotely.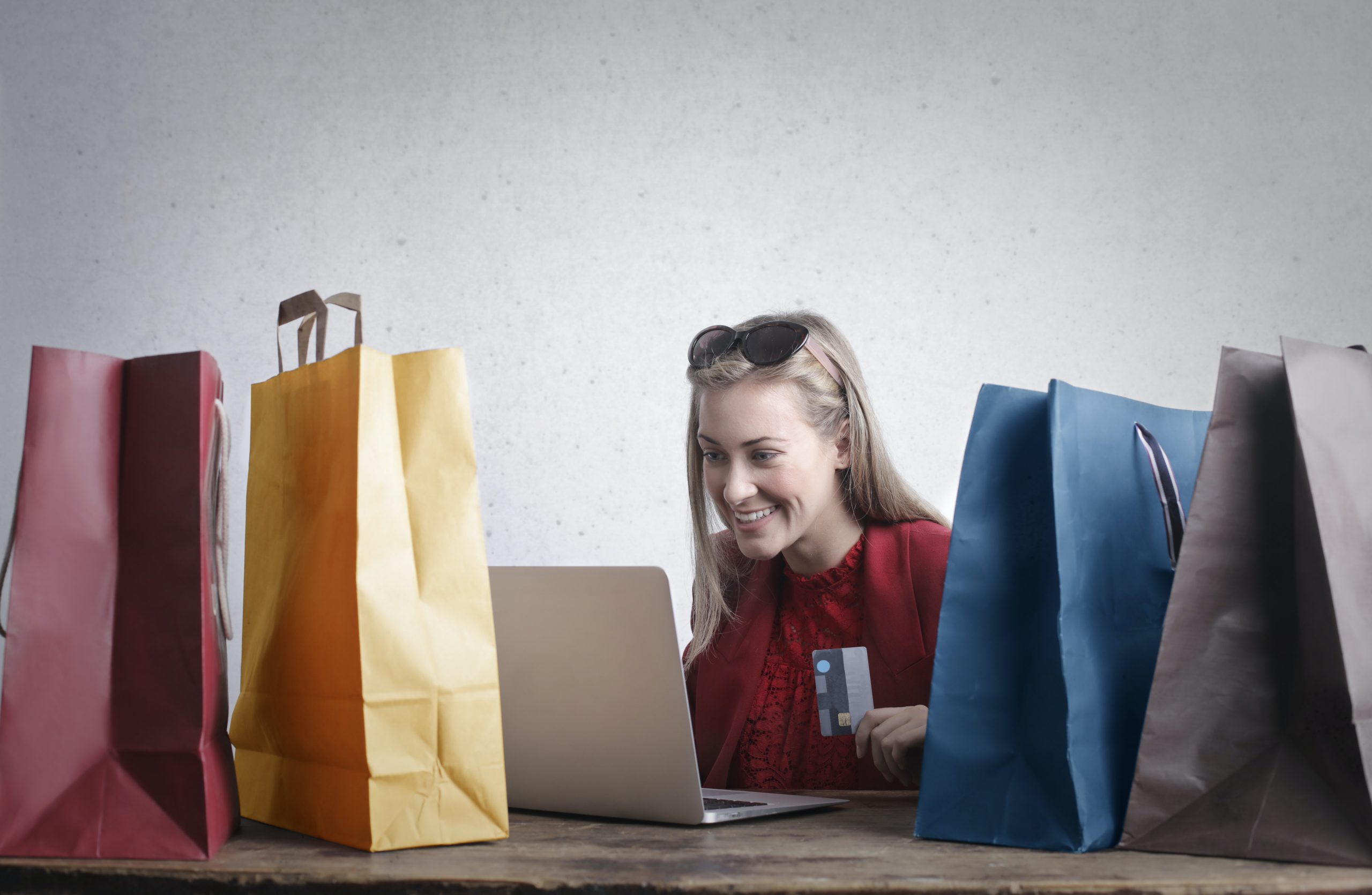 Virtual try-on apps can show customers how they will look wearing various products, ranging from a new pair of sunglasses to a new shade of lipstick, through AR- and AI-enabled experiences. Retailers can use this technology to recreate "real-life" dressing room experiences for online shoppers, and there are numerous benefits for businesses and consumers alike.
What Is a Virtual Try-On App?
Virtual try-on apps vary from retailer to retailer, but in general, it refers to apps that contain technology that enables customers to try on clothing, accessories, cosmetics, shoes or jewellery through augmented reality (AR). This can refer to mobile apps, desktop plugins or even smart virtual mirror apps found in stores and equipped with cameras. 
Customers can enjoy a real-life shopping experience from the comfort and privacy of their own homes, decreasing the likelihood that they will return an item and providing fun and immersive brand experiences at the same time. 
Virtual try-on has been around for years, with notable brands like Converse dabbling with virtual try-on experiences as far back as 2012. It took off even more after Niantic released the highly popular AR game Pokémon Go in 2016, sparking speculation about the future of AR technology and leading to massive investment.
However, it's taken a while for technology to reach the capabilities it needed to truly enable virtual try-on. Displaying given objects, calculating the right lighting and establishing the position needed is complex. Fortunately, the new generation of smartphones is equipped with phone chips, graphics processing units (GPUs) and neural processing units (NPUs) to enable better try-on experiences.
While the pandemic may have driven adoption, it's not the only reason it's becoming more popular. Virtual try-on has even more benefits for customers than online shopping. Customers can enjoy the convenience of shopping from home but can get a better idea of what they look like wearing an item. This will either drive them to other items or lower return rates for retailers.
How Do Virtual Try-On Apps Work?
Virtual try-on apps are very user-friendly. They are either available via the retailer's own app or leading mobile app stores. Most apps have in-app purchasing links as well, so users can purchase things they like immediately. Features can vary between apps. Some apps require users to upload photographs or videos or to personalise settings. The app then uses facial recognition algorithms to define areas of the face and apply an overlay of selected products on areas like the eyes and lips, much like an Instagram filter. Users can change colours, styles and lighting with a tap. Many of these apps also have social media integration so that users can share their looks with friends and family online. Some apps include basic photo editing tools so that users can reshape their own facial features or bodies. 
At the moment, the biggest users of these virtual try-on apps are makeup buyers and fashionistas that want to preview their looks. Retailers are embracing the trend as they can offer personalised, online shopping experiences and reduce the cost of returns.
What Are The Benefits of a Virtual Try-On App?
There are several reasons why a retailer would want to introduce a branded virtual try-on app of their own, including:
Boosting Sales and Marketing
Most computers and smartphones can support AR, which means that it's highly accessible. It's a great way to get customers interacting with their retail apps and move a little closer to your end consumer. With a virtual try-on app, customers will receive an instant, realistic and personalised representation of what they would look like using a product. This also collects information that can be used to make product recommendations, boosting sales. Knowing whether or not an item flatters or fits them may also give customers a nudge to make a purchase. If they love the way they look wearing an item, they may be far more eager to buy it than if they just looked at a picture online. 
Reduced Costs
Customers are far more likely to return goods that they've bought online, sight unseen. Most retailers know this and factor this into the cost of the products they sell, but returns are always expensive (especially for brands that offer free delivery and free returns). By giving customers a better indication of what they will be buying, you decrease the odds of them returning an item that doesn't flatter or otherwise suit them. Research by Barclaycard shows that 30% of shoppers will over-purchase and return items, while 19% of customers will order multiple versions of the same item so that they can make up their minds when products are delivered. Try-on apps could reduce these returns and the need for this behaviour, which has additional environmental benefits as well. Try-on apps could also reduce the need for physical fitting rooms in retail stores. That space could be repurposed to display additional merchandise.
Becoming More Competitive
The AR market will reach an impressive $198 billion value by 2025, according to Statista. Retailers that are the earliest adopters of this technology will gain a considerable competitive advantage over other brands and establish themselves as market leaders. Virtual try-on apps have the potential to drive smoother and more engaging customer experiences that will go a long way towards building customer loyalty in the future. There's also a social element to these apps, which means that customers can become brand ambassadors and share their shopping choices online.
Better Customer Experiences
Customers can truly enjoy the try-on experience when they use apps in a way that they can't in a real-world fitting room. They have the freedom to try on as many clothing items or accessories as they like without pressure to make a purchase. There's no need to get undressed, go back to a different size or queue in a long line of customers for the fitting room. If they make better choices, customers won't have to deal with the hassle of repacking items, filing a return, waiting for collection and then waiting for a refund.
Examples of Virtual Try-On Apps
It's no surprise that several retailers are experimenting with AR and virtual try-on apps. Here are just a few brands that have virtual try-on apps available:
Farfetch
Social media site Snapchat has been one of the leaders in AR technology, partnering with numerous fashion brands from Converse to Prada. Luxury online retailer Farfetch is one of their partners. With the app, users stand in front of their camera and ask a question, e.g. "Show me an oversized black biker jacket with a fur collar". The software will choose a product from the brand's catalogue and place it on their body. 
The app uses a technology called 3D Body Mesh that maps the body and cloth, which make it seem as though the user is wearing the clothes in question. The clothes even seem to respond to movement and gravity, giving the "wearer" a better idea of what their outfits would look like. Users can switch between clothes using voice commands, share their images or make a purchase.
Inkhunter
Getting a tattoo is a big decision…and a permanent one. Inkhunter minimises the risk of being saddled with a tattoo you regret through a virtual tattoo try-out app. It's a great way for salons and body art fans to show customers what the finished product will look like on their bodies and avoid some expensive laser surgery down the line!
e.l.f. Cosmetics
e.l.f. Cosmetics have introduced their AR features through YouTube by adding "Try It On" buttons on their in-stream ads. When users tap the button, their camera launches and displays the featured product on their faces. They can then cycle through the various colour and shade options, choose a product to purchase and go straight to the website to buy the cosmetics they've chosen. This helps users connect to the brand on a much deeper level than simply looking at a picture of lipstick online.
Baume & Mercier 
Luxury watch brand Baume & Mercier have also created a virtual try-on app to sell their products. Baume & Mercier watches are expensive, and customers don't make purchases lightly. A virtual try-on app may just give customers the encouragement they need to push a sale over the line. The watches were modelled in several different wrist sizes and variations to create a truly realistic try-on app. 
The company carried out expensive user testing to see how customers would hold out their wrists when trying on watches and holding their devices for the best results and spent extra attention perfecting lighting conditions.
L'Oreal
L'Oreal partnered with Instagram shopping to showcase products from Urban Decay, NYX, Maybelline and Lancome. Considering how many social media shoppers there are these days, it was a smart move. Customers can view and try out makeup directly via their Instagram accounts and feeds.
Warby Parker
Warby Parker has always been interested in letting customers try out products at home. This brand will send customers five test models of glasses for free so that they can try them out at home to encourage word-of-mouth marketing and engagement. AR has enabled them to build on this idea without the cost and hassle of shipping. They've built their try-on app using Apple's ARKit and a proprietary algorithm to get a more accurate fit for customers.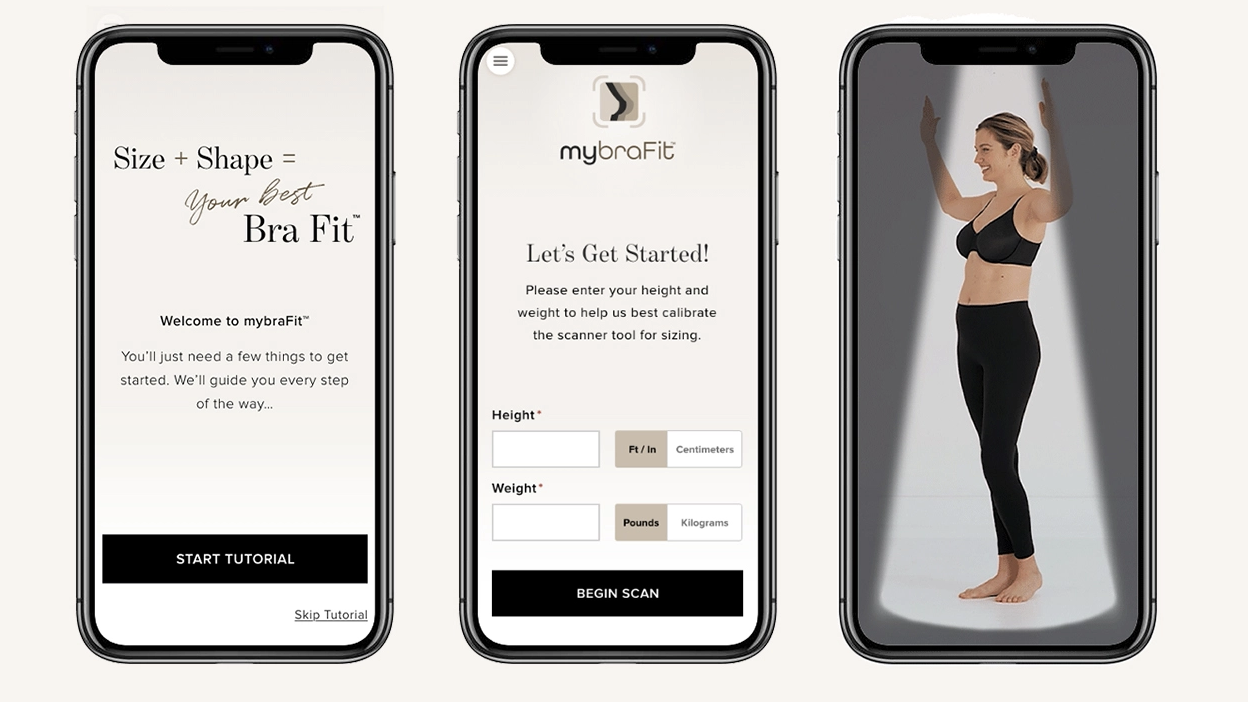 Wacoal
For many women, bra fittings can be an embarrassing experience. While fitting room assistants are highly professional, a fitting still involves spending time in a small space with a stranger…in your underwear! Wacoal is trying to solve this issue with their innovative bra sizing app, mybraFit. Shoppers stand in front of their phone cameras and are given instructions for various poses. The app will then capture the images and digitally size the customer. They will also be asked to answer some questions about body size and shape. 
The app sends each customer an email with their bra size and personalised recommendations from the Wacoal product catalogue.
Should Customers Be Concerned About Data Collection? 
Virtual try-on apps have the potential to transform online shopping for customers and businesses alike. That's not to say it's all moonshine and roses. Not all virtual try-on apps are created equal, and experiences are still being refined. There are also some privacy concerns from consumers who worry that their images (and most intimate measurements) are being collected and stored by brands. 
Retailers that deploy virtual try-on apps have to address these issues head-on by partnering with the right technology providers, reassuring customers that their data will be kept safe and secure. 
Conclusion
Virtual try-on apps are here to stay. The market is growing rapidly as retailers look for innovative ways to keep customers happy (and costs down). If you are a retailer looking to create engaging, fun and effective experiences for your customers send us a message. Intelistyle's virtual try-on app may give you the edge you've been looking for.