Visual AI and Its Applications in the Fashion Industry
While artificial intelligence (AI) and automation took off rapidly in the ecommerce world, fashion executives have been slow to follow the trend until recently. Perhaps it was hard to fathom how a cold and calculating AI technology could become a valuable tool in an industry fuelled by creativity, expression, and aesthetics. 
In 2022, the use of Visual AI is so thoroughly ingrained in the industry that the companies who haven't yet implemented the technology risk lagging irrevocably behind. The total investment of visual AI from the global fashion and retail industry will reach $7.3 billion before the end of the year.
Let's take a closer look at what visual AI is, how it's applied and how you can benefit from it.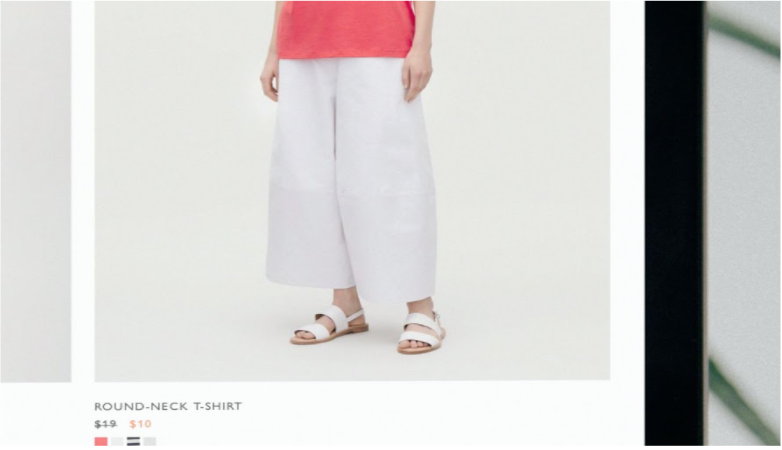 What Is Visual AI? 
Visual AI is a computer science discipline that trains machines to interpret images and visual data the way humans do. It's the same technology that enables facial recognition, QR code scanning, and of course, visual search. Visual AI technology uses computer vision and a deep learning algorithm to create a system that makes a neural network mimicking the human brain and identifying different attributes within an image. 
The AI analyses thousands of images to describe a piece of clothing better. The computer vision identifies the image, and the algorithm processes the pixel content to discover relevant objects and extract the required attributes. After a period, the algorithm can be programmed to perform several tasks, such as determining the connection between tags and patterns in usage.
How Can Visual AI Increase An Ecommerce Store's Conversion? 
The fashion industry is constantly adapting and changing the way they utilise AI. The three typical applications deployed that boost conversions are AI-assisted product tagging, visual search, and AI styling. 
AI-assisted Fashion Tagging 
Manually coding products are expensive and slow, with a high propensity for human error. Given the pace of new fashion product introductions and consumer demand, it's simply untenable to continue along this route. Visual AI technology can extract attributes from images, including colour, category, style, pattern, shape, length and size. 
This feature not only gives ecommerce fashion stores the ability to scale and save money, but it eliminates irrelevant search results and recommendations and inaccurate categorisation in catalogues, which can result in lost sales and frustration for customers. 
AI-driven fashion tags can improve conversions by: 
Improving product discovery on- and off-site by delivering more accurate search results and enhancing SEO

Increasing the average order size by improving your site's recommendation engine, which leads to

increased basket size

s and lower cart abandonment

Improved personalisation through meaningful attributes that can shape the path to purchase according to the customers' personal preferences

Improved inventory management because AI tagging can identify trends and popular products in granular data, generating insights that purchasing managers can use to make better decisions. 

Artificial intelligence improves the online and in-store customer experience because it can sort through catalogues to find products matching a shopper's taste somewhat like a good shop assistant. Product tagging is the foundation for more intelligent product recommendations and merchandising galleries that enable customers to uncover new items to inspire their shopping journey. This technology also creates a sense that the retailer understands its style and needs. 
Visual Search 
Visual search lets customers upload or take photographs of a product, and then, based on this information, it showcases similar products available on the company's website. ASOS and Nieman Marcus use visual search to encourage customers to find matching items in their online catalogues. Of course, there are numerous other applications for Visual AI.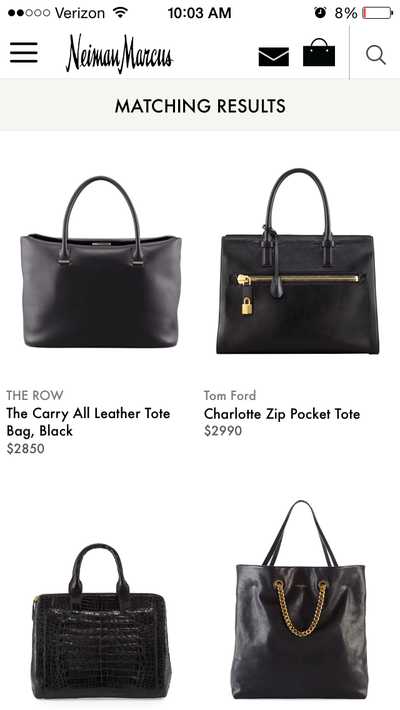 Visual search (sometimes called visual research or visually similar recommendations) is fueled by the always-on and on-demand younger Gen Z and Millennial generation. In a 2018 survey, 62% of this generation stated that they prefer to complete shopping transactions using visual search capabilities on their mobile devices rather than using keyword searches. It's safe to say that visual search is here to stay. 
Visual search uses the same technology that powers automated tagging. It also searches, retrieves and displays images with matching attributes to customers so that they can discover products based on items they've seen elsewhere. 
Visual search is a significant conversion driver. Consumers using visual search are already ready to make a purchase, which improves the retailer's chances of a completed transaction. Retailers can provide shoppers with access to visually similar items, extending their product exposure. 
One of the primary goals of every online retailer is to reduce friction. Customers searching for an item should experience as little frustration as possible. Nothing is more frustrating for a fashion lover than spotting a must-have item on Instagram or television and not knowing where to find the brand or style. 
Visual AI allows users to replicate the outfits they've seen on the red carpet or online by uploading screenshots or photographs and helping them locate similar products in a flash. Other sites, like Stitch Fix, help customers find what they are looking for by presenting them with images and style guides in a gallery. Shoppers can scroll through the gallery to find items that suit their style.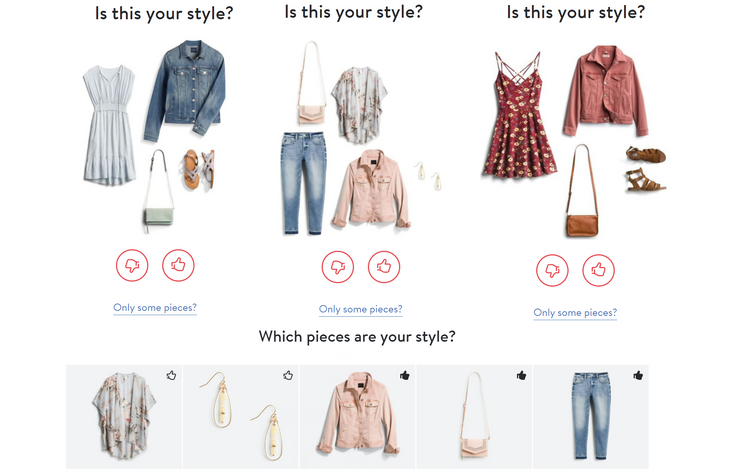 Visual AI can also gather search data and turn the information into actionable omnichannel strategies, blending the offline and online worlds. Shoppers can spot an item on the runway or in-store and upload an image to find something similar online. 
AI Styling
Subscription boxes often use AI styling. Fashion retailer Bombfell used AI to study items returned or kept by customers, creating a feedback loop that helped them refine products and prepare better subscription boxes. Stylists can accept or reject items suggested by the algorithm in line with the brand, which hones the system's fashion sense and improves the customer experience to keep them coming back for more. 
AI stylists will consistently outperform a human stylist—Intelistyle put the theory to the test with Zalando! Artificial intelligence can search through millions of different clothing options for their clients and present the options in minutes.
Most of us can't afford a personal stylist, so websites offering an AI stylist have a natural edge with consumers. Some brands even add generative models to transfer style elements to virtual models or the shopper's image so that customers can "try on" clothing before buying it, reducing the risk of online shopping and increasing conversions.
In Closing
Visual AI can offer ecommerce fashion retailers many advantages, including reduced costs, improved customer service and innovative differentiators that will set them apart from the competition. If you want to get in the game, speak to Intelistyle or get in touch for a free demo.