10 Different Examples of Image Recognition for Retail
The market size for global image recognition in retail is expected to grow at a CAGR of 22%, reaching 3.7 billion by 2025.
Here's why fashion retailers are investing in this technology, why you also need to get on board with this new trend, and how you can use image recognition to stay ahead of the competition.
What Is Image Recognition?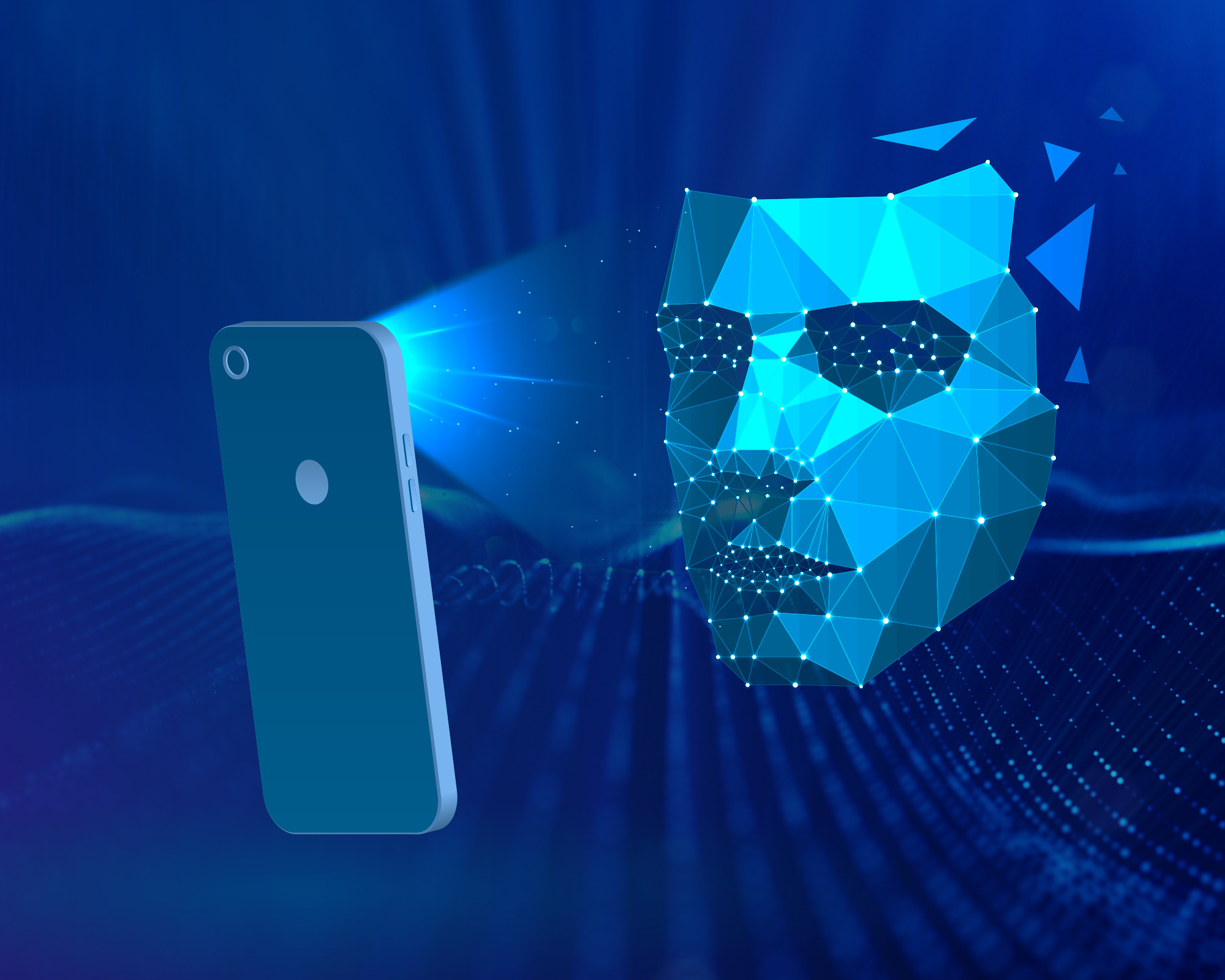 Image recognition is how software processes, analyses, and categorises people, places, animals, logos, and objects via algorithms and machine learning concepts.
Although it may sound pretty technical, chances are, you've already come face to face with image recognition technology in your daily life — maybe without even realising it. 
It is thanks to image and facial recognition that we can:
Unlock our phones with our faces.

Organise photos on our phones by subject, plus automatically attach tags, labels, and captions to images.

Use face filters on social media apps like Snapchat. 

Recognise objects with Google Lens (for instance, identify flowers growing in your garden or find out the brand of shoe your friend is wearing so that you can purchase them as well).

Discover ideas based on pictures you take with Pinterest Lens (for instance, take a picture of an ingredient to be shown recipe ideas).
Image Recognition for Retail: Use Cases and Examples
There are numerous ways image recognition can be used in retail. Here are some of the most popular use cases with examples: 
1. Visual search
In the past, even if customers knew exactly what they wanted to buy, they still had to either:
Try to put whatever they were looking for into precise search terms. 

Scroll through multiple pages of a retailer's stock like everyone else. 


Unfortunately for fashion retailers, both approaches would frequently lead to customers leaving their site without buying anything. 
In the first case, shoppers may not know how to formulate their search queries. And even if customers manage to put into words whatever it is they want to buy, more than 7 in 10 e-commerce sites fail customer site search expectations. Even worse, at least 15% of sites have "broken" search experiences. 
In the second case, very few shoppers actually have the patience to go through countless pages of a retailer's inventory, especially considering that doing so doesn't even guarantee that they'll find the product they're on the hunt for. 
This is where visual search comes in. With visual search technology, customers can upload an image of an item they like (it could be a photo they took themselves or a picture they found online) to a brand's website to see if it has something visually similar in stock. 
For instance, the British online fashion and cosmetics retailer ASOS has a "Style Match" feature that lets shoppers take pictures or upload images to get similar results. So, if a customer uploads the following picture of someone wearing a pink skirt:
They will be shown the following results:
Similarly, if a user uploads a photo of a graphic tee to H&M, its visual search function will recommend more graphic tees that are similar in style:
However, users are not limited to uploading images with just one item. H&M's visual search function can recognise numerous products within a picture. So, if a customer uploads the following image: 
H&M's image recognition technology will identify both the pants and blouse, like so:
Then, after the user chooses the items they want to see similar results to (in this case, both the pants and the blouse), H&M will recommend the following: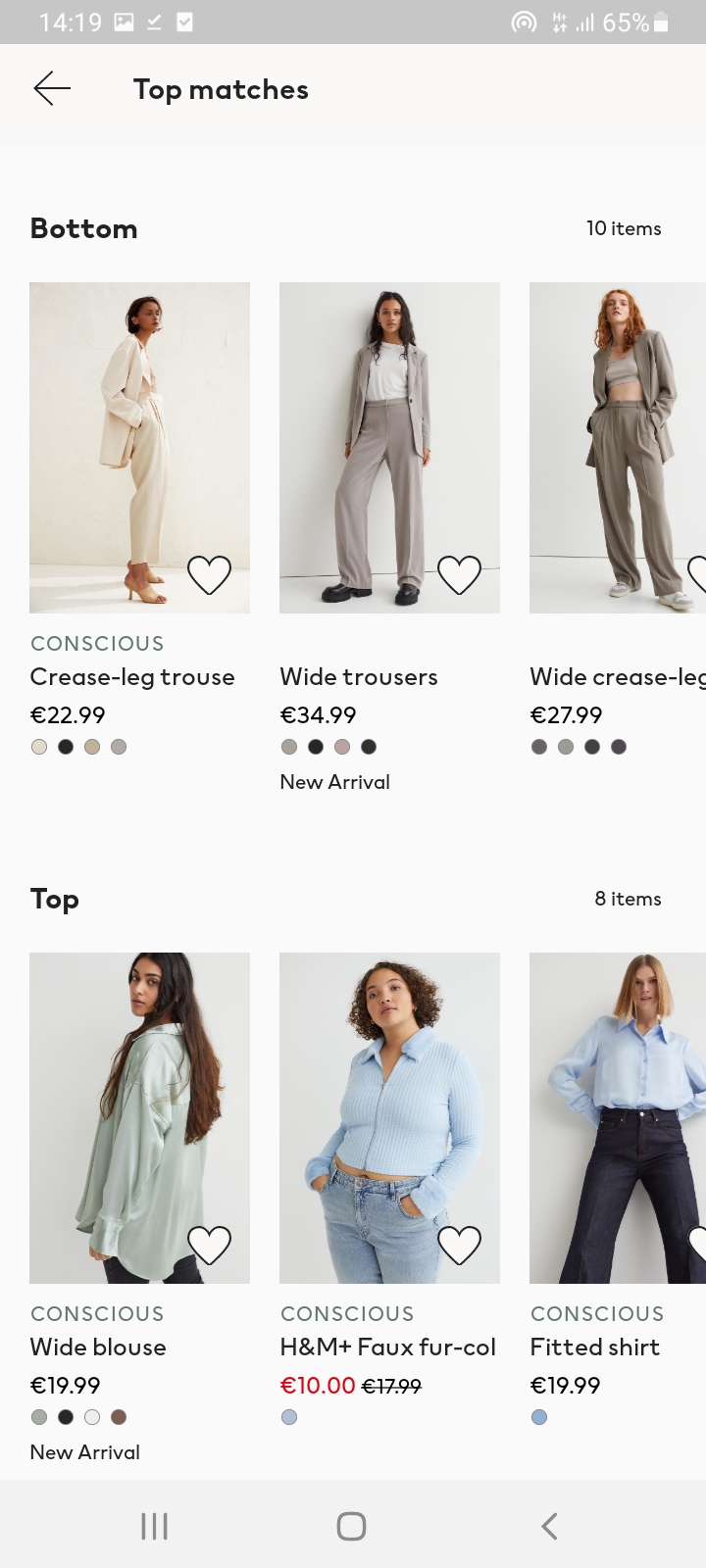 Notice how the results are a close match to the items in the original image uploaded by the user.
2. Product tagging
Shoppers are increasingly using visual search to find the items they need or want. However, that doesn't mean that fashion retailers can now ignore the search function on their online stores altogether. Almost half of all users go right to the search bar on a retailer's website. 
The key, therefore, is to make sure that the results customers see are relevant to what they're looking for. One way to do this is through accurate product tagging. Note the word "accurate."
Traditionally, retailers would spend hours manually applying product tags to photos in their product catalogues. Not only does this take up a lot of time, but if an employee tasked with tagging the products makes a mistake, it will also lead to irrelevant search results for shoppers. 
Luckily, advances in image recognition technology mean that there's now a better way of doing this: automated product tagging. 
Using advanced image recognition algorithms that take advantage of deep learning, automatic product tagging automates the process of tagging products with multiple attribute levels based on the product's details. 
The result? Retailers can tag their products without any human intervention — saving both time and money — and customers can more easily find whatever it is they're looking for. 
An excellent example of a fashion retailer that has its product tags down is Zara. Here's what a user sees when they search for "stripey jumper":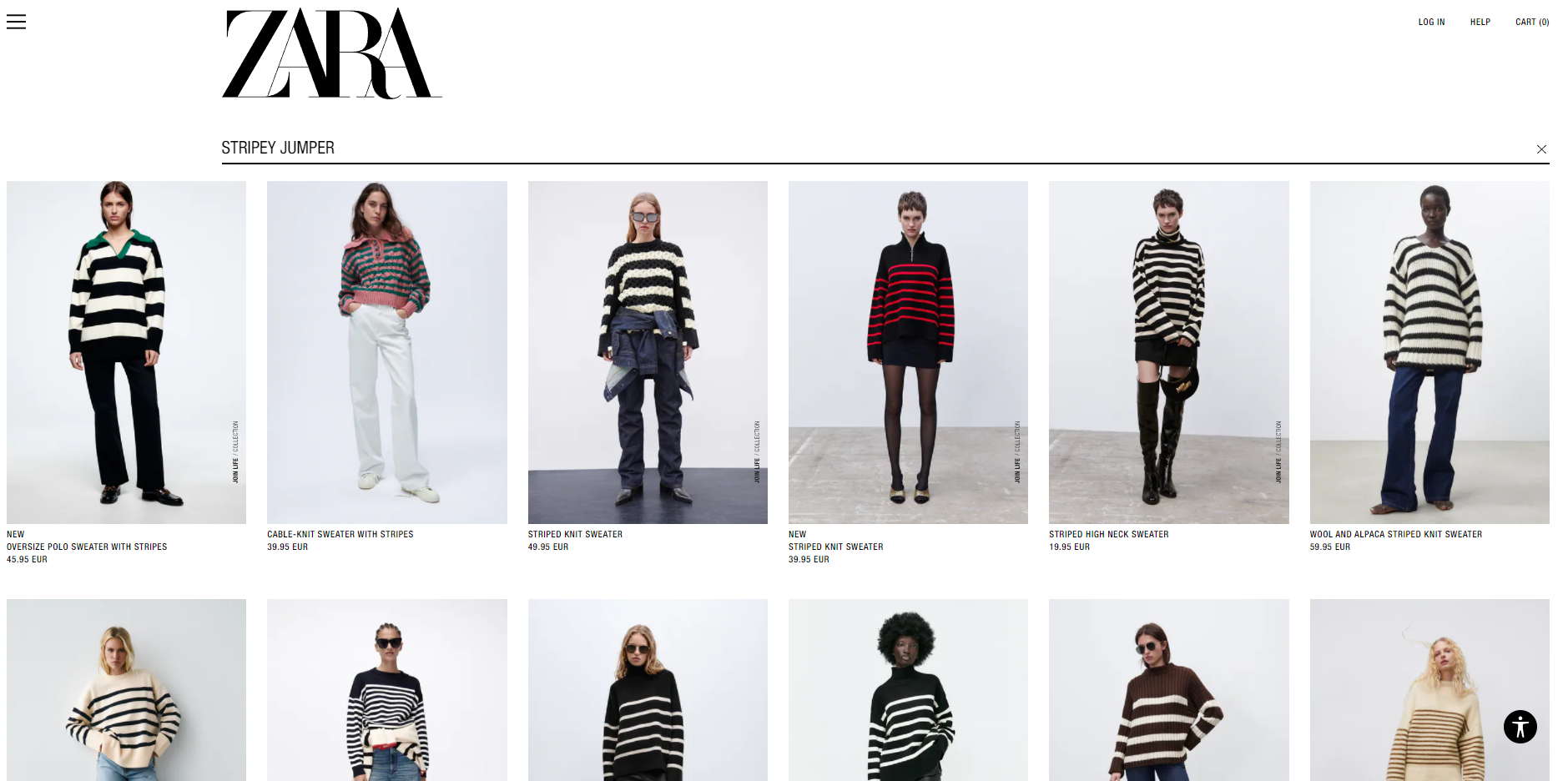 All of the results are of stripey jumpers. Most importantly, it doesn't matter whether a user puts in "stripey jumper," "striped jumper," or "stripy jumper" — the results are still going to feature jumpers with stripes.
This is in direct contrast to H&M, which, if you misspell a query, will tell you that there are no matching items in stock. That being said, it will nevertheless show you products that it thinks you meant:
Another store that does product tagging well is & Other Stories. Whereas some fashion retailers will show you results that you want to see alongside results that you don't care for, &  Other Stories will only display items that match your query exactly. If a browser looks for an oversized grey blazer, they will only be shown oversized grey blazers and not also, for example, oversized black blazers: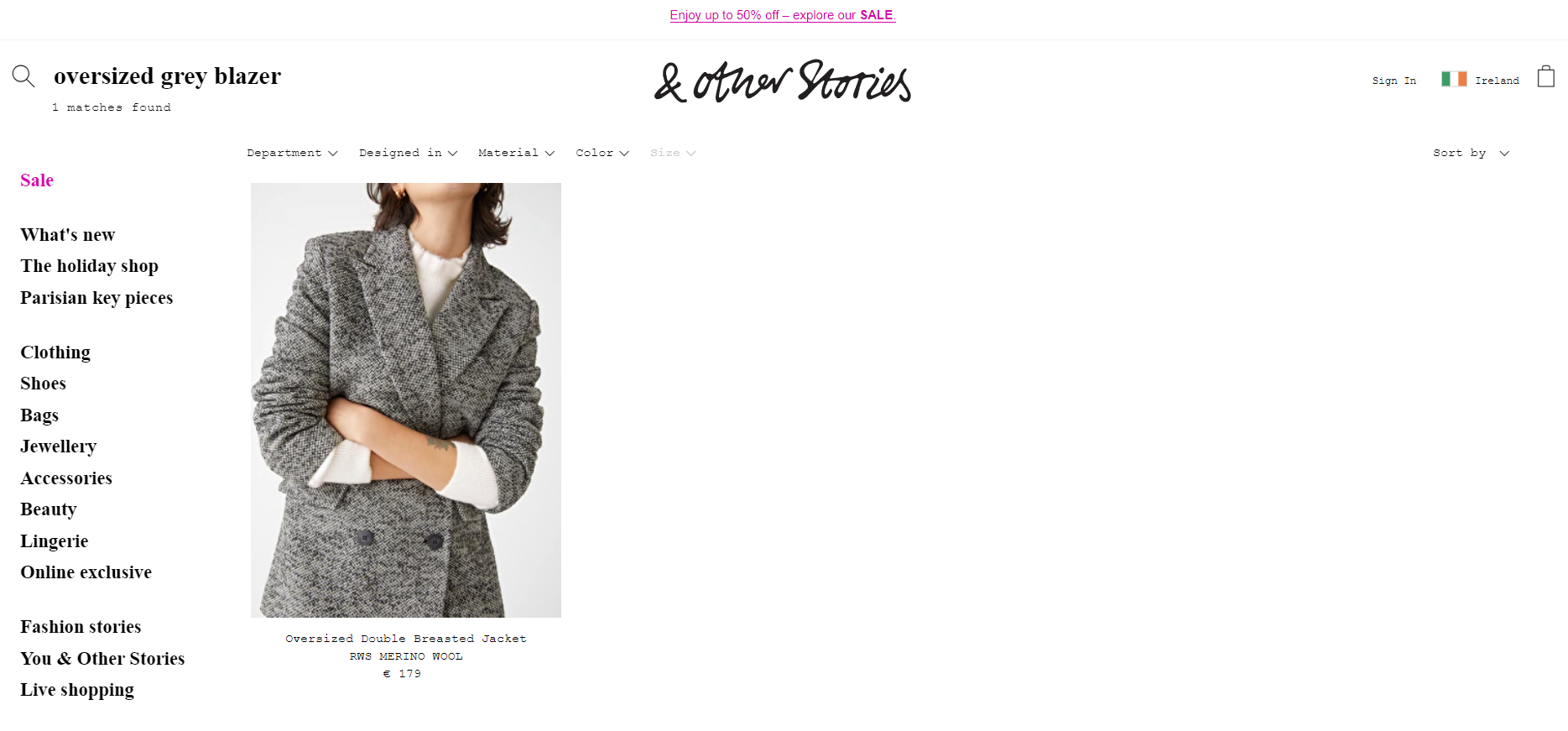 3. Visually similar product recommendations
Sometimes, a customer may have no trouble finding a product that they really like — but they may still not be able to buy it because the item may be out of stock or it may be in the wrong colour or cut. 
AI-powered image recognition technology can analyse the attributes in product images (like style, colour, and cut) to find items that are most similar to it in a retailer's inventory. 
For example, when a shopper views the "French Connection Cleo Turtleneck Pullover" on Evereve, they can also see other pullovers and turtlenecks in a similar style that the store stocks:
Lane Crawford does the same thing. However, notice how the below white dress is not yet available for purchase. In these types of scenarios, having visually similar alternatives can give customers who are unwilling to wait for an item to come into stock other options: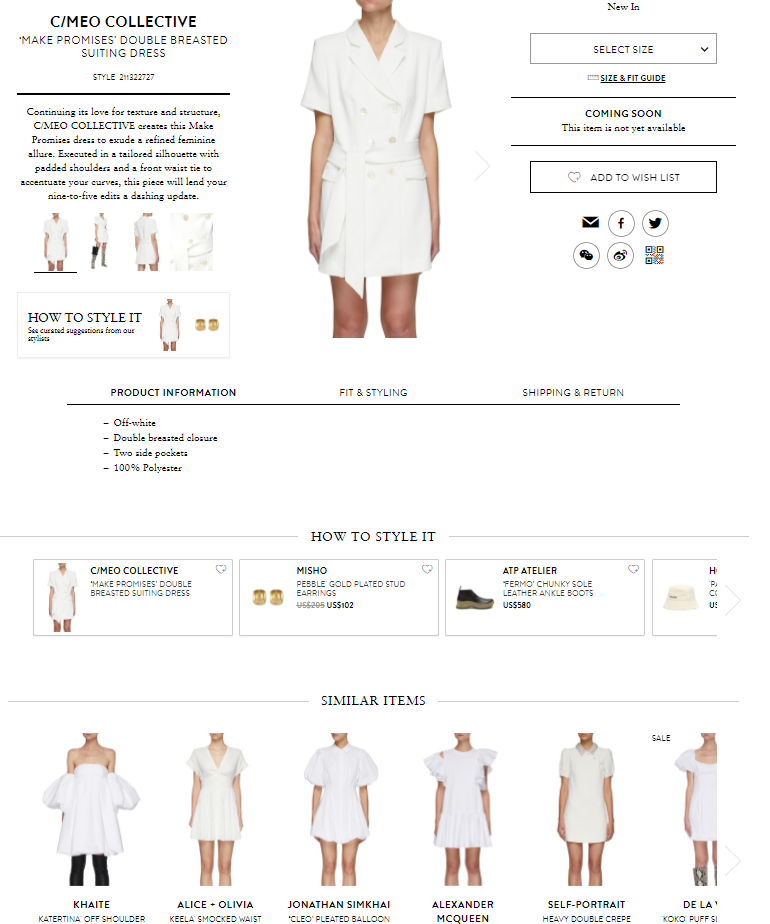 4. Personalised product recommendations
Fashion brands can use image recognition technology to identify product attributes within a selection of product images viewed by a customer to refine and customise product recommendations. 
From a shopper's point of view, this might appear as a "shop the look" or "complete the look" widget or an email letting them know about an item that they will likely love based on their previous activity. 
Lane Crawford shows customers how to style a garment to make a complete outfit. Not all of the items suggested match the editorial image. This is because some of the products from the editorial shoot may be out of stock. Ideally, you want the "complete the look" widget to change depending on what's in stock. In this case, it is obvious that the nude heels from the editorial photo are out of stock, so they were replaced with black heels instead: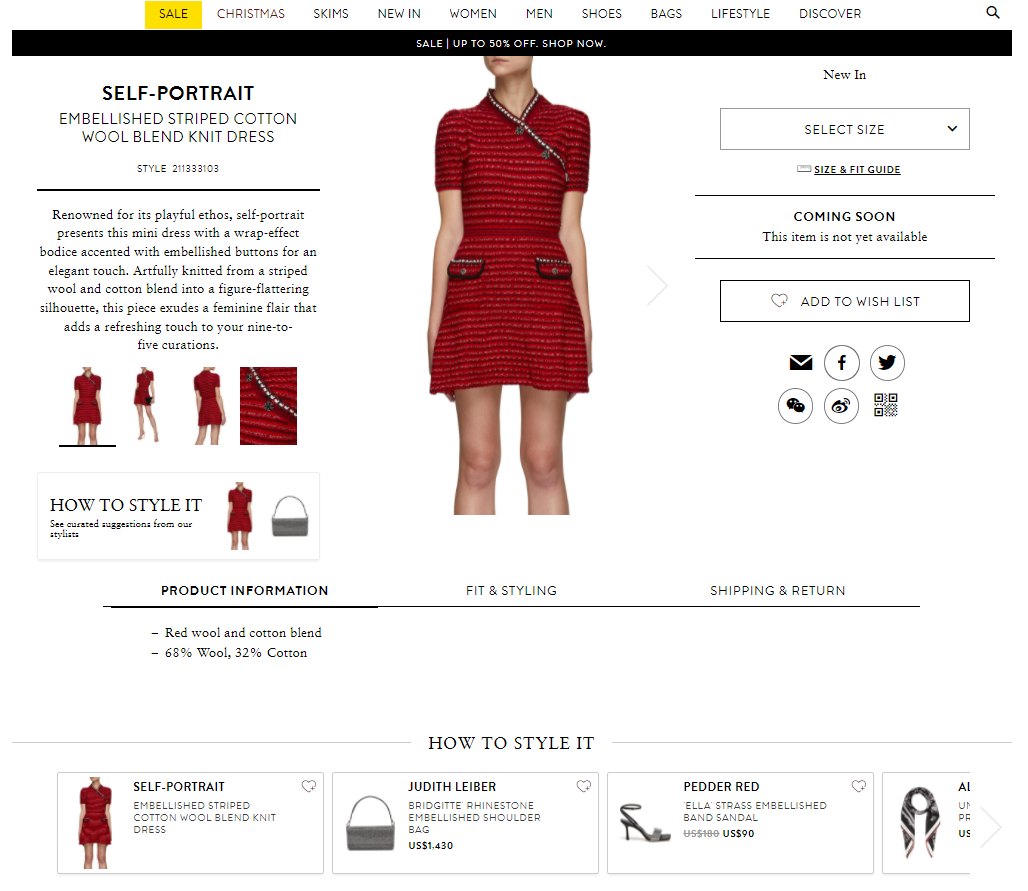 Other suggestions that don't appear in the editorial picture include a black shoulder bag and a scarf. However, these two items go perfectly with the dress and are a great way to increase customer spend through up-selling and cross-selling.
5. Smart mirrors
In physical stores, image recognition is often used to power smart mirrors (also known as smart displays or digital mirrors). 
Through image recognition technologies, a smart mirror can detect when a customer stands in front of it and suggest outfit ideas based on the clothes the customer is already wearing. The customer can then see (via the mirror) how specific clothing items would look on them if they wore them, even turning around to look at themselves from all angles. 
Most smart mirrors can also offer alternative options when a garment a customer is interested in is out of stock. Shoppers can also choose between different colours and styles, which eliminates the need for them to shuffle between the changing room and the shop's floor. Some smart mirrors also let shoppers take photos of themselves "wearing" these outfits for future reference. 
Take the iMirror, for example. With just a few taps on the screen, shoppers can create avatars of themselves to try on items, see product recommendations, and find out what's in stock.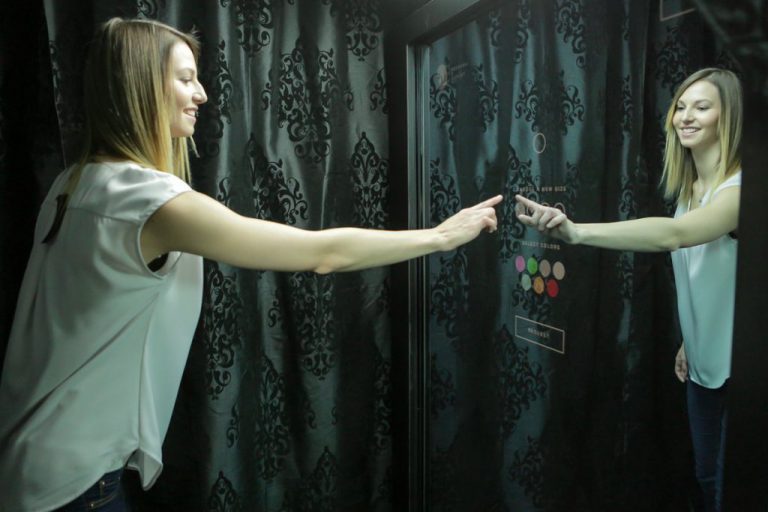 Customers can also take selfies and send photos of themselves wearing specific outfits to their friends for feedback. 
Retail stores that have implemented the iMirror have seen their customer basket size increase by up to 20%. 
Final Thoughts on Image Recognition for Retail
There's no doubt about it — when it comes to keeping your customers happy, improving your bottom line, and getting ahead of your competitors, image recognition technology is hard to beat. 
Whether you want to implement visual search, automate product tagging, give browsers better recommendations, or wow your in-store customers with smart mirrors, you'll want to invest in image recognition. 
The best part? It's not hard to get started with image recognition for retail. Intelistyle's solution takes advantage of AI to offer fashion retailers all of the above and more. Drop us a line today to talk about how, with the help of image recognition, you can take your store (both online and offline) to the next level.