4 Expert Tips for Ecommerce Product Pages Optimization
Ecommerce product pages should be the first element to consider when optimizing your website. They are the landing pages that actually help customers decide what to buy. They include all the features, assets and different specs of each product, answer potential questions about it and finally, facilitate the conversion process. 
Monetate notes that ecommerce product pages make up a quarter of all ecommerce landing pages, so it goes without saying that they are among the most important parts of your website. This leads to the conclusion that building them effectively and continuously optimizing them will definitely increase conversions.
An optimized ecommerce product page should include everything that has to do with your products, but should also be easy for search engines to crawl.
This is how to build a high-converting product page.
1. Watch the metadata
Organic search is one of the most important sources of targeted traffic on your Ecommerce product pages, that will probably lead to conversions. It is a stable part of every research process. In other words, every buyer persona is present on this channel. 
Users coming from organic searches are looking for a specific product, therefore they are in the final stage of the research process. Using the right metadata will ensure that you are getting as much organic traffic as possible. 
Your URLs should be optimized
Using random numbers and letters that don't make sense is not the best practice. Try to use unique URLs that include keywords related to your products. Aside from being clear and easy to read, this kind of URLs will communicate to both search engines and shoppers what a product is. 
Optimized URL: http://yourbrandname.com/category/product-name
Poor URL: http://yourbrandname.com/p/?=ARjgsQR5713
Sometimes, especially when the product catalogues are extremely long and the products belong to multiple categories, or the Ecommerce product pages can be accessed through different paths, unique URLs are not an option. In that case you should consider using canonical URLs. This will help prevent duplicate content issues in search engine optimization. 
Take extra care of the title
The title is more than a simple heading on your product page. It has become a strong ranking factor for organic search, so it has to include the most important keywords and the ultimate information for each product. 
The title is this little piece of content that will display in search results and social networks, so it has to be precise and attractive. Your title (SEO wisely) should:
Mention the stand out feature of the product (e.g. brand name, model, material)

Have a length of 50-65 characters 

Contain the main keyword

Be unique

Avoid clickbait features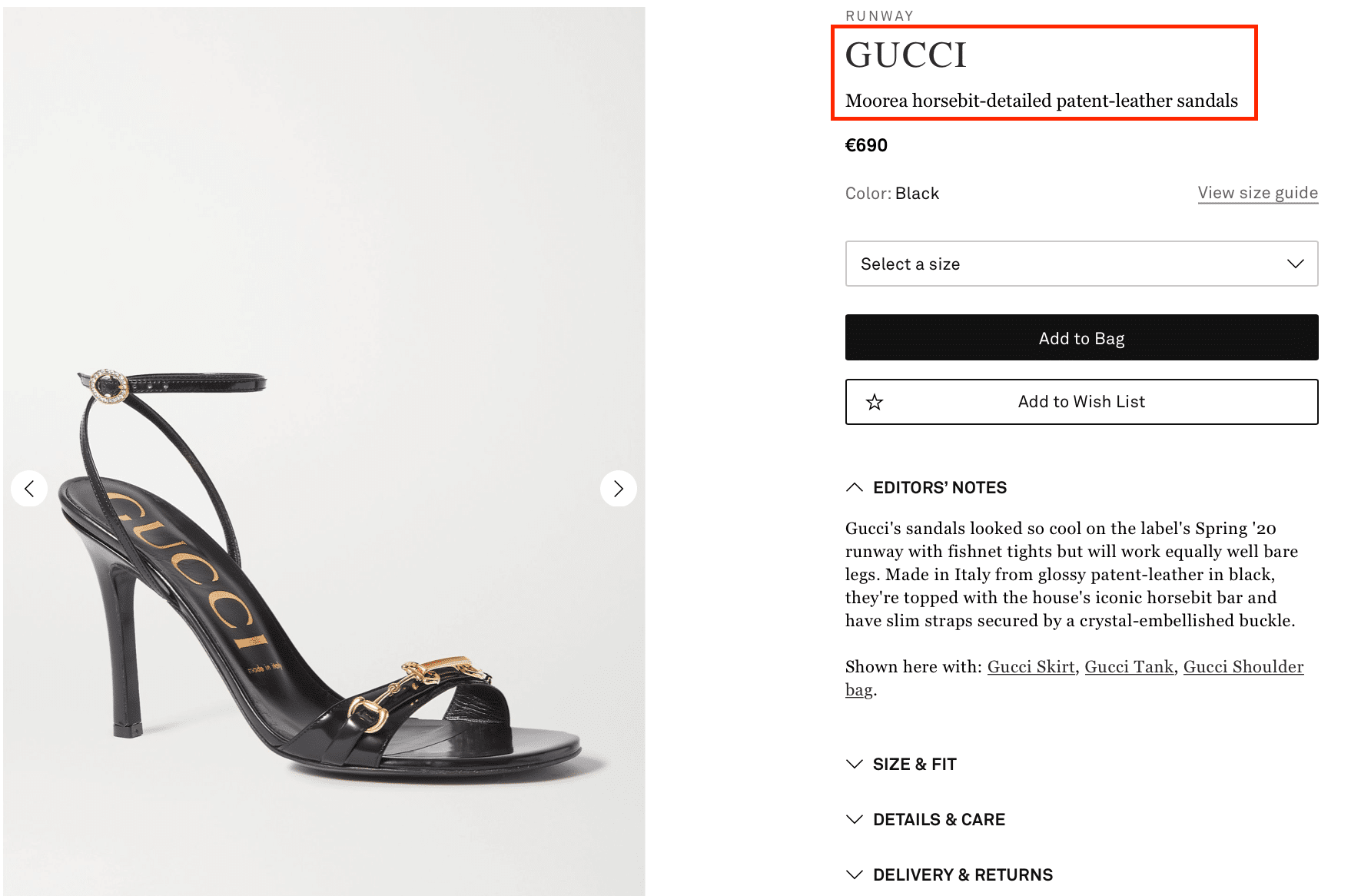 With AI solutions you can automate your product titles to make sure that they serve these purposes. 
Meta descriptions are essential for organic search, since they are a source of information for users on the snippet that appears on the search results page. They may not be a direct ranking factor but they can definitely influence the click through rate, for Ecommerce product pages. 
Meta descriptions are even more important for searches coming from mobile devices, as users there, tend to scroll faster and distract easier. Writing a promising yet precise meta description will increase the possibility of gaining potential customers via search engines. Meta descriptions on your product pages should:
Contain the main keyword and as many as possible of the secondary keywords

Have a length of 150-300 characters

Be promising and set expectations without using clickbait content

Be unique
2. Even for ecommerce product pages, content is the king
Creating high quality content is always on top of the optimization process. Your Ecommerce product pages consist the most important on-site channel to communicate your products' assets and persuade customers to convert. 
Always use high quality images
Part of a great online shopping experience is to showcase your products the best way possible. Using image galleries with high resolution pictures will offer the best visual experience. When shopping online customers won't be able to try the garments on, they can't touch and feel them, so they will have to rely on the information you are providing.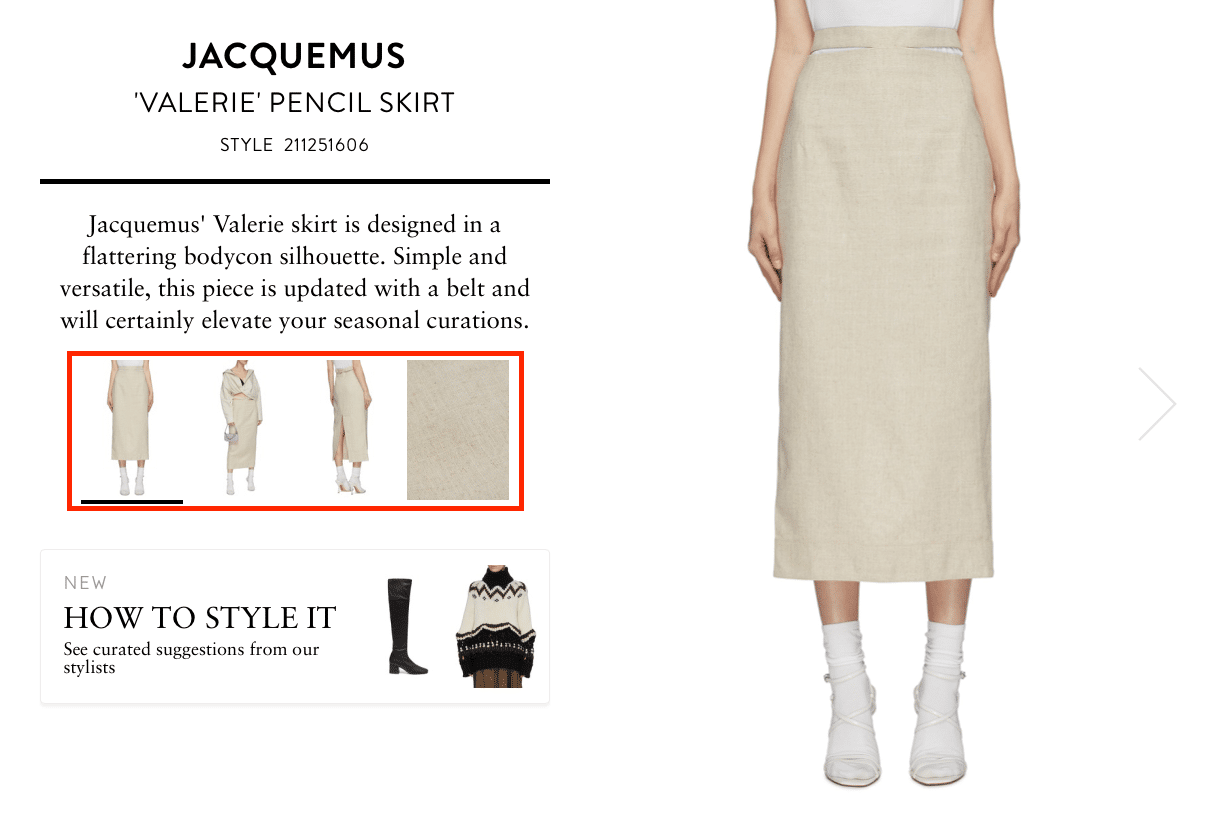 Show the products from every ankle, allow them to zoom in and don't forget to avoid busy backgrounds that may be confusing and misleading.
Showing videos of products is sometimes even more effective than images. For example on a shirt's product page, users might find interesting a video where a moving model is wearing the shirt. The size and fit of the product will be even clearer.
Keep in mind though that you should only use videos if you have the resources to do so. Don't expect users to wait too long for them to load, or to watch poor quality videos. You can take help of an online video editor that helps you create quality videos in a few minutes and showcase your product videos and promote them to grab the attention of potential customers and increase sales.

Product descriptions should be unique and inspired
Simply including the right keywords on your Ecommerce product pages is not enough. An optimized product page should not only include attractive imagery, but creative copy as well. Avoid long and lifeless sentences and try to help users to find the value and information they need to purchase the product. Include details that are not evident in the photos.

Product descriptions give you a great opportunity to stand out, by using the right tone of voice to speak directly to your target audience. Your copy should tell a compelling story that will give your brand personality and develop trust between you and your customers. 
Automating this process will make sure that you have unique product descriptions, with the right keywords and the right tone of voice, that will finally help you to increase conversions.
Showcase related products
Related products are there to help in several phases throughout the customer journey. When they know exactly what they are looking for, they can always see complementary products. When they have made a decision about the product, but still searching for the brand, related suggestions can help them better understand the range of alternatives for that specific category of product.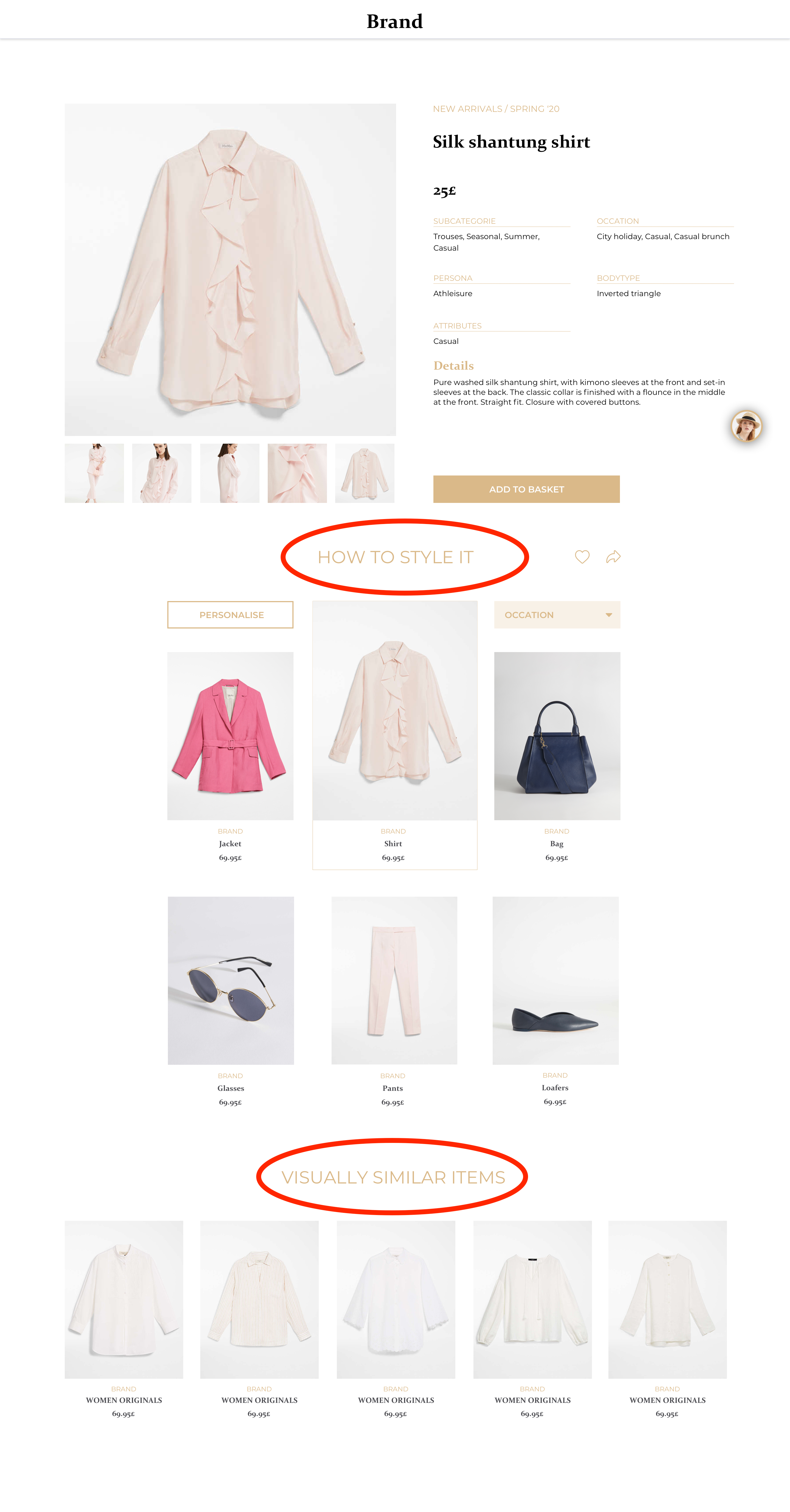 In fashion, the "complete the look" feature is a great way to show related products and increase basket size. You can use A.I. to automate this process and create

outfit recommendations

for each product on your website, and help customers visualize how they can combine each item with additional purchases, or even their own wardrobe selection.  

Visual recommendations

are also a small yet important part of selling related products, in fashion ecommerce. Visual similarity can motivate users to purchase more or choose more expensive garments, instead of what they were planning to buy. 

In case there are no visual recommendations, or garments to complete a look, the "You may also like" or "Others also bought" feature (which can also be used in other industries) is a great way of cross-selling related products. For a white Tommy Hilfiger shirt for example the "You may also like" section may suggest a printed Tommy Hilfiger shirt or a T-shirt by the same designer.

Use internal links
Using internal links will improve SEO. They connect your content and give search engines an idea about the structure of your website. 
Moreover they will help customers navigate through your website by clicking on what they are interested in. You can link colors, so that people searching for red garments for instance, can easily find all the red products you are selling. You can also link brands and important keywords just to name a few. 
Create personalized content when possible 
Although you can't create personalized Ecommerce product pages for each and every user on your list, you can create small features that will apply to registered customers. 
Always keep in mind that your ultimate goal is not only to sell, but to give your customers the best personalized shopping experience. Part of this can be for example the AI chatbot stylist. It will always be available on your product pages to offer personalized styling advice. It knows each customer's preferences and will make suggestions accordingly, improving the customer experience and therefore increasing sales.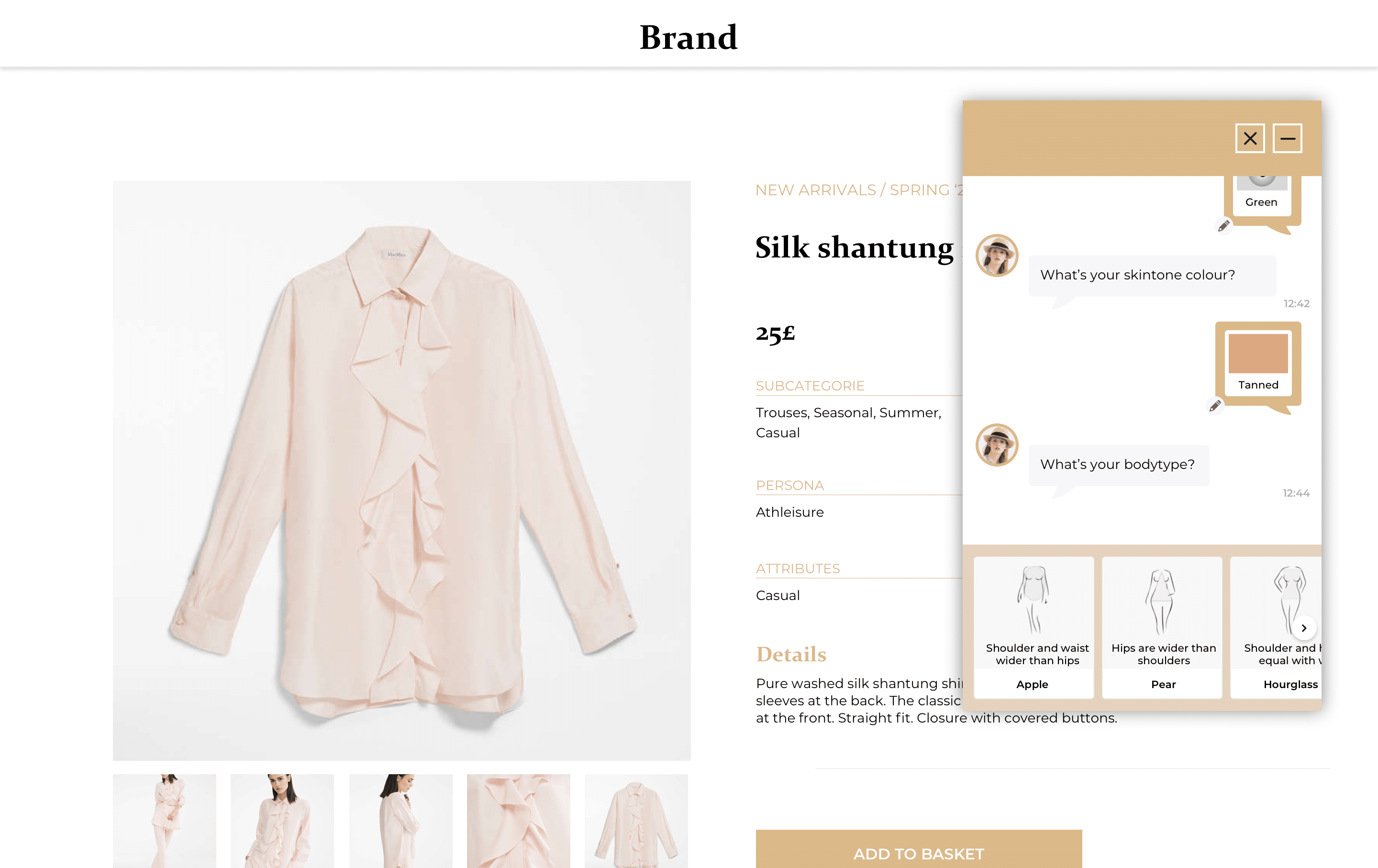 For registered customers there is also the possibility to showcase outfit recommendations based on their body type, style and previous purchases. 
3. Improve the user experience on Ecommerce product pages
Including high resolution creative images is really important, but it's not the only thing that you should take into consideration when it comes to a great user experience.
Optimize Ecommerce product pages' speed
No one is going to spend much time waiting for your product pages to load. Make sure that all your features appear quickly since users tend to spend more time on fast websites. Always keep in mind that on average, if a page takes longer than 3 seconds to load, almost 40% of visitors abandon it. 
Having clear call-to-action buttons allows you to drive customers towards the most appropriate spot in your conversion funnel. 
Use strong command verbs and try to get straight to the point. Testing different colors, shapes and sizes, using imperative, proven call-to-action phrases and placing important information next to the main CTA on product pages are just a few of the things you can do to make sure that you are following a successful call-to-action strategy. 
Create a clean and consistent design
Clean design with white space that is also consistent with your brand's aesthetics will improve the user experience. Avoid pop ups and visually crowded designs on your product pages and don't distract customers with unnecessary information that may interrupt the user experience. 
Make navigation between pages easy 
Make sure that once users have entered a product page can easily navigate to another. Create a linear and clickable bar on top of each product page so that everyone can go back and search what they are looking for without exiting your website. Additionally to make navigation easier you should:
Divide product categories clearly

Make all key elements clickable

Ensure that search feature works perfectly at each point of your website

Add ALT text to all your clickable images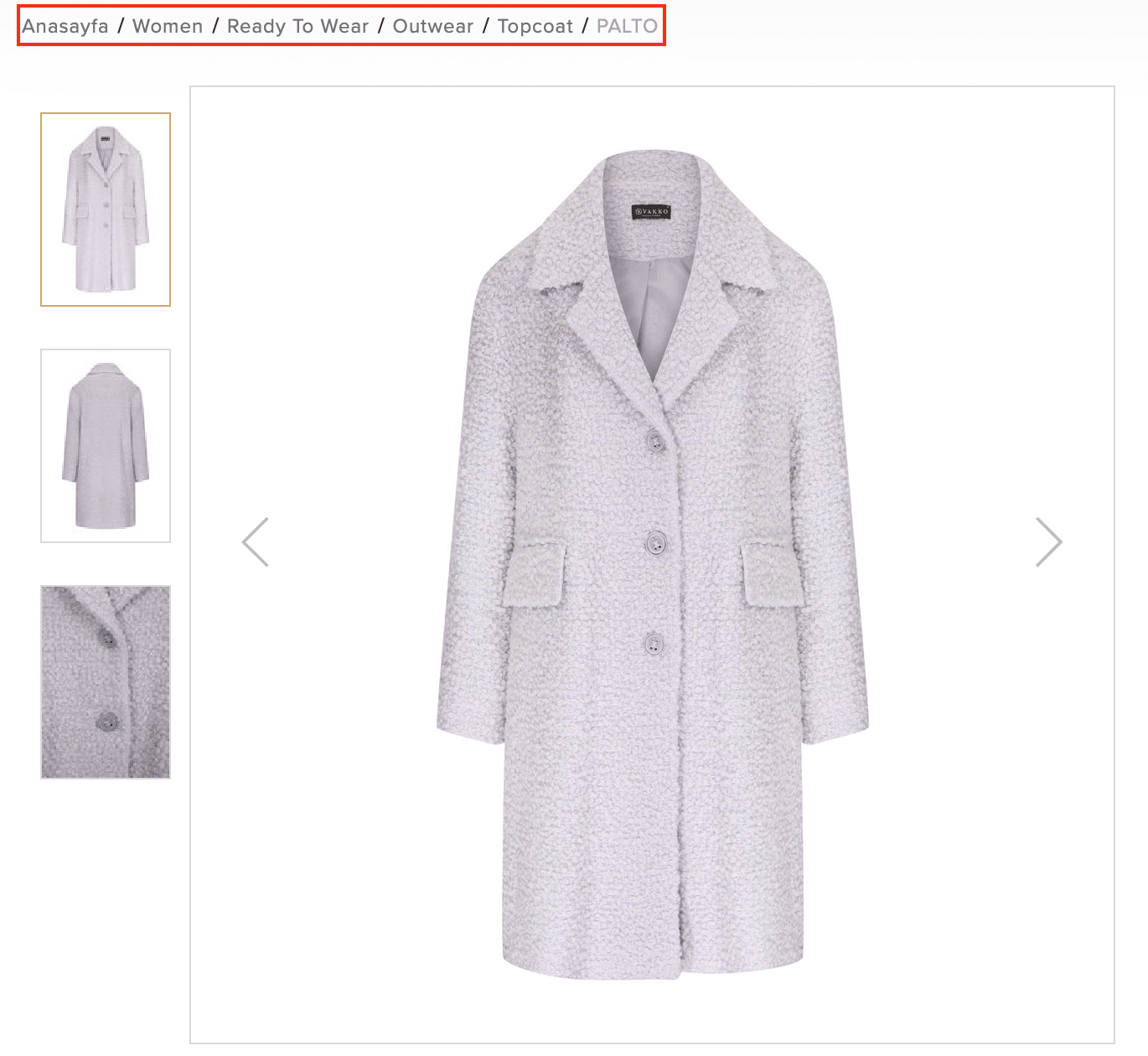 Create responsive Ecommerce product pages
Responsive design is critical in ensuring that all pages are always displayed the way they should and automatically scale to match each device and screen size.
According to Broadband Search, as of 2019, 55.9% of time spent on a website is from a desktop and 40.1% from mobile. Responsiveness prevents visitors from mobile devices from putting extra effort in reading your content, so they will probably convert better.
4. Include social proof and additional services
Sometimes you have to add a little more on your product pages to make them more attractive and credible. Do not underestimate the power of reviews and additional services that can give valuable information about your products, which will lead to greater conversions.
Allow people to add comments about their experience using your products and encourage them to do so, when possible. 88% of customers look for user generated content and 94% of shoppers consult reviews before purchasing a product.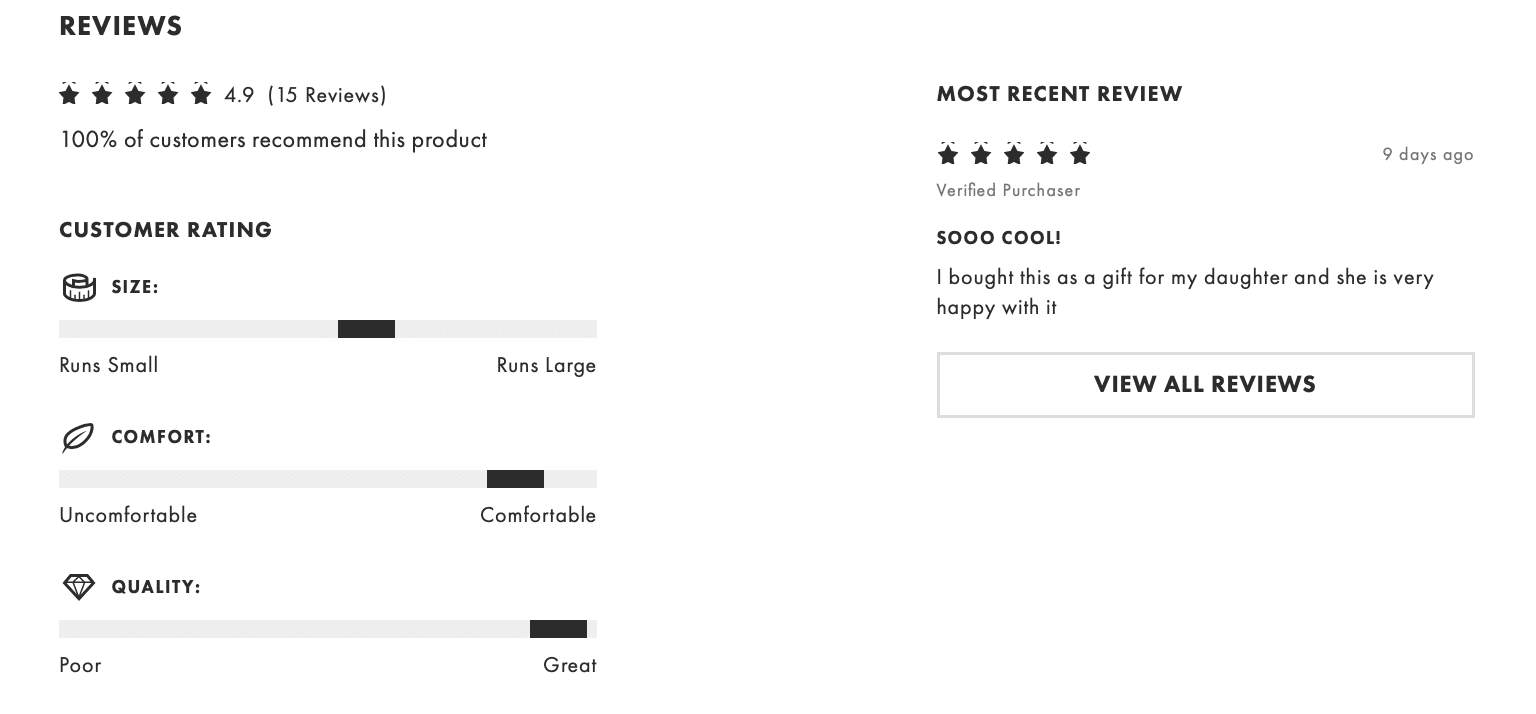 It is completely reasonable to avoid displaying pictures shot by your customers, since they do not fully meet your brand's aesthetics and standards, but you have no reason to ban reviews and comments on products.
You can even include badges on your product pages, that will show that an expert recommends this particular product. As long as you can do it in a way that your clean design won't be affected, using badges will add credibility to your website. 
Create a sense of urgency
A stock indicator can be a very useful tool for your customers. Apart from showing the remaining stock of each product, it can also create a sense of urgency, when you are almost running out of stock.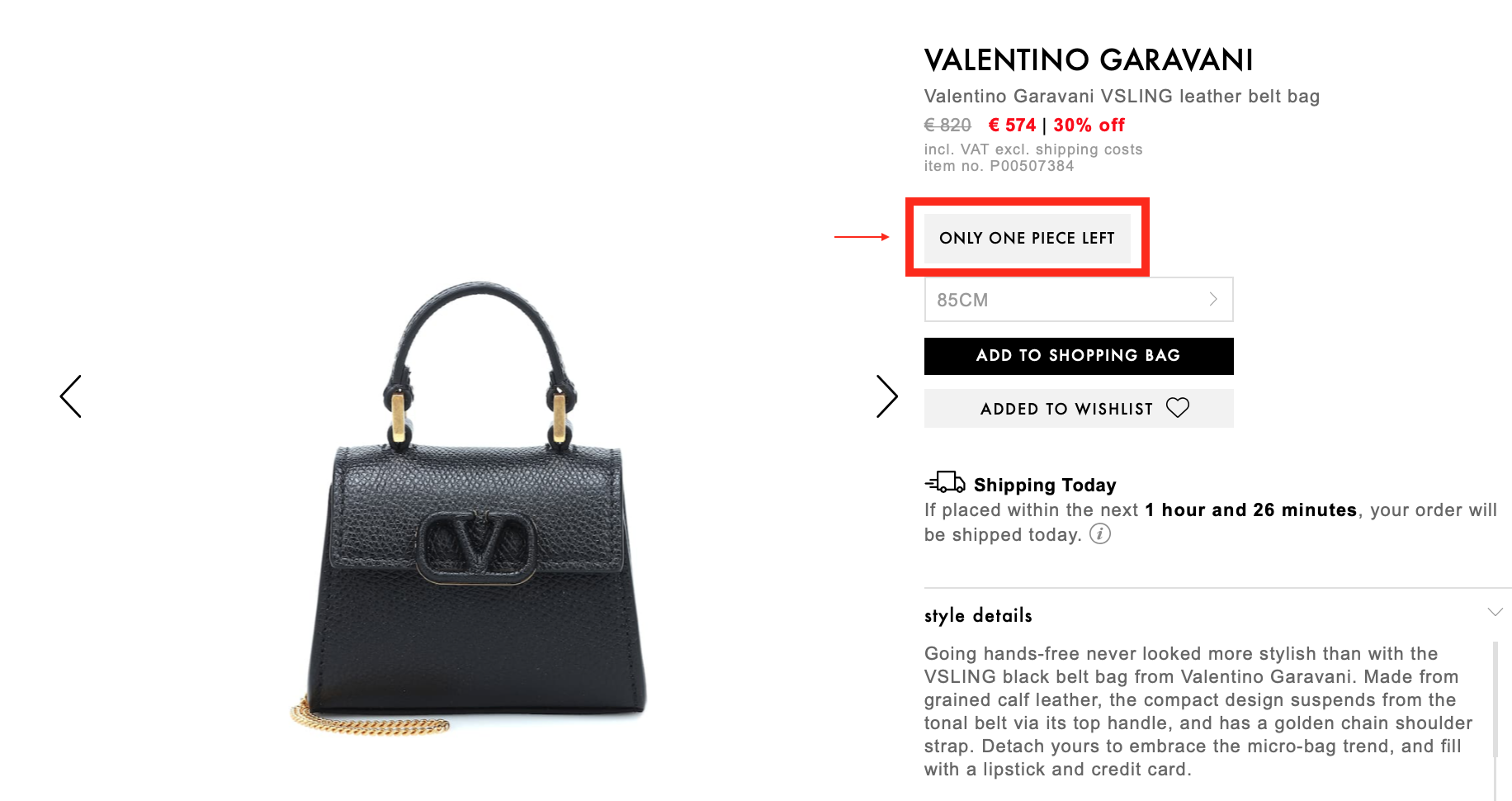 A "coming soon" or "pre-order" indicator (or CTA) could replace the stock indicator for products that are not available at the moment. It's a useful service for customers that want to buy and will probably prefer you over competitors.
Build a live chat platform
Being available for your customers is an advantage that you will redeem in increased sales. When using live chat your ecommerce product pages become more credible and attractive. Even after completing each and every detail about your products, customers may still have questions. It is essential that your team is always available and willing to answer. 
AI chatbot stylist is also a great solution to show your customers that you care about their questions and shopping experience. It will be available 24/7 on your product pages, without the cost of additional manpower, to give styling advice, answer questions about each particular garment and finally make unsure clients convert. 
As long as you offer free shipping it is good to keep on communicating this particular detail. A retail study suggests that 90% of consumers say that free shipping is their No.1 incentive to shop online more. Create a small indicator that will work as a reminder on your product pages, so that potential customers convert easier. 
6 common mistakes to avoid when optimizing your ecommerce product pages
Make sure all information and details are clearly explained on your copy. Avoid vague product descriptions that don't give any added value to your customers.
It is essential to let others speak for your products. Potential customers trust other customers and tend to find a behaviour correct because other people have already acted the same way. 
Do not underestimate the power of SEO. Duplicate content, repetitive titles, lack of keywords and other SEO mistakes may harm your websites ranking and definitely decrease your organic traffic. 
Make sure that all your product pages have an optimized URL. It is something that you always have to keep in mind, especially in transitional seasons, where you might upload lots of new products on your website. 
After having created the best possible content for your pages, don't forget to add internal links. 
Make sure that all information on your product pages have to do with the product. Don't try to fill the page with irrelevant and unnecessary details. One should be able to find all crucial information, without putting extra effort and searching among irrelevant and probably misleading content.
Metrics to watch
Creating the most attractive and effective product pages is a process that will require continuous optimization. These are the most important metrics to watch to make sure that you are getting the best of your product pages. 
Unique visitors

: the number of people who have come to a page during a reporting period

Average session time:

the time users are spending on a page

Bounce rate:

the percentage of people who leave after viewing a single page

Conversion rate:

the number of conversions divided by the total number of visitors

Average basket size:

the number of items sold in a single purchase

Revenue per visitor:

the amount of money generated each time a customer visits your ecommerce site (it helps you estimate the average value of each visitor)
Outstanding ecommerce product pages will help you increase conversions
Creating high quality product pages is definitely one of the most important things you can do to increase your ecommerce site's revenue. Don't forget that this is an ongoing process that requires continuous testing and optimization, in order to run a successful ecommerce business. 
People love websites that speak directly to them so the first thing you need to do is to understand your buyer persona's needs and expectations. The more information you give them, the better they convert. Also take into account all technical aspects, such as meta data. 
Watch closely all valuable metrics, remember to ask your customers' opinion and keep in mind that the more you optimize, the more quickly your revenue climbs.