Ecommerce Recommendations - 68 Examples for Your Store
Today's highly connected customers don't have the patience to sift through endless product category pages to find items that are relevant to them. Instead, shoppers expect brands to make it easy for them to find products they will love and will want to buy — even if they don't know what these products look like themselves. That's where eCommerce recommendations come in.
As many as 50% of shoppers will ditch a brand for a competitor if a business fails to anticipate their needs. For this reason, every successful e-commerce store today uses ecommerce recommendations, otherwise known as product recommendations.
Whether they're generic or personalised, product recommendations can speed up a customer's path to purchase by showcasing items they are most likely to be interested in. 
Ecommerce recommendations can be based on items other customers have purchased, situational context, or customer browsing history, among other things. As a powerful driver of purchase intent, recommending products can be useful across an entire e-commerce site, from the homepage to the product page to the shopping cart. Often, brands will also use ecommerce recommendations in their retargeting campaigns, regardless of whether they're delivered via email or a social media app like Whatsapp. 
Below are some of the places where brands can include product recommendations:
Homepage
The first page that visitors coming from direct traffic will see, the homepage serves as an important welcoming point for new visitors and should be used to introduce potential customers to your brand, products, and the latest deals and discounts. 
On the other hand, for returning customers, the homepage can display personalised recommendations, including products they have browsed previously, to persuade them to make a purchase.
Popular products/Best-sellers/Trending
When it comes to making recommendations to new visitors you don't have any data on, calling their attention to trending or most popular items is a good idea. 
Take a look at how Book Depository does this:
However, Book Depository doesn't stop there. It segments bestselling book recommendations by different categories, for example, "Bestselling Food and Drink Books":
The popularity of items (in this case, books) chosen usually depends on the number of times other shoppers have purchased them in a specific period of time. However, in some cases, other factors may be taken into account as well, for example, the total number of views or clicks. 
Note how the UK-based bookseller also includes customer ratings for each book, giving shoppers important information on each book and saving them a trip to a book review site. Almost 8 in 10 customers trust online reviews the same way they trust personal recommendations. Including reviews in product recommendations is, therefore, a no-brainer. 
A similar idea is behind the eco-conscious fashion brand's Nobody's Child "Trending Now" section: 

The items shown here are based on what's trending at the online store right now. 
eCommerce Recommendations In the media
Who said that eCommerce recommendations had to be based on other customers? The Irish book retailer Easons features an "In the Media" section that spotlights "the most-talked about books right now":
The wording here is clever. If everyone is talking about these books, customers may feel like they have to read them too lest they be left behind. 
Trending brands
For businesses that stock multiple brands, highlighting particularly popular brands can work as well. 
For example, this is what visitors see on the Asos homepage: 

Clearly, the brands Monki, never fully dressed, COLLUSION, Reclaimed Vintage, Topshop, and Weekday are responsible for the majority of sales that Asos currently makes. As another brand becomes more popular with customers, the "Trending Brands" section will change to reflect this. 
Trending categories
Similar to trending brands, trending categories show the different categories that customers are most interested in. These are usually (but not necessarily) based on location. 
For example, Holland & Barrett, a chain of health food shops, has stores in 13 countries. It also caters to customers in all 13 countries via its e-commerce store. Accordingly, the categories that appear in its "Trending Categories" section depend on where a site visitor is coming from. 
Here's what the "Trending Categories" section looks like in the US: 
And here's what it looks like in the UK: 
Observe how the two sections differ. The only thing Holland & Barrett customers in the US and UK have in common is that they are interested in sleep & relaxation and chlorophyll. 
For a fashion-specific example, look no further than H&M:
Notice how H&M shows trending categories across different sections, including "baby", "kids", "women", and "men". H&M's "Trending right now" section is not location-based. In other words, it stays the same, regardless of where customers in the world are coming from. 
eCommerce Recommendations for New arrivals
To emphasise new products, brands can incorporate a "New Arrivals" section on their homepage.

Here's an example of Sephora's "Just Arrived" section:
A "Just Arrived" section can be particularly beneficial to loyal customers. That is because they may already know what the brand stores, so being able to see new items at a glance will save them a lot of time. 
For retailers that store multiple brands, it's a good idea to show new arrivals from brands that customers have shopped with before, which is precisely what Nordstrom does:
Coming soon
For items that are yet to be released but can already be pre-ordered, a "Coming Soon" section can ratchet up the excitement. 
This works exceptionally well with books but can be applied to pretty much any other item, as well. 
Here's how Easons does it:
Editor's pick
An alternative to trending products, "Editor's Pick," as seen on the luxury department online store Lane Crawford, can help customers discover unique pieces chosen by people who work at the store and know its stock — and the world of luxury — inside out:
Etsy does something similar with its "Shop our selections" section. The eCommerce Recommendations in each category are hand-picked by Etsy's editors:
So, rather than racking their brain trying to think of the best anniversary gift for a friend or a parent, a customer can go to "Anniversary gifts" and see what an Etsy employee would choose if they were in the customer's shoes instead. 
One of a kind
Yoox has a "one of a kind" section on its homepage that features products that have only one example of a specific item left:
Showing customers that there is just one of something left is an ingenious marketing trick. Customers know that they can either purchase the item that has caught their attention now or potentially risk losing the opportunity to buy it for good. 
Previously viewed
Customers may not always purchase products that interest them immediately. Sometimes, they may want to think about it. Case in point: less than 20% of customers that visit an e-commerce store for the first time do so with the intent of buying something. 
For this reason, it's a good idea to include a "Previously viewed" section on your homepage, like Etsy:
A "Recently viewed" section can jog a customer's memory and prompt them to purchase the item they considered buying the last time they were on your site. 
Yoox also includes a "Recently Viewed" section on their homepage to ensure customers can complete their purchase quickly:
Daily deals
Who doesn't love a good deal? The online marketplace eBay shows visitors a "Today's Deals" section. Since the deals change daily, customers know that they need to make up their minds promptly. Otherwise, they risk missing out on a heavily discounted item.
Rather than showing deals across multiple brands, Nordstrom displays discounted items from brands they know customers already love:
Personalised recommendations
For customers that have visited/browsed an e-commerce store previously, brands can use historical data to show eCommerce Recommendations based on what they have viewed or bought in the past. 
Here's what Redbubble's personalised recommendations section looks like: 
Suggested searches
For those customers who are not sure what they're looking for, Etsy's "Suggested searches," based on previous activity, can provide a starting point: 
Search page
When visitors go to the search bar on a brand's page, they're usually looking for something very specific. 
Brands should try their best to surface the most relevant results at the top of the page so that customers don't have to scroll through the whole category page before they come across a product they're looking for.
Best match
Searching for a particular item on Amazon (in this case, "pan"), customers see a whole section dedicated to eCommerce Recommendations called "Amazon's choice" or products Amazon believes to be the best match for a specific keyword:
Top-rated eCommerce Recommendations
Amazon also shows the top-rated products for a specific keyword:
Customers know: if other customers were happy with their purchase, chances are, they will be too. 
Curated collections
Wayfair allows users to explore curated collections:
Rather than seeing lots of different lamps, site visitors can filter them by specific categories curated by Wayfair employees. 
Visual search
Ikea lets its customers search for a particular item by uploading a photo of it and showing them the closest matches:
Although not perfect (notice the armchair among the recommended products), visual search can save customers a ton of time. 
Category page
The category page is where customers can find all the items that fall within a particular category. 
Popular products
Popular products that are low in stock can create a sense of urgency. 
Net-a-Porter does this across all of its categories. Here's an example from its "dresses" page:
The "Annabella asymmetric pleated printed crepe de chine dress" by Altuzarra is "low in stock," a tactic that can encourage a customer interested in the dress to buy it immediately instead of thinking whether they actually need it and potentially missing out on it.
Etsy does something similar, but instead of saying "low in stock," it is even more specific:
Seeing that there's "Only 1 available" of an item they like and that it's already "in 1 person's basket" can create FOMO (fear of missing out) and prompt a customer to act quickly. 
Top-rated products
Customers are naturally more likely to gravitate towards products that other people have rated highly — this is known as social proof. 
Brands don't even need to show the exact rating that an item received. Simply marking products with the words "Top-Rated" can go a long way in making the customer trust that the product is high quality. 
This is exactly what Urban Outfitters does:
Recently viewed
Although most often seen on the product page, some brands, like Evereve, like to include recently viewed eCommerce recommendations on the product category page, as well: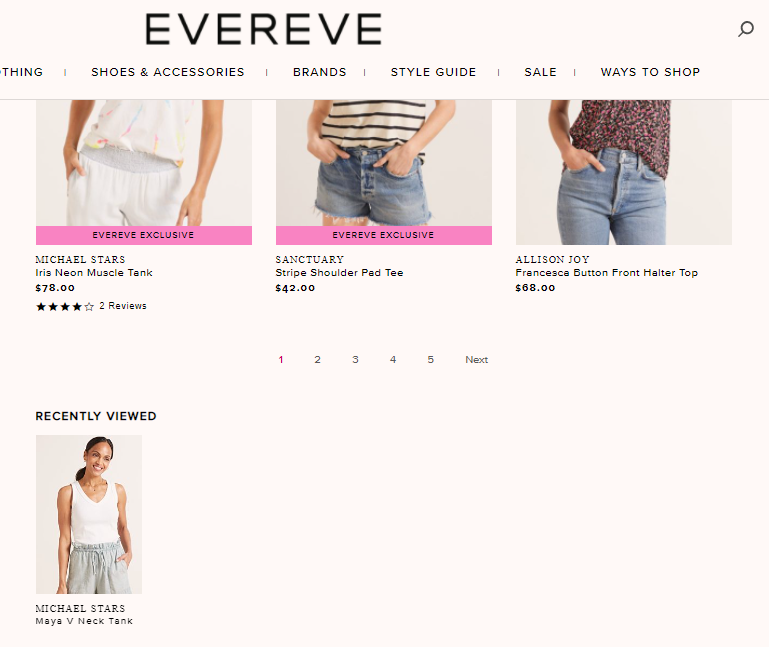 This way, Evereve ensures that items a customer has viewed before are always top of mind. 
Product page eCommerce Recommendations
A product page is where potential customers can find out more about a specific product and add it to the cart. 
However, just because a visitor clicks on a product page doesn't mean that they will necessarily want to buy the item they're viewing. For this reason, it is important that a product page includes other product suggestions. That way, there is a "next step" visitors can take to continue with their buyer's journey. 
Visually similar
A customer may like a specific item, but there may be something about it that puts them off slightly, like the material or sleeve design. Or, the product they love may not be available in their size. 
By including a "Similar Items" section underneath the item, brands show eCommerce Recommendations that they are likely to like due to their similarity to the item they are viewing. 
For example, when a customer views a blue sweater with stripe details by Victoria Beckham on Lane Crawford, the site suggests similar options, including a sweater with a stripe design and a colour block sweater.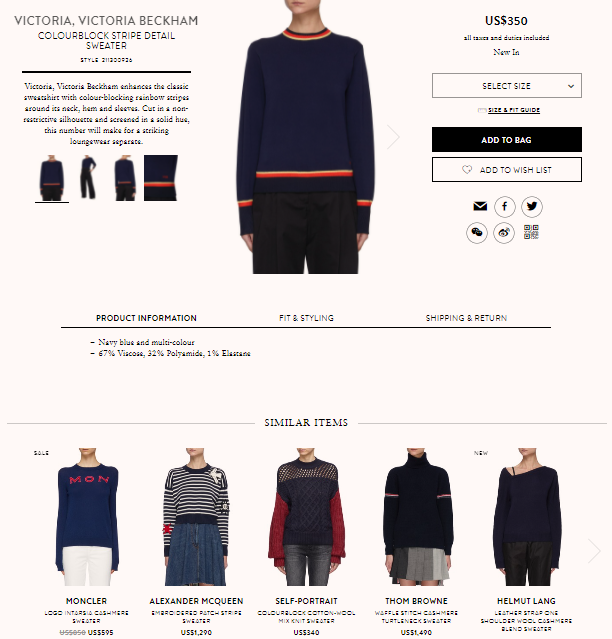 Note how all the sweaters recommended are different shades of blue and include an interesting detail, whether it's an off-the-shoulder sleeve or a slogan, resembling the original item (the Victoria Beckham sweater). 
Recently viewed
Sometimes, a customer may accidentally leave the page with an item they were seriously considering buying. 
A "Recently Viewed" section, as seen on Asos, is a great way to remind them of items they recently browsed. 
By seeing the items they just viewed, customers are more likely to buy them rather than if they had to look for the product page in their browser history. 
What other customers are doing now
This can include things like "x people are viewing this product right now" or "this item is in x people's baskets." Again, the idea here is to create a sense of urgency.
When viewing popular items on Etsy, customers not only see "Low in stock" but also "Selling fast! Only 3 left, and 9 people have it in their baskets." 
More from this brand/shop/designer
Most customers have their preferred clothing brands. For retailers that stock multiple brands, showing eCommerce recommendations from the brand a customer seems to particularly like can be an easy way to boost sales. 
For example, when a customer views an item from "Treasure & Bond" on Nordstrom, the site suggests more products from the same brand:
Yoox does the same thing, but for a specific designer:
Notice how Yoox also includes the sizes available underneath each recommendation, saving customers time and potential disappointment if they click on a product page and realise that their size is out of stock. 
Customers who searched for/bought x also viewed/bought
To show customers what shoppers with a similar taste to them also viewed or bought, brands can use "Others also viewed" or "Others also bought" recommendations, as seen on H&M:
Complete the look
In the fashion industry, it is all too common for customers to decide against buying a specific item because they don't know how to style it. Outfit recommendations can solve this problem while at the same time, enhance customer value by cross-selling. 
Lane Crawford includes a "How to style it" section underneath all it items:
Yoox does something similar with its "Complete the look" section:
Tommy Hilfiger goes a step further by providing unique outfit recommendations for the same item (in this case, a dress) based on different occasions. 
Here's how, according to Tommy Hilfiger's stylists, you could wear its "fit and flare twill dress" if you were going for a "glam" look:
And here's how you could wear the same dress if you were more into "street style."
By the way, the eCommerce Recommendations change every time a customer refreshes the page, so there are infinite outfit combinations for a customer to see. 
Here's another suggestion of how to wear the dress for a street style look after refreshing the page:
Shop the look
The Outnet recreates their own editorial photography outfits as fully shoppable outfit recommendations: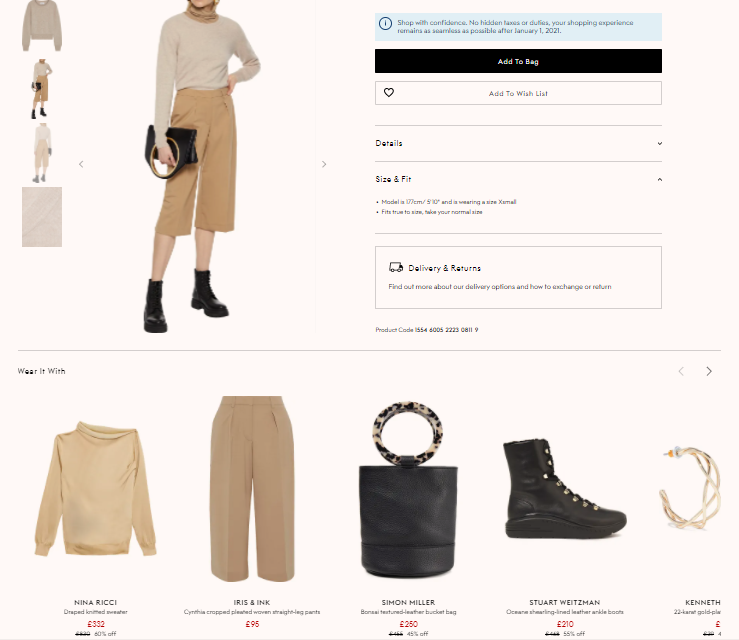 When specific items go out of stock, they are automatically replaced with the most visually similar option in stock so that the retailer can continue selling the full look even when the original item is no longer available. 
This approach by The Outnet prolongs the return on investment from their editorial costs and reduces the time and effort merchandising teams have to spend on outfit recommendations. As a result, they increase their capacity to focus on other key areas where their expertise will make a difference to the business. 
Evereve, on the other hand, offers a hybrid service of both "Complete the Look" and "Shop the Look," covering both items they have editorial photography for but also showing unique outfit recommendations for ones that don't have an editorial look. This way, they can benefit fully from all their products while selling their editorial looks. 
Here, Evereve recommends the exact items shown in the editorial photographs, down to the jewellery worn by the model: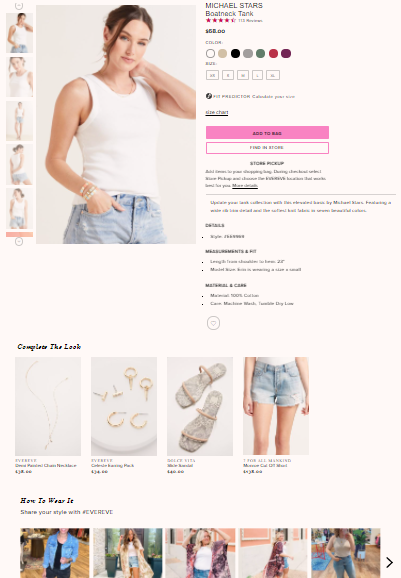 In contrast, the eCommerce recommendations in the example below don't match the editorial photographs exactly but are items that would go well with the product (white tank top) being viewed. 
Both Evereve product pages also have a "How to wear it" section that displays photos of customers wearing the item, with product suggestions to recreate their outfits:
Frequently bought together
In an attempt to upsell customers, Proviz includes a "Frequency bought together" section on its product pages:
New items
When looking at a specific product, Trader Joe's customers are presented with a "So, What Else is New" section to upsell them products that are new in stock:
Checkout/cart page eCommerce Recommendations
Just because a customer has reached the cart or checkout page doesn't mean that they're not interested in anything else the brand has to offer.
In fact, both the cart and checkout pages are ripe for up-sell and cross-sell opportunities — customers have already decided to buy something from a brand and are therefore more likely to increase their spend if shown attractive potential additions to their shopping list. 
Brands can make general recommendations or recommendations based on the items that the customer has in their cart. 
Don't forget
If a customer adds items to their basket on Amazon but then leaves the site without actually purchasing them, Amazon will automatically save these items and include them in a "Your Items" section next time they go to buy something.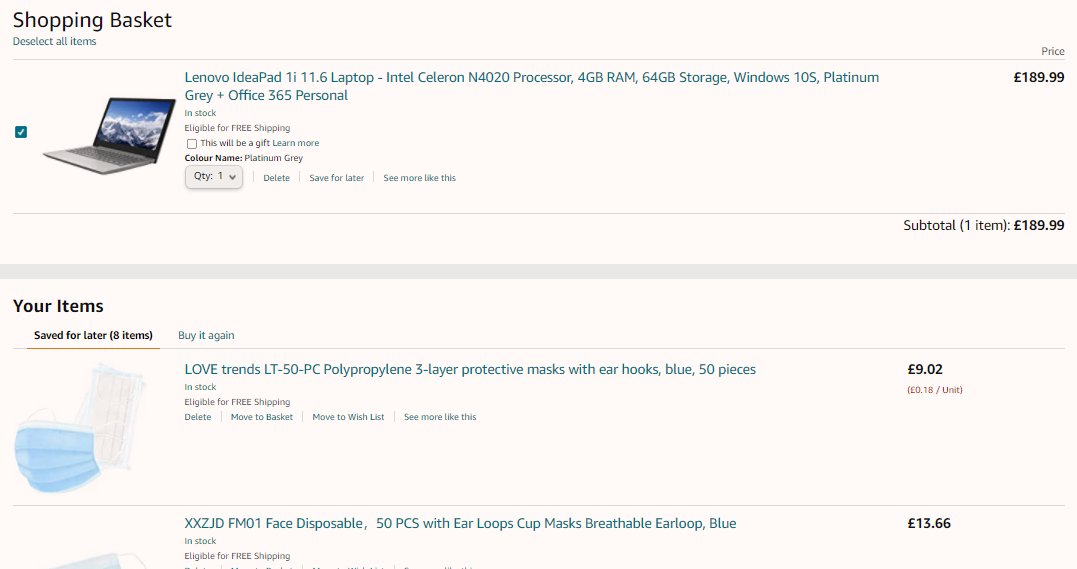 Recommended products
When Wayfair holds a sale, it shows you a "Your Featured Sales" section in your cart. The items in the section are based on what you've added to your cart (in this case, curtains).
In addition, Wayfair also features other items you may need depending on what it is you're buying. Here is what the site recommends you also buy when you are about to purchase shower curtains:
In contrast, IKEA shows eCommerce Recommendations with random items it thinks you may be interested in. Here are its recommendations when you purchase a sofa:
When customers go to check out on Tesco, the grocery and general merchandise retailer suggests items it knows you buy regularly but for some reason have omitted this time:
Rather than personalised recommendations, Aritzia's shopping cart page includes a "Stock up on essentials" section, regardless of what customers are purchasing (in this case, a blazer):
Buy it again
Amazon knows that sometimes, customers may want to buy the same item again, which is why it has a "Buy it again" section on the cart page:
Popular products
As a last attempt to upsell its customers, & Other Stories recommend "Popular Products" to customers that are about to check out:
Frequently bought together
When shoppers add an item to their cart, Target recommends them items that are frequently bought together in its mini-cart: 
404 page eCommerce Recommendations
In an ideal world, customers would never see a 404 page. However, that is not realistic, and often, 404 pages mean the end of a customer's session. 
The good news is that instead of seeing 404 pages as a failure on your part, you can turn them into opportunities to inspire customers to continue with their journey. 
Recommended products
In the event that a product a customer is looking for is unavailable and returns a 404 page, Steve Madden shows them alternatives:  
Best-sellers
Urban outfitters, on the other hand, brings up some of its most popular items instead:
Pop-ups
No one likes pop-ups, right? Not quite. While it is true that irrelevant pop-ups are annoying, pop-ups that bring visitors' attention to trending items or products picked out exclusively for them based on their activity can turn hesitant visitors about to leave your site into enthusiastic customers. 
Trending items
When a customer returns to the Lammeskindet site, they see a pop-up that welcomes them back and shows them the most popular items with quick links to each and a prompt to "get them before they're gone."
Other items you may like
Rather than a separate section on its product pages, Crocs instead uses a pop-up to recommend items the customer may love based on the product they are currently viewing:
Recommended products
To stop customers from leaving their site empty-handed, the Three Drops of Life shop brings up a pop-up that recommends visitors items picked out just for them right before they are about to exit the page:
Tommy Hilfiger does the exact same thing after a customer is inactive on their page for a while:
Retargeting campaigns
The best brands engage customers long after they've left their site, regardless of whether they've made a purchase or not. 
Use email and social media apps to send customers information about new stock and trending items and share personalised items and outfit ideas picked out specifically for them. 
New arrivals
Every time the Irish chocolatier Bean and Goose has new stock, it sends out an email newsletter about it to their customers: 
Popular products
The fashion brand Na-kd sends out regular email newsletters featuring popular products and must-haves to its customers to encourage them to visit the site.
Back in stock
For items that are currently out of stock, Zara allows customers to sign up for an email alert. When the product is back in stock, the fashion retailer notifies the customer:
How to style it Recommendations
A great way to get your customers to come back to your shop right after they buy something from you is to send them a "How to style it email". To make the most of this and increase your chances of another sale, it is a good idea to provide item recommendations for different occasions:
New Item Email Recommendations
Poshmark sends its customers a"new and exclusively for you" email with new item recommendations:
H&M sends customers a periodic email with personalised item recommendations based on items they have browsed or bought:
Get Started with Ecommerce Recommendations Today
With the right item recommendations, brands can boost user experience and engagement, increase customer retention, and ultimately improve their bottom line. 
However, as the above examples show, there are many options to consider when it comes to recommending products. For this reason, many brands find getting started with product recommendations daunting — but it doesn't have to be this way. 
The team of experts at Intelistyle can help you decide what route your brand should take with recommendations to optimise your business and meet your objectives. Ready to talk ecommerce recommendations? Get in touch with us today.