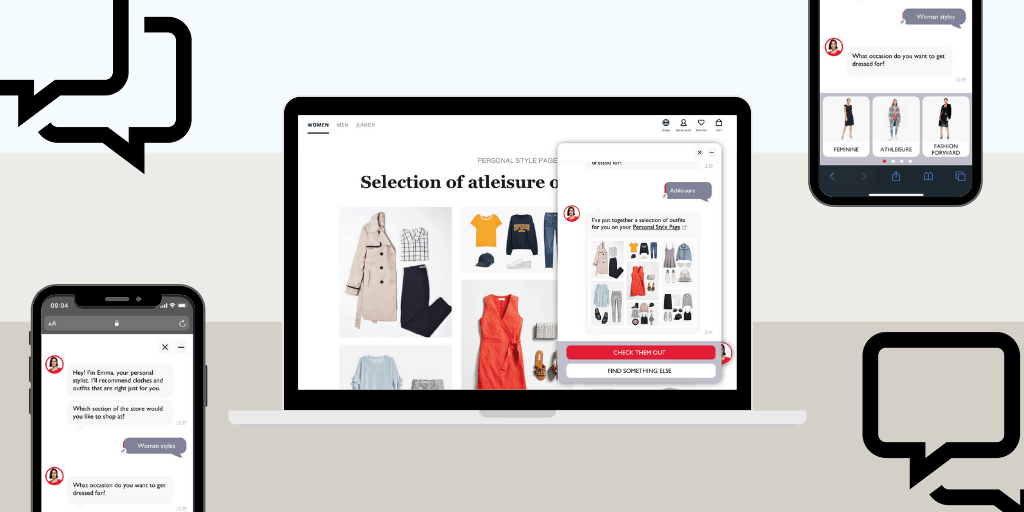 Find out how you can use a fashion e-commerce chatbot to create exceptional online experiences and services that outperform in-store
Back to Basics: The In-Store Experience
Remember how it felt walking into a new store to shop for clothes?
You see racks and racks of clothing all around you. And no sign of that striped blazer you are looking for…you feel tired and lost.
Then you hear those four magical words: Can I help you?
And the cramped, claustrophobic shop floor all of a sudden looks brighter.
The store assistant shows you a couple of striped blazers and a mono-colour alternative she thinks will look gorgeous with your hair colour. She also brings down the dress trousers they have in your size and suggests a blouse and heels to complete the look for your important meeting next week.
Was that a good experience for you?
Sure, you found just what you were looking for quickly without lifting a finger. And you don't even have to worry about styling your new clothes because the store assistant showed you how to wear them.
Was that a good experience for the retailer?
Definitely! You are leaving their store with a big shopping bag.
This is exactly why the iconic Parisian department store Galeries Lafayette is arming their shop floors with a 300-people team of personal stylists who will be trained in a 'retail academy'. All in the selfless interest of delivering a better shopping experience to their visitors? No. Because personal styling recommendations are proven to increase spending.
So why don't online retailers follow suit and apply this rewarding experience guaranteed to increase sales to their e-commerce store?
The Manual Cost of Personalised E-commerce
Because it is extremely costly to have an army of stylists sit in front of a screen all day and assist your every online customer from home page to basket page. Let's say you decide to train your existing customer service team in styling…that is just as costly on top of being highly time-consuming.
What if you had a super-stylist who doesn't eat, rest or sleep that can serve an indefinite number of customers at the same time? While we're at it, also give her a magic wand to turn your existing customer service agents into expert stylists overnight.
No, this is not the plot of a sci-fi film hitting the box office this year. This is your one-way ticket to the future of retail, today: Experiential e-commerce that goes beyond practical and impersonal conversations.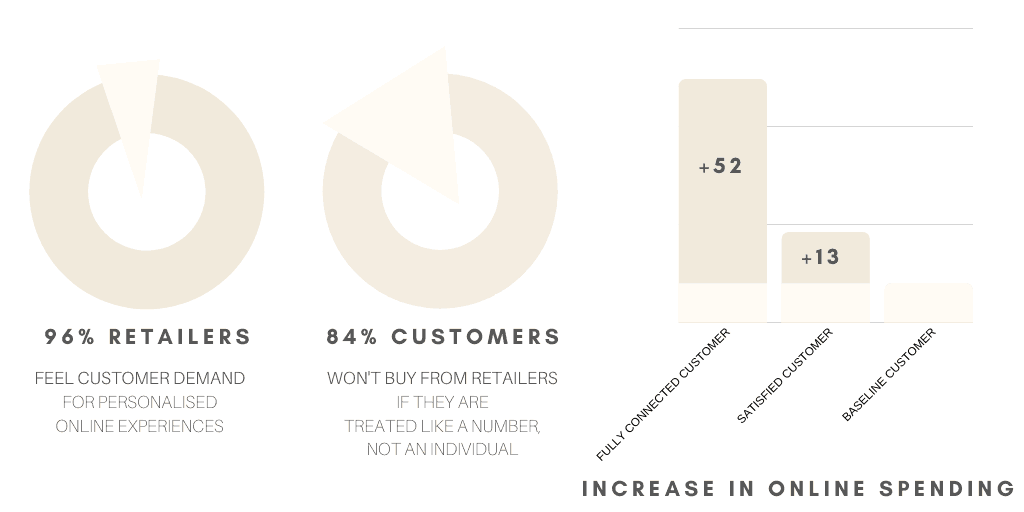 Conversational Commerce: What Went Wrong
Fashion retailers have dipped their toes in conversational commerce in the past. Because scaling your services with an e-commerce chatbot makes commercial sense. The head of customer experience at LVMH-owned Eluxury says AI-powered automation eases agents' burden allowing them to provide a better service to an increased number of customers. So why did conversational commerce never quite stick with fashion retailers?
Because 84% of customers make it crystal clear that they won't buy from a retailer unless they are treated as an individual, not a number. 96% of retailers agree, saying they feel the demand and pressure from customers for a more personalised service.
Both customers and retailers are on the same page.
Yet, so far conversational commerce in customer service has been about ticking off another number on a long list of problems to solve: FAQs, delivery enquiries, order and return issues.
Add the intrinsically personal nature of a fashion purchase to the equation and seeing why conversational commerce never kicked off in this industry is a no-brainer.
The New Age of Retail: Experiential E-commerce
Retailers who want to scale their services to increase revenue have to reframe their perception of customer service from just problem-solving to delivering a personal experience with additional value. Experiential commerce that exceeds the confines of product and price to put exceptional services as a retailer's main value proposition achieves genuine connection with the customer. Harvard Business Review found that connected customers (highly satisfied + perceives clear brand differentiation) spend 52% more with an online retailer. Similarly, the Wall Street Journal concluded that customer experience is the key competitive differentiator in the digital age.
According to the Adobe Experience Index – a benchmark that retailers can leverage to understand and quantify customer demand – the top three value points for digital customers are:
Know Me and Respect Me

Delight Me at Every Turn

Speak In One Consistent Voice Across All Interactions
This is why an overpowering 90% of consumers still shop in-store despite being perfectly comfortable with online shopping: they prefer an in-person experience and expert advice before making a purchase.
Now, let's look at how an AI e-commerce chatbot specialised in fashion can tick all these value points for your retail business to outperform an in-store experience.
The e-commerce chatbot assists your customers in finding their way around a store's entire stock and carefully leads them to the right products for them that result in a purchase.
E-commerce Chatbot Value Point 1:
Know Me and Respect Me

The AI Stylist Who Knows Your Every Customer
An e-commerce chatbot welcomes your customer to the online store. The AI chatbot stylist knows who that customer is and what they like down to detailed attributes, such as colours, prints, sleeves, dress shapes and cuts they have preferred in the past. It also knows which attributes they don't like without the customer having to repeat themselves every time and respects those preferences when making product and outfit recommendations.
A Guided Styling Interview and Customer Profile
The chatbot stylist asks your customer the same questions that a human stylist would, in the same language that a human stylist uses at a guided styling interview. The AI then builds a personal style profile for the customer that is enriched with every interaction.
Personalised Recommendations: Physical Features, Personal Taste, Occasions
In addition to making personal recommendations to complement the customer's unique features – their body type, skin tone, hair and eye colour – the AI stylist also shows your customer how to style the same product for different occasions they are interested in. These occasions can range from a date night to a formal business meeting to a casual brunch with friends.
An E-Commerce Chatbot for Every Style Persona
What's more, you can have a selection of AI stylists with different style personalities – just like specialised human stylists. Your fashion-forward customers can speak to a fashion-forward stylist who will put together looks reflecting the latest trends in real-time, while your conservative customers are served by a stylist with traditional taste.
Essentially, each of your customers is shown products and outfits that are hand-picked for them every time to match their physique, taste, personality and intended occasions.
They will even get personal styling tips on how to wear particular garments to flatter their characteristics.
E-commerce Chatbot Value Point 2:
Delight Me at Every Turn

Personalised Home Page and Online Store
The e-commerce chatbot will not stop at personalising the one-to-one interaction with your customer. It will go on to curate the entire website to each customer's individual needs. Instead of showing all your customers the same generic home page, every customer will land on a home page entirely personal to them. This will be carried over at every turn they take on your online store from search results to product pages and basket page.

Increased Purchase Frequency and Customer Retention
Even after the customer leaves your website, the AI stylist will keep curating every brand interaction. For instance, instead of generic CRM and retargeting emails pushing irrelevant products, your customers will open their inbox to only see the products matching their personal taste. Additionally, each of these products will be selected by their AI stylist to complement their past purchases, increasing purc
hase frequency and
customer retention
.
E-commerce Chatbot Value Point 3:
One Consistent Voice Across All Interactions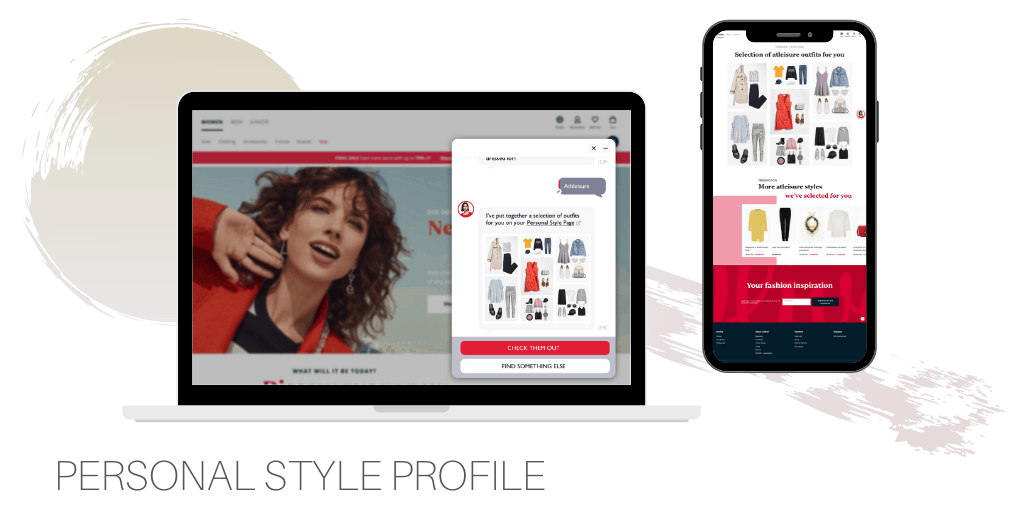 Always On Brand Tone-of-Voice
Unlike human stylists, who might have good and bad days influencing their performance and customer interactions, the e-commerce chatbot stylist will always speak in your brand's tone-of-voice, delivering the same level of exceptional service quality every time. Through the omnichannel customer profile created by AI, your brand interactions will be consistent across all customer touchpoints, regardless of which ones the customer has used in the past.
At this point, you might be thinking: This all sounds too good, isn't there a catch? Well, there is.
AI Technology and Human Intuition
While an e-commerce chatbot can do wonders for your business at scaling exceptional personal shopping services in a cost-effective way, it lacks the empathy and communication skills of a real-life person. While an AI stylist outperforms a human stylist at the speed and accuracy of personalised recommendations, it can't match a human in picking up emotional cues to understand a customer's mood.
This is why the best-practices of experiential e-commerce will emerge from the marriage of AI technology with human intuition. A seamless online experience will integrate a smooth hand-over to a real-life person to handle more complex and sensitive cases. However, this person will be a customer service agent with little or no styling skills, bringing us back to the cost and time of required training. Right? Not if you support your customer service team with a tool that handles the styling part so all they need to do is bring in the human touch.
E-commerce Chatbot Value Point 4:
AI Styling Platform Empowering Your Team

An AI styling platform lets your customer service agents access a detailed style profile that has been created by your e-commerce chatbot for every customer they are serving.
Agents can filter a retailer's entire stock through attributes a particular customer favours and block the ones they don't to only see the products that are relevant for each individual they serve.
The AI platform will also show products and outfits they can directly suggest to the customer, accompanied by styling tips so that the agent can explain the reasoning behind their recommendations and add real value to the experience.
These outfits can be added straight to the customer's shopping basket, shared with them via email or even put in a box and delivered to their home for a VIP fashion concierge service depending on the retailer's preference.
The entire customer service team can provide customers with an expert personal styling experience, meaning they can upsell and cross-sell effectively even if they have limited fashion knowledge.
Key Takeaways