How Hyper Personalisation Can Increase Conversion
Personalisation is not a new concept. Brands have long known that tailoring their offerings and communications towards individuals can dramatically improve customer retention and increase conversions. More than 9 out of 10 companies saw 3x ROI and increased profitability after implementing personalisation.
As a result, almost every successful brand in existence today has some kind of personalised marketing strategy in place. Features like customised subject lines or customer names in emails are now expectations rather than exceptions. However, with basic personalisation now ubiquitous, the downside is that boilerplate personalisation alone is no longer enough for a brand to gain an edge over its competitors. Instead, to stand out and boost ROI, marketers need to evolve how they use personalisation. This means embracing hyper personalisation. 
A more advanced form of personalisation, hyper personalisation is the new standard in customer-facing marketing. From banking to hospitality, every sector is taking advantage of this new trend. Because they rely on staying ahead of the same consumer trends that shape these industries, fashion retailers can't afford to be left behind either. 
What Is Hyper Personalisation?
Traditional personalisation looks at a customer's personal data, such as their name, demographic details, and purchasing history. Hyper-personalisation goes a step further by taking into account a customer's data in real-time. This is usually done via big data sets and AI algorithms.
Using data, AI, analytics, and automation, companies can provide customers with hyper personalised experiences, i.e., contextualised messages directed at specific individuals at the right time and on the best channel. This means that brands can send customers emails that correlate exactly to their specific actions and interests. For example, Amazon frequently sends its customers emails recommending products based on items they recently viewed or bought on Amazon's site. 
However, Amazon's hyper personalisation efforts extend beyond just email. The tech giant also personalises on-site content based on who is visiting the site. Here is what a returning visitor may see when they scroll down on Amazon's homepage: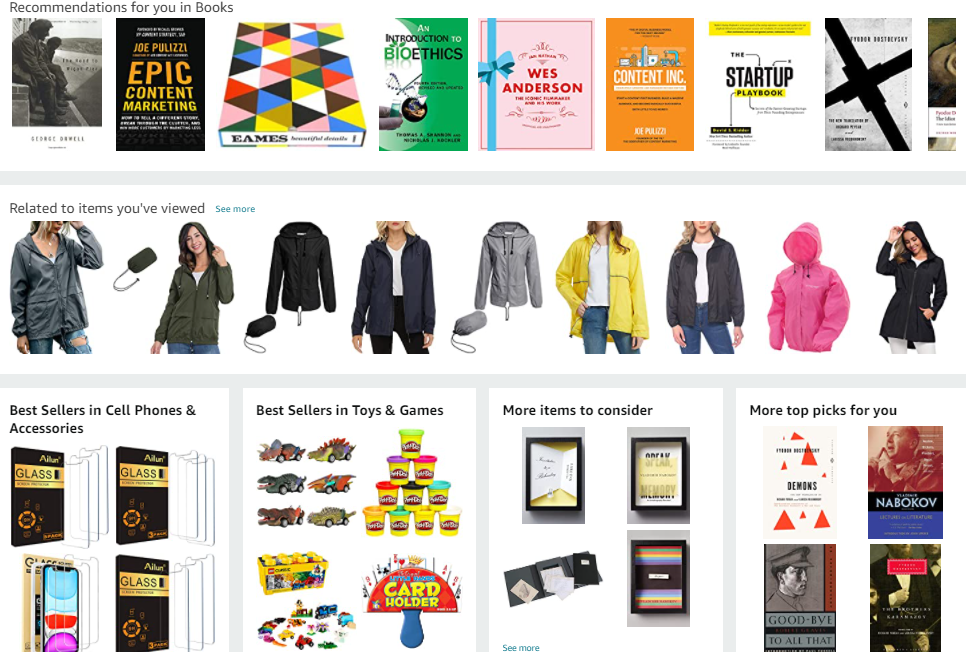 Another excellent example of a company using hyper-personalisation to its full potential is Spotify. 
Last year, Spotify updated its home screen to show users the content they're already familiar with (like their workout playlist) on the top and recommendations on the bottom. Crucially, the content on the top changes as the day goes on to match user interests and activities. So, if a user always listens to a specific podcast in the morning, that's where they'll find it first thing when they get up. On the other hand, their workout playlist won't appear on their home screen until later in the day or whenever they're most likely to exercise.
Other hyper personalised features that Spotify has introduced over the years include:
"Discover Weekly": A personalised list of songs that fit a user's profile.
"Spotify Wrapped": A yearly round-up of a user's listening data.
"Only You": A feature that gives users a musical astrology reading based on their listening tastes.
Why Hyper Personalisation Matters
There are many reasons that make hyper personalisation an essential ingredient in retail. Below are just some of them. 
It meets customer expectations
Research shows that consumers find impersonal shopping experiences frustrating. Fortunately, the opposite is also true. Personalised shopping experiences delight consumers to the point where they will almost always choose a brand that tailors their content specifically to them versus one that doesn't. 

However, while shoppers crave customisation, the vast majority of brands still fall short in meeting, let alone exceeding, their demands. According to one study, only 22% of customers are happy with the level of personalisation they receive from companies they buy from. 

By hyper personalising their offerings, brands can show customers that they understand and care about their unique needs and wants. 
It fosters loyalty
Customers appreciate brands that remember who they are. Almost one in two consumers say they are likely to shop again with a brand that provided them with a personalised experience. 

The odds of a customer leaving a good review, telling their friends and family about their experience, and commenting positively about a brand on social media are also higher following a customised experience. That is because experiences that are tailored to a specific shopper put that shopper at the centre of the experience and give them more control over the interaction. 
It boosts sales
One of the best things about hyper personalisation is that brands can figure out what customers desire before customers can do so themselves. This drives impulse purchases, which in turn increases sales and leads to higher revenue. 

In one study, almost 1 in 2 consumers said they bought something they were not expecting to buy because of a great personalised recommendation. 

The downside of impulse purchases for retailers can be a higher rate of returned items. Not with hyper personalised recommendations, however. Only 5% of all impulse purchases triggered by personalised recommendations are returned, and 85% of impulse shoppers are happy with the products they purchased.
It dramatically increases marketing ROI
When brands stop wasting customer time on products they're not interested in, customers can focus on items they actually care about. Unsurprisingly, brands that use advanced personalisation, mainly real-time personalisation (aka hyper personalisation), can expect a $20 return for every $1 spent.  
It reduces costs
Brands that keep showing e-commerce store visitors products they're not interested in will inevitably lose customers. In contrast, brands that tailor the shopping experience to every single visitor will gain customers — at a fraction of the cost. Research has shown that personalisation can slash customer acquisition costs in half. 
How Fashion Retailers Can Hyper Personalise the Customer Experience
To create better shopper experiences through hyper personalisation, retailers should prioritise hyper personalisation within the following areas of their customer journey:
1. Websites
Some of the ways brands can hyper personalise their websites include:
Personalised homepage.

From previously viewed items to customised bestsellers to relevant discounts, the content on the front page can either draw a customer in or make them leave a brand's webpage within seconds. 

"Complete the Look" and "Visually Similar" prompts.

Personalised recommendations such as these can account for

almost half

of what customers buy.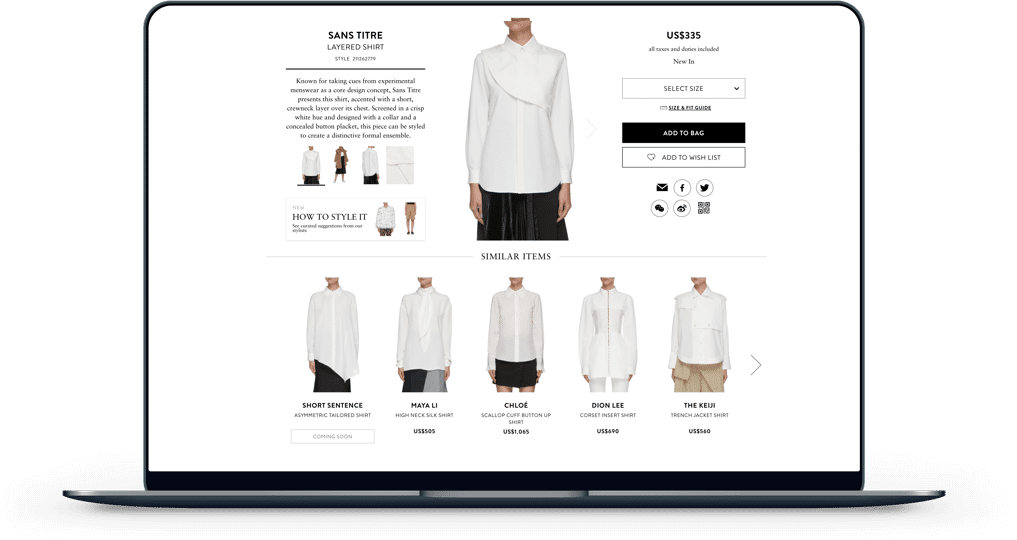 Visual search.

Customers may not always know how to describe what they're looking for, but they may have a photo of the specific item they want to buy. Visual search lets them do just that. By using visual search, customers can see the right results for them instantaneously. Crucially, as they interact more with the brand, the results returned by the visual search function will become more personalised. 
Personalised product ranking.

No customer wants to waste their time scrolling through products that are irrelevant to them. With AI, brands can identify the items a shopper is most likely to buy and prioritise these products over other items.

Fashion chatbot.

Available on a brand's site as well as social media, AI chatbots offer 24/7 personalised services and can answer specific customer queries in real-time.
2. Loyalty programs
Just because you have a rewards program doesn't mean that it's working for you. 
In one study, 96% of people said that loyalty programs could be made better. A further 75% admitted that they would switch to a different brand if offered a better loyalty program. Obviously, none of these people had ever had the pleasure of participating in a hyper personalised loyalty program. 
Through AI, brands can improve their understanding of each customer that shops with them and tailor their recommendations and rewards accordingly. 
3. Retargeting and promotional campaigns 
Wouldn't it be amazing if instead of sending customers retargeting campaigns that recommend a similar product they've already bought or looked at, brands could offer every shopper access to exclusive styling services? 
With Intelistyle's AI Styling Platform, this is not only possible but incredibly simple — and cost-effective. 
Our AI Styling Platform creates outfits that suit the needs and desires of each shopper, taking into account their past behaviour, preferences, style, season, and predicted purchasing behaviour, scaling fashion advice to previously unseen levels: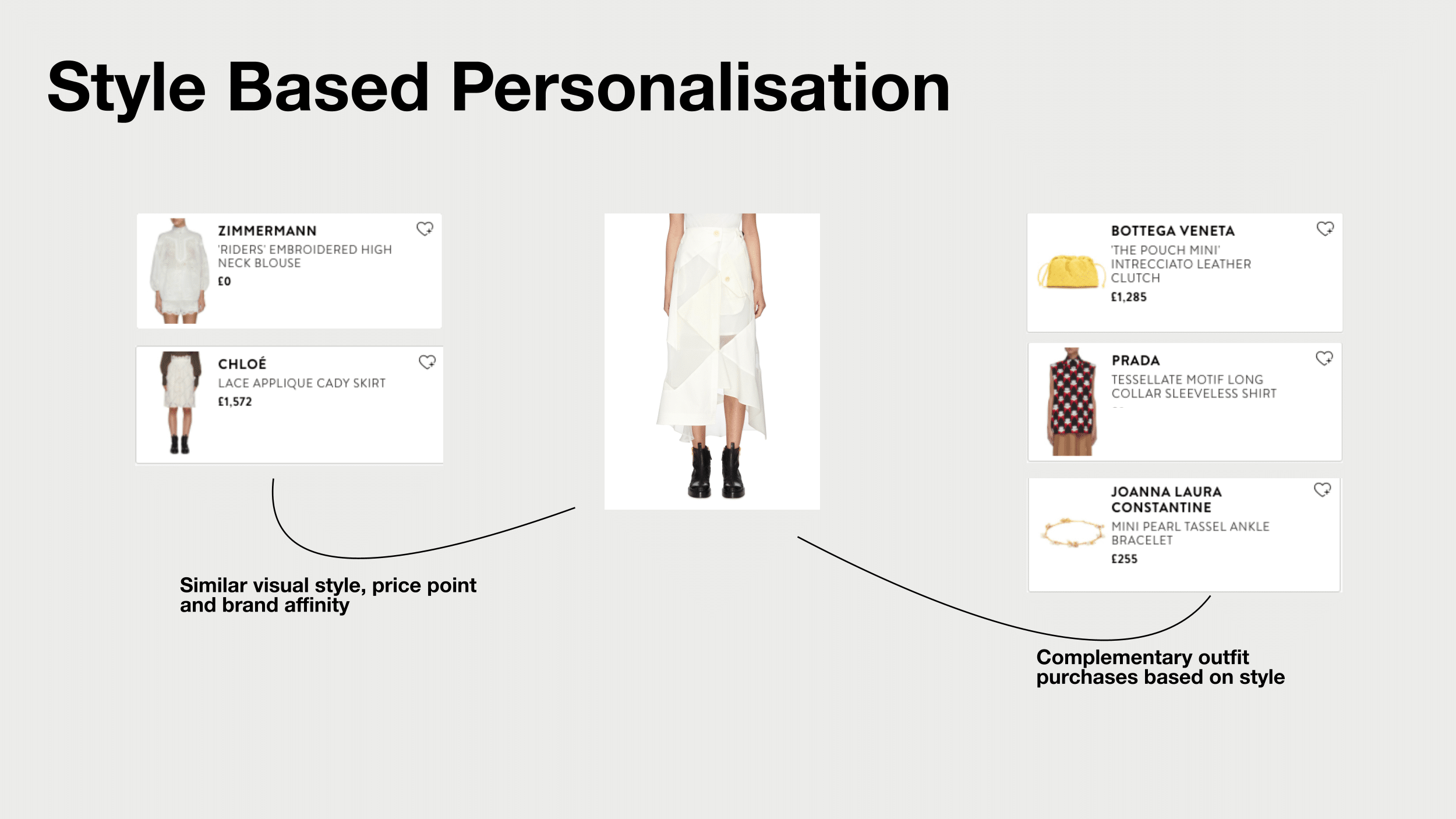 These outfits can then be shared with customers via email. Alternatively, brands could also add them to the customer's shopping basket online or even send the custom outfits in a fashion concierge styling box. 
The same is true for promotional campaigns. AI can hyper personalise recommendations based on factors such as product categories a customer is most interested in, time of the year, and offers that are likely to pertain specifically to them. 
4. Social media
For tailored brand experiences on social media, AI-powered chatbots are hard to beat. 
With fashion chatbots, brands can stay in touch with customers before, during, and after a sale — regardless of where their customers hang out. And considering that there are about 3.78 billion social media users worldwide right now, many of them can be undoubtedly found on social networking platforms like Facebook as well as instant messaging apps such as WhatsApp. 
Besides answering customer queries and arranging exchanges and returns, AI chatbots can also notify customers when items come back into stock, make personalised product recommendations, and offer styling advice.
AI chatbots can even facilitate direct sales by taking pre-orders and reserving items for collection in-store.
5. In-store
Customers don't just expect a more personalised experience from e-commerce stores. They want to see in-store retailers offering more intuitive and tailored experiences, too. 
One simple way to achieve hyper personalisation at a physical store is by adopting smart mirrors. 
On the shop floor, AI-powered smart mirrors can scan a customer and make hyper personalised outfit recommendations based on the clothes they are already wearing. Customers can also scan a particular product they like to see how the smart mirror would style it with other products currently available for sale in the shop. 
In the fitting room, shoppers can use a smart mirror to find products similar to what they are trying out but that doesn't quite fit and have them brought directly to them.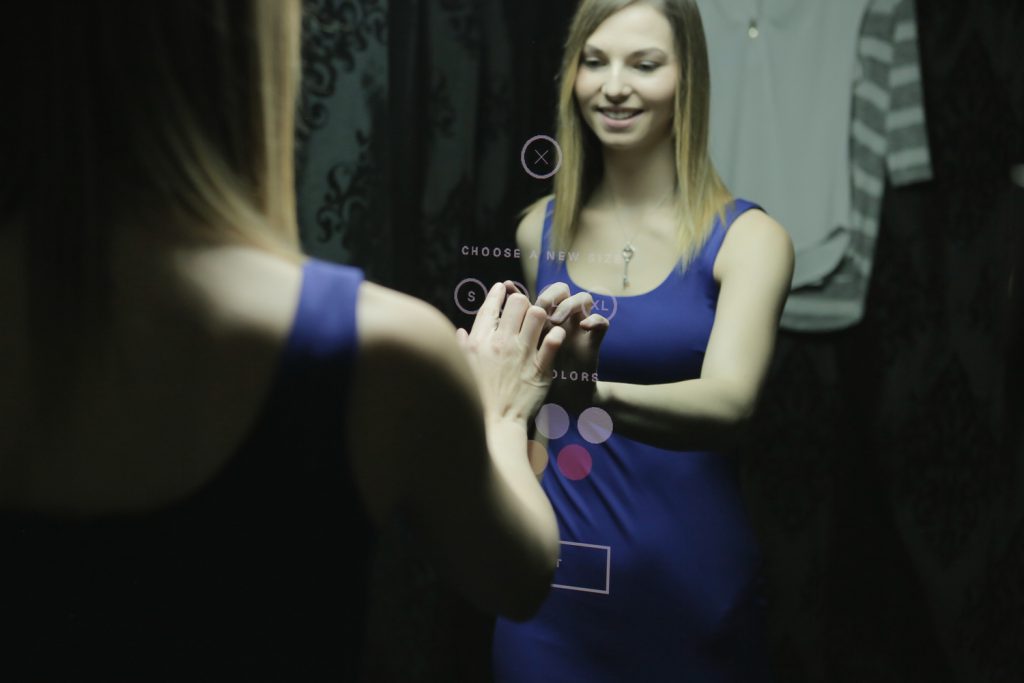 If the customer doesn't have to go through the hassle of leaving the fitting room to find an alternative and then return to the fitting room to try it out, they are more likely to continue with their shopping journey and buy something. 
In addition to smart mirrors, in-store retailers should think about equipping their staff with remote clienteling tools. With AI clienteling, sales assistants can double as personal stylists and recommend customers products that would best suit their physical features, body types, and individual preferences.
Hyper Personalisation Is Here to Stay
As the world of retail becomes more competitive, brands need to find new ways to stand out. While traditional personalisation is ubiquitous, hyper personalisation is still a fairly novel experience. According to one study, only about one in two organisations currently use advanced personalisation. That is surprising, considering that hyper personalising the customer journey is not that difficult and can yield significant results. 
The key to creating more individualised experiences? Finding the right partner to deliver them. At Intelistyle, we understand the importance of putting the customer first. With our AI styling platform, retailers can customise their visitors' customer journey from start to finish, regardless of whether they're an in-store or an online-only shop. Rather than just surviving, Intelistyle allows fashion retailers to thrive. Ready to implement hyper personalisation into your store? Get in touch with us today.