How to differentiate and increase conversion with AI styling advice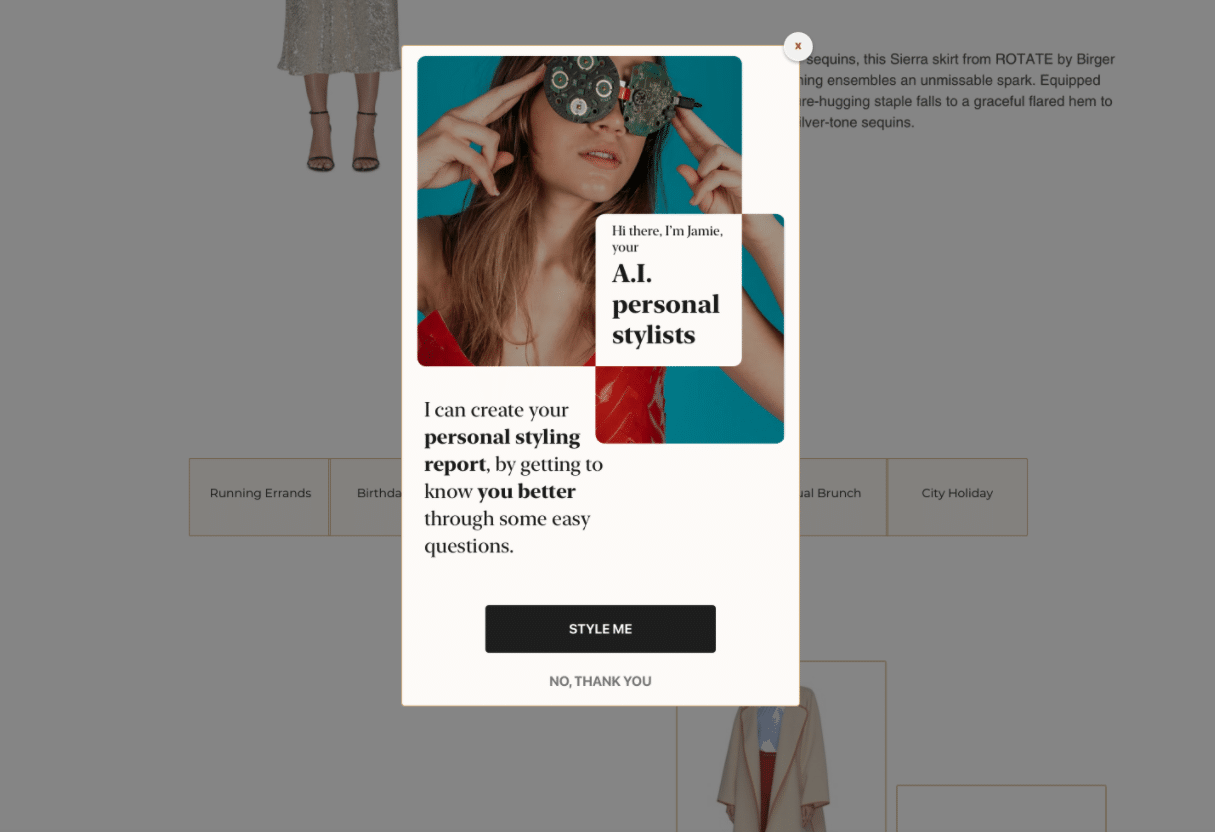 How to deliver a curated customer experience at scale using AI
Imagine you are visiting a store to buy a new dress. The sales associate comes and asks if you'd like some help. Immediately you assume that they are trying to sell you anything they can from the store. You reluctantly start chatting to them only to find out that they are really knowledgeable. Not only do they know the stock that the store has very well, they also understand what makes each piece special and what attributes it has. They are a qualified stylist and they know how these attributes complement different bodytype and skin tones. You soon realise that you can trust their advice because they recommend clothes that actually look good on you. Not only that but they're aware of all the latest trends while listening to you and respecting your personal sense of taste. After all, you don't always follow the latest trends, but you are selective about what you like and what looks good on you.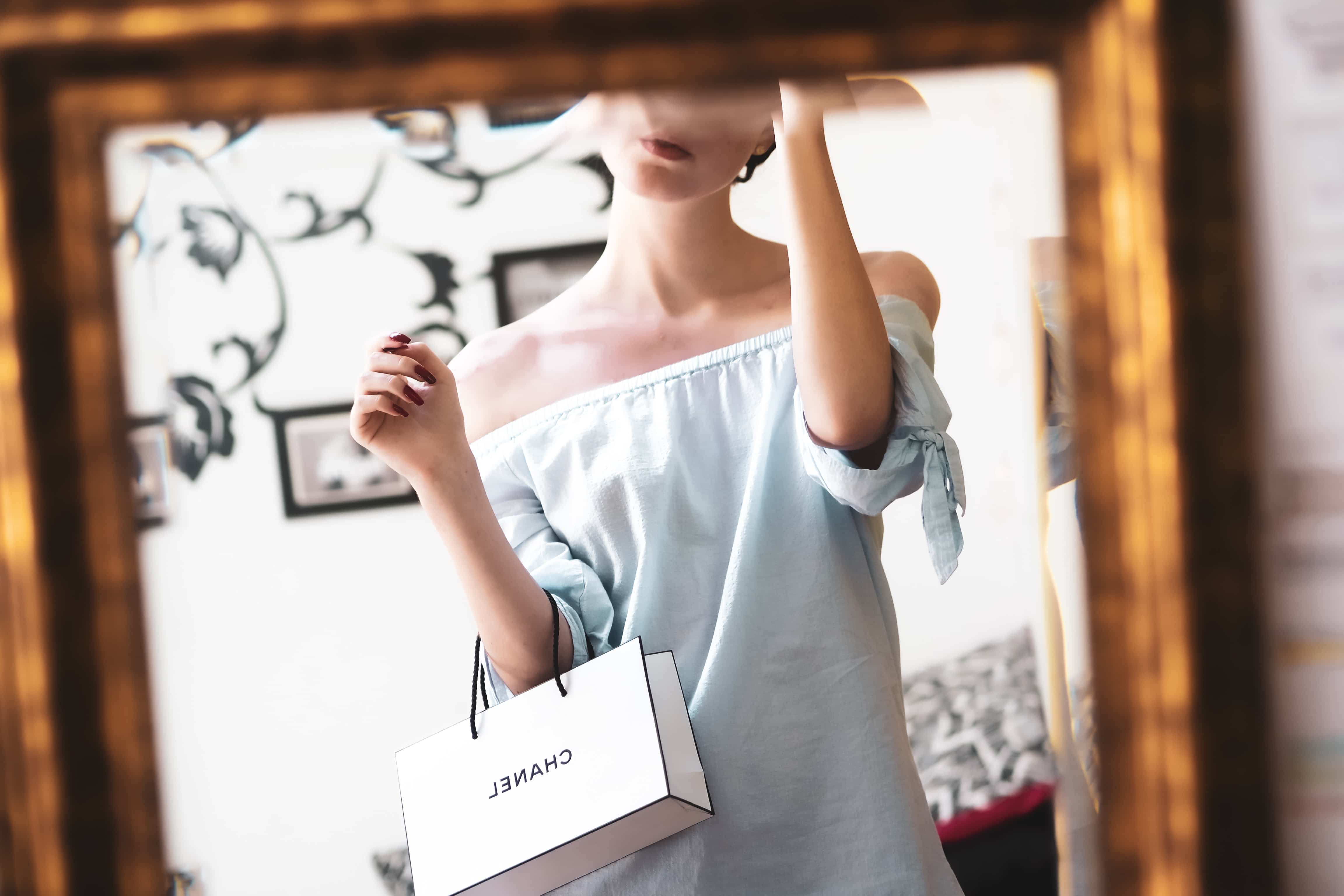 Product Discovery through AI styling advice
Meet Intelistyle's AI Styling Advisor. Our AI constantly crawls the web for the latest fashion and trends and learns from them, extracting the essence of style. Our Style and AI expert teams then calibrate it to the styling identity of your brand and your stock. Fine grained styling rules allow you to be in full control of your styling guidelines and direction. Your stock is then analysed for all possible attributes relating to cut, material, fabric, style, occasions, colour and various other fashion attributes. 
Our AI analyses more than 400 different fashion categories, subcategories and attributes to assign the right tags to every SKU in your inventory. The fashion taxonomy that is used is a comprehensive list of attributes and tags developed alongside merchandising teams and fashion retailers. It currently forms the industry gold standard for labelling clothing and accessories, covering the needs of merchandising teams worldwide, while being concise enough for it to be searchable by customers. It constantly gets updated with the latest trends on social media so that your data is always tagged with the words that your customers currently use to describe their clothing and needs.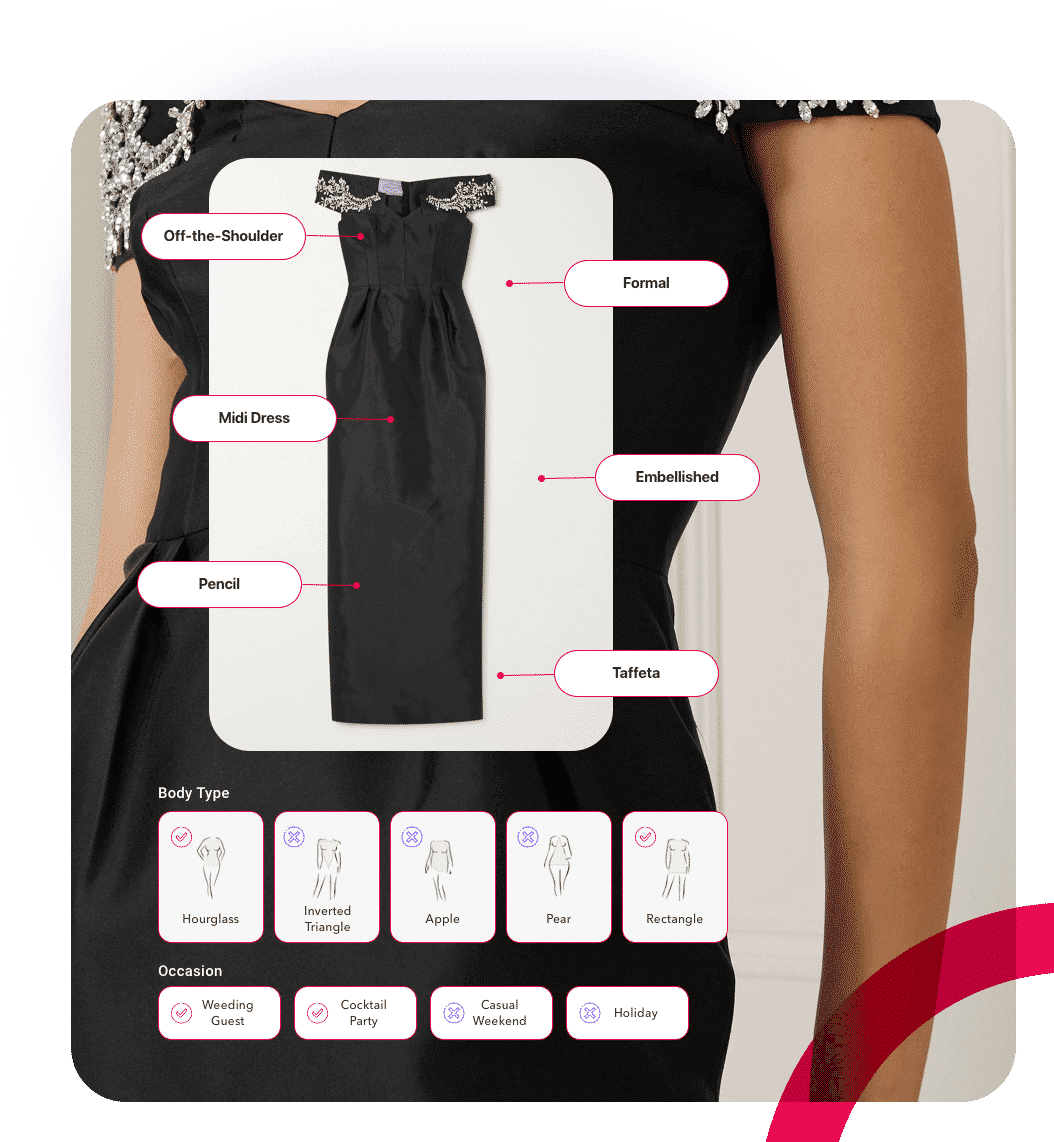 We use that taxonomy to provide customers with varied styling advice on each and every one of your product pages. The advice is so vivid and clear that it feels like you are talking to a knowledgeable sales associate. See for example the screenshot below.
In this scenario, the user is informed that embellishments add depth and volume to an outfit and that they can be used to draw attention to a part of the body and how. It also provides alternative ideas for how to use embellished pieces.
In the case of the knit cardigan shown above, the flexibility of a classic top with long sleeves is highlighted and a couple of options are given for wearing it at different temperatures.
The example below highlights the prime benefit of using vertical stripes and provides a few options for how to style them.
Personalised styling advice
We don't stop there though. We learn more about customers by asking them about their bodytype, skintone and hair tone. By going through a guided discovery process, that mirrors the conversation they would have with a stylist, we find out more about them. We provide a free styling consultation for them, telling them about the clothes that work best for them. They can save that information on their email or whatsApp for future reference.
We then use that information to customise the styling advice that we give to them. Customers will see how a particular piece of clothing compliments their bodytype or skintone. All advice gets personalised to them.
How to increase conversion on product pages
As a result, retailers enjoy improved conversion rates. In February 2020 one of the biggest fast fashion retailers in Europe introduced this feature on their website. They then run a campaign to promote the feature both through targeted display ads on instagram and facebook as well as a newsletter campaign. Customers were then split into two groups depending on whether they were exposed to the advertising of the new feature or not. Those that didn't see any advertising with regards to the feature, didn't see the styling advice. The results were impressive. Customers that saw the styling advice had a conversion rate of 130% higher than those that didn't. The feature was priced in such a way that when comparing additional gross profit to the cost of the service, the retailer got 15x ROI. It is now being rolled out across native iOS and Android apps.
What else can I do to create a personalised discovery experience?
This is just one of the features you can use to differentiate your discovery experience online and help your eCommerce website or app stand out. For example, when customers are shopping for fashion they use two different modes. They are either looking for similar items or they're looking to style something that they already have or are considering buying. You can help customers meet those needs with Visually Similar items or complete the look recommendations. Visual search is another great example of functionality that can help your customers find the product that they are looking for by uploading an image of the look they are trying to achieve. 
If you'd like to differentiate your user experience and increase the conversion rate of your eCommerce Website or apps, book a free demo with one of our conversion optimization consultants and get a price quote as well as a calculation of what Revenue increase and ROI you should expect.