Automated Product Descriptions: How to Improve SEO, Conversion and Save Costs
Ecommerce is proving to make an even more substantial part of fashion retail. According to Bain by 2025 digital sales will account for 30% of the luxury goods market. 
There is an untapped application of AI and machine learning technology that can support the growth of an e-commerce business: Product titles and descriptions.


Why Your Product Details Are Your Hidden Competitive Advantage
In the past 20 years, the e-commerce scene has been reshaped by the digital native luxury e-tailers. They have succeeded in offering great experiences that could only be compared to the in-store services of luxury boutiques. 
Creating detailed fashion copy includes styling tips from experts. This is an integral part of providing a winning online experience as it adds value to your products and gives credibility to your website.
The more people research and purchase fashion online, the more important product content becomes to gaining that competitive edge in a sea of alternatives.
Automating this process is crucial in terms of time; cost savings and operational efficiency for e-commerce retailers with a large variety of product options and huge catalogues.
Why do you need product titles and descriptions that sell?
One of the most important actions to boost e-commerce sales is to create product titles and descriptions that acquire potential customers from search engines and convert them.
Optimizing your title is an efficient way to attract the shoppers' attention in your website, and make them click-through for more information on the product.
An e-commerce study by Nielsen Norman Group found that 20% of purchase failures happen due to missing, unclear or misleading product information. This means that product descriptions are even more important to achieve a good conversion rate. 
What does "good product title and description" mean?
The ultimate goal for every on-site activity is to make sure that you are giving your shoppers exactly what they want and need.
To serve this purpose, it is essential that you are providing them with the right information on the products they are interested in.
A good product title should:
Be precise and written in simple words

Include the brand name for multi-brand retailers

Include the model name if applicable

Include the Category and Subcategory of the product

Include any defining key Attribute
Now, let's look at this product title:
The retailer has chosen to clearly highlight the brand name first and then include the model and product category with the key material. Just by reading this product title, the customer is able to know all the information they need. It is clear enough to make them decide if they are interested in the shoes and click to enter the product page to learn more. 
Now let's look at this example: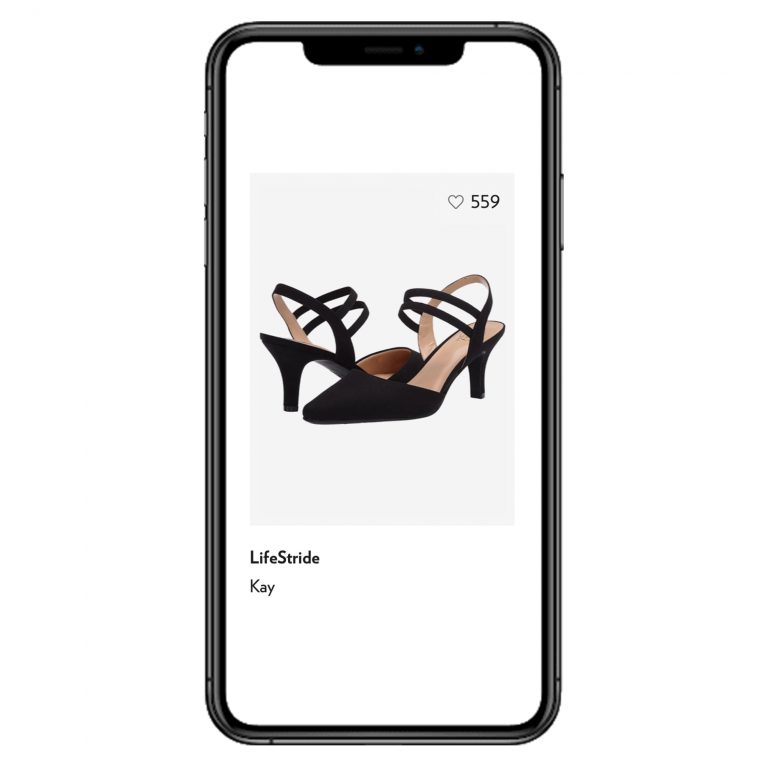 This product title is far from optimised. It doesn't give any information about the product. What little is available serves to confuse the shopper rather than inform.
On a busy product listings page, when shoppers skim the image and title quickly to find what they are looking for, the first example is what would catch your attention as it's easier to see that it matches your product criteria – or that it doesn't so you can keep browsing.
A good product description should:
Explain in a very clear way what the product does, or how it is intended to be used (even if it is self-explanatory, like a white T-shirt).
Include all relevant information (e.g. material, size and fit).
Offer added value (e.g. styling tips).
Let's take a look at this product description by matchesfashion.com: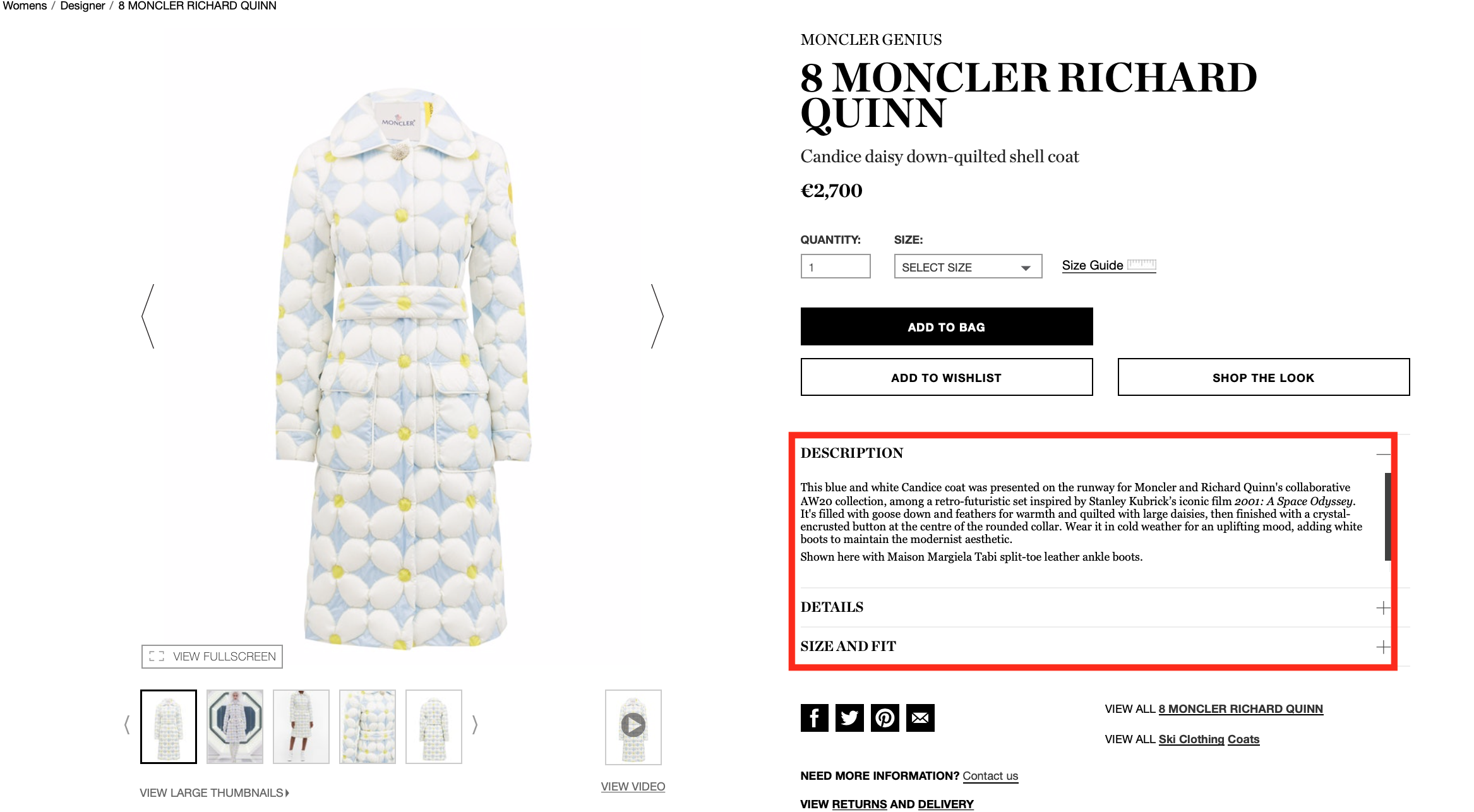 This retailer has provided all the information a shopper might need about the puffer coat. From the brand name and composition, down to even a simple styling tip, everything is visible and clear.
Styling tips make it easier for shoppers to mentally picture how they can wear the product in real life. This small addition encourages them to think about owning the product and how they can pair this item with their own wardrobe selection. Also, if they need to purchase other products to complete a stylish look.
After reading the product details and description, the shopper knows everything they need to know about this item.
Now, here's a different product description: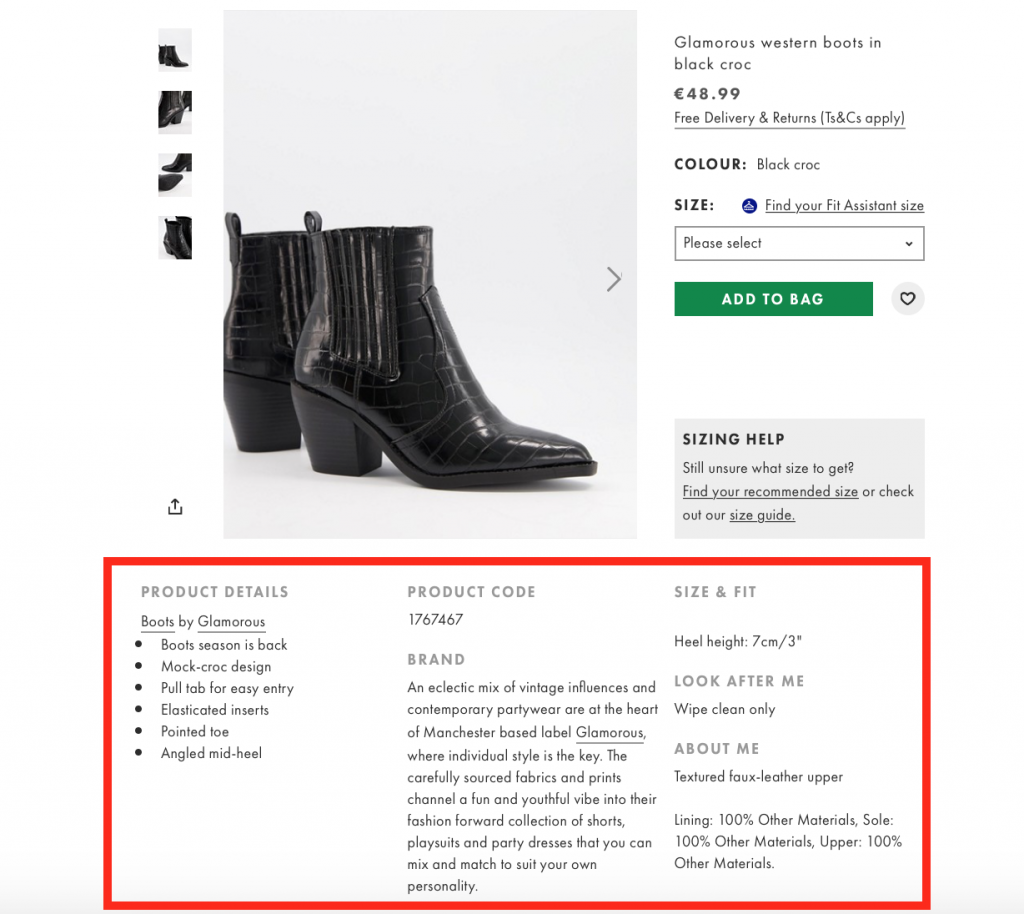 In this case, although the retailer gives some information on the highlights part, important details are still missing. The "size & fit" isn't available as well as no styling tips to compliment the purchase decision.
Consequently, the shopper might opt out of buying this pair of shoes. Perhaps they will have customer service enquiries that will use up your resources. With an optimized description there would have been no such need. 
Let's take a look at this style of paragraph description: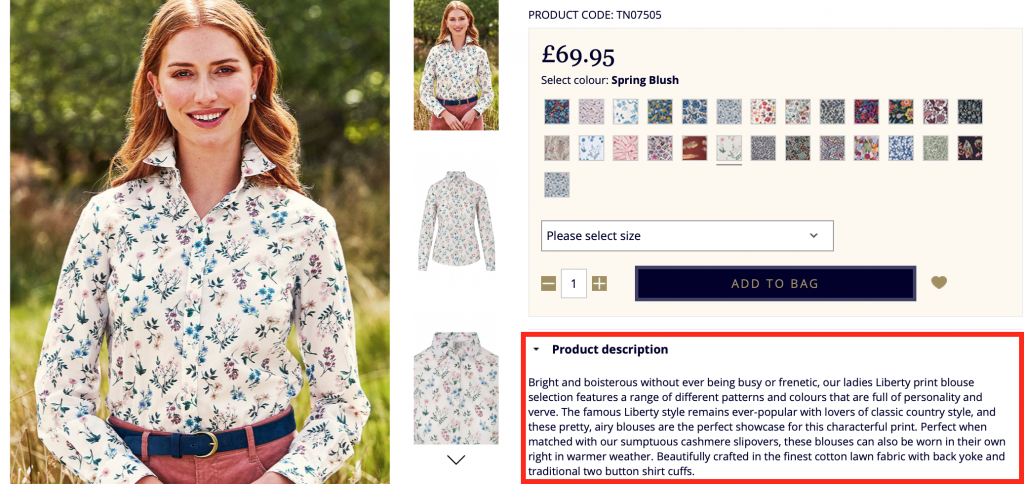 Although this description appears long enough, it doesn't offer any added value to the product because it is extremely vague.
It could be used for any blouse/shirt made by the same retailers' signature fabrics. The text is talking about the brand patterns and style but in fact the only useful information one can get is the number of different versions of the blouse. 
The description of this shirt should have included all the details that matter to the shopper. A special tip for each pattern, a styling tip for the different color combinations, a size and fit guide for the product just to name a few.
Don't Overlook Product Highlights
You can also have product "Highlights" or Features in an easy-to-digest bullet format, where the remaining attributes are also detailed, such as:
Highlights
blue

denim

high-rise

button up

wide leg

ruffle details

distressed

regular fit
Here, you can quickly skim through the product highlights to find out the most relevant purchase indicators. One can see the color, fabric, pattern and composition without committing to reading a long paragraph.
This style of details further inform the shopper on what the product they consider purchasing will be like in real life, making it easier and faster for them to reach the purchase decision.
But simply including product highlights doesn't mean that they are an improvement on your product page:
This retailer displays the product picture but neither the shopper nor search engines are going to find this information useful on its own.
The table displayed doesn't give any clue about the kind of fabric used for these sneakers, the sizing, the way they should be styled, or the occasion they are intended for. This kind of product details are very unlikely to convert. 
According to sales experts working with Amazon, there is anecdotal evidence that placing the right keywords in product descriptions also increases search rankings. Especially when it's done in bullet points.
For your product pages to reach their full sale-boosting potential, you need these power keywords – or attributes – at four main places:
Product titles

Meta descriptions

ALT tags

Product descriptions
Ideally, you would use the same keywords in your meta descriptions as you do in your product title and descriptions for fully optimized SEO. This pattern can be fully automated with A.I.
How to automate product titles and descriptions?
Intelistyle's A.I. and Visual Recognition technology automatically  computes categories, subcategories, attributes, body types and occasions that are right for a product, directly from your product photography.
The algorithm creates each product description by feeding all that information into one of our templates that are optimised to your brand tone of voice and strategically designed to optimise sales.
Let's take a pair of jeans for instance: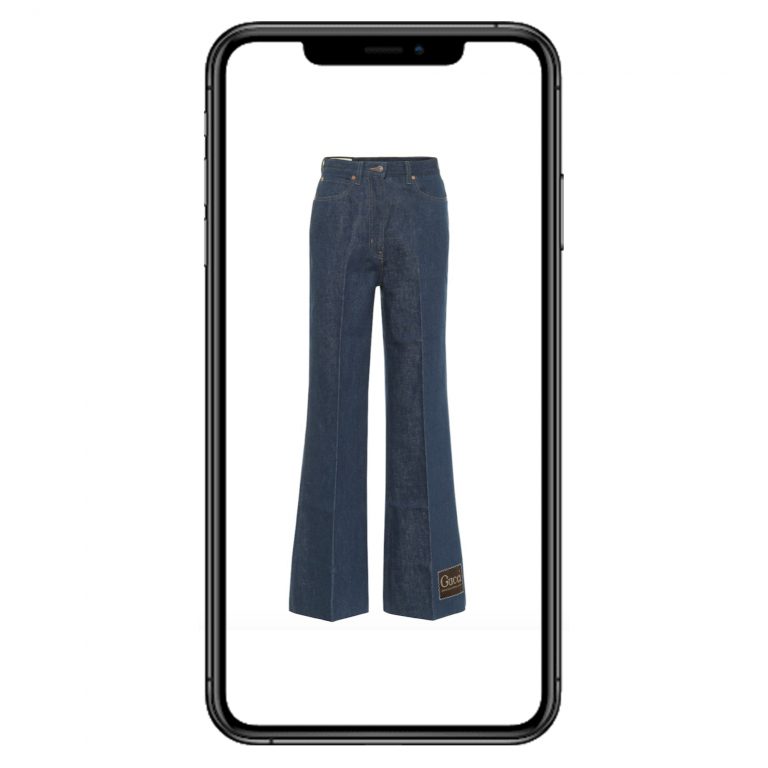 Through Visual Recognition technology, it would be first matched to the correct Category. Then it would be assigned a Subcategory and finally enriched with fashion-specific attributes from our extensive attribute groups such as fabric, cut, fit and more as applicable.
A.I. will use all that information to choose the best template and fill in the jeans' details, creating a small, SEO friendly title and unique product description like this: 
Product Title:
"<BRAND> <KEY ATTRIBUTE> <FABRIC ATTRIBUTE> <SUBCATEGORY> <CATEGORY>
"Gucci High-waisted Denim Flared Jeans"
Product Description:
"These <COLOR ATTRIBUTES> <FABRIC ATTRIBUTES><SUBCATEGORY><CATEGORY>s would be perfect for <BODY TYPES> body types and will be a lifesaver choice for <OCCASIONS> events." 
"These high waisted blue denim flared jeans would be perfect for hourglass, pear, apple body types and will be a lifesaver for smart casual events."
Why You Need To Know About Precision vs Recall For Optimised Product Information
When classifying items, A.I. and machine learning models run into the precision-recall trade-off problem. For models working with real-world data we can either have high precision or high recall but not both at the same time.
What Is High Precision
High precision would translate into descriptions containing highly accurate information, but that information may be incomplete to some level.
In this case, for a pair of blue, frilly, high-waisted jeans it may mention that it is blue, high-waisted jeans but miss the fact that it is frilly. 
What Is High Recall
On the other hand, high recall would translate into complete descriptions which may, however, mention some irrelevant labels as well.
For the same jeans, in this case it may mention that it is  blue, button-up, flared, belted  jeans while the jeans aren't actually belted.
How To Optimise For The Right Balance
By optimising prediction confidence thresholds, Intelistyle's models can be tuned for either precision or recall or anywhere in-between depending on your specific requirements.
It is possible to run this as an A/B test in order to evaluate which point on the precision-recall spectrum performs best with your customers.
Intelistyle's models are continuously learning and improving. So over time as the model learns from analyzing your unique stock, it will get closer to the ideal situation of having both high precision and high recall.  This will be automatically reflected in your descriptions.
How Intelistyle Automates Styling Advice
Additionally, Intelistyle is able to automatically generate stylish outfits for any item. This information can also be used to include specific styling advice in the description, which could even link to other products
e.g. "wear this with a white tank-top, black formal sandals and a bucket bag for a stylish smart weekend look!"
What to look for when choosing automated product titles and descriptions?
The core of automated product titles and descriptions rest on a strong product attribute tagging structure. When choosing the model you are going to use, it is important to make sure that it has: 
Visual recognition and multi product detection:
Detect and separately tag all products on your editorial or user-generated full-body photography using visual recognition technology.
Even if you mostly have clean single product photography, look for a model that can work not only with clean product shots but also full-body model photography with backgrounds.
This is the best indication of a strong and robust model architecture.
Fashion specific data set:
Use a fashion-specific data set that is calibrated to address your individual stock needs. This approach ensures each product on your catalogue is enriched with the most relevant data to your business model and sales goals.
Using a generic list of attributes will not give you the level of precise detail integral to fashion purchase decisions.
A product-tagging tool will offer further control of your product tags so your merchandising teams can review and fine-tune your product title and descriptions. 
Speed editing enables your in-house merchandisers to approve/edit automated product details faster and without the effort and cost of manual work.
The editor option allows you to cut down operational costs while still overseeing the final level of approval.
Attribute groups break down and assign your tags for each product in a categorical way.
This approach makes sure each product is tagged for optimum coverage in all parameters that matter, which is then reflected on the quality of your product details.
What does automation offer to your business?
Cost Saving & Operational Efficiency
The most important advantage of automating this process is saving money and time for your business.
Writing product titles and descriptions require a great deal of effort when done manually.
For a text caption, a person needs to take a look at the picture, think about the product and then write the text.
Let's use the best-case scenario and assume that you have hired:
an experienced freelance copywriter

who doesn't make spelling and grammar mistakes

who is also a fashion expert

writes the product descriptions directly on your CMS

and doesn't take a break!
Creating fashion copy for each item could take up to three minutes. As a result you will get 20 product descriptions per hour while automatically, this can be done in fractions of a second.
Let's also assume that your copywriter is a rare find and charges you no more than £0.70/product description. For a catalogue of 20000 products you will need to spend £14000 and it will take over 41 days for the descriptions to be completely finished.
AI can provide you with significant ROI on this. Saving you time and money, while ensuring consistency and freeing up budget and resources to redeploy on other priorities.
Just as important as cost savings, an automated process offers the additional benefit of great consistency on your e-commerce store.
A.I. will categorize all your products in a very structured and precise way avoiding any risk of inaccuracy in your catalogue and metadata.
In other words, with A.I., tank tops will always be mentioned as tank tops, mini skirts will always be mentioned as mini skirts on your website.
Even when it is not multiple people – as is the real life case for many retailers – but always the same, single person writing your product information, humans by nature can't be 100% consistent, 100% of the time.
Therefore, even the most experienced copywriter, who has additionally undergone the most detailed fashion training can't give you the accuracy and consistency that A.I. will.
All this product information can be customized to your brand's tone of voice to resonate with your buyer personas, and comply with your internal guidelines and restrictions.
Topshop, for example, is a fast fashion retailer targeting a younger audience, who choose to speak directly to the customer using a friendly tone-of-voice: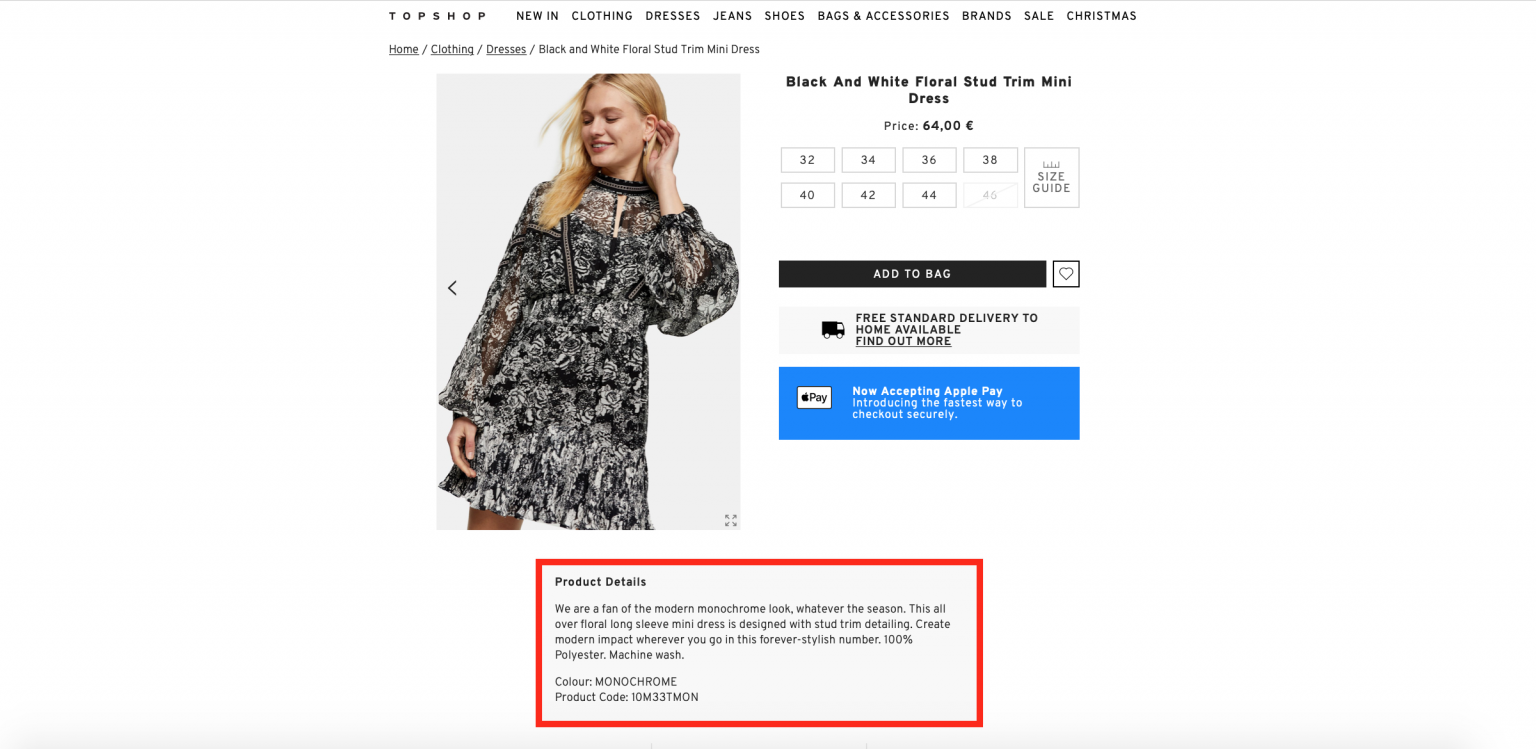 On the other hand, Mytheresa, a luxury e-tailer, prefers to use more professional and impersonal speech: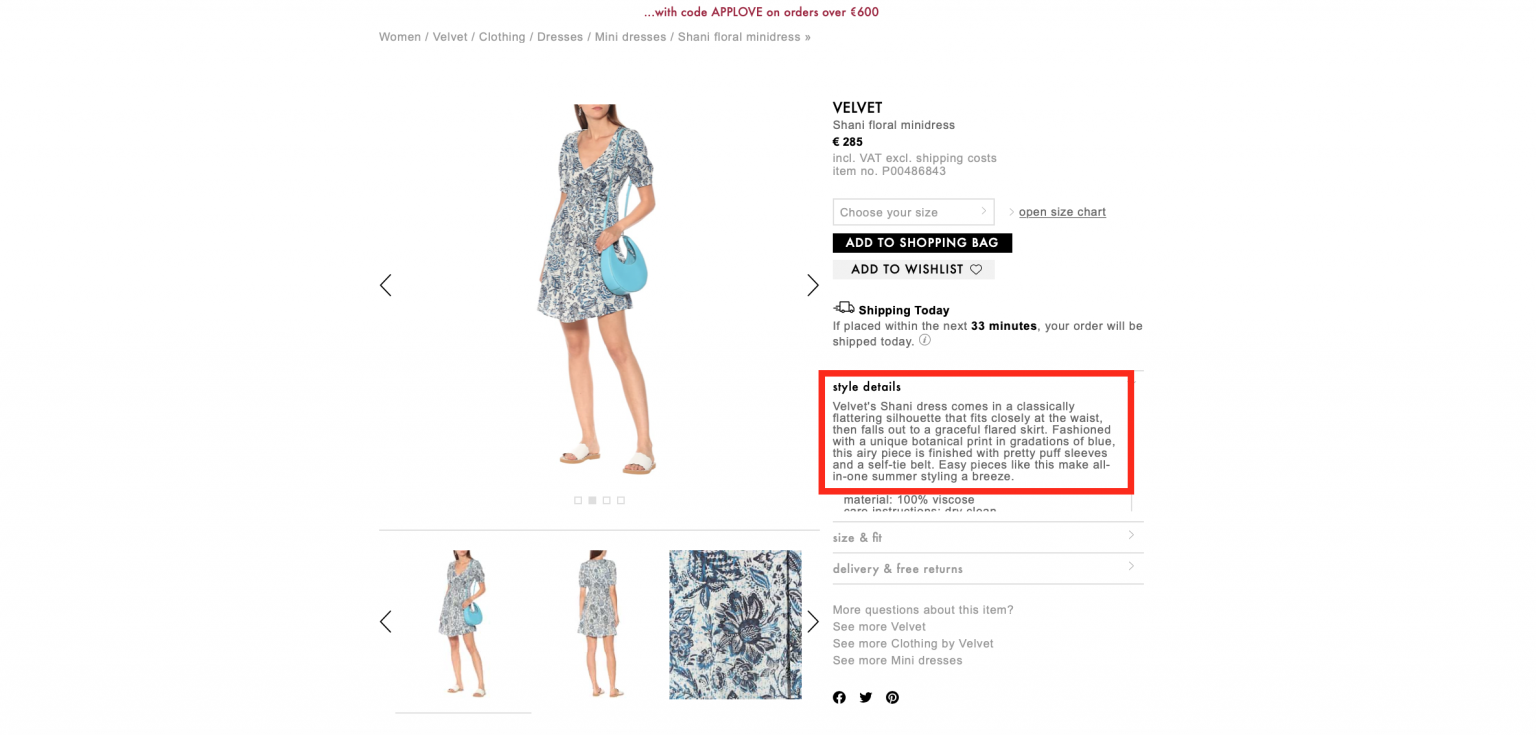 This is because the tone of voice is a crucial part of building an engaging and long-lasting relationship with your target customer base.
If your tone of voice doesn't resonate with your brand identity and target audience, you will lose out on one of the easiest ways to build a genuine and trusting relationship with your customers.
Addressing Multiple Buyer Personas
Yes, this is obvious but can not be underlined enough. It is key to make sure you are addressing the target buyer persona for your brand and even for individual products every single time.
If your brand has multiple collections/ranges targeted at different buyer personas – your title/descriptions can be tailored to use different templates that resonate best with the buyer persona you want to address for that product group.
A.I. can automate this process so that you can speak personally to all your different buyer personas with a tone of voice that is still always consistently on-brand.
Making sure the right group of products always speak to the right buyer persona is the principle of converting your visitors into long term, loyal customers.

Using automated product descriptions also offer you great flexibility.
Imagine that you have to change the content of your website in a very short time. This often happens during transitional seasons.
This transformation can be extremely fast when using A.I. and mostly, at no additional cost.
Further, A.I. provides an additional significant asset for multilingual websites. Automated product descriptions and titles can be generated in any language.
This means that retailers who operate in multiple regions using different languages can use a single automation process and get their product content as consistent in as many languages as they need.
After defining your buyer personas and your target audience, A.I. will be able to create automated product descriptions and titles that will rank your website higher on Google.
This will come as a result of strategically using the right keywords and highlighting the key features of each product.
Our model will use plain language to create unique and distinct fashion copy. If someone is looking for a polka dot dress, or a pair of trousers for a special occasion, they will be directed to your product pages because the descriptions will give them exactly the information they are asking for.
Our templates are created after thorough research of the most popular keywords and power words that are proven to convert and improve SEO.
Different templates will make sure you get unique descriptions
Intelistyle will use various templates, even for the same product types to ensure that our automated product descriptions are non repetitive and SEO-optimised. 
For example for a black crew neck T-shirt one template will be: 
This <black> <crewneck T-shirt> made from <100% organic cotton> has a classic cut. Use yours to anchor your <casual> looks.  
For a visually identical but different black crew t-shirt, the A.I. will rotate to a different template:
Crafted from <100% organic cotton> this cut classic <crewneck T-shirt> in timeless <black> can be used for your every look, from <off-duty> ensembles to <casual> evenings out.
Using repetitive titles will provide no improvement on your SEO and rankings. To the contrary this type of product titles will very likely harm your SEO.
Why choose automated product titles and descriptions over manual?
To create a high-end experience at scale, adopting the benefits of new technologies is not only inevitable but also very profitable.
A.I. will ensure that you get consistent, SEO friendly, unique and appealing content for your website.
For an online store, it is sometimes overlooked that the majority of your pages are in fact product pages.
This evident realisation alone is enough to make you recognize the great deal of time and money you will start saving when you switch to an automated process – even if only on your product pages. 
Optimized content is your most sustainable asset and finding the right solution partner to automate this process will bring you immediate and growing ROI. 
How the largest multi-brand luxury retailer in South Europe is using automated product titles and descriptions
Let's take a look at the case study of a multi-brand luxury retailer that switched to automated product titles and descriptions. They have a highly diverse catalogue and are based in the South Europe Region.
The retailer has a core brand, addressing a more sophisticated and niche buyer persona and a side brand targeting a younger audience. 
The goal was to automate product titles and descriptions for their extensive catalogue of clothing, shoes, bags, accessories and jewelry using a different tone of voice, appropriate for each buyer persona that was established by working closely with their buying and merchandising team. 
The additional challenge was that the retailer is based in a non-english speaking region and wanted to implement the solution very fast.
Intelistyle translated all product tags to their regional language. 
The fashion taxonomy was then matched and calibrated to their in-house brand taxonomy.
The entire calibration process was completed in a couple of days.
The customer's main pain points were: 
All titles and descriptions were manually created. Their large stock and regular new drops made it practically impossible to cover their entire catalogue at any point in time. 

90% of their product titles and descriptions weren't detailed, only including brand/product names and not even the product category costing them conversion with every single click. 

There was no clear distinction between the tones of voice used for their mature and young brands. 

Their titles and descriptions weren't SEO optimized.
Intelistyle's automation solution addressed and recovered all pain points with a tailored approach that was focused on all titles and descriptions being on brand at all times.
ROI will only keep growing every time the retailer receives a new weekly drop and during seasonal transitions.
Additionally the retailer noticed a growth of 30% in organic visitors. The Google ranking for popular search terms increased about up to 20 places six months after publishing the automated texts. 
They also managed to cut down their cost by 80% and time by 95%. Besides they reallocated their merchandisers who were working full-time on generating manual product information to areas of their business that needed the additional man-power. 
Automating is the future of e-commerce
A McKinsey report predicted back in 2017 that by 2055 up to 50% of today's work activities would be automated.
Product page automation is expected to become the norm in the very near future to bring substantial cost savings and operational efficiency to businesses.
As with all evolving technologies, early adopters will be the winners of greater revenue uplift and market share.
Get in touch today to find out how we can help you automate your most important asset – your product pages – with minimum implementation time and effort.