Find out how remote selling allows your brand to sell more without the cost of increasing your existing sales capacity
Increasing Post-Pandemic Competition
Luxury and fashion consumers expect to spend less in physical stores and more on e-commerce moving forward, according to McKinsey & Company. They are not alone in establishing that online fashion sales will keep growing exponentially even when concerns about the Covid-19 pandemic ease. A study by Alvarez & Marsal in partnership with Retail Economics found that a quarter of the entire population who have adopted online shopping during the pandemic do not intend to change their new habits.
While store traffic has nearly halved from a year ago, consumers are more inclined to buy and the average fashion spending has actually increased. However, as the demand for online fashion grows, so does the competition.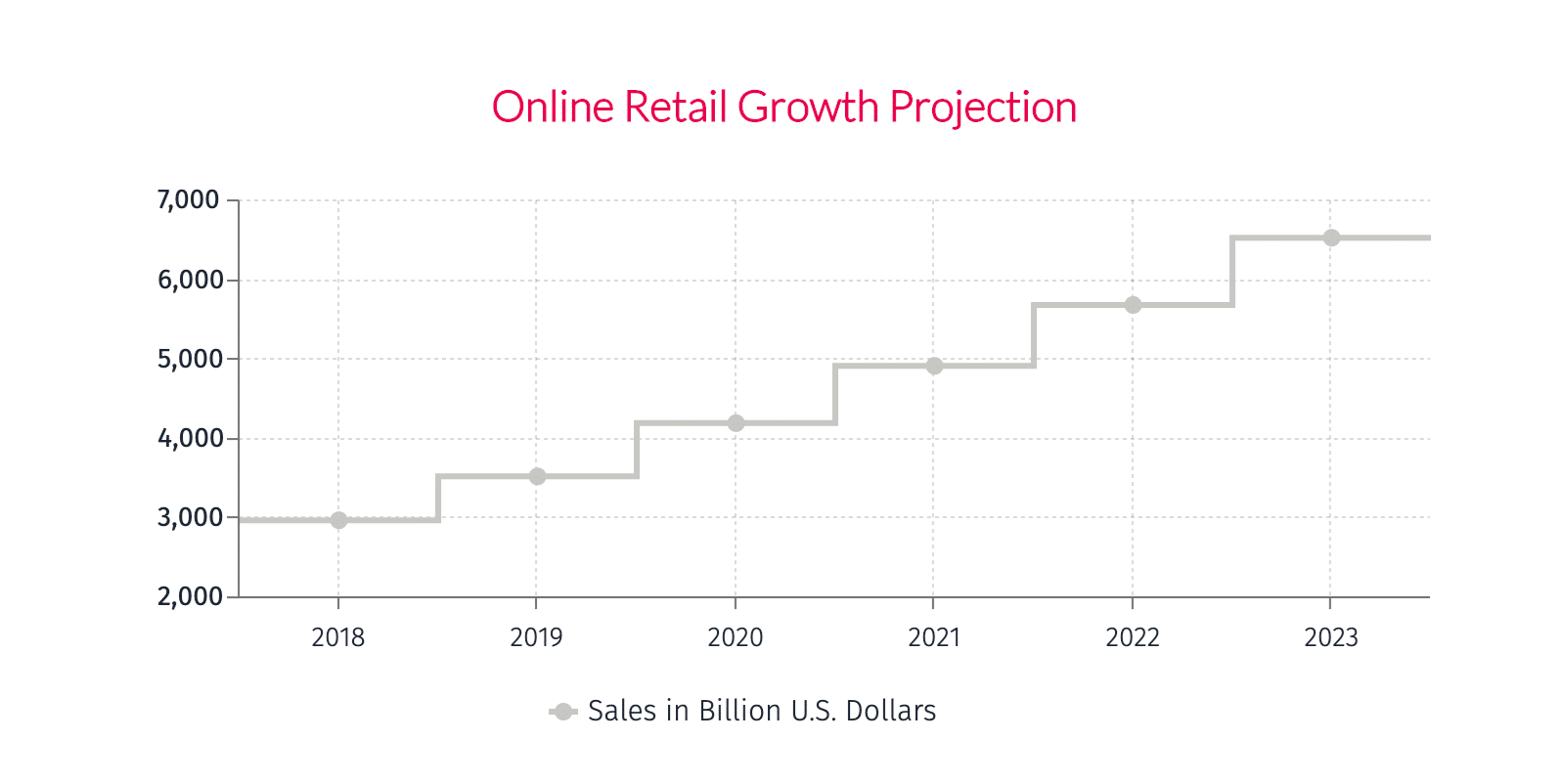 Service Is The New Competitive Advantage
In-store services conducted remotely have become a major competitive advantage across the retail spectrum in recent months. With global retail bodies warning that brick and mortar footfall will remain low, remote selling capabilities become crucial to the success of fashion and luxury retailers.

Personalised shopping assistance is proven to increase consumer spending. While in the long run, strengthening the relationship between brand and consumer significantly increases customer lifetime value. Luxury and fashion brands are experts at relationship building and catering to the individual's needs. The new challenge is doing this remotely and at scale.

Director of Brand Engagement at retail intelligence agency Stylus, Katie Baron-Cox, explains to Forbes that "Generosity of service will become a key new metric for brands'. With the correct tool, personalised services will no longer be limited to in-person encounters: Retailers can easily channel their existing physical sales force to remote selling and enjoy a greater share of the growing online fashion spending ready to be claimed.
What Is Remote Selling
Remote selling – or virtual selling – is a buying cycle where sales and post-sales communications take place between a customer and a sales associate in different physical locations. Put simply, it means that a sales associate can sell to a customer who is located anywhere in the world.
Why Choose Remote Selling
In-store sales associates are a fashion retailer's biggest asset in relationship building and customer loyalty. They communicate brand identity, convert new customers, truly know their loyal customers and serve them with the personal touch that is expected. All of this translates into higher single transaction values and long-term customer retention.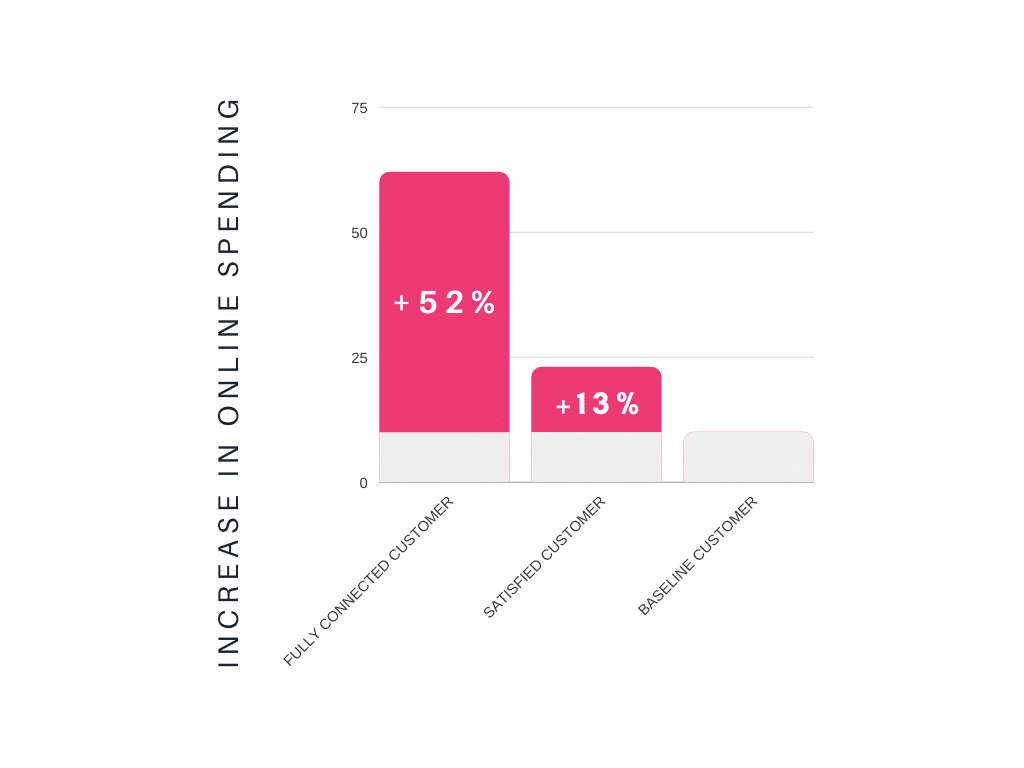 Instead of restricting your sales capabilities to a branch or even a physical space, remote selling means that their expertise can be utilised when and where it is most needed. Yet, there's a gap in resources that enable retailers to build in-person relationships remotely and recalibrate existing modes of selling for the online space.
Enter Intelistyle's Remote Selling Solution that delivers all benefits of face to face, in-person selling with the additional power of A.I. and data intelligence in one, easy to use App that is specifically designed to meet the unique needs of fashion and luxury retailers.
The Benefits Of Using A Remote Selling Tool
Sell On A Global Scale At No Extra Cost
Regardless of where they are based, sales associates can service any customer from around the globe as if they have just stepped into their local branch. The beauty of remote selling is that you can expand your in-store services to any location without the associated cost of opening a store and building a new team.
Zero Training Required
Once a retailer starts using Intelistyle's Remote Selling Solution, store managers can easily onboard as many sales associates from their team as they want with a simple invite. The App is designed with user-friendly functions and quick user tips so that zero training is required to start remote selling immediately.
Increased Sales Capacity
Real-time customer requests for shopping assistance collect in a joint pool where all sales associates can see and pick them up. This means that your sales teams can swiftly alternate between serving customers in the store and serving an online customer remotely when store volume is low. Or even keep serving customers from their home. Removing physical barriers of service increases the capacity of your existing sales teams without investing in additional human resources.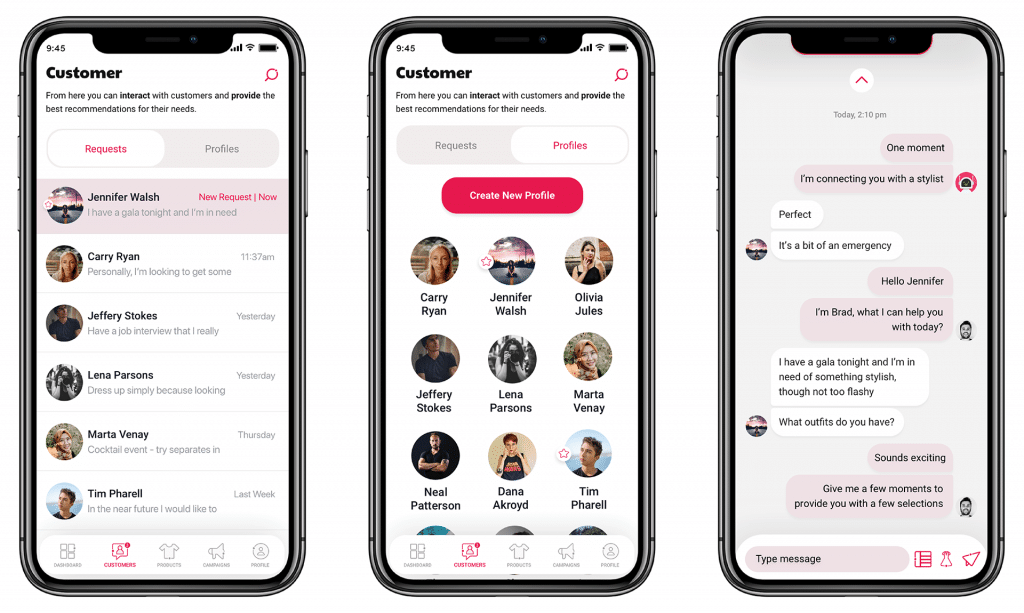 Increased Sales Effectiveness
Assigning your sales force to real-time demand instead of location ensures that no sales opportunity goes missed. Additionally, assisting the customer at the optimum point when they are already invested in making a purchase allows sales associates to successfully upsell and cross-sell at the fraction of a full sales cycle. This means they can serve more customers and make more sales in the same time frame.
Enriched Customer Data
Sales associates can easily create customer profiles with detailed information on size, body type, colouring, price ranges as well as clothing attributes the customer favours and dislikes. They can even link a customer's social media accounts and Pinterest wish boards to the profile. The A.I. merges all this information to filter a retailer's entire stock. Sales associates can quickly see the products and complete outfits that match an individual customer's requests, without any manual search.
The profile is enriched with every interaction to include favourite looks and products, preferred occasions and past purchase activity. Sales associates can even take notes directly on the profile for future reference.
Customer profiles can be shared, edited, marked as VIP, downgraded or deleted at any time.
Uninterrupted Customer Experience
In the event that a returning customer can't be served by the same person, the sales associate taking over has access to their profile details, activity and notes. Additionally, they are supported by Intelistyle's award-winning A.I. Stylist on the next best actions for that individual customer.
This smooth hand over ensures that a customer can pick up their interaction with your brand where they left, independent of who is serving them. Continuity of exceptional service builds a trusting relationship with your customers and increases their lifetime value.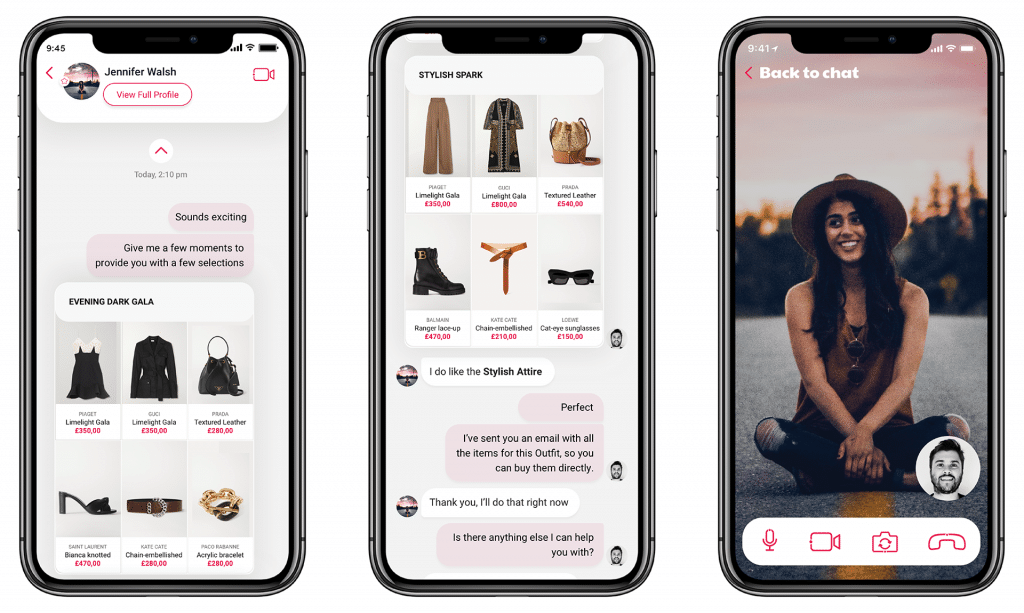 Choice of Multiple Platforms
Customers can choose how they get remote assistance: Intelistyle's Remote Selling App supports multiple platforms including an online chat on the brand website and on the customer's WhatsApp. Sales Associates can also get on a video call with the customer directly on the App. This feature closes the physical gap in selling from a distance so that sales associates can truly recreate a face to face store visit: display products from the store, demonstrate fit or show styling tips. 
Data-Driven Recommendations
While serving a customer, sales associates see product and complete outfit recommendations put together by the A.I. based on individual customer preferences. The outfit recommendations are presented in a tasteful mood board layout and can be titled for an occasion or trend.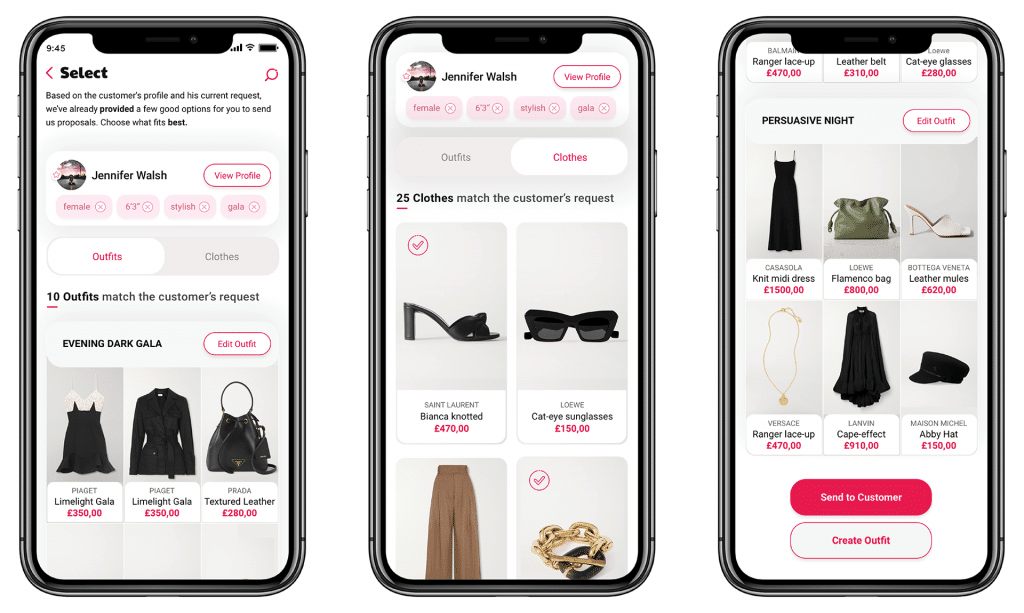 A.I. recommended outfits can be edited quickly by changing, adding, removing products or by changing the outfit layout with an easy drag-and-drop function.
Alternatively, sales associates can create an outfit from scratch by using detailed search filters to find the right products at the fraction of the time spent on manual search.
One or multiple recommendations can be shared with the customer directly on the chat at the click of a button.
Increased Team Performance
Managers can track individual and team performance on a master dashboard. Moreover, sales associates can monitor their own performance compared to the team average on important metrics including total sales and conversion. They can see the distribution of their commissions from individual products and from complete outfits.
This visual, easy-to-digest dashboard allows sales associates to see their strengths and weaknesses. The weekly Leaderboard ranks top performers, introducing an element of gamification and constructive competition. These metrics encourage sales associates to meet higher performance levels and helps them identify areas of improvement.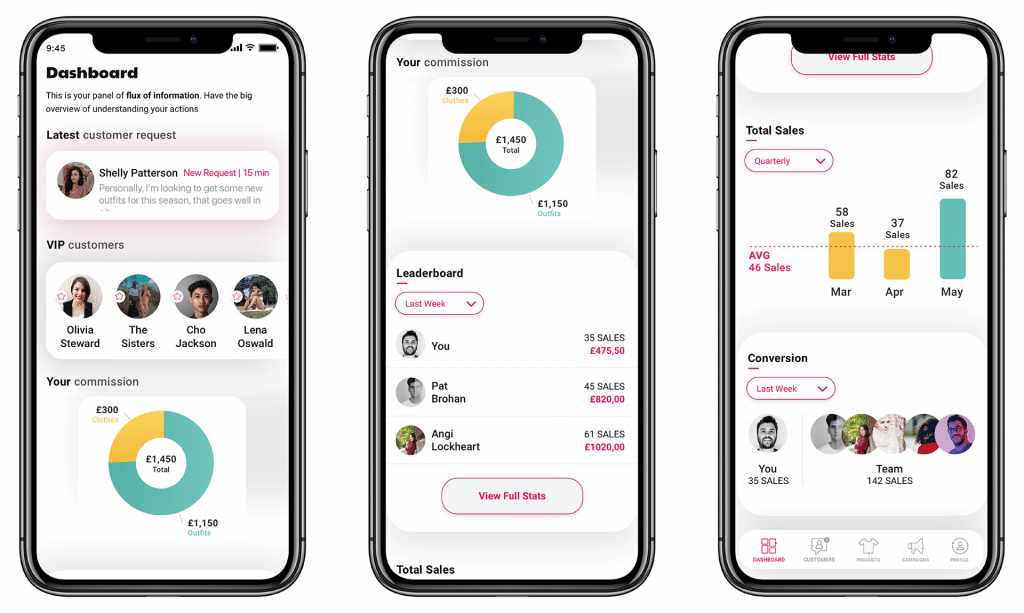 Sales Strategy Support
Every day, sales associates can see new-in products coming to the online store, the trending products and most popular items. This knowledge allows them to make strategic sales decisions such as prioritising the newest stock or pushing products to clear out older stock before they are discounted.
Empowered Sales Associates
The App empowers your sales teams with a wide range of functions designed to increase their speed without compromising their service quality.
Each sales associate can create and add to their own list of pre-set questions and group them under topics such as price-related or size-related enquiries. Pre-set questions significantly increase conversation speed, while ensuring the tone-of-voice is always on point.
A comprehensive in-built filtering system lets them quickly refine stock by price ranges, available sizes, body types, colours and detailed product attributes. They can even browse the entire stock for all items that are suitable for a requested occasion – such as a cocktail party or a trend -such as monochrome looks.
Upon customer request, sales associates can search for stores by location and stock availability to find the best physical store to visit.
Through all of this, sales associates are able to serve customers with the human touch at A.I. speed.
Final Thoughts
The future of retail will be increasingly more remote and not only due to the pandemic effect. Yes, Covid-19 accelerated this shift but consumers were already feeling more comfortable online and prioritising the convenience of service. The most successful retailers are the ones who have adopted a customer-centric approach that combines physical and digital, technology and human to focus on the most important metric: Meeting customer demand wherever that is.If you want to see Intelistyle's Remote Selling tool in action and explore how you can start selling remotely,
get in touch
!