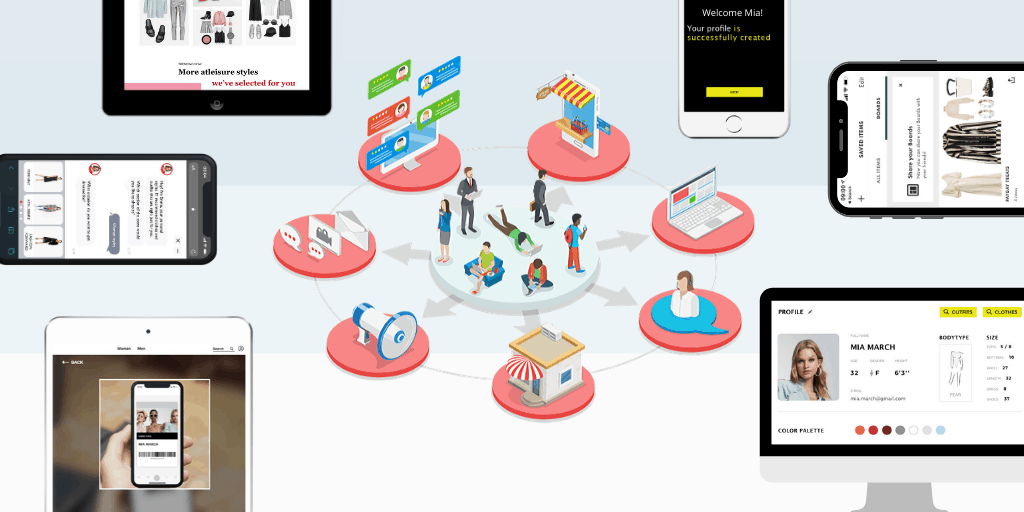 Find out everything you need to know about omnichannel retail strategy and how it will benefit both your business and your customers
The question of 'where' a fashion retailer needs to be leaves its place to a statement in 2020: Everywhere. That is, everywhere their customers are.
The Business of Fashion and McKinsey's "The State of Fashion 2020" report forecasts that in the next 3 years, nearly 100% of retail growth will come from omnichannel sales.
Let's look at the what, the why and the how of an omnichannel retail strategy to grow your business.
What Is An Omnichannel Retail Strategy…Truly
Omnichannel retail strategy is a cross-channel organisational approach to marketing, sales and customer service that creates an integrated and cohesive customer experience no matter how, when or where your customer reaches out to your brand.
The keyword here is 'cross-channel' as opposed to multi-channel: Because while all omnichannel experiences use multiple channels, not all multi-channel activities are omnichannel. Cross-channel entails the combination and sharing of data across all channels to create an ongoing and seamless customer experience.
Single Channel vs Multi-Channel vs Omnichannel
You can actually spot the difference by just looking at how the words gradually become more integrated.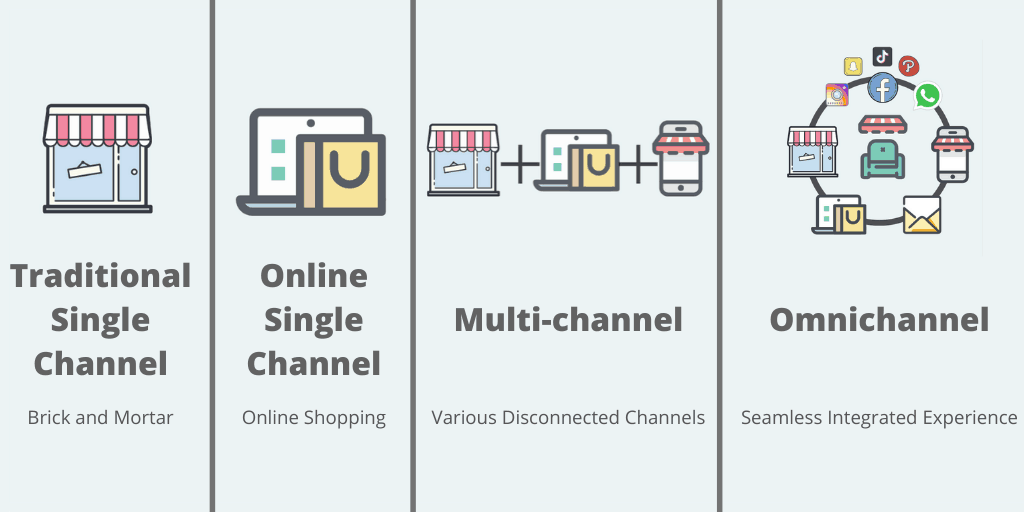 Let's break down the terms:
Single Channel Retail: This means you are selling your products via one sales channel only. The sales channel can be a brick-and-mortar store, your online store, an online marketplace like Amazon or even on Instagram.
Multi-Channel Retail: This means you are selling your products on multiple different channels. While this can be multiple online channels, it usually refers to both online and offline. You have a strong online presence and your customers know where to find you offline. You are reaching out to your customers on social media and via e-mail. Multi-channel is a great first step to get your customers more engaged with your brand.
Omnichannel Retail: Omnichannel takes place on multiple channels, just like the multi-channel retail strategy. There can be no omnichannel without multi-channel. The key difference is that omnichannel retail strategy connects all channels for a fully-integrated shopping experience and a seamless transition across all platforms. The customer data and insight from your multiple channels come together to form a unified customer profile. You offer the customer exactly what they need, the moment they need it, anywhere and from any device – in both the digital and physical worlds.
Now, let's look at the tangible benefits of an omnichannel retail strategy for your business.
What Is The Value Of An Omnichannel Retail Strategy
Value 1: Gain Competitive Advantage
Your customers are already omnichannel, even if your brand is not. 4 in 5 customers shopping in a physical store browse the internet before or during their purchase decision to compare different products and offers. Reversely, customers who complete a purchase online visit a physical store to get a feel of the product and fit. In fact, an impressive 73% of customers use more than one channel and one device during a single shopping journey.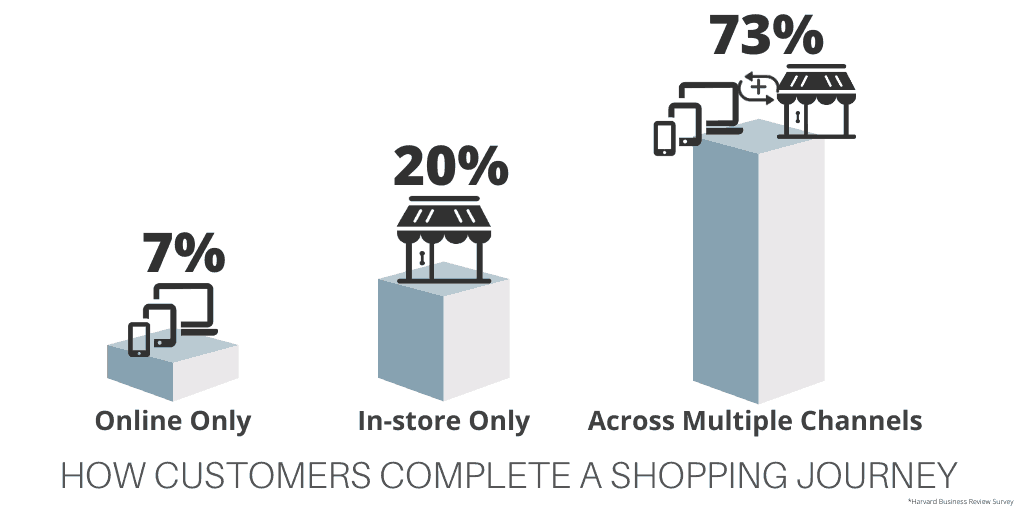 Being present on all channels that your customers are gives you a competitive advantage and ensures that you don't lose a sales opportunity because your customer saw a competitor's offering on a platform where your brand isn't present.
Value 2: Better Customer Experience Means Higher Customer Retention
What do your customers expect? 9 in 10 global customers want an omnichannel service and expect companies to know their past preferences regardless of the channel of communication. Also, they want that experience to be convenient as well as consistent across all channels.
And good customer experiences are becoming increasingly important. In the past three years, the number of customers who ended their relationship with a loved brand after just one bad experience went up to 33%. The most stated reasons for the experience being 'bad' were: 'wasn't personalised enough' and 'wasn't convenient'. Remember that keeping your existing customers is significantly more profitable than acquiring new ones. Every percentage increase in customer retention correlates to x5 times increase in profit.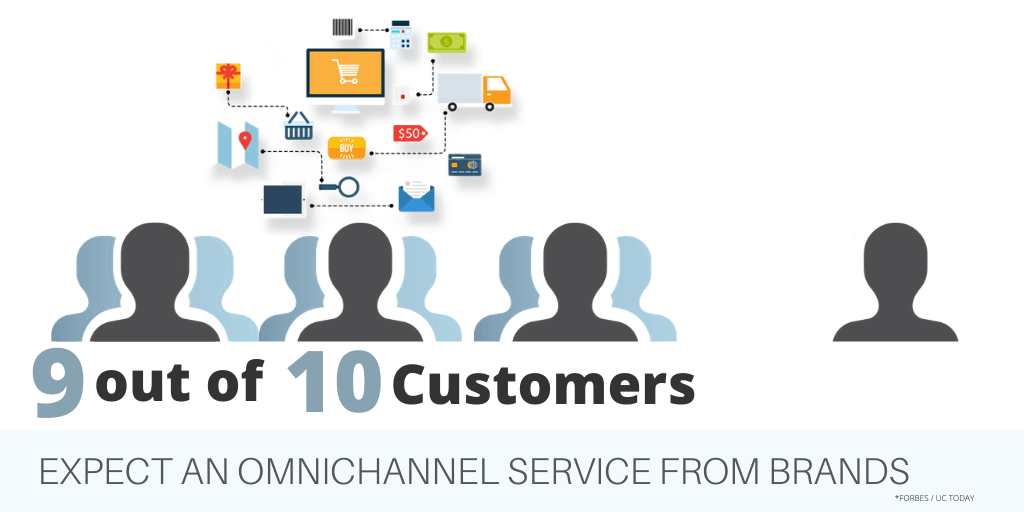 Breaking down the barriers between different channels of a business empowers the customer to create their own definition of a 'good experience' by using the channels that feel natural and convenient to them.
Value 3: Increase Sales and Engagement
Making your sales and marketing strategy omnichannel might require some initial effort but it will be worth your money and time.
The more channels a customer uses, the more valuable they become…with every additional channel used, shoppers spend more money with a brand both online and in-store.
A Harvard Business Review study of 46.000 shoppers established just how much: Omnichannel shoppers spend 4% more on every shopping occasion in-store and 10% more online than single-channel shoppers. And the best part is, each channel you add directly translates into additional spending. For instance, for shoppers using 4+ channels, the in-store spending jumps up to 9% more.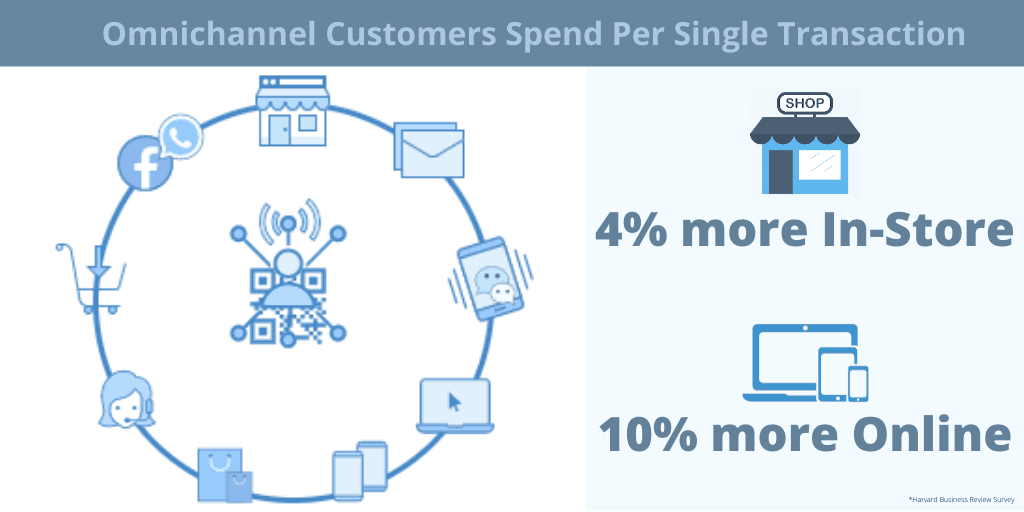 On the other hand, omnichannel marketing campaigns that use 3+ channels outperform single and 2 channel campaigns by up to 250% more engagement.
This means that adding just one more channel to your strategy can be the simple step that drastically increases your revenue.
Value 4: Improve Operational Efficiency and Reduce Costs
Moving to an omnichannel retail strategy will make your business operate more efficiently with reduced operational costs.
65% of customers find a positive connected experience with a brand to be more influential than great advertising. When your brand is fully connected with customers, the experience will be your advertising and word of mouth will do new customer acquisition for you. Deloitte reports that omnichannel operations directly result in increased effectiveness and lower costs for marketing.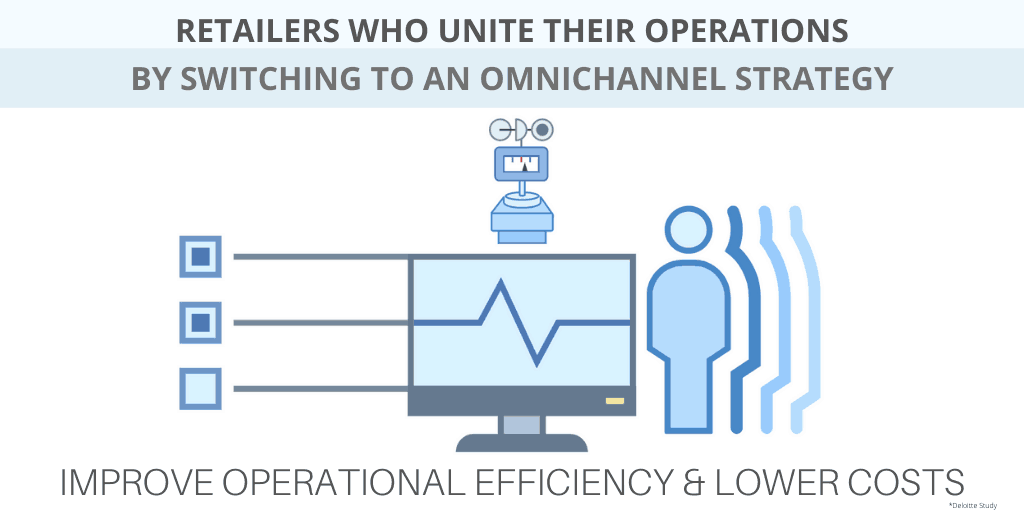 Allowing the use of shared data on all channels means you need to collect and process a customer's data only once, significantly lowering data collection and processing costs compared to multiple efforts per customer on every touchpoint.
Through connecting all your different channels under a master omnichannel operation centre instead of a different strategy and implementation for every channel, you will improve the efficiency of your head office operations.
Value 5: Higher Customer Lifetime Value and Loyalty
Customer Lifetime Value is the net profit attributed to the entire future relationship with a customer.
Not only do omnichannel customers spend more per single transaction, they also shop more often and are more loyal to your brand. And loyal customers who feel a connection to a brand spend twice as much as those who don't.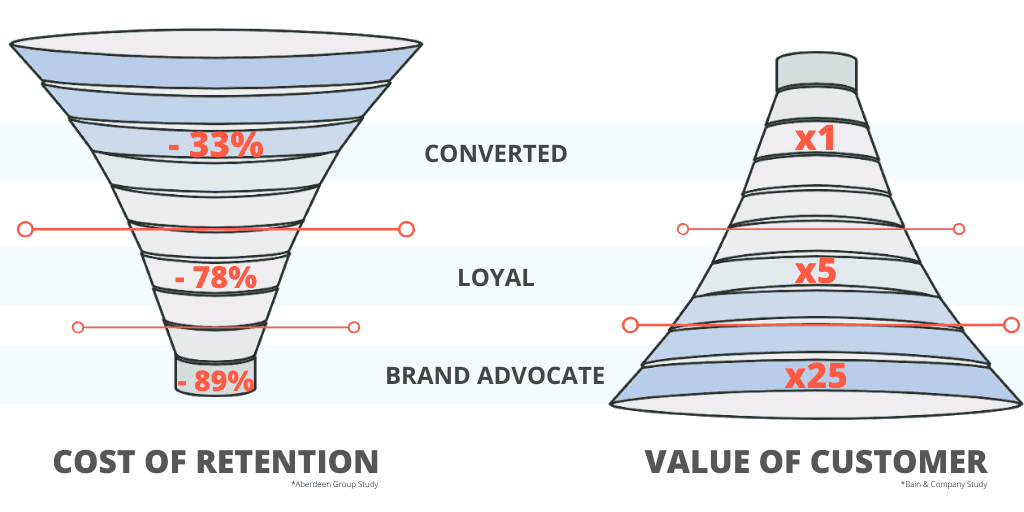 Omnichannel customers have five times higher lifetime value for your business: You will sell more without the cost of acquiring them meaning a greater profit.
Value 6: Better Data Collection
Retailers who track their customers across different channels have more opportunity to collect data and feed that data back to the customer immediately by providing a better and more personalised experience.
Better data on your customers lets you gain insights on:
> how to create content and offers that will end with a purchase to inform your marketing decisions
> who your different customer segments are, which channels they favour and their detailed shopping behaviour to inform your customer service strategy
> the products that are getting more customer engagement per channel to inform your buying & merchandising team on product mix and allocation planning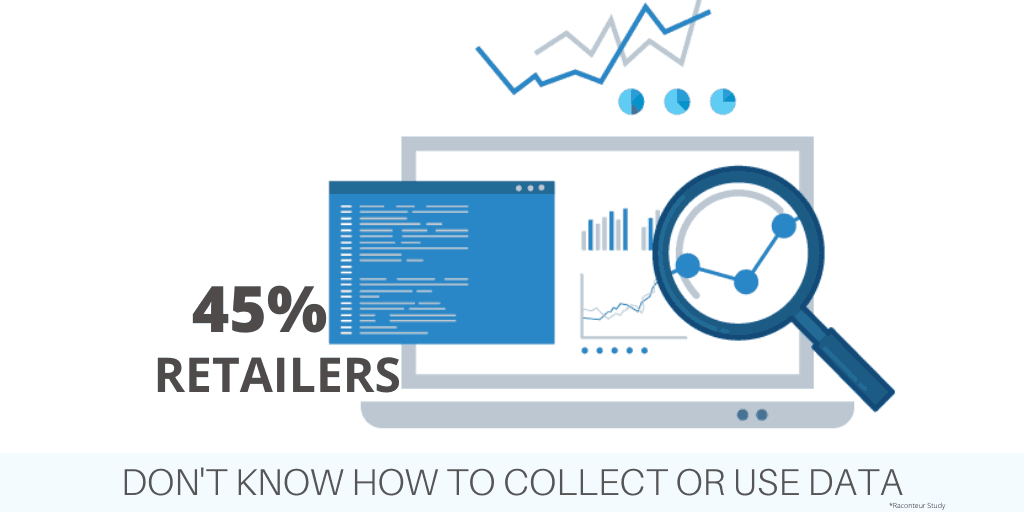 How To Build Your Omnichannel Retail Strategy
> Get to know your customer: Research your target audience's interests, behavior and needs. Leverage social media and your existing touchpoints to identify your different customer segments
> Select the right channels: Find out the preferred channels your customers are already using and what they are doing on those platforms
> Connect all channels: Choose the right technology that can be flexible and integrated into all your channels for a consistent experience on every touchpoint
> Become omni-device: Let your customers move not only across channels but also between different devices to complete a single shopping journey. Instead of starting from scratch, let them pick up where they left off from any device – and ensure your content displays well on all screen types.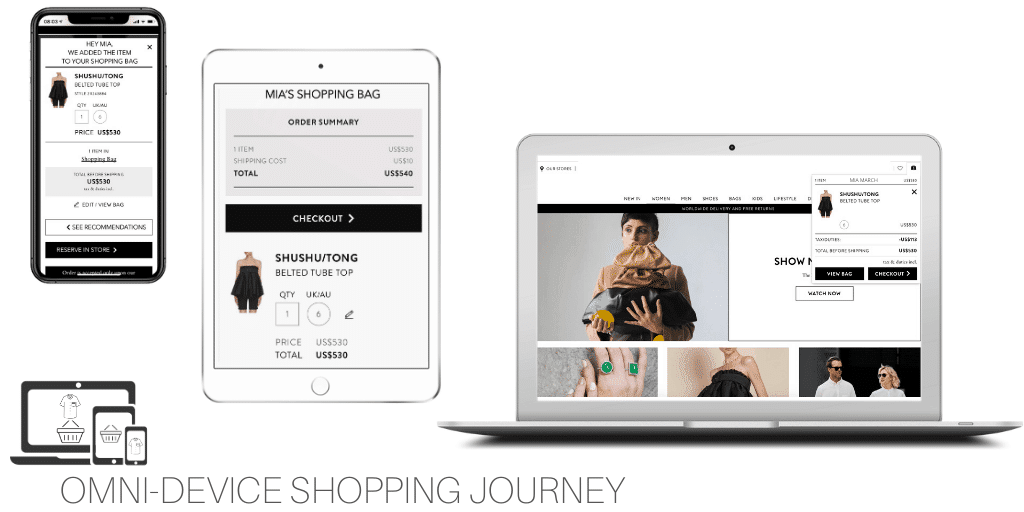 > Prioritise social integration: Customers increasingly buy products directly from their preferred social media platforms. Integrate social media content into your online store and direct links to your product pages into social media content
> Customer service 24/7: Being open 24/7 is not possible in the physical world, but it is possible to offer 24/7 experience and customer service access. Build an exceptional in-person, online and mobile customer service program for your customers to reach you whenever they choose to.
> Maintain your channels: Always keep improving your strategy and the functionality of your channels according to customer demand and behaviour. This will build your loyal customer base who comes back for more
Here, we break down the top 3 challenges retailers face when building their omnichannel strategy and the simple solutions to overcome them.
What An Omnichannel Customer Experience Looks Like
Day 1
The customer visits your online store and they are greeted by your brand chatbot offering them a first-time discount code if they create a profile.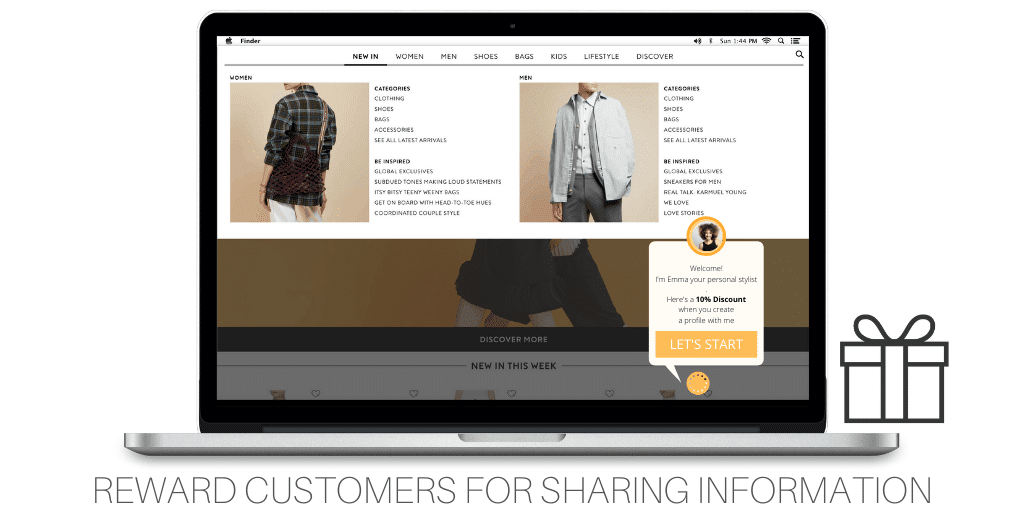 The customer creates their profile, browses the store and looks at a bucket bag 3 times. They see personalised outfit recommendations on every product page. But they leave without making a purchase.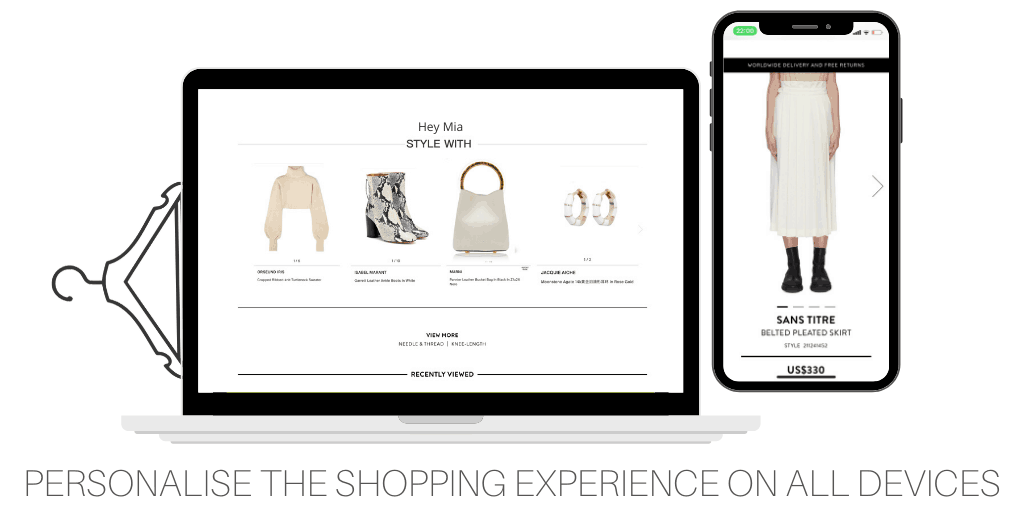 Later in the day when browsing Instagram on their phone, the customer sees an editorial image with that bucket bag which is more focused on the lifestyle behind your brand. This first retargeting aims to educate and inspire the customer on your brand ecosystem instead of pressuring them to make a purchase.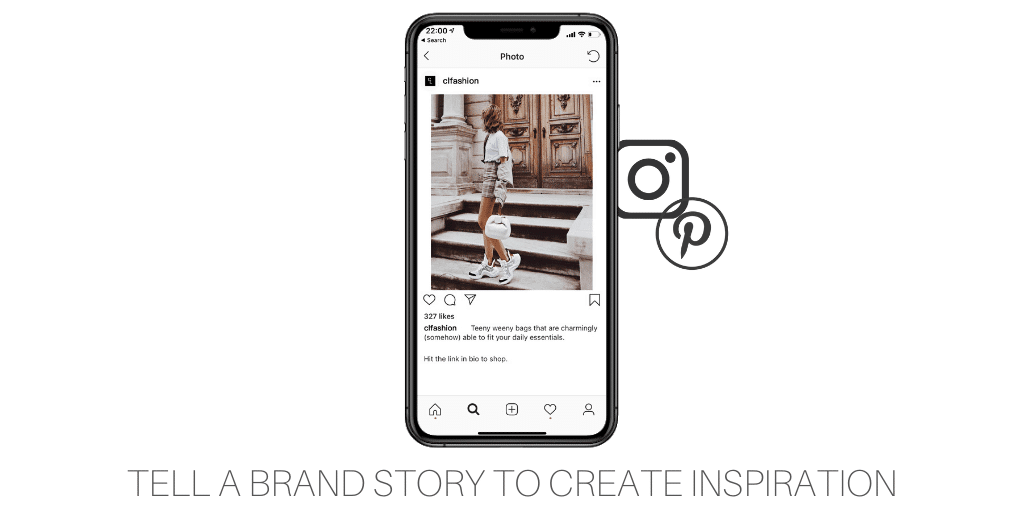 Day 2
The customer likes what they saw on Instagram and visits your online store again. Your brand chatbot reminds that their first-time discount is still waiting for them and offers them a personal styling session.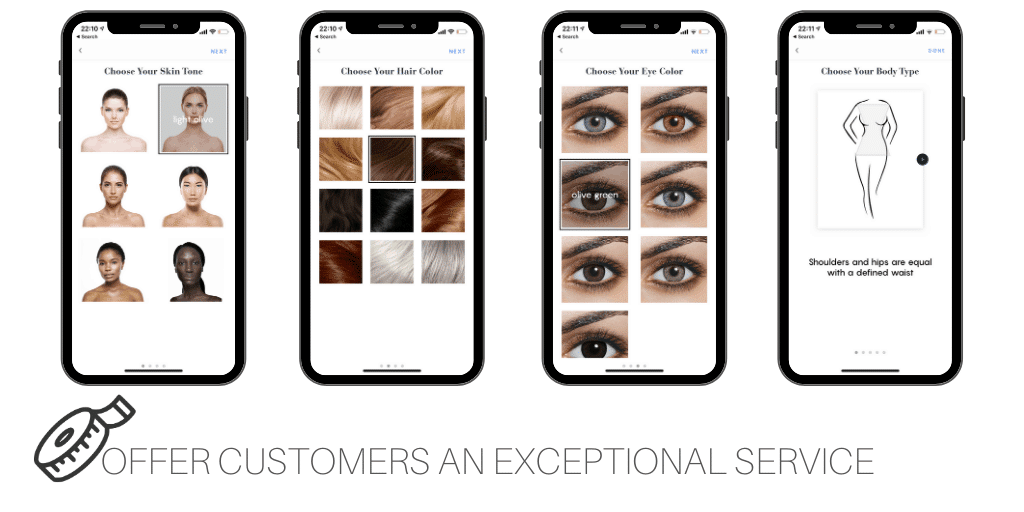 After doing a short, guided style interview with the brand chatbot, the customer sees how they can style the bucket bag they checked out the day before, but they end up only purchasing a blouse from that recommendation with their discount code.
Day 3
Your brand chatbot sends the customer a WhatsApp message to say hi and shows them different colours the bucket bag comes in, accompanied by 3 different ways to style an outfit with the bag. This highlights the other product categories your brand has that are relevant to that customer. Also, informs the customer that there's a physical store near them where they can check out the bag and shares the store location.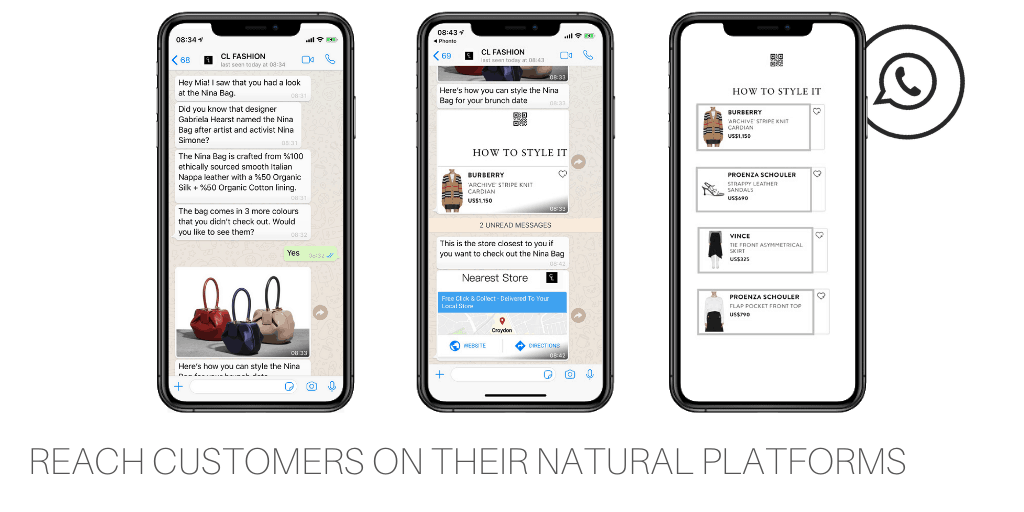 Day 4
The customer visits your store and is instantly recognised by checking in with their customer profile on the brand mobile app. For big flagship stores, the app shows them a map of the store highlighting where they can find each category and the offers in-store that day that are relevant to the customer's profile and browsing history.
The customer scans the bucket bag's barcode on their mobile app to see product details and reviews.
A store assistant empowered by a clienteling tablet knows that the customer has shown interest in that bucket bag and offers to show them different bucket bags from the same brand. When the customer chooses the bag they like best, the store assistant recommends an outfit with in-stock items to compliment the bag.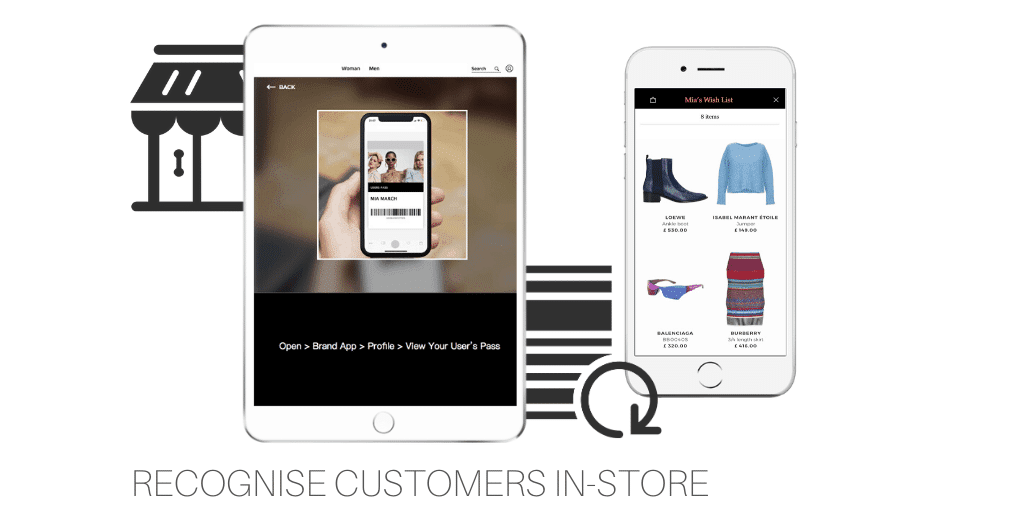 The customer goes into the fitting room and tries on the clothes, but the skirt doesn't fit as they had hoped. A smart mirror shows them similar skirts that are in stock and in their size. The customer presses a button to order the skirt they like to be brought to them, without leaving their cabin.
The customer decides they really like the whole outfit but need time to think. So, they add the look to their omnichannel shopping bag on the mobile app and leave the store without making a purchase.
Day 5
The retargeting evolves and introduces the customer to new media formats and layers. While browsing Facebook, the customer is presented with a converted short video that features the bucket bag they saved, demonstrating the power and versatility of the video converter in adapting content to different platforms.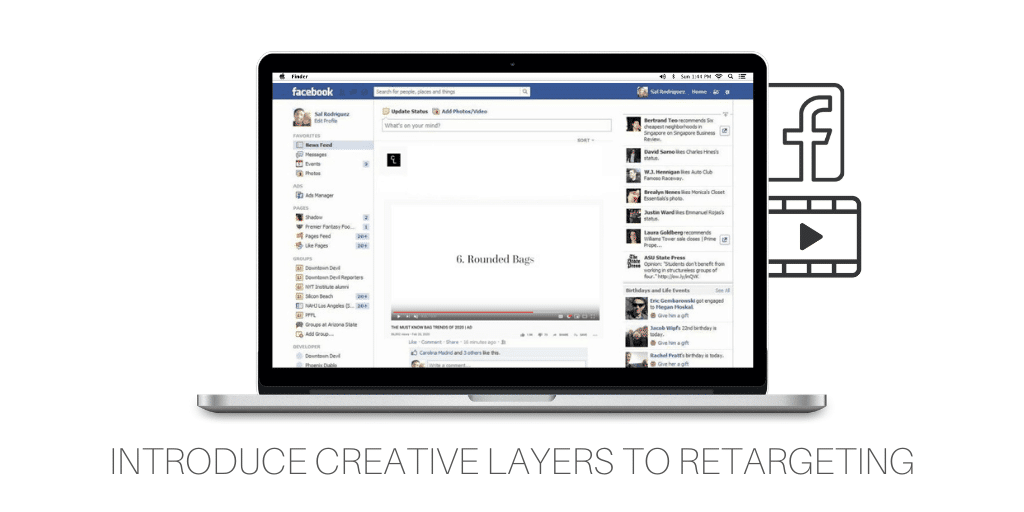 Day 6
The customer logs in from a desktop to view their omnichannel basket on the online store and adds on a necklace that is recommended to compliment the outfit. But they are running short on time to get to an appointment and need to leave the house.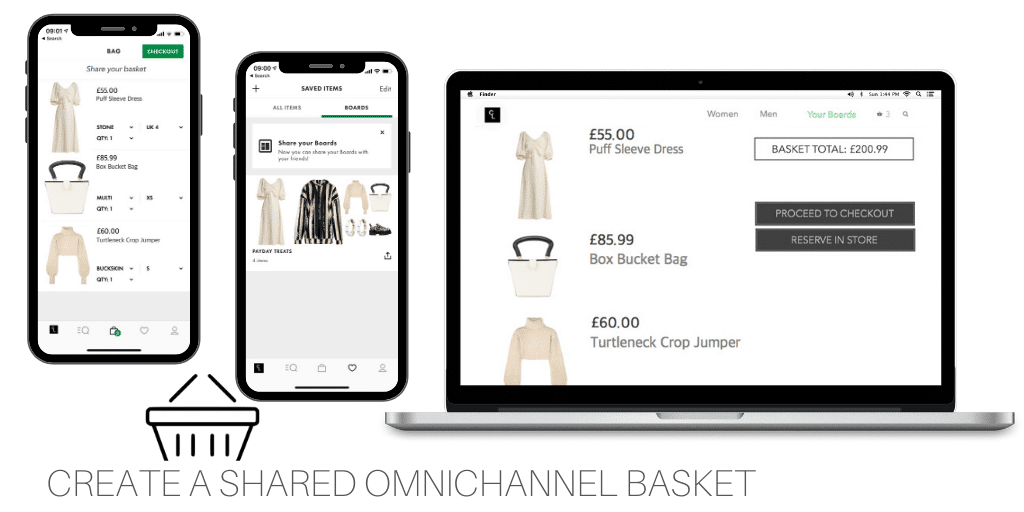 On their way, the customer texts your brand chatbot on WhatsApp to order the bucket bag and accompanying outfit. The chatbot completes the sale and your customer receives their order the next day.
Day 7
You know that your customer is in a formal line of work, so you send them an email showing how they can style up the bucket bag they just purchased for a more smart office look. And invite them to an in-store styling workshop you have on 'How to Style 5 Quick Looks For A Work Week".
Curious about how brands are executing their omnichannel retail strategy in real life? Jump here to see 5 outstanding omnichannel experiences created by top fashion retailers.
How The Future Looks For Omnichannel Retail
Online retailers are now investing in physical experience stores, like Nordstrom's 'Neighbourhood Hubs' that curate local offerings for local customers. Or Canada Goose's Toronto flagship with 'cold rooms' that simulate adverse winter weather conditions to test their coats but has no inventory to purchase. Meanwhile, physical retailers are strengthening their online accessibility and presence.
The future of omnichannel retail strategy is going to be more and more about creating an exceptional and personalised customer experience. Instead of being everywhere for all people, brands will be there for the right customer when and where it matters to them as an individual. And technology will be the enabler of a better brand experience, not the end goal.
In the future of omnichannel retail, the customer is the channel.