Product Discovery Reimagined: Style Customers with Outfits That Fit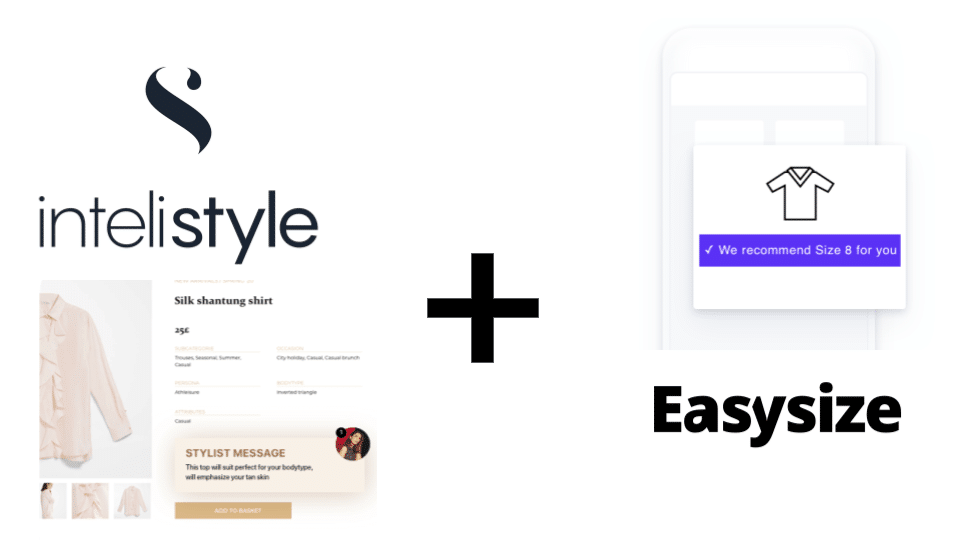 Intelistyle partnered with Easysize to elevate fashion eCommerce experiences to the same quality service you'd expect in a physical store. We decided to bring together Intelistyle's AI-powered styling solution with Easysize's size and fit recommendation platform to create a discovery experience, that allows shoppers to find the right products for them regardless of their bodytype or style. Because buying the right item in fashion means that it's both the perfect fit and style for us. 
Why did we decide to partner with a solution like Easysize? Because we think that their pragmatic approach to solving the sizing problem is easy to integrate, low cost and can be made readily available to fashion retailers of different sizes and categories.
The goal was, on the one hand, to help shoppers find the right products, while on the other hand increase conversion, basket size and reduce returns, which is one of the key problems that merchants currently face.
Read on to find out more about what problems we're solving and how.
Why should I care about fit and style on my eCommerce website
With the pandemic accelerating the shift to e-commerce by 5 years and increasing customer spending in online channels, improving the customer experience in eCommerce has become an urgent priority for fashion retailers. 
Product discovery in the physical world has stark differences from that of online. Customers can walk around the store and pick up the items they need one by one to create a stylish outfit. They can walk into the fitting room and see how the outfit will look on them, but also assess the fit of those items and whether they have the right size.
" Visiting a product page is the offline world equivalent of a customer picking up an item "
– Kostas Koukoravas, Co-founder & CEO, Intelistyle
This allows customers to answer the three most important questions they have once they pick up a piece of clothing from the rack – the offline world equivalent of visiting a product page:
Will I look and feel great in this?

Is this the right size for me?

How do I style this?
Online product discovery is very different, offering significantly fewer quality opportunities for evaluating an item and more opportunities for clicking away to a competitor's website.
Even today, most eCommerce websites remind us of the good old days of catalogue shopping. There is a listing page with products that we can endlessly scroll through. That leads to a more detailed product page, which is pretty much standard across the industry. 
The Cost Of Returns in Fashion & How to solve it
The quality of photography has seen significant improvements over the last years, with customers being able to see how clothes look on a model as opposed to still life shots. However, not everyone has the same body. We're all different and customers know that all too well when shopping online.
The percentage of online returns has hit 50% of all orders in some cases, as Zalando reports, and is typically at the 30% mark across the industry. Customers buy more than one size to see which one fits. They also chose a selection of products, only some of which they intend to purchase, so that they can assess at home which one is right for them. Just like they would do in a fitting room,
And while offering free returns has been key to the growth of eCommerce and forms part of the core business model of eCommerce giants, it has significantly impacted merchant margins with returns increasing sale price by 20%.
By helping your customers find the right size before they purchase you are achieving two key goals in the customer's buying journey. First and foremost you build confidence that they have chosen a product that is right for them, more than doubling your conversion. On the other hand, by helping them find the right size in advance, you help them achieve the same goal they would in a real-world fitting room. That means fewer purchases of multiple sizes, reducing the cost of returns and its impact on your operations and margins.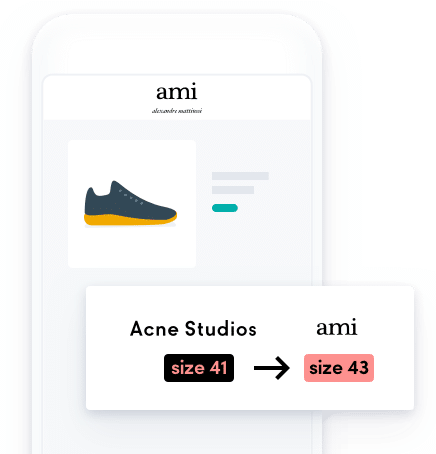 Shoppers are asked a few simple questions about their size in other brands and the typical fit that works for them. Shopping and returns behaviour of individual users, as well as unique product features, style and fit preferences and fashion choices, are analysed. They are then used to predict and recommend the best possible size and fit for a shopper.
Easysize uses a vast database of fashion and shopping fit preferences of more than 17 million shoppers across womenswear, menswear, streetwear, luxury and fast fashion all the way from evening gowns to modest fashion. Its algorithms understand the complexities of fit and size to make recommendations as accurate as possible. For example, a customer might like slim-fitted shirts in one brand but oversized in another. To achieve that, the technology doesn't use inaccurate or subjective data such as garment or body measurements. Instead, it analyses shoppers preferences and finds others with similar preferences, creating fashion doubles, accurately predicting what they're likely to enjoy.
In the scenario where the right size is out of stock, Intelistyle's technology kicks in, analysing the style, pattern, colour, cut and fabric of the item to show customers visually similar products that are in stock and can be instantly purchased, ensuring that the customer converts.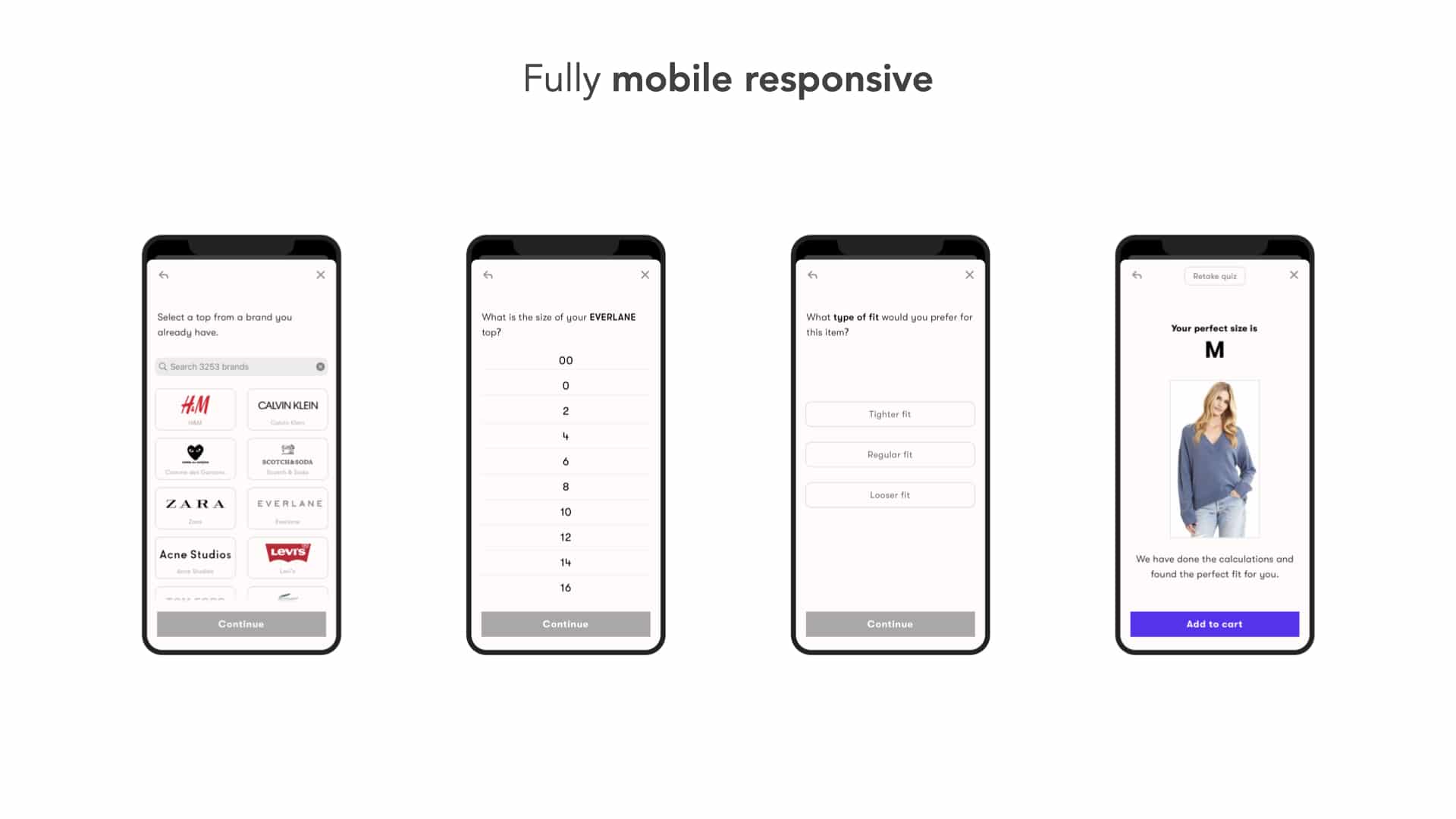 The lost basket size opportunity
To add to that, it's difficult to visualise how different pieces of clothing can be combined to form a fashionable outfit. Most retailers rely on antiquated recommendation engines that work across industry verticals. And while "you may also like" does wonders for electronics it doesn't really work for fashion. While you might also like products that other shoppers with similar preferences purchased, that doesn't mean those products are actually similar nor that they can be combined to form a fashionable outfit. 
In order to understand that better, it's worth looking at how people shop for fashion. That happens primarily in two ways. When they are out shopping for a t-shirt, for example, they will be looking at similar t-shirts to find the exact right t-shirt for them.
Once they find that, they start thinking about how they can style it and what other products they need to form a fashionable outfit.
For example, Tryano found that by replacing their industry-agnostic leading recommendation engine with a fashion specific solution, they were able to deliver 130% more revenue.
Intelistyle uses two modules to solve this problem. Our eCommerce recommendations platform allows shoppers to see Visually Similar recommendations, by analysing cut, style, product features, colour, fabric and more. It then shows products that are visually similar to what the shopper was looking for.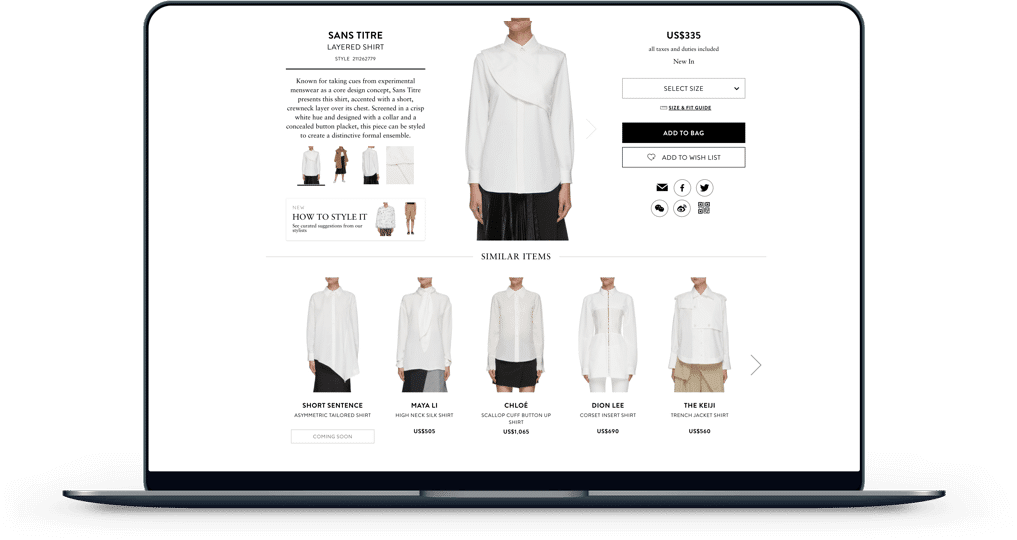 Our wear it with module, shows shoppers entire stylish outfits that they can put together to complete the look. Our A.I. is trained on millions of data points that constantly evolve to examine the latest trends. It then gets calibrated to your brand's styling identity by our team of experts and monitors the shoppers' behaviour to offer outfits that are on brand and just right for the customer's style.
But we don't stop there. We also examine each piece of clothing to understand its attributes and then show customers styling advice for it. So that it really feels they've just walked into a store with a knowledgeable sales assistant.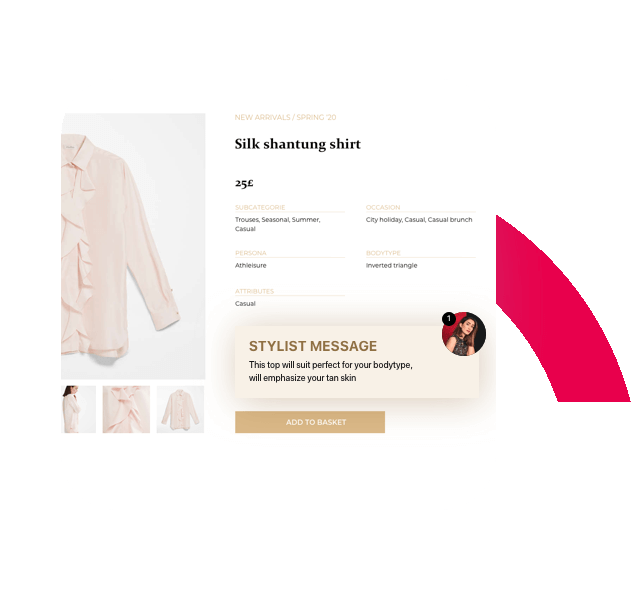 How to increase basket size while reducing returns
Increasing basket size while reducing returns sounds like two exact opposites right? After all, we know that often customers buy multiple items with the intention of keeping just one. That's why Intelistyle and Easysize teamed up.
By enabling Intelistyle's Complete The Look and Visual Similarity recommendations on your product pages, you align your user experience with the way shoppers buy for fashion. Tommy Hilfiger saw 20% of their product discovery experiences powered by those two modules. This is an astounding number. 1 in 5 customers actually used these recommendations to find the right products for them, resulting in a 5% revenue uplift for the entire brand. With a 2 minute integration (video) and 19X return on investment, that was 2 minutes well spent. Lane Crawford saw an 8% revenue increase by tempting shoppers with visually similar products and outfits tailored to their brand identity. Conversion soared by an impressive 124%, while full-price sell-through rate increased by 20%, highlighting that shoppers got inspired to buy the right product for them, as opposed to looking for the cheapest product.
Veepee, a company that pioneered the model of online flash sales with €3.3bn in revenue, decided to use Easysize to decrease the number of size-related returns and boost user confidence by providing the right size. Easysize size recommendation was used in 22% of all purchases. By auto-recommending the size to shoppers, Veepee was able to lower its return rate by 14%. In addition, the sales conversion (from a page view), when the recommended size was shown, increased by 35%. 
Brands such as Freshcotton, Ash & Erie and Superette managed to increase their conversion rates by 139%-187%, while Modomoto decreased size-related returns by 29%.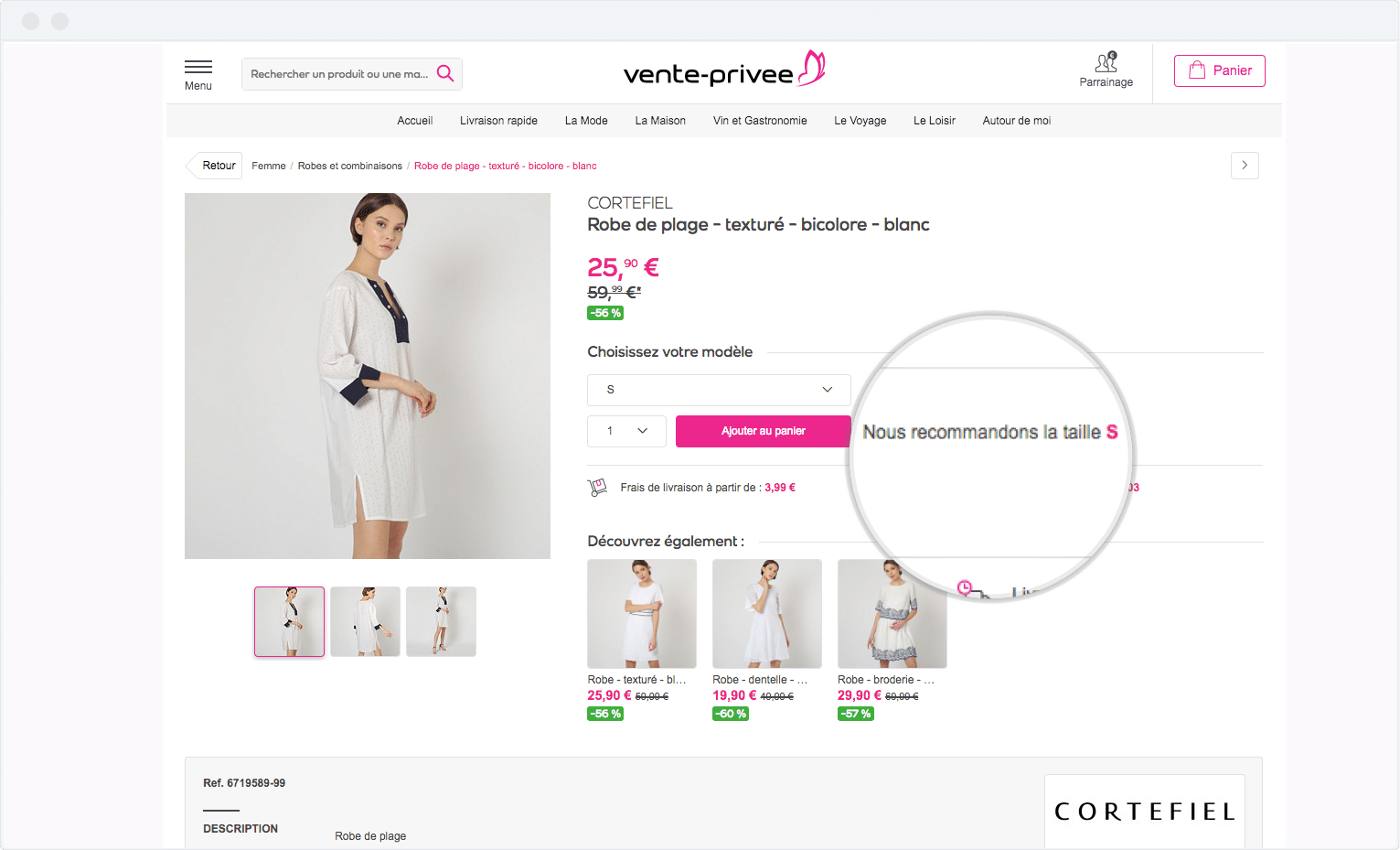 The partnership
Intelistyle and Easysize teamed up to help your shoppers answer all the questions they have when they visit your product page. That incredible feeling of picking up a product in the real world. By helping them find the right size as well as by providing them with styling advice for every product in your catalogue, customers can be confident they have found the right piece for them, increasing conversion and basket size, while decreasing returns.
Based on the data we're already seeing, this new solution, first of its kind in the market, is a practical approach to drive instant and measurable results, while helping retailers differentiate with a customer experience that meets fashion shoppers' unique needs.
If you'd like to find out more about how you can use this full suite of product discovery experiences to differentiate your eCommerce offering, reduce returns and increase conversion and basket size, get in touch for a free 30-minute consultation session. One of our user experience experts will deep dive into your unique challenges and metrics and create a tailored plan for growing them with a measurable return on investment.