The Product Discovery Process And The Top 8 Common Mistakes To Avoid

How did you discover the last piece of clothing you bought? Most of us don't walk into our favourite retail store looking for a teal, V-necked, boho column dress with spaghetti straps. We're more than likely looking for a practical outfit for the office, a dress for a friend's engagement party, or something comfortable to take on holiday. Unfortunately, when you search for products on an ecommerce store, you can't submit ideas and concepts. Instead, to get the best results, you have to search for specific keywords (teal, V-necked, boho column dress with spaghetti straps). But that might all be about to change.
With the advent of AI technology, ecommerce stores are using different product discovery techniques. Let's look at the product discovery process, how it works, and mistakes you should avoid along the way.
What Does The Product Discovery Process Involve?
The product discovery process is a process ecommerce site designers follow to understand their customers' purchase intent. This is then incorporated into the website by presenting the products in a way that syncs with the customers' exact needs. Product discovery is the first and most pivotal step towards a great customer experience. It's all about presenting customers with the right products at the right time intuitively and simply, taking a personalised, tailor-made approach.
How Does It Benefit Your Ecommerce Store?
Ecommerce product discovery experiences impact brand loyalty and the overall product experience. A personalised product discovery process helps customers feel as though the ecommerce store understands their needs and preferences, which increases customer retention.
An improved product discovery process that matches your clients' tastes with products throughout the shopping journey also grows and contributes to online conversion, increases basket size, and boosts spontaneous purchases. This can lead to additional benefits, including improving the way inventory is acquired and managed and gaining the ability to predict trends.
Top Eight Mistakes to Avoid With Your Product Discovery Process


Product discovery is all about connecting shoppers to the products they are looking for in an easy and personal way. The concept is very simple, but it's not always easy to execute. Here are some of the mistakes you could be making with your product discovery process:
1. Not Keeping The Customer Front and Centre
According to Instapage, 74% of customers feel frustrated when their website experience isn't personalised. Another study shows that 47% of consumers will switch to Amazon.com if the site they're shopping with doesn't provide relevant product suggestions. If you want to get product discovery right, you should provide customers with personalised suggestions they want to see, not what you think they should see. Product tags can be used to create rich, personalised search results and recommendations.
2. Not Making Product Recommendations After a Zero Results Search


If your customer is looking for something that isn't in your catalogue, you shouldn't display the familiar message, "I'm sorry, none of our products matches this description." If you display nothing, you can't make a sale, and the customer will likely leave. You miss a sale and an opportunity to learn about customer preferences. If you use high-quality product tags, you can display closely related product offerings or recommendations that match what the shopper was looking for.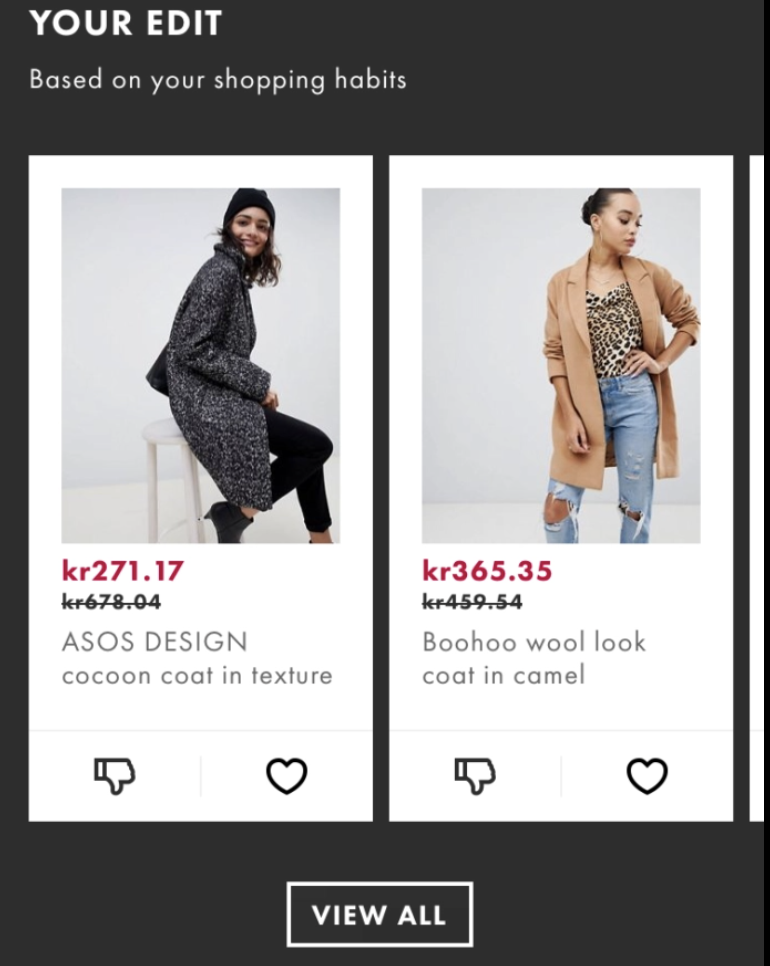 3. Not Using Enough Product Tags 


One of the most common mistakes online retailers make is not using enough keywords or using the wrong ones. No two people will describe the same product in the same way. Spelling variations, different interpretations of colours and styles, and even spelling mistakes shouldn't affect your search results. Human error and shortcomings are the primary reasons why companies make tagging mistakes, which is why AI fashion tagging is a far more effective way of creating robust, granular meta tags that aid in product discovery.
4. Relying on Keyword Search Only


Typed keyword searches aren't going to be the norm for long. According to Google, 20% of searches are done by voice through Siri, Alexa, and Google Assistant. This will probably be replaced by visual search in the highly visual fashion world. It can be hard to capture the essence of a product with just words, especially if you've spotted an outfit that you love on social media or the red carpet. Modern retailers like Neiman Marcus use visual search to help customers find outfits from their catalogue based on items they've spotted elsewhere. Customers can just upload a photo, and the search engine will find a close match from the catalogue for them. It can also suggest accessories and shoes that match the outfit based on your selection, improving your product discovery.
5. Not Continually Mining Actionable Insights From Your Customers


The way customers behave is a goldmine for businesses. You can use image and shopping data to unobtrusively generate insights about customers to identify emerging trends, shopper segments, preferences, and behaviours. This data can be used to improve customer experience, improve purchase decisions, power your recommendation engine, and drive marketing campaigns.
6. Stopping


Product discovery is sometimes limited to the early phases of web and app design, but you should never stop exploring customer preferences and behaviours. While you might not have the budget or resources to do market research, you can use automated tools like machine learning to continuously study customer behaviour. Your AI will learn and implement its discoveries over time so that you never lose touch with your customer.
7. Separating Discovery and Sales


Fashion chatbots can make suggestions, gauge preferences, and guide customers through your website. Unfortunately, some of the earlier (and even current) fashion chatbots would make recommendations and then take the shopper back to the main website and a generic landing page. The Jasoren blog recently criticised Victoria's Secret for taking them through a lengthy product suggestion exercise with a chatbot, only to take them back to the main landing page to look for the products they chose again. Compare that experience to Tommy Hilfiger. If you interact with a chatbot on their site, the bot will ask questions about your preferences, make suggestions, assemble outfits, find them in your size, and redirect you to the main site where your items will be stored in a cart, ready to checkout.
8. Counting on Search Only
 
When your customers land on your website for the first time, they're a blank slate. You'll gradually flesh out the information you have on them as they search for more products or make purchases, but most of us don't have the luxury to wait that long. You want to learn as much as you can about your customers from the start so that you can deliver the best possible service right away. Stitch Fix, for example, shows customers lookbooks and then, through Visual AI, learns about their preferred product attributes (styles, colours, brands) long before they close a sale.
In Closing


Product discovery is all about learning what your customers want so that you can help them find it. Companies like Intelistyle use machine learning, visual AI, and automated product tagging to improve product discovery on websites and search engines. Your products will be accurately tagged and categorised, ready for your customers to discover. Through data extraction technology and continuous learning, you can learn more about customer behaviour and product preferences over time, creating a rich, personalised experience for each shopper every time they visit your online store. Contact us to find out more.