The Top 12 Examples of Fashion Personalisation
Fashion personalisation is changing the paradigm around consumer fashion. Trends that once came from the top down are now crowdsourced from customers themselves as individuals search for ways to customise their looks and make their style uniquely their own. For this reason, the vast majority (80%) of consumers today prefer to purchase from retailers that offer personalisation. However, for fashion businesses, leveraging personalisation can be a challenging task — particularly if you don't quite know where to start.
When fashion personalisation is implemented poorly, businesses can end up giving customers too many options, which, rather than boosting conversions, engenders decision paralysis. It doesn't help that the fashion industry also has a tremendous amount of variables (like technological changes and economic conditions, to name a few) when it comes to consumer behaviour, and understanding what really drives customer purchases can be a challenge.
To help demystify how fashion personalisation works in the real world, here are ten examples of this trend in action.
1. YOOX: A Virtual fitting room to dress up your digital avatar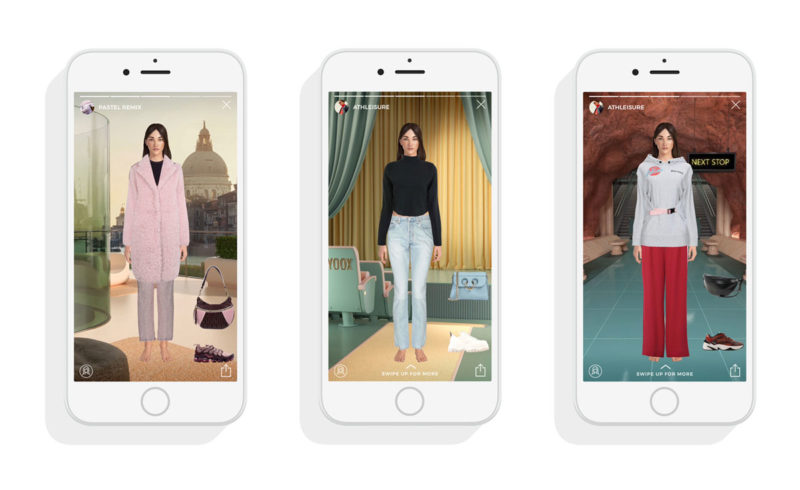 (Source)
Launched in 2018, YOOXMIRROR is an AI-powered virtual styling app developed by YOOX, an Italian online fashion retailer, that lets users preview how they would look in a full outfit. By taking a selfie or uploading a photo, YOOXMIRROR users can create a digital avatar of themselves that they can dress in more than 50,000 digitised clothes, shoes, and accessories from the store's catalogue. Once users have found the outfit they like, they can share it with their friends on social media for a second opinion or make a purchase.
2. The Outnet: Wear It With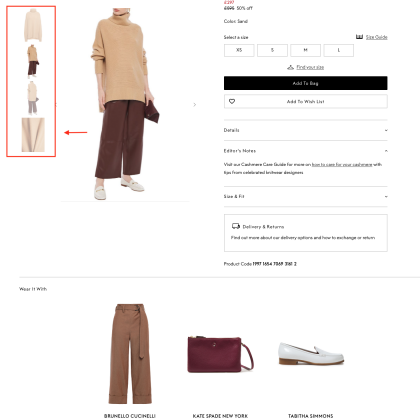 (Source)
Styling clothes is hard. Regardless of whether a customer has fallen in love with a piece that they know is going to be hard-to-wear or they're looking to upgrade their wardrobe but don't want to invest in a personal stylist, being able to see other clothing items that would work with the piece they're eyeing can be incredibly helpful — especially if they can buy them all on the same site. On TheOutnet, a site that sells luxury designer fashion brands at better prices, every item features a "wear it with" section that recommends customers items that would go perfectly with the product they're about to buy, based on the look photographed.
3. Tommy Hilfiger: Styling for Occasions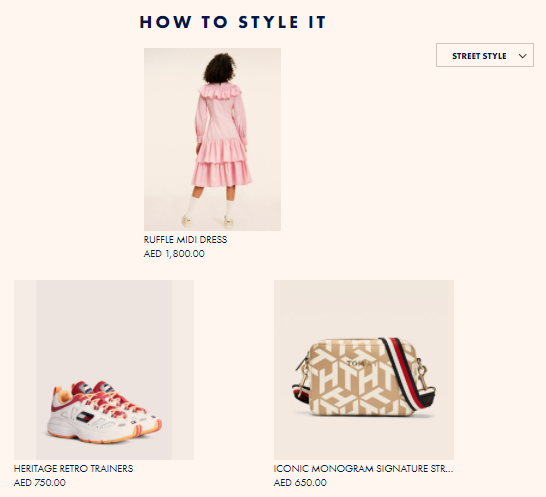 (Source)
To make their customers' product discovery journey easier, Tommy Hilfiger makes product styling recommendations that are tailored for every event, including "glam," "street style," "classic," "casual," and "sporty." Not only does this make cross-selling and up-selling easier, but it also shortens the customer's journey from discovery to purchase.
4. Lane Crawford: Visual Similarity and Complete the Look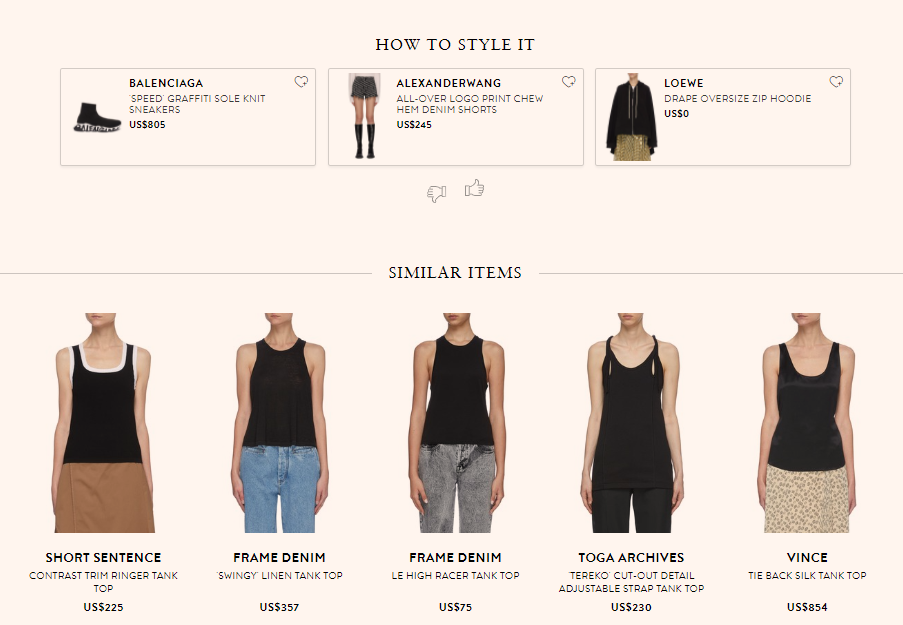 (Source)
Luxury brand Lane Crawford uses fashion personalisation with AI-powered customised recommendations to find items that look similar to a customer's first option but with a twist, for example, a slightly different cut or shorter sleeves. Once customers find the piece they love, they can then use Lane Crawford's "How to Style it" feature to complete the outfit. In contrast to most other fashion brands, Lane Crawford does not recommend additional products based on the look you see in the styling shot. Rather, the feature showcases different products curated by Lane Crawford's stylists that are available for purchase on the same site.
5. Victoria Secret: Personalised Chatbot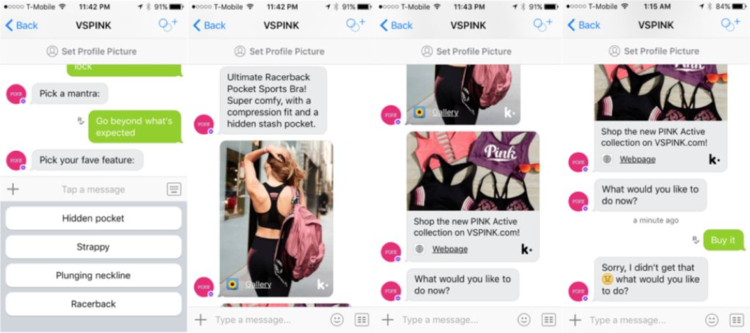 (Source)
Launched in 2016, Victoria's Secret's Pink line (VSPINK) has a Kik chatbot that helps women find their perfect bra. Whether it's asking for feedback about a customer's measurements or recommending a bra for a particular occasion, VSPINK's Kik bot creates a fun, personalised customer experience that is ideal for younger users. Importantly, since VSPINK's chatbot is integrated into a popular messaging platform, new users can access it without having to download or install another mobile app on their phones. 
6. MaxMara: WhatsApp Remote Selling AI Chatbot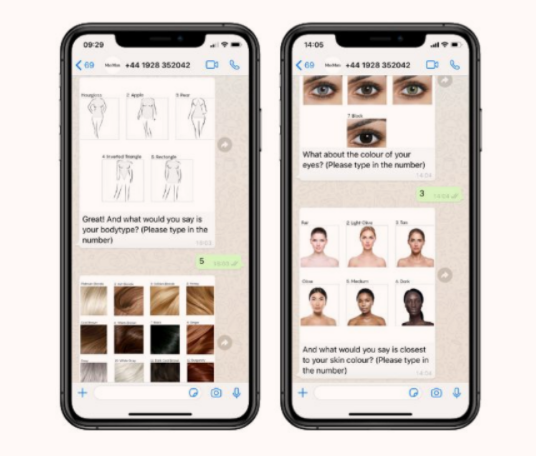 (Source)
With two billion active users worldwide, it comes as no surprise that MaxMara wanted to utilize the most popular mobile messenger app in its marketing efforts — WhatsApp. By integrating Intelistyle's AI chatbot experience in WhatsApp, Max Mara was able to provide customers with a personalized shopping experience on a channel they use daily. From answering customer queries about products immediately to giving them personalized recommendations based on an automated styling interview, Max Mara's WhatsApp chatbot led to x18 higher customer engagement.
7. Ralph Lauren the Custom Shop: Custom Embroidery Instore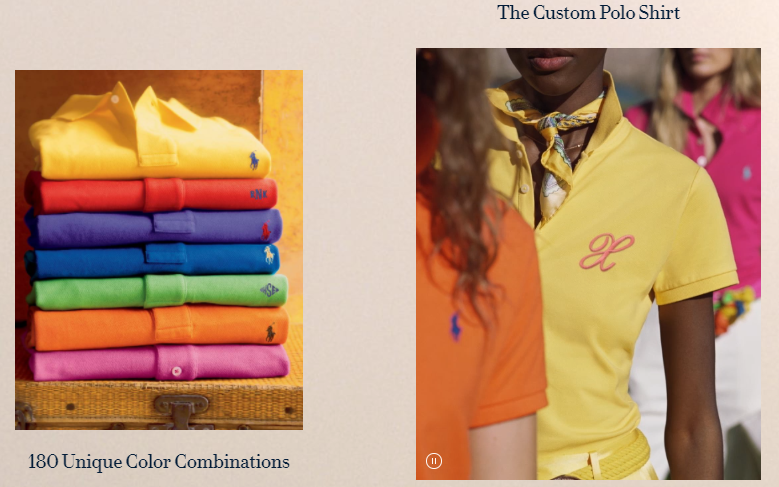 (Source)
As personalisation overcomes standardisation, consumers are increasingly interested in products they can customise and make uniquely theirs. Ralph Lauren's Polo Custom Shop puts this principle into practice by allowing visitors to create their own custom embroidery pattern. With only a few taps on their smartphone or tablet, customers can make a design in a matter of minutes and have the staff embroider it over their favourite polo shirt, cap, or blazer. Additionally, Ralph Lauren lets customers design their own sweaters by choosing the colour and colour layout, front and back graphics, and sleeve designs.
8. ZOZO: Size Personalisation Through a 3D Body Measurement Suit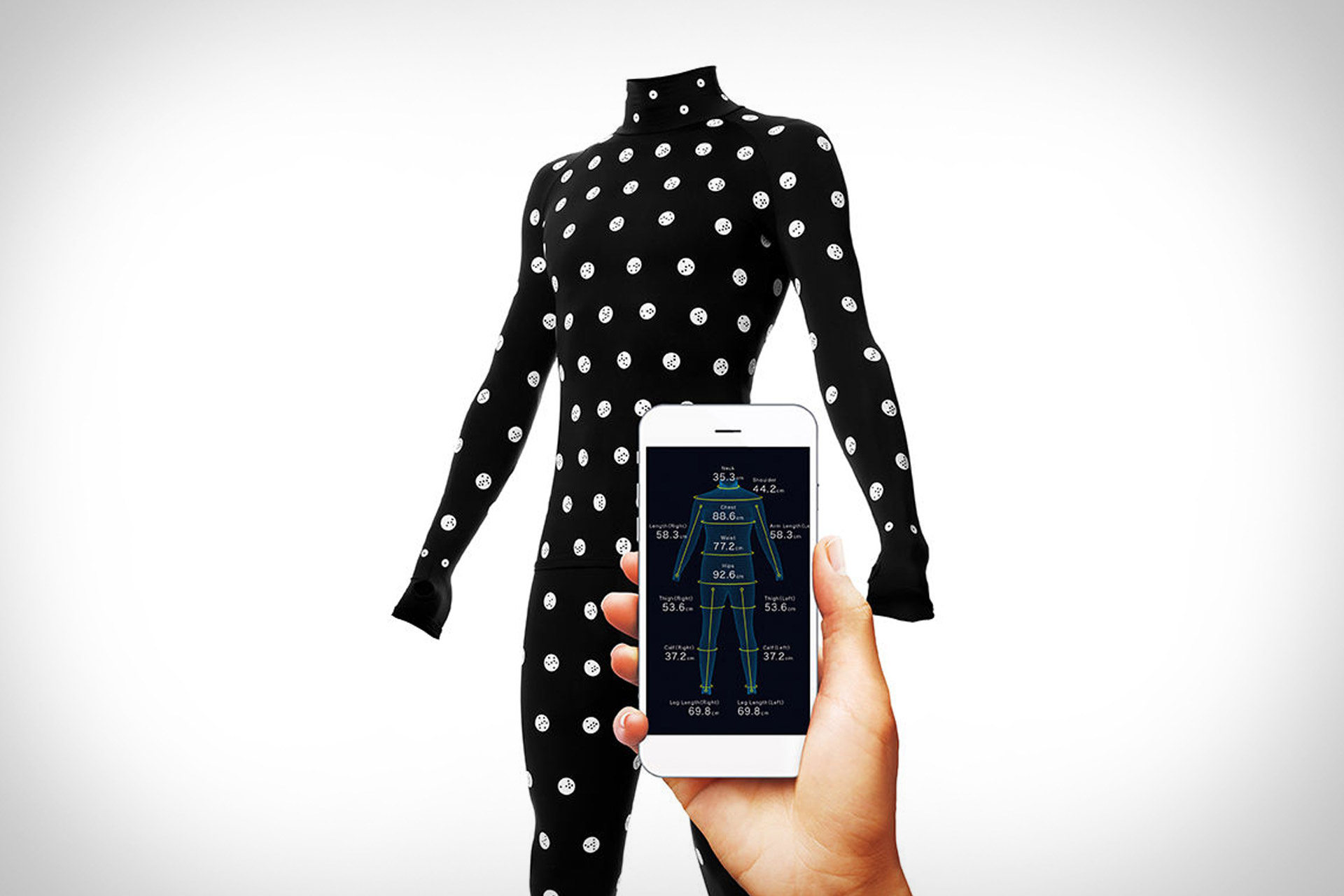 (Source)
Japanese retailer ZOZO has developed a 3D body measurement suit that allows customers to get highly accurate scans of their bodies. Using ZOZOSUIT 2 and a smartphone camera, customers can take precise measurements from the comfort of their homes. Because ZOZOSUIT 2 has 20,000 fiducial markers, its scans have an average error of 3.7 mm, meaning that customers can finally say goodbye to general sizes that don't ever really fit and only buy clothes that are tailor-made for them.
9. MTailor: Size Personalisation Through Mobile Phone App
(Source)
MTailor allows users to take their measurements in 15 seconds or less. Once a customer has spotted a piece of clothing they like, they can use MTailor's app and their phone's camera to record a quick video. The app's 3D Point Cloud technology measures 16 body features and then creates a pattern that the company's tailors can use to make clothing that fits perfectly.
10. Dolce & Gabbana: Instant access to styling service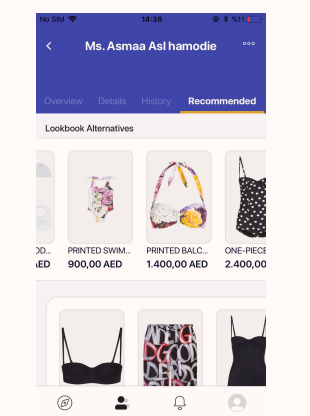 (Source)
In some cases, AI stylists can be better than human stylists. To enhance the customer shopping experience in their stores, Dolce & Gabbana partnered with Intelistyle to equip their front-line sales representatives with instant access to AI styling tools. This allowed the Dolce & Gabbana team to provide a VIP experience to every customer, taking into account their unique features like hair colour, body type, and preferences and recommending visually similar products if a particular item was out of stock. The results speak for themselves: employees who used AI styling expertise and services saw a 100% boost in their sales efforts.
11. CoverGirl: PersonalisedMakeup Try-on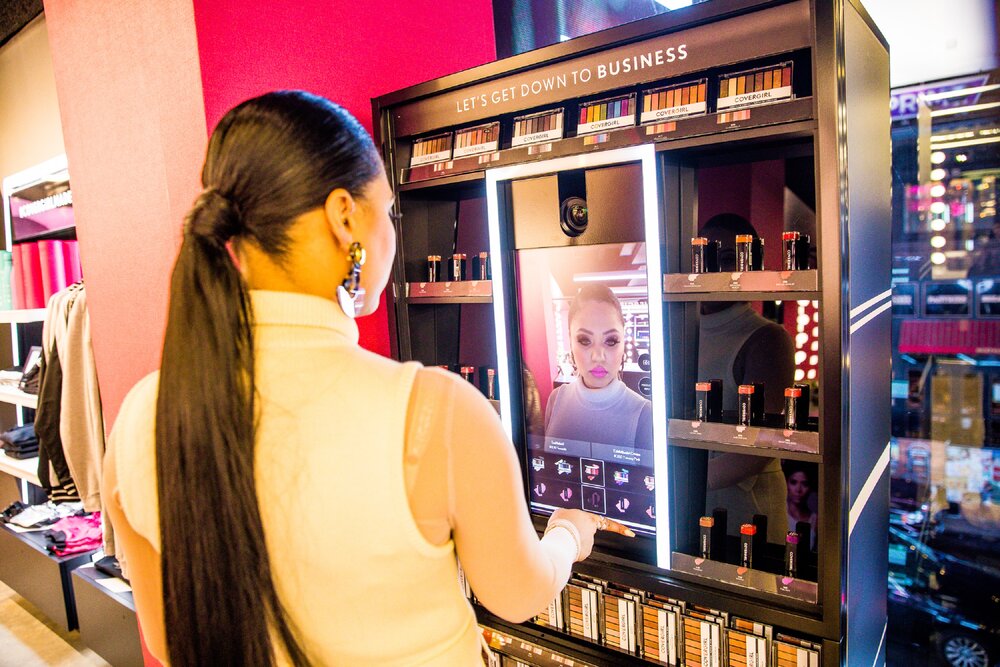 (Source)
At CoverGirl's flagship store in Times Square, visitors can immerse themselves into a makeup-driven experience. Once they step into the store, visitors are greeted by their beauty AI assistant, Olivia, who advises on store products, makeup trends, and lipstick application. From there, customers can use augmented reality mirrors to see how a particular lipstick they're holding in their hands would look on them without actually having to swatch it on their lips. Shoppers can then try on additional makeup products to complete the look, take a photo, and receive personalised product recommendations via email.
12. Very: Weather-Based Personalisation

(Source)
British online retailer Very took an ingenious approach to personalisation. Knowing that the weather has a massive impact on business — particularly in Britain, where the weather is so unpredictable — Very launched a campaign that made clothing recommendations based on local weather patterns. When shoppers visited Very's website or app, they were instantly presented with products relevant to their local weather conditions, like umbrella offers if it was raining in their location or summer clothes if they were from a warmer climate.
Final Thoughts
Finding the right clothes is never an easy task. Between browsing the internet and window shopping, a customer's journey can last hours, days, or even weeks. However, by harnessing the power of personalisation, fashion brands can create customised journeys that can lead even the most indecisive customer to the checkout point.
Don't let this trend pass you by while other brands increase their conversions and keep their customers coming back for more. Instead, contact us for a free consultation and join our exclusive list of satisfied customers today.