Last Update June 2022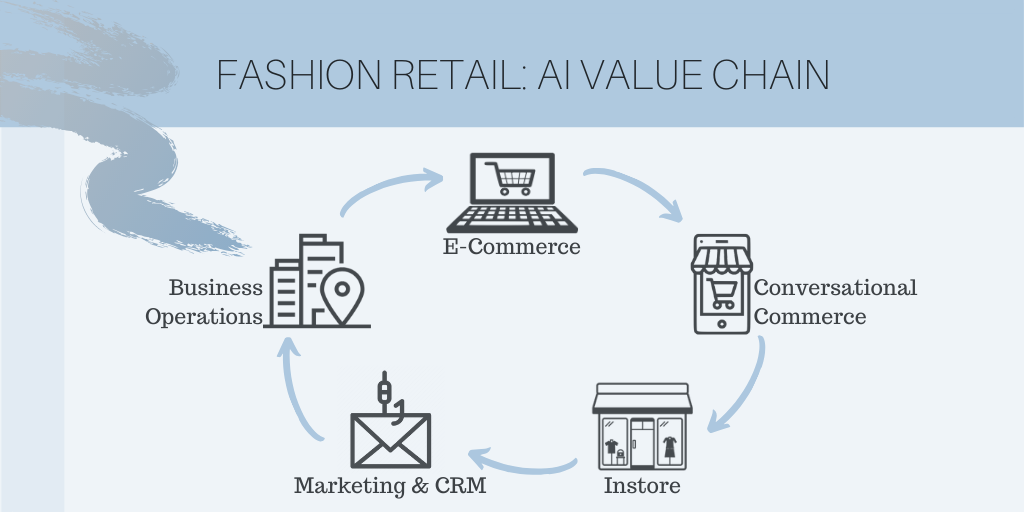 Let's have a comprehensive look at all current applications of AI in the fashion industry that can be integrated into a retailer's value chain:
Artificial Intelligence (AI) has swept into many industries with the potential to revolutionise businesses through higher speed, lowered operational costs and access to a depth of consumer and market data that promise a strong competitive edge.
AI is a branch of computer science that stimulates intelligent behaviour in computer-controlled machines to perform tasks associated with human reasoning and capabilities.
It was no surprise that the fashion industry's initial reaction to AI was a curious eagerness to be at the forefront of innovation mixed with reluctance. After all, automating an industry built on human creativity does come with understandable concerns.
At this point, it is important to highlight that AI uses human reasoning as a model but the end goal is not replacing it.
Best use cases in fashion look at AI as "Augmentative Intelligence": Utilising machine learning, algorithms and rich data to augment the capabilities of humans and businesses.
The key here is to understand different applications of AI in fashion and adopt a tailored approach that plugs only into the areas where it can add value to your business model.
AI in BUSINESS OPERATIONS

Design and Product Development
AI to Assist New Product Development
By tracking design elements like colour, fabric, patterns and cut as well as their past retail performance and future performance indicators, AI reinforces and gives credibility to the creative decision-making process of product development in fashion.
AI as Designer
Using a powerful algorithm that analyses past designs and future trends, AI makes new apparel designs complete with sewing patterns. Retailers can choose to send AI-designed apparel straight to manufacturing or incorporate this as an additional step to automate the pattern making and fit process.
Human designers can then make alterations on these pre-designed garments to significantly speed up design to market time.
AI in Textiles
Garment Manufacturing
AI scales the manufacturing process in fashion through automating fabric quality control, pattern inspections, colour matching and defect detection. Manual manufacturing processes are completed by AI at a fraction of the time with increased accuracy.
Wearable Technology and Smart Fabrics
Although still at an infant stage, AI-controlled smart textiles promise clothing that delivers added value to the wearer: increase performance, enable communication, conduct energy and even grow with the wearer.
On the other hand, as more fashion brands shift towards environmentally responsible practices, AI in biotech facilitates the production of alternative materials that are cruelty-free and fully biodegradable.
Buying and Merchandising
AI empowers fashion buying and merchandising teams to make future buying decisions grounded in smart analytics with reduced risk of wrong predictions.
Traditionally, buying decisions have been based on the past performance of products and human instinct. This is not an accurate projection as sales are influenced by many dynamic factors like new trends.
Predictive Analytics
Through automated product tagging, AI analyses market performance on a per attribute level. Buyers are informed not only on the products that are performing well but also on detailed attributes like colour, prints, sleeves, necklines and more.
Additionally, instead of looking at trends and product performance as a snapshot at the end of each season, AI provides real-time data to observe shifting trends and stock performance as they are happening. Hence, buying and merchandising teams can adopt a proactive strategy to address consumer demand as it arises and always stay relevant.
Trend Forecasting
AI collects, analyses and interprets rich data from social media, e-commerce platforms and the runway to spot future fashion trends for each product category.
This information is then combined with the data on past performance and customer behaviour to establish the optimum product assortment mix that would resonate best with a retailer's consumer base.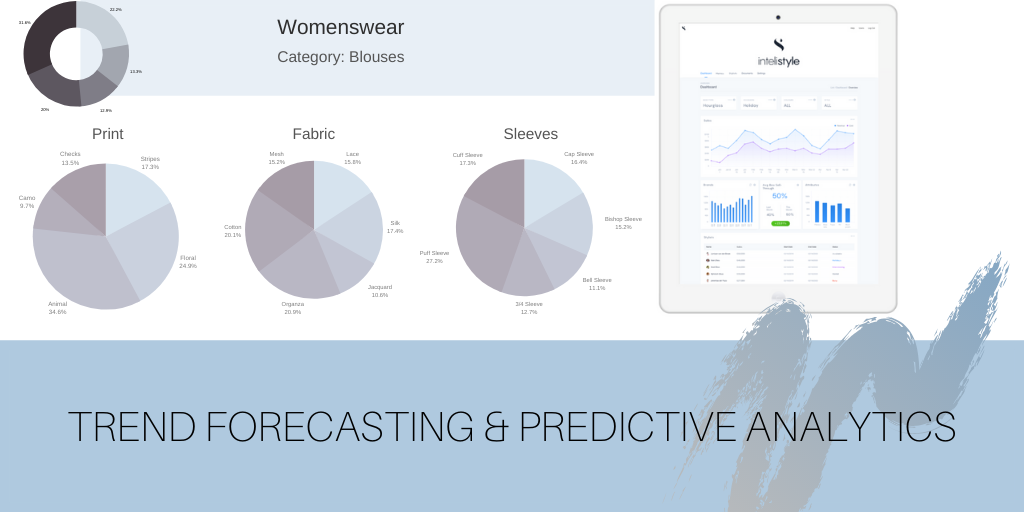 Styling and Merchandising Platforms
Personal Styling Platform
Retailers can build, track and manage comprehensive customer profiles using a flexible AI Styling Platform that automates and scales exceptional quality styling services. AI generates hyper-personalised recommendations for each client that can be speed edited on the platform. Finally, these outfits can be put into the shopping basket, shared via email or sent directly to the customer as a fashion concierge styling box.
Visual Merchandising Platform
Visual merchandising teams can use an AI-powered platform to speed up product page curations for the online storefront. AI curates bespoke pages to address different trends, customer segments and geographical regions more effectively. Using a drag and drop interface to edit automated product pages cuts down the time and cost of manual product presentation. 
Performance Analysis
Merchandising managers can use an AI-powered internal dashboard to track detailed performance analysis of each member on their team. Allocating team members to the customer/product segments they are best at optimises team resources and improves overall performance.
Head Office Operations: Retail Decision Insight
Inventory Management
AI provides detailed analytics that enables fashion retailers to accurately determine best geographical allocation and market drop calendar for their inventory while tracking and managing the entire product life-cycle in real-time.
Product and Pricing Mix Strategy
Retailers can use AI-powered rich data to address each customer and market segment with a tailored product and pricing strategy.
Making data-informed business decisions to achieve the ideal product-pricing mix for each market means less surplus inventory and fewer price cut-downs.
AI increases stock turnover by forecasting the need to "move" older stock and analysing it against demand forecasts. Inventory can be reallocated to targeted locations in order to meet demand and prevent store clustering. Markdowns and promotional strategies can be planned and prioritised accordingly to resonate with the right value-seeking customers at the right time.
Competitor Analysis
Monitoring competitor pricing, AI recommends ideal price points to optimise revenue by gaining a competitive advantage. Retailers can spot the best seasonal timing to keep lower prices while retaining minimal margin and when to slightly increase prices to maximise profitability.
Supply Chain: Improved Efficiency, Agility and Sustainability
Understanding the customer and market better reduces the production of styles that won't sell which directly translates into lowered product waste output.
AI can also be implemented into the supply chain management process at earlier stages to improve efficiency, agility and sustainability.
Improved Efficiency
Combining historic timeline information with real-time data such as weather reports, AI can make accurate Time to Market (TTM) forecasts. 
Improved Agility
Equipping businesses with real-time data on inventory performance and rising trends, AI enables agile supply chain practices. Retailers can spot the best and worst performers in advance to stop scheduled production of products that don't sell and increase orders on hero products.
Improved Sustainability
Analysing complex factors that contribute to carbon footprint, AI can identify the most sustainable supply partners and modes of transport for a business that still makes financial and operational sense.
Retailers are able to create a more sustainable business model without compromising on profitability.
AI in E-COMMERCE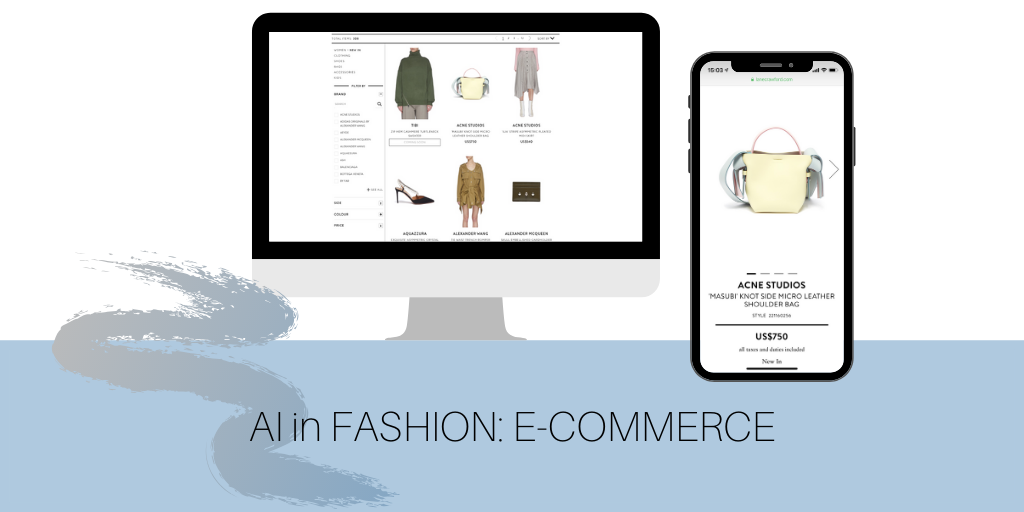 Online Product Recommendations
Visual Similarity Recommendations
AI uses visual detection and key product attributes to recommend visually similar alternatives for each product on a fashion retailer's online store.
When a product goes out of stock or size, customers are redirected to multiple relevant product pages on the retailer's website. They can easily find what they are looking for without the hassle of restarting product search, which often leads to frustration and site abandonment.
Using similarity recommendations increases customer engagement and reduces sales opportunities lost to competitors.
Complete The Look Recommendations
AI uses the latest fashion trends and top styling principles to show complete outfit recommendations for each product on a retailer's online store.
Customers often want to try out new clothes but simply don't know how to style them. Outfit recommendations show customers the ways they can wear different products together.
Inspiring the customer with editorial quality AI styling means upselling and increasing basket size from just one product to a complete look.

Personalised Recommendations
Personalisation Per Region
AI can personalise recommendations to show different results for different regions a retailer operates in. Trends, style identities and personal taste can significantly vary between different geographical locations.
What constitutes a 'region' can be tailored to every retailer depending on their own regional strategy.
For example, one retailer might use Europe and Asia as macro-regions. Meanwhile, another retailer might want to further personalise results for micro-regions within Europe to show different recommendations in Northern Europe, Central Europe and Southern Europe.
Personalisation Per Customer Segment
Retailers can address their different customer segments with personalised recommendations that connect best with each segment.
Additionally, AI enables retailers to focus on different strategic goals for different customer segments they want to address. For one customer segment, it might make more sense to show recommendations that promote upselling, while for another one the goal might be to cross-sell.
AI combines different customer identities with different strategic business goals to show recommendations that help retailers achieve their business objectives on a per-segment basis.
Personalisation Per Individual Customer
The power of machine learning and AI can be used to make visual similarity and product recommendations that are hyper-personalised to each customer, taking into account their individual:
Body Type, based on complimenting their figure
Colouring, based on the combination of hair and eye colour, skin tone and undertones
Occasions they want to dress for
Style Persona, based on their taste and identity such as fashion-forward or traditional
and merge these with data on the individual customer's past browsing and purchase behaviour.
Each customer is shown a different similarity and outfit recommendation customised to them for every product on the online store.
This brings online recommendations to the same quality standard of a bespoke personal styling service.
Retailers can scale personal styling services provided in-person to top tier VIP customers down to all customer segments without the cost of dedicated stylists.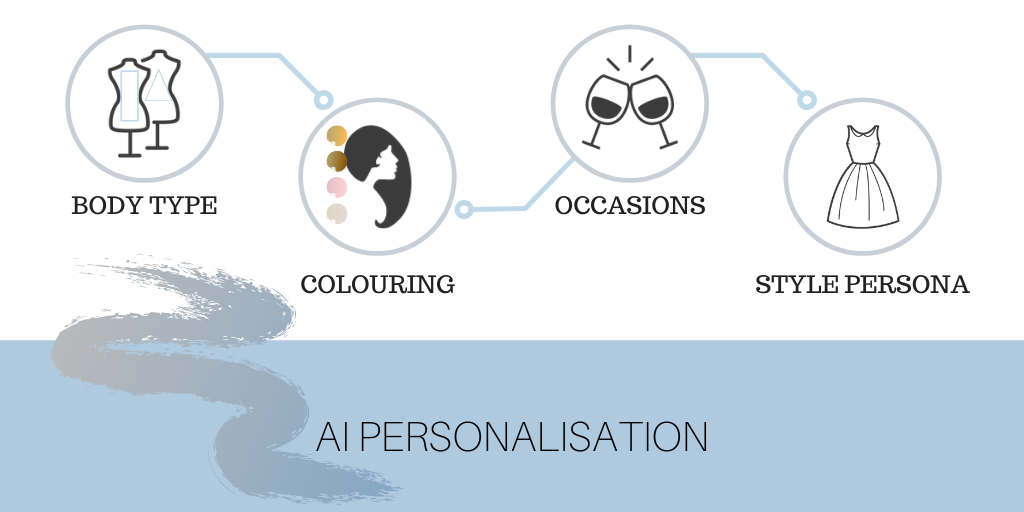 Product Search & Discovery
Automated Product Tagging
AI-automated product tags are attribute labels that enrich each product on a retailer's inventory. This detailed and fashion-specific information enables customers to filter their search by specific attributes they want to see: such as colour, print, fit, fabric.
Product searches return results with increased accuracy and relevance that bring the customer closer to a buying decision.
Automating manual product tagging with the use of AI means faster processing times, lowered cost, richer data and improved consistency free of human bias.
As previously mentioned, once a retailer's inventory is enriched with product tags, their own stock becomes a powerful tool to understand performance, customer behaviour and inform future business decisions. This insight can be incorporated into multiple stages of the value chain.
Natural Language Search
Natural Language Processing (NLP) is the ability of a computer program to understand daily language as spoken by humans.
AI allows customers to search for products using the language and descriptions that they would naturally use in their daily life.
Simplifying product search reduces e-commerce friction and improves the customer experience.
Visual Search
AI-enabled visual search lets customers use pictures of clothing they like or influencer/celebrity styles they want to imitate to search for products. AI identifies all products in the photo and finds the closest match for each of those products from a retailer's stock.
Visual search helps customers find exactly what they are looking for even in cases where putting it into text is difficult.
Letting the customers show what they want gives retailers the ability to inspire them with styles that match their taste. In addition, they gain a deeper understanding of changing consumer demand.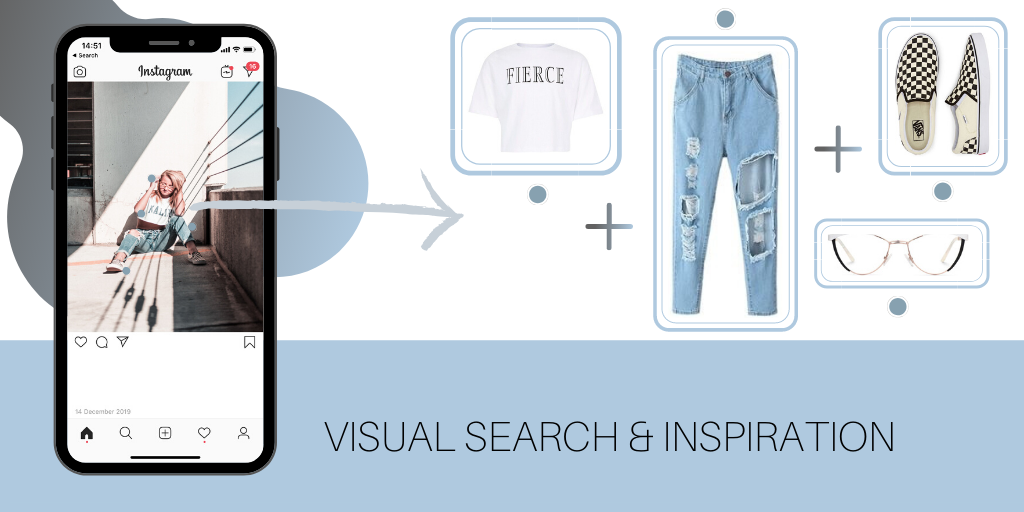 Personalised Landing Pages
A landing page is the entry point to a website or a particular section of a website built to drive traffic for a specific marketing goal.
AI personalises landing pages by displaying targeted content and a tailored product selection based on the marketing campaign: merging data of past customer behaviour and preferences with factors like campaign time and season.
Personalised landing pages increase lead generation, conversion rates and ROI of marketing activities.
Personalised Product Ranking
AI identifies what each customer is most likely to want and buy from a retailer's inventory. Products are displayed in a personalised order for each customer to optimise sell-through rate while factoring in additional parameters like depth of stock and margins.
Personalised product ranking enables the best customer-to-product matching and ensures the right products are seen by the right customers at the right time.
AI in CONVERSATIONAL COMMERCE: CHATBOTS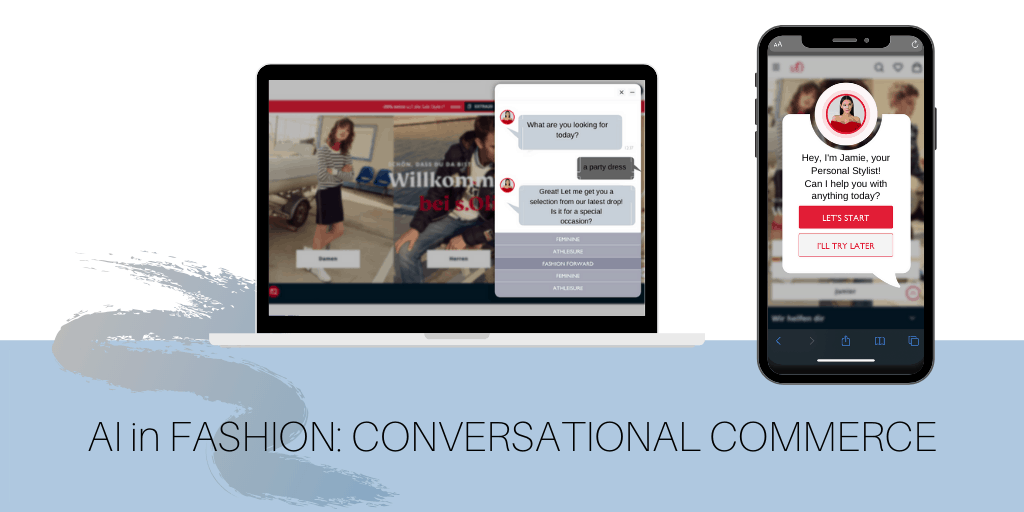 AI-powered chatbots let fashion retailers stay in one-to-one touch with their customers before, during and after a sale. Chatbots fill the gaps in the omnichannel customer journey to deliver a seamless and uninterrupted brand experience.
A chatbot can be integrated into multiple touchpoints at a retailer's e-commerce and social media platforms: the website, Facebook and even instant messaging applications such as WhatsApp, iMessage and WeChat. Communicating with customers on the same channels that they already use increases the convenience of shopping. Instead of waiting for the customer to come to them, chatbots enable retailers to be present when and where the customer is ready to engage.
Customer Service
Chatbots can be tailored to mirror a brand's identity and tone of voice. This way, fashion retailers can scale their service capacity in key areas such as customer relationship management (CRM) and personal styling that are directly linked to the brand experience.
The chatbot can make product recommendations, arrange exchange and returns, answer customer enquiries and offer styling advice 24/7.
Also, the AI assistant interprets the flow of conversation and spots the best hand-over point where the customer can be connected with a human assistant. This approach significantly reduces the volume of enquiries for customer service teams while still allowing a human touch where needed.
Direct Sales
Chatbots can take pre-orders, make reservations for in-store collection and take payments to make direct sales.
Business Insight
As customers interact with a chatbot, AI collects rich data on individual customers and spots common patterns across the data. For instance, styles most frequently enquired or products most frequently complained about provides valuable business insight to retailers that inform future strategy.
AI and IN-STORE INTEGRATIONS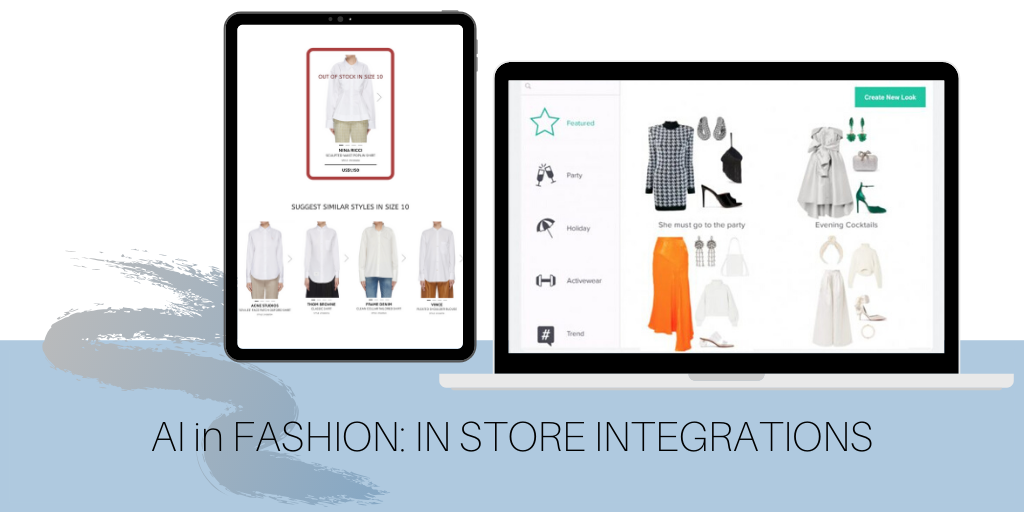 Physical retail remains a powerful tool in the fashion retailer's arsenal to create exceptional omnichannel brand experiences. The use of AI can be extended offline to seamlessly tie in a customer's online journey into the physical store.
Customer Service and Clienteling Support
In-store sales teams can use AI technology to easily browse in-stock inventory and find products that are right for the body type, physical features and individual taste of each customer they serve. Results can be further filtered to make spot-on recommendations for different occasions the customers are shopping for.
An AI clienteling tool empowers sales assistants with expert outfit styling for each product in stock. This means retailers can scale their personal styling capacity without the time and cost of training required to transform a sales assistant into a personal stylist.
An AI Remote Selling tool can connect your in-store sales teams to customers from anywhere in the world to augment your existing sales capacity and increase your quality of customer service at zero additional cost.
Personal styling adds real value to the in-store experience and significantly increases spending.
Shop Floor Time Optimisation
Sales assistants can use AI technology to instantly find and recommend similar items for products that go out of stock in the customer's size or desired colour without the need to go through all available inventory. By spending less time on finding products, they can offer quality assistance to a higher number of customers per hour.
Making relevant product recommendations reduces missed sales opportunities while increasing sales per employee.
True Omnichannel Shopping
AI enables a retailer to recognise returning customers at every touchpoint regardless of the channels they have engaged within the past, truly breaking the boundaries of traditional retail. Connecting the data from all digital and physical retail locations under one umbrella means a loyal customer walking into a retailer's physical store for the first time or at a different location can receive the fully customised service they are accustomed to.
Sales assistants can easily access a customer's profile and immediately know their style, likes, dislikes and purchase behaviour to delight the customer with a bespoke experience every time.
Digital In-Store Experiences: Smart Mirrors
Retailers can integrate AI technology into a number of customer touchpoints on the shop floor to turn their store into an experience hub.
On The Shop Floor
AI-powered smart mirrors directly interact with the customer to make personalised product and outfit recommendations. This facilitates product discovery and reduces fatigue from an abundance of choice.
Through AI visual recognition, smart mirrors scan the customer and suggest outfits that complement the clothes they are wearing in the right size and fit.
Alternatively, they can be used to scan a product and see different ways of styling a complete outfit with other products in the store.
In The Fitting Room
When placed in the fitting rooms, smart mirrors let the customer find alternatives for the clothes that don't fit or look as expected and request them to be brought to their cabin. Without the inconvenience of leaving the fitting room, customers are more likely to find the right products that result in a purchase.
Virtual Try-Ons
While this looked like a science-fiction scenario a couple of years ago, virtual try-on solutions have started making an appearance this year in the stores. Companies like Texel can show your store visitors (or online shoppers) how garments or entire outfits would like on them in a few clicks. 
Physical Store as The Experience Hub
Finally, smart mirrors can be used for interactive installations in the store as part of visual merchandising. These displays combine aesthetic and functional value, driving footfall and repeat visits to the physical store. They can be used in numerous ways to inspire customers and act as a storytelling tool.
AI in MARKETING & CRM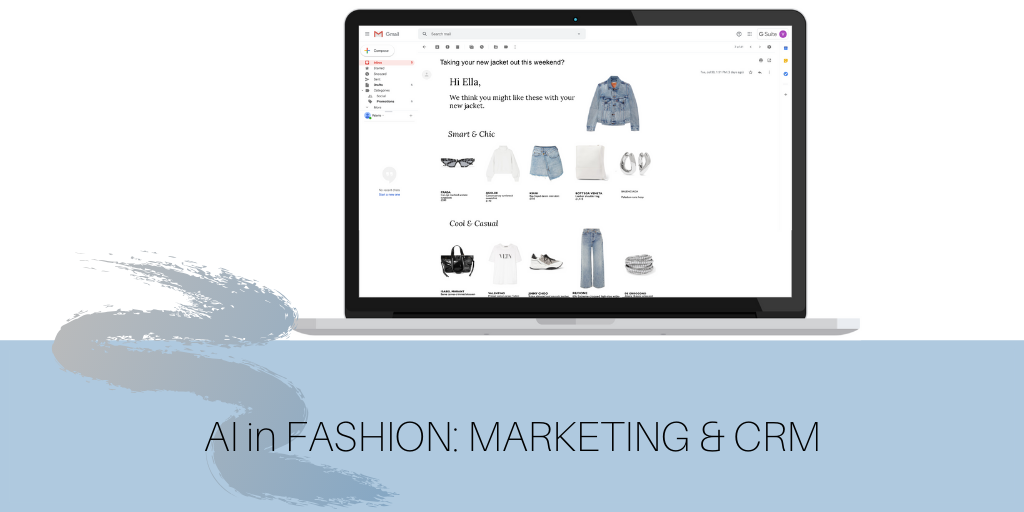 The power of AI, machine learning and rich customer data can be used to create marketing and promotional campaigns that are personalised to each customer. AI can accurately predict future purchase behaviour based on past purchases, browsing behaviour and individual customer preferences.
Retargeting Campaigns
Retailers can increase retention and repeat purchase by reaching out to their customers with relevant products and outfits that complement past purchases. Instead of retargeting campaigns that push alternatives from the same product category a customer has already purchased – let's say, more white dresses – AI can create a personalised campaign per customer to suggest products that would complete a look – such as the bag and shoes that would look great with the white dress they already own.
Promotional Campaigns
AI detects the product categories, seasonal occasions and offers that a customer is most likely to engage with. Retailers can extend personalised promotions that correspond to the value each customer is seeking. Instead of generic promotional campaigns that might or might not have significance to a customer, they can extend targeted promotions backed by data that combine the right product selection with the right time of the year.
Loyalty Programs
AI builds a better understanding of what will drive higher engagement and a longer-lasting relationship between a retailer and each unique customer. Retailers can use this data to build a personalised loyalty program combining points, rewards and tiers. This adds value to the customer journey and accelerates loyalty by giving the customers more reason to keep engaging. Offering personalised rewards for referrals is a smart way of integrating customers into the client acquisition strategy as brand ambassadors.
Content Generation
AI is being used in content creation and automation by retailers who want to turn content into a powerful tool for lead generation and conversion.
AI-powered copywriters can automatically generate original content using natural human language. Automating periodic, short-form content frees up copywriters to work on higher concept creative brand assets and strategy.
Data-driven marketing content delivers higher conversion, click and email open rates in addition to a consistent tone of voice that is always on-brand.
Marketing Strategy 
AI accurately predicts future market trends to formulate short-term and long-term marketing strategy rooted in data and consumer insight. Taking the guesswork and 'gut instinct' out of key marketing decisions, retailers can make informed strategic choices on areas ranging from new product launches to periodic content planning. 
Key Takeaways
Integrating AI into a fashion retail business has proven benefits throughout the value chain:

AI provides multiple solutions for fashion retailers to more effectively address each pain point in the omnichannel customer journey and deliver a better brand experience that sets them apart from the competition.
However, integrating AI into a fashion business is like finding the right suit: one size does not fit all and the best fit will be achieved through a tailored application.
Fashion retailers who leverage AI as Augmentative Intelligence to supercharge their existing business model will scale their resources, amplify their core strengths, be empowered by data-driven insight to overcome their weaknesses and maximise their market penetration as a brand. Growing market share and revenue while cutting down operational costs means an increasingly profitable business.