Fashion Personalisation: The Ultimate Guide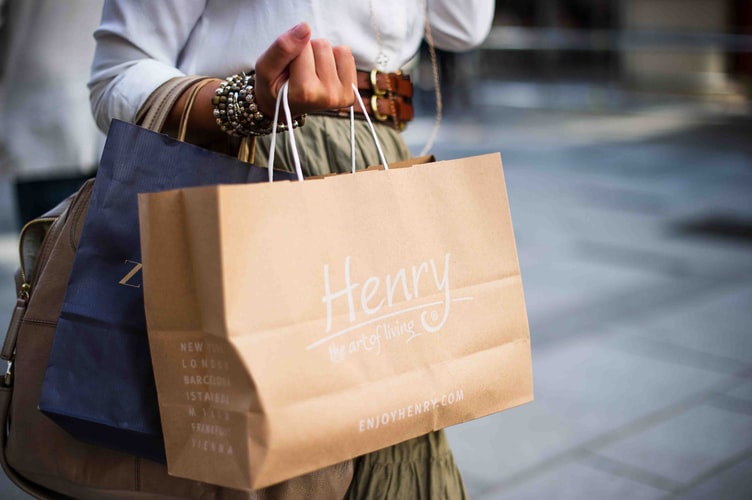 For years, consumers have passively imitated popular celebrity looks and followed the latest fashion trends when putting together outfits or updating their wardrobes. Now, however, fashion personalisation is set to change this status quo. Making facilitating individuality a requirement for every brand, it will soon turn the buyer's journey on its head.  
Although fashion personalisation has been the top-rated fashion trend since 2018, we haven't seen its full impact just yet. Indeed, McKinsey predicts that personalisation will become the main factor behind marketing success in retail within the next five years.
That said, even though personalisation will undoubtedly define future retail success, it is an incredibly important factor for today's consumers too. According to Epsilon and GBH, 8 out of 10 online customers are already more likely to buy from companies that help them find personalised fashion that looks perfect on them.
What Is Fashion Personalisation?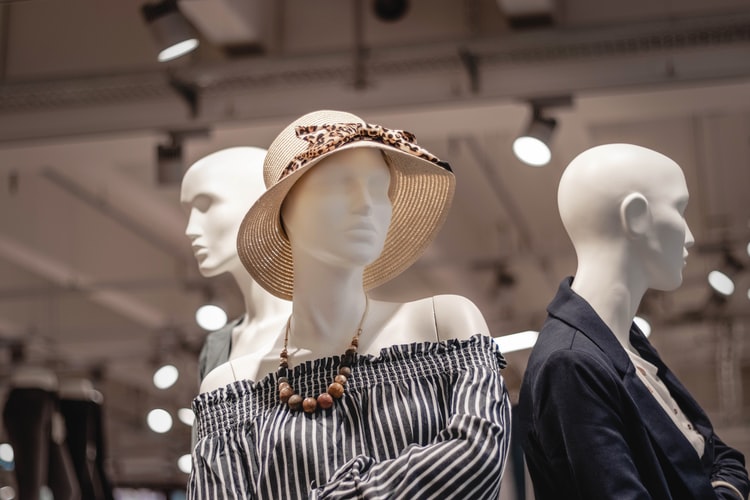 Fashion personalisation allows companies to deliver an individualised and differentiated experience to each customer.
Whether it's personalised recommendations based on the clothing items customers have just viewed (i.e., "if you like this t-shirt, you might also like these t-shirts), AI chatbots that give consumers fashion advice based on their location and unique physical characteristics, or virtual fitting rooms that allow people to try on clothes from their homes, fashion personalisation is any technology which makes it easier for customers to express their individuality. 
Fashion personalisation puts customers at the centre of the shopping journey. Instead of wading through hundreds of items they don't care about, customers can find the products they're looking for much faster.
For businesses, a core benefit is a faster customer journey from product discovery to conversion. More importantly, however, being offered personalised buying recommendations reduces the analysis paralysis that causes almost 40% of customers to leave e-commerce stores empty-handed – a problem that is even more acute in fashion, where matching people to the correct sizes is trickier.
Why You Need Fashion Personalisation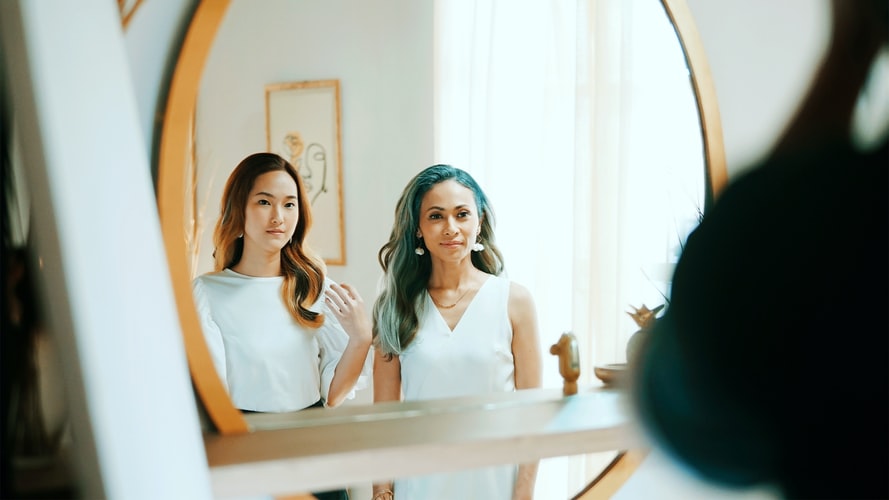 Consumers are
growing accustomed
to personalised fashion — so missing out is out of the question.
Because personalisation is something that consumers want, most are willing to pay for it, at least in kind. Even as data privacy becomes a pressing issue, research shows that consumers are eager to give away more personal data in exchange for a customer experience that's tailored just for them – and in turn, give your company plenty of leeway to cross-sell and up-sell different products.
Brands that take personal preferences seriously — instead of recommending the same in-season items to everybody — can use AI to ease the shopping experience and even recreate (or exceed) the personal service their customers would receive in-store.
Types of Fashion Personalisation
Some of the most popular types of fashion personalisation techniques include: 
Visual similarity
Companies can use AI to show customers other products that visually resemble what they are looking for — a great short-term solution if a specific item is out of stock. 
Unlike Amazon's collaborative filtering, which recommends other products that customers with similar preferences have browsed or purchased, visual similarity analyses specific attributes from an item a customer already likes. 
Implementing visual similarity makes business sense: visual similarity can deliver 130% more revenue than collaborative filtering. 
Complete the look
Besides building a brand's name, "complete the look" recommendations create valuable opportunities to maximise conversions by cross-selling and upselling more products. 
Unlike human employees, AI can sort through an entire catalogue of clothing and accessories off the bat and give a sensible recommendation to customers who don't know how to complete their outfit or style a piece of clothing.
Personalised recommendations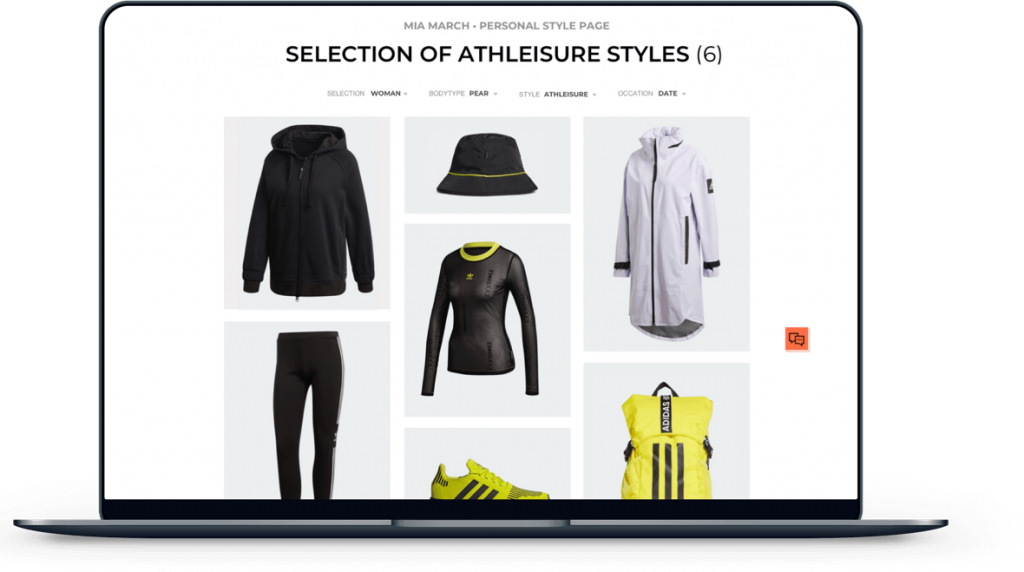 Personalised recommendations allow brands to curate what customers see based on factors like gender, region, and browsing and purchase history.
In this way, personalised recommendations go beyond the simplistic clustering of different customer preferences presented through industry-agnostic recommendation engines. Instead, personalised recommendations allow brands to adapt to changing customer preferences as well as to predict which items specific customers might purchase in the future.
For example, by examining the cut, colour, fabric, and pattern of previous purchases to create a unique customer profile, fashion AI can help brands suggest hyper-personalised pieces that have slightly different attributes. With personalised recommendations, customers can find new pieces that might work with their existing outfits or fashion items that stand out on their own.
Visual search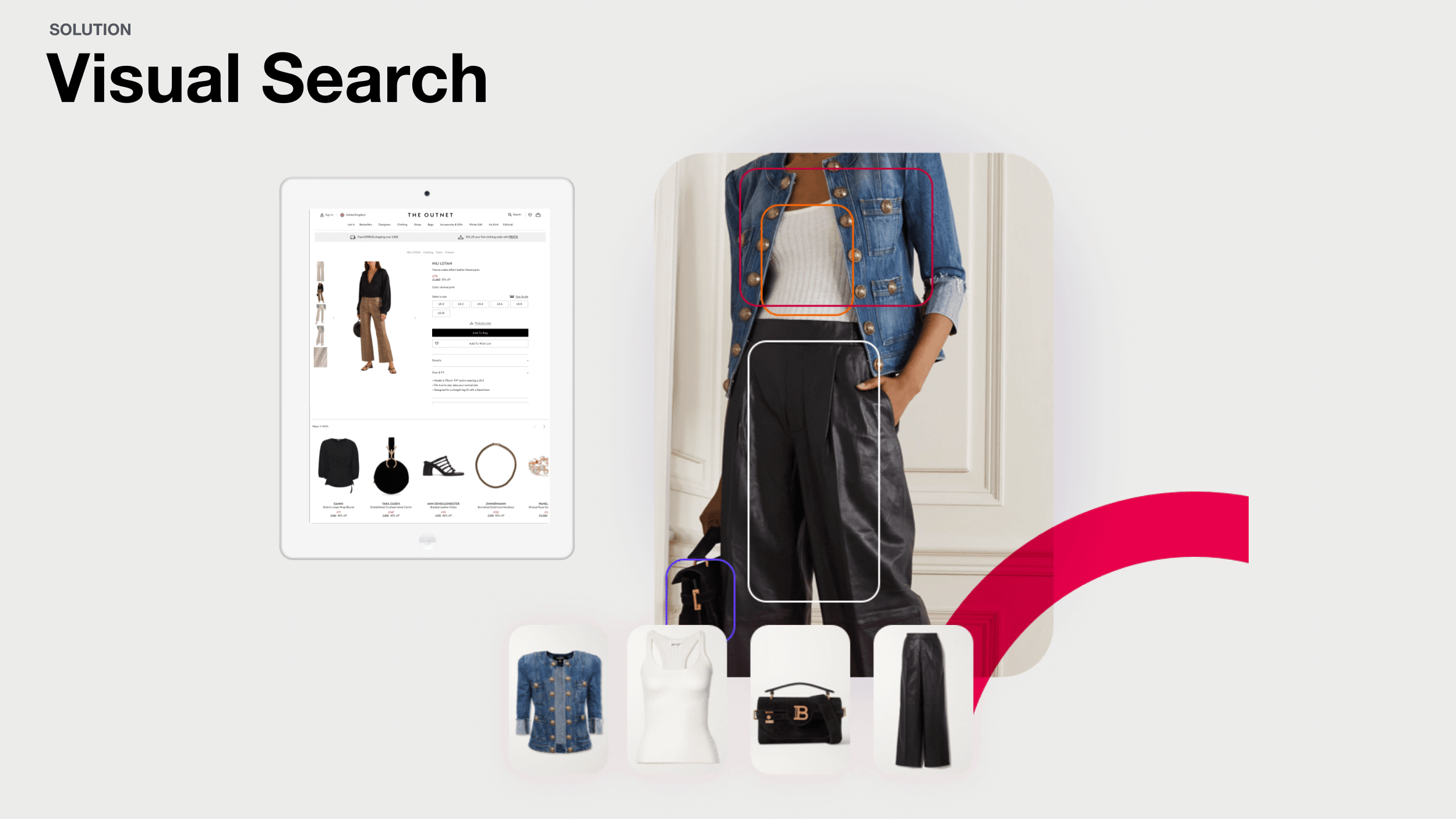 Humans are visual creatures which is why using keywords feels so unnatural to us. Customers who are forced to slog through keyword searches will always give up eventually. 
However, by offering customers visual search features, brands can provide them with the opportunity to find exactly what they're looking for in a matter of seconds, even if they can't put their wishes into words.
Visual search is especially important now that most people get their fashion inspiration from social media platforms. More than 70% of people make fashion, style, or beauty-related purchases after spotting something on Instagram. In instances where the original poster does not tag a piece of clothing they're wearing in the picture, visual search can be invaluable. 
AI styling advice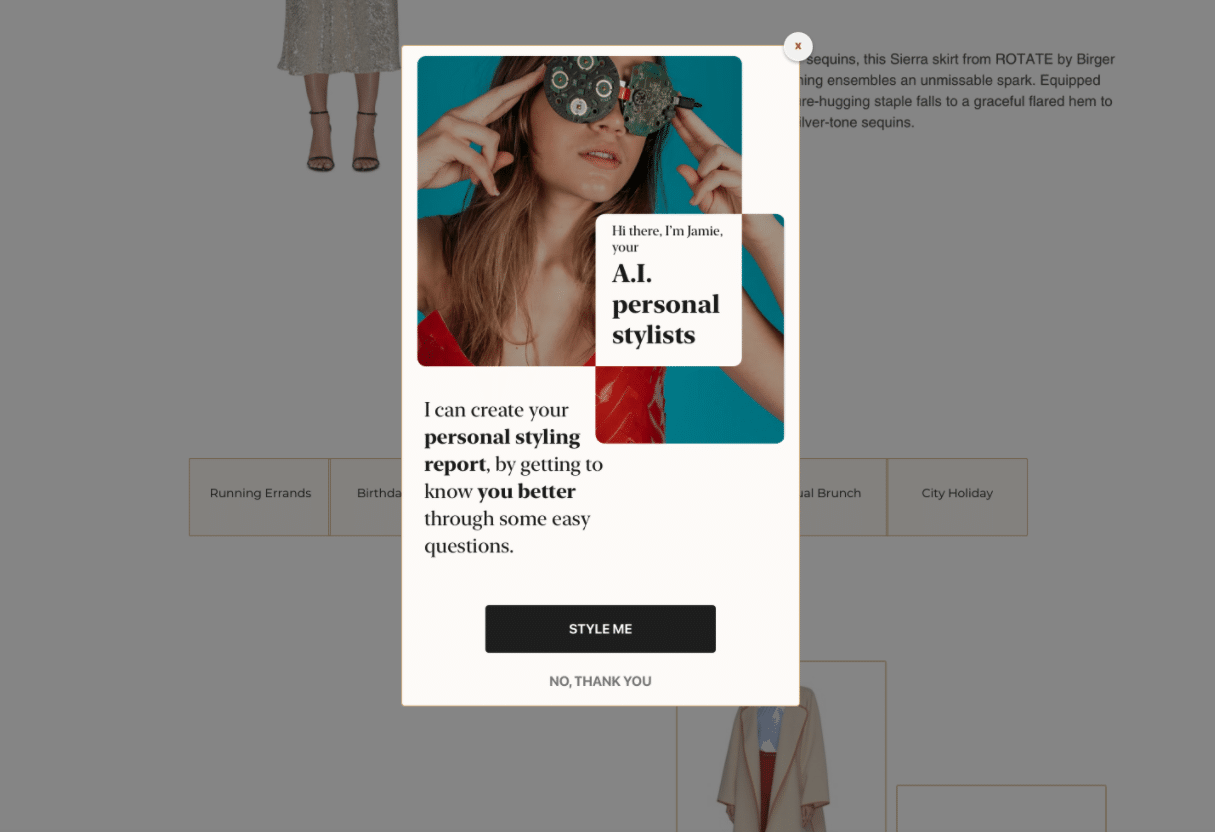 Regardless of whether they come from friends or store clerks, opinions help customers pick clothing that suits them. 
However, while chatbots and human stylists may ask the same questions — such as body type, skin, hair, eye colour, or occasion — AI chatbots are better at sorting out all the variables and coming up with the best styling advice. 
Indeed, fashion chatbots are increasingly able to beat human stylists at their own game and are already being used by famous brands, including Victoria's Secret, Asos, and Sephora. That's not surprising considering that AI chatbots can universally deliver the personalised and attentive experience, which was once the preserve of VIP customers at luxury brands. 
WhatsApp marketing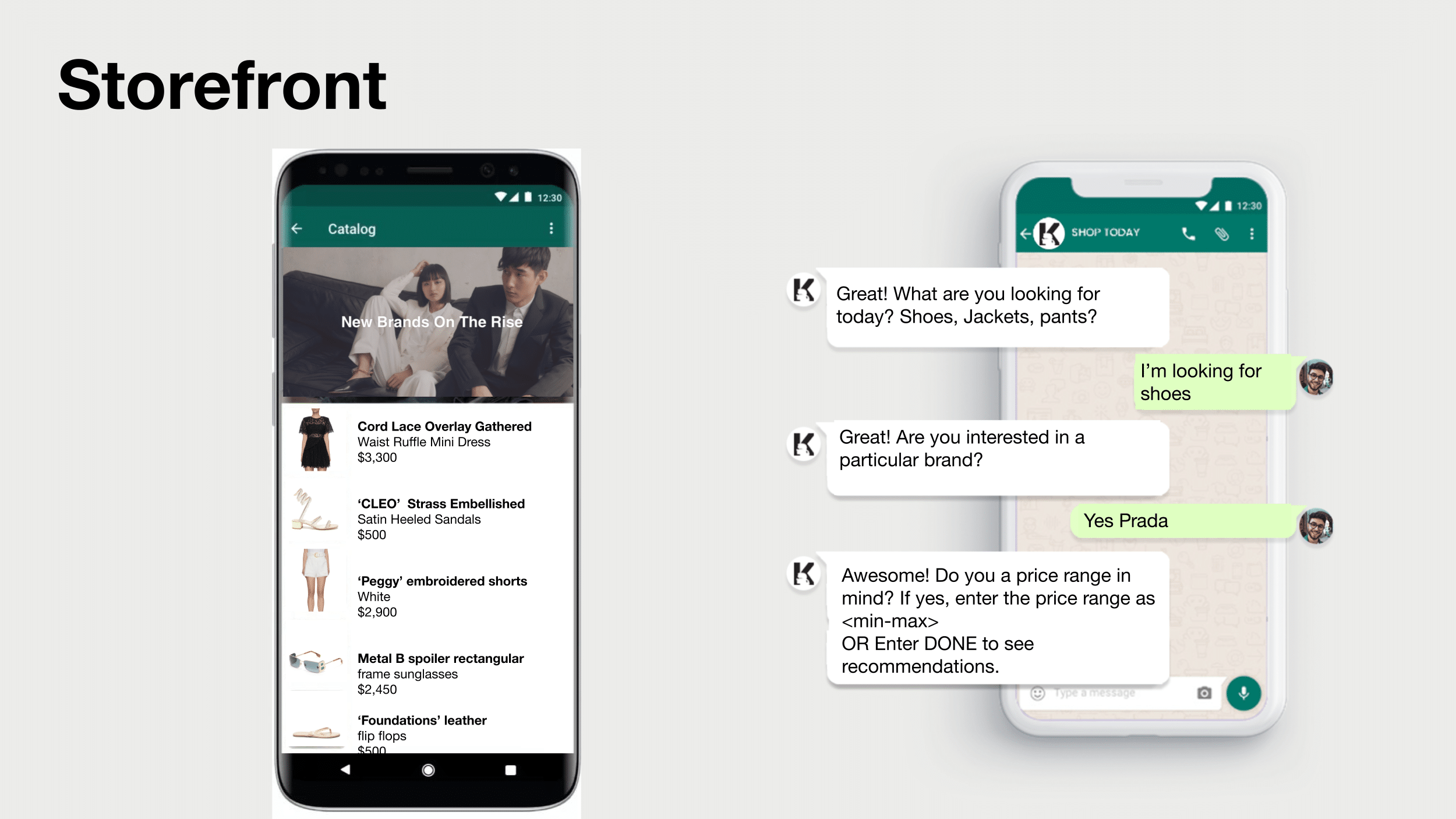 WhatsApp's popularity makes it a natural platform for consumers to seek and get real-time communication from their favourite brands. 
Whether it's answering product queries, making personalised recommendations, or offering last-minute discounts to reduce cart abandonment, WhatsApp marketing is an excellent tool to acquire and convert new customers as well as reactivate them.
Smart mirrors



Smart mirrors allow customers to get in-store styling advice and "preview" themselves in an outfit without having to visit the fitting room. 
Brands like H&M have already tried smart mirrors with voice and facial recognition features and even allow users to take selfies and download them into their phones.
Email marketing



Acquiring a new customer can cost up to five times more than retaining an existing customer. Existing customers have also been shown to spend 31% more than new customers.
So how do you grow retention rates and repeat purchases? With well-designed and highly personalised email marketing campaigns. 
As fashion brand marketing gets personal, data-driven email campaigns are increasingly curated based on customers' preferences and past purchases. For many brands, segmented, targeted, and personalised emails are responsible for more than half of their revenue.
Sizing technology
One of the downsides of online shopping is that it's difficult to gauge the size of a piece of clothing from a picture. Sizing technology makes it easier for customers to find the right size for them while also helping retailers increase conversions and keep returns to a minimum.
Virtual fitting
With the pandemic keeping most clothing stores closed, many brands (such as Macy's and Adidas) have accelerated their adoption of virtual fitting rooms. 
Today, consumers can use their smartphones to try on a brand's entire catalogue from the comfort of their bedrooms before they make their online purchase.
Final Words
Finding the right dress has always been a science of its own. But thanks to fashion personalisation, decoding and delivering precisely what the client wants is now easier than ever — as long as you have the right AI styling platform in place, of course.